Vacations

Subscriptions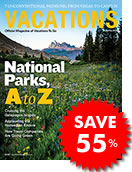 Order now and save up to 55% off the newsstand price!
Next Issue Highlights
Coming in May 2018
Riches of the Mekong River
A sailing through Southeast Asia visits Buddhist monasteries, royal palaces and memorials of the Vietnam War.
The Call of River Cruising
These voyages offer comfy cabins, top-notch dining, lectures from destination experts and more while navigating some of the world's most intriguing waterways.
Cruising Q&A
We ask experts at Vacations To Go, the world's largest cruise agency, about their tips and tricks for getting the most out of your time at sea.
Castle Stays in the British Isles
Live like royalty with the help of stately estates in England, Ireland and Scotland.