Vacations

Subscriptions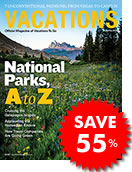 Order now and save up to 55% off the newsstand price!
Next Issue Highlights
Coming in March ...
Land of Aloha
Sail the Hawaiian archipelago aboard the Pride of America.
Destination Immersion
Dive into culture, cuisine and traditions on these single-country itineraries, from cruises of Iceland and Croatia to tours of Peru and Japan.
European Cruising, A to Z
From oceangoing cruises and expedition voyages to trips on intimate riverboats, we cover many aspects of sailing this region.
A Grand Anniversary
Celebrate the 100th birthday of Grand Canyon National Park on one of our suggested escorted tours of the beloved preserve.
Go All-Inclusive in Costa Rica
The Pacific coast province of Guanacaste hosts an array of all-in-one beach retreats, with access to the country's abundant natural wonders.