Vacations

Subscriptions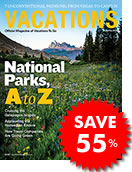 Order now and save up to 55% off the newsstand price!
Next Issue Highlights
Coming in March ...
Cruising the Galapagos
Made famous as a subject of study for Charles Darwin, these Pacific isles continue to lure wildlife watchers 200 years after the launch of the HMS Beagle.
Environmental Innovations
Some of our favorite resorts and cruise lines are doing their part to reduce, reuse and recycle.
Our National Parks, A to Z
There are at least 26 reasons to love the U.S. park system, from the people who helped preserve these great escapes to the flora and fauna that inhabit them.
Applauding the Encore
Enjoy specialty dining, top-rated Broadway shows and victory laps on a go-kart track aboard the newest ship from Norwegian Cruise Line.