Vacations

Subscriptions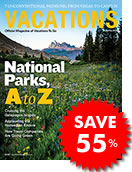 Order now and save up to 55% off the newsstand price!
Next Issue Highlights
Coming in September ...
River Cruising Q & A
From the Mekong and Mississippi to the fabled rivers of Europe, get expert info and insider tips from the travel professionals at Vacations To Go.
Defending the Gorillas of East Africa
The work of researcher and preservationist Dian Fossey lives on in the forested habitats of these rare apes.
By Land and by Sea
Cruise tours seamlessly take you from ship to shore – pair a South Africa sailing with a Botswana safari, or an Alaska Inside Passage cruise with a jaunt to the Canadian Rockies.
Best Cruises for Fall
Take advantage of low-season prices in the Caribbean, leaf-peeping trips on U.S. rivers and short sailings to Pacific Northwest ports.
Unconventional Venues
These funky museums preserve more than history.