Vacations

Subscriptions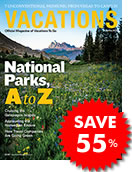 Order now and save up to 55% off the newsstand price!
Next Issue Highlights
Coming in July 2015
Meet Rwanda's Great Apes
Explore the Dian Fossey Gorilla Fund International, its wildlife conservation efforts and Africa's unique jungle habitats.
Musical Museums
Honor Elvis, ABBA and other chart-toppers with a nostalgic trip to a themed exhibit.
All-Inclusives Off the Beaten Path
Seek the perfect beach resort on out-of-the-way isles like Antigua, St. Lucia, Virgin Gorda and Barbados.