Vacations

Subscriptions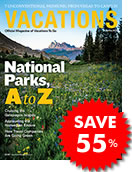 Order now and save up to 55% off the newsstand price!
Next Issue Highlights
Coming in May 2017
Barge Vacations
Explore Europe's less-traveled canals and tributaries aboard an intimate vessel carrying as few as six passengers and no more than 24.
Nights on the Town
Independent tours offer leisurely studies of cosmopolitan capitals, so take advantage of the nightlife waiting in Hong Kong, Sydney, Barcelona and beyond.
Fall Resort Bargains
Get a jump start on seasonal discounts at our favorite beach lodgings.
Join a Repositioning Cruise
These journeys – the movement of a ship from one sailing region to another – are the oceangoing industry's best per-diem deal.