Vacations

Subscriptions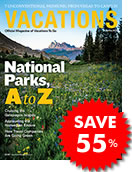 Order now and save up to 55% off the newsstand price!
Next Issue Highlights
Coming in September 2015
European City Strolls
Explore Old World wonders -- from the Gothic spires of Barcelona to the waterfront promenades of Venice and intriguing statuary of Salzburg -- on foot this fall with an escorted tour.
Choose Your River Cruise
Look to our roundup of waterways around the world to find your ideal itinerary.
A Pool with a View
Take a lap while taking in the scenery of your featured destination, including the safari haunts of the Serengeti and the ancient ruins of Athens.