Vacations

Subscriptions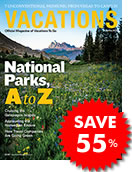 Order now and save up to 55% off the newsstand price!
Next Issue Highlights
Coming in September
Scenic River Journeys
These itineraries are suited for travelers in search of cosmopolitan capitals, sumptuous onboard dining and a laid-back approach to sailing.
Exploring Ancient Civilizations
Follow the Nazca Lines of Peru, delve into Scotland's Neolithic treasures and greet the stalwart citizens of Easter Island.
Winter Wonderlands
These vacations showcase the best on ice, from Japanese art festivals and Canadian glaciers to intrepid expeditions of the Antarctic.
Cruise News
Review our annual roundup of renovations and innovations from the ocean-going industry's leaders.