Vacations

Subscriptions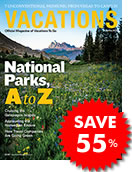 Order now and save up to 55% off the newsstand price!
Next Issue Highlights
Coming in March
The Colors of Italy
Discover the people and places that shaped this nation with escorted tour provider Globus' in-depth city sightseeing and signature "local favorites."
Cruising with the Norwegian Escape
Norwegian Cruise Line's largest ship continues the fleet tradition of "Freestyle" vacations with diverse dining, entertainment and cabin options.
A Scenic Centennial
The National Park Service celebrates 100 years of preservation in 2016, and you can survey its work with these outdoor escapes.
The British Isles, A to Z
Explore England, Scotland, Ireland and Wales with ease on a guided vacation.