Vacations

Subscriptions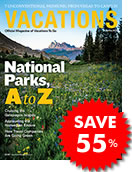 Order now and save up to 55% off the newsstand price!
Next Issue Highlights
Coming in September 2017
Scenic River Journeys
These itineraries are suited for travelers in search of cosmopolitan capitals, sumptuous onboard dining and a laid-back approach to sailing.
All-Inclusive Luxury
Butler service, cocktails, priority dining reservations and other perks of these resorts and cruise ships are wrapped into one indulgent vacation package.
24 Hours in Port
Kick off your cruise vacation with an overnight stay in these seaside U.S. cities, stretching from Seattle to Florida's Miami and Fort Lauderdale.
Unplug and Unwind
Pocket those smartphones and power down your tablets with these low-tech getaways.