Vacations

Subscriptions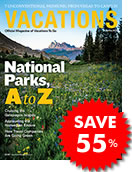 Order now and save up to 55% off the newsstand price!
Next Issue Highlights
Coming in November 2014
Storied Sights
Learn the legends behind some of the world's most popular attractions, like the Taj Mahal in Agra, India; the Ponte Vecchio in Florence, Italy; and the Crazy Horse Memorial in the Black Hills of South Dakota.
Unique Safari Lodges
Take a look at one-of-a-kind accommodations in Tanzania, Kenya, Botswana and more.
Pick Your Panoramic
Carve out some time next year for a sweeping tour of Europe, one that showcases its many cultures, traditions and attractions. Use our guide to find the most appealing itinerary for you.