Volunteer Vacation in Vietnam
American students forge deep bonds with members of a
rural community in the Mekong River Delta
By Olivia Boyce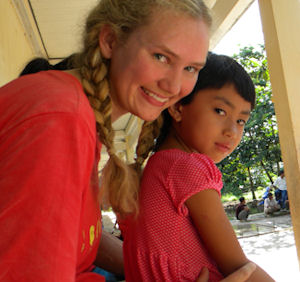 Austin Lastowka
(Scroll down to see a slide show.)
V
ietnam had made appearances in my schoolbooks and history lessons, but aside from that, it wasn't a place that I had given much thought. But that changed one day last spring, when I spoke with Dr. Mary Gerardy, assistant vice president for student life at my college, Wake Forest University in Winston-Salem, NC.
A world traveler with a long list of destinations under her belt, Gerardy has been to Vietnam 14 times and names it her favorite country. And, she would be leading a service trip to Vietnam that summer. As she told me about the people, food and rich culture, it became clear that she was completely in love with the Southeast Asian nation. I caught the Vietnam bug, and I knew what I wanted to do with my summer break.
In preparation for the adventure, I joined 13 fellow students for two weeks of intensive studying, taking courses in social entrepreneurship and comparative political science. While abroad, we would participate in a service project and observe the effects of communism on businesses, economics and the everyday lives of locals.
It took a marathon day of travel to get us across the world to Ho Chi Minh City, the largest city in Vietnam. We spent the first few days getting acclimated to our surroundings. We ate all our meals with chopsticks, brushed our teeth with bottled water and learned to cross the busy streets clogged with motorcycles without looking both ways first. (We were advised to show no fear when plunging into traffic -- step into the road, don't make eye contact with the riders, and don't stop until you get to the other side.)
We toured the highlights of Ho Chi Minh City, noting the French influence in famous architectural sites like the opera house. We climbed through the Cu Chi tunnels, a network of secret underground passageways used by the Viet Cong during the Vietnam War, and gained some perspective on that conflict at the War Remnants Museum. We visited the central temple of the native religion, Cao Dai, which is a mix of Buddhism, Taoism, Confucianism and Christianity. We also met with members of the U.S. Consulate.
The infrastructure and modernization of Ho Chi Minh City was similar to that of any major metropolis, but such sights as street vendors wearing conical hats, entire families on single mo-peds, streets lined with little to no sidewalk and the ever-present communist memorabilia reminded us we were not in the States anymore.
After spending four days amid the hustle and bustle of Ho Chi Minh City, we found ourselves in a very different environment -- Giuc Tuong, a rural village in the Mekong River valley. We stayed in a hotel in the small beach city of Rach Gia, and each day we traveled an hour by bus and boat into the rural Vietnamese heartland for a community service project at Tan Phoc Elementary School.
Our first day on the project started with a visit to the Giuc Tuong Communist Party headquarters, where we were welcomed by the leader of the local People's Committee and the principal of the school. After short speeches by the two officials and our trip leader, Gerardy, we walked through the village to the water's edge, where our boats awaited. As if our group did not stand out enough in our matching, bright red T-shirts, we were handed orange life vests to wear before boarding, making quite a sight.
The day before, we had broken up the long bus ride from Ho Chi Minh City to Rach Gia with a stop for a touristy boat ride. The operators provided us with conical hats, took us through a re-creation of a traditional village, and then tried to sell us trinkets.
But this day, as we motored along the canals of the Mekong River delta, past children bathing in the water, women cooking in tiny houseboats and men fixing aquaculture nets, we realized that this was the real Vietnam. We were no longer in a tourist trap; we were entering an area where the only knowledge of life beyond the rice paddies came from the televisions found in almost every home.
Here, all life existed along the river. Some people lived in cramped houseboats on the water, spaces so small that one could not even stand up in them. Others resided in open-front, modest homes facing the canal. Mo-ped paths line each side of the waterway, and the occasional bridge allowed traffic to cross over. Throughout our boat ride, we passed locals who smiled and waved, just as curious about us as we were about them. As we approached the service site, the number of excited children along the banks multiplied, indicating that we were close to the school.
The schoolhouse consisted of five large classrooms with benches and desks dirty from years of wear, old blackboards covered in student writing, glassless and rotting window frames, and a tile floor long overdue for replacement. The front school yard was just one big pile of dirt.
We split into teams, each with a different task and a Vietnamese college student to help translate and organize our efforts. The first day of work consisted of lots and lots of sanding -- walls, desks, doors, window frames and shutters all needed to be smoothed down. By the end of day one, a haze of dust coated each of us until we looked like the Pig-Pen character from the "Peanuts" comic strip.
Once every surface of the little school had been sanded smooth, it was time to paint. Some of us stained the desks and benches a rich mahogany color, while others whitewashed the walls with homemade bamboo brushes. The trim, windows and doors received a coat of cheerful, bright blue acrylic paint.
Our "cement group" consisting of hardworking guys and girls who learned from the local men how to mix, pour and lay cement using the most basic of tools. They labored tirelessly to create a proper school yard. By the end of the week, they had it down to a science, passing heavy buckets of cement down an assembly line and walking barefoot through the mushy mixture, as the locals did.
Each day, after a morning of work, we walked to a house next to the school where the teachers and community members had set up tables. The first time we sat down to lunch, none of us expected much, as we had been warned that previous service groups had trouble adjusting to the food served in the villages. We soon found we had nothing to worry about, and that first lunch was the best meal I had in Vietnam. A few of the teachers sat at my table, and we smiled politely at each other as we struggled with a few basic translations and exchanges. Despite the language barrier, I hope they could see how much I loved that meal of rice, shrimp soup, sauteed morning glories (also known as water spinach), a delicious pork roast prepared with soy sauce and coconut milk, and the typical Vietnamese dessert of flavorful tropical fruit.
Every day after lunch, we would help clear away the tables, and some of us would rest on the bare tile floor. Others played with the kids who constantly hung around. The children loved sitting on our shoulders, playing hand-clapping games, jumping rope and borrowing cameras to go on photo safaris.
Occasionally, the kids wanted to help, and we would show them how to carefully make paint strokes or stir the whitewash mixes. Hopefully, they will remember which rooms they worked in, and which sections of the walls they painted, giving them a sense of connection to their school.
I found that everyone truly bonded in this experience -- the Wake Forest group, the Vietnamese university students and the local teachers, students and community volunteers. For example, Wake Forest student Lia Flur and her group leader, university student Nguyen Tan Phat, became best friends during their work in the village. Twelve-year-old Marissa Siavelis, traveling with her father, Wake Forest professor Peter Siavelis, hit it off with a girl her age who lived nearby and who now studies English at a secondary school.
And Mary Gerardy connected with one of the women she worked with in the kitchen. By the end of the week, the 50-something Vietnamese woman had tears in her eyes as she gave Gerardy big hug and told her she loved her. Gerardy was moved beyond words.
For me, the relationship that I will never forget was with a 6-year- old girl named Ngoc. With energy coming out of her ears and a big, toothy smile, Ngoc was quite the ham and got lots of attention from everyone in our group. She lived in the village where our bus parked, a half-hour boat ride away. Each morning Ngoc ran the entire distance to the schoolhouse with a few other friends to see us.
Ngoc and I soon became inseparable. Though we could not speak to one another, we quickly formed a system of communication based on body language. Possessing an impressive attention span for a 6-year-old, Ngoc spent hours painting with me each day. She did the low spots and I did the high ones, while singing songs to each other. During breaks, we'd go exploring or play hand-clapping games. Each afternoon Ngoc would ride the boat back with us to her extremely modest home, which was located near our waiting bus. Much to her delight, I would scoop her up and carry her off the boat. Smiling, laughing and giving me kisses on the cheek, she showed off her "tall American sister" the whole way.
On our second morning in the village, Ngoc greeted the bus with a gift for me: a small candy. I melted. This girl who owned only two outfits was giving me a present. It was the perfect example of Vietnamese generosity, and a simple gesture I will never forget. In five days Ngoc stole my heart. I have a picture of the two of us on my wall, and the sound of her laugh etched into my memory. I only hope I inspired her a little bit, too.
By the last day, our work was completed, and we arrived bearing gifts -- 250 book bags stuffed with school supplies. The school was packed with new children we had not yet met, as well as many members of the community. We sat in the front row and watched the polite yet excited children wait patiently for their gifts. Speeches of gratitude were delivered on both sides, most notably from an adorable fifth-grader. A large, freestanding plaque commemorating our week together was unveiled at the front of the school.
At last, it was time for the principal to call all 250 children up by name. They wore huge smiles on their faces as we handed them their new Hello Kitty and Power Ranger book bags. They returned to their seats, examined their bounty and then proudly wore their backpacks for the rest of the day.
Next came a farewell lunch that featured all of our favorite dishes, plus some Fanta soda -- specially purchased just for us -- and ceremonial rice wine to celebrate.
The school was repainted, the windows were replaced, the desks were refinished and the school yard was newly cemented. Yet none of us were ready to leave Giuc Tuong or say goodbye to these children. There were tears on both sides before that last trip from the village. The children stood outside our bus, waving to us for what seemed like hours. It was almost unbearable to look out the window as we pulled away.
Our usually lively bus ride home was subdued as we spoke of the friendship, hospitality and gratitude we had received. The experience had been unforgettable for all of us. In five days we had cemented not only a school yard, but cross-cultural connections and genuine relationships.
Our week of service in that village set the tone for the remainder of the trip. Much of the rest of our time in Vietnam was spent enjoying the country's beauty and taking advantage of its budding tourist industry, although we now saw it through a different eye after our experiences in Giuc Tuong. We enjoyed the beach at Phu Quoc Island, walked the candlelit streets of Hoi An during a full moon festival, toured the ancient city of Hue and spent the night on cruise ship in Halong Bay. We saw a traditional water puppet show in Hanoi, visited the Ho Chi Minh Mausoleum and even crossed into Cambodia to see the ancient wonders of Angkor Wat.
Throughout all this exotic excitement, however, we remained grounded as we remembered everything we had experienced off the tour bus trail. A trip to Vietnam without the service component would have been memorable, but the intimate local connection we received during our work at the elementary school made it life-changing.
The Vacations To Go Grant
Vacations To Go
established the Vacations To Go Grant in 2008 as a scholarship for Wake Forest students participating in international service trips. Alan Fox, chairman and CEO of Vacations To Go, is an alumnus of the university, located in Winston-Salem, NC.
There are two portions to the grant: a need-based scholarship to help students with travel expenses and a photojournalism assignment that pays a stipend. The student awarded the photojournalism assignment for this service project, Olivia Boyce, traveled to Vietnam in summer 2009.
The information in this story was accurate at the time it was published in May/June 2010. Please visit
Vacations To Go
or call (800) 338-4962 for current rates and details.
Send This Article to a Friend
Bookmark this Content
Digg it!
Reddit
Furl
del.icio.us
Spurl
Yahoo!