Volunteer Vacation in Moscow
College students make a connection
with the children of a Russian orphanage
By Sallie Doss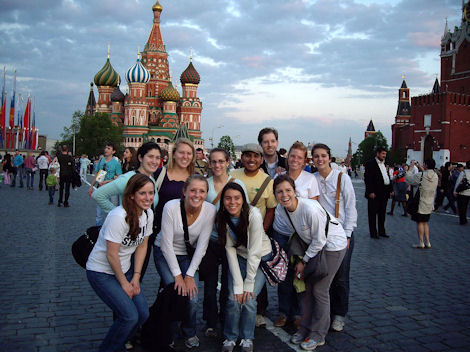 Courtesy of Sallie Doss
(Scroll down to see a slide show.)
I
squeezed my eyes shut and opened them slowly, trying to process the scene that played itself before me. I was standing in a hallway that led to a large room painted in high-gloss, sea-foam green paint, the kind usually reserved for outdoor furniture. The floor was of faux-wood linoleum -- it curled up at the edges where it met the shiny wall and popped under my feet as I shifted my weight.
I could hear the beat of a song that took me back to my eighth-grade spring fling. But rather than watching a kid do a head spin on the cafeteria floor of Sam Rayburn Middle School in Bryan, TX, I was about to dance for a crowd of 60 chanting Russian children, as well as a few fellow classmates from Wake Forest University.
This is one of the many moments of my recent service trip to Moscow that will remain etched in my memory. A year ago, I would never have dreamed that I would visit Russia, much less stay for two weeks to perform volunteer work. And a little over 20 years ago, no one -- neither Russians nor citizens of the Western world -- would have imagined that American students like me would have this opportunity.
I found out about the trip from a mass e-mail: "Helping Hands Service Trip to orphanage in Moscow, Russia, now accepting applications" read the newsletter from the Volunteer Service Corps at Wake Forest University, located in Winston-Salem, NC. I wish I could say that I looked at that one e-mail and suddenly felt a calling to go help orphans in Moscow. But I didn't. In fact, I didn't start filling out the application until the sixth or seventh missive on the subject, and even then, I was more enthused about the destination than the service aspect.
But I set out to learn more about Russia's orphanages, and what I found astounded me. National problems like alcoholism, lack of contraception and poverty have led to the many issues that plague these institutions. Child abandonment, for instance, stems from all three, while alcoholism and drug use have led to a heightened number of birth defects such as fetal alcohol syndrome.
Many children in need of special attention are left to the government. Most orphanages, however, are so overcrowded and underfunded that the children often do not receive the care they require. As a result, many develop additional mental and physical disabilities, and the problem spirals out of control.
After learning this, I realized why this trip -- and all volunteer vacations -- are so important. Who will help these children if we don't? To some, this may sound like a conceited American thought, but in reality, the Russian government is too consumed with both internal and international affairs to properly focus on these unwanted children, and many Russian citizens feel that they are already helping through the exorbitant taxes they pay. Often, the last resources for hope are nongovernmental organizations like Peaceworks, which coordinated our endeavor in Moscow. I wrote a letter to my friends and family to raise money for the trip, and they responded with generous donations. Even in the current economic crisis, I raised $555 more than the necessary amount required to participate.
During the school year's second semester, our group of 10 students, one student leader and one faculty leader met once a week to prepare for the summer trip. We discussed Russian culture, history and current events, but we didn't learn about the state of the orphanage, what the children were like or, in general, what Russia today was like. We were left to our own imaginations, and that's why I expected to spend two weeks eating broth in a severely run-down facility filled with shy, sweet children in a cold, unloving country.
But it didn't take long for me to realize that little in Russia would fit my preconceived notions. We arrived in Moscow on a beautiful, balmy day, and the first Russian we met, our guide, Tatiana -- a lawyer for a women's rights organization -- greeted us as if she had known us for years. She walked us to a small bus, and we headed into the city, taking in everything along the way.
Moscow was not as I had pictured it. There were trees, parks and Mercedes dealerships, not the rows of dull, gray concrete boxes I had imagined. After an hour, we arrived at the orphanage, a four-story, yellow building. While it looked old, it was clearly well-kept.
We met Lydia, who was in charge of the orphanage, and another Tatiana, principal of the school. Neither spoke English, but they welcomed us with kind, excited faces. Lydia showed us our bedrooms, each equipped with four mattresses on the floor made up with nonmatching sheets and thick, itchy, wool blankets. The bathroom had exposed concrete walls and a toilet with a wooden seat. It was humble, but superbly clean, which is more than I can say for my dorm at Wake Forest.
That night, guide Tatiana and her friend, Katiya, a ballet teacher, took us into the city center to experience Russia's Victory Day. The day that Nazi Germany capitulated to the Soviet Union -- May 9, 1945 -- is celebrated with the same pride and excitement as America's Fourth of July, D-Day and Mardi Gras all rolled into one. Red Square and the surrounding streets teemed with Russians dancing to live pop music and drinking alcohol. When the fireworks ceased, we returned to the orphanage and immediately went to bed, exhausted from traveling.
The next day we awoke at nine, put on our work clothes and made our way to the cafeteria. Valentino, the cook, gave us a breakfast of buttery poppy seed rolls, cold ham and cheese, Russian cereal, boxed milk, hot chocolate and tea.
I looked around the cafeteria, expecting to see kids. We learned from Tatiana that the children at this facility have parents who are unable to care for them full time, yet the kids go home to them on weekends. There was sadness in her eyes as she explained that during these visits, some parents mistreated their children, who often are too afraid to speak up against their families. In these cases, there is little she can do to help. We ate the rest of our breakfast very quietly after that.
Tatiana showed us the two classrooms where we would be working for the next two weeks, and she introduced us to our project leader, Natiya. Natiya did not speak a lick of English but didn't hesitate to give us many instructions. This frustrated us at first, but then, as someone pointed out, we didn't speak a lick of Russian. So we got to work, starting by laying squares of butcher paper over the linoleum flooring in preparation for a paint job. Each day we awoke at the same hour and worked through the morning, scraping off old paint, spackling the walls and applying fresh coats. At noon, we ate lunch, typically some type of soup, and then continued working until 4 p.m. After a light supper, usually noodles and sausage, Tatiana or Katiya would take us to one of Moscow's attractions, such as the circus or a museum.
We were eager for the kids to return, but when they did, we were scheduled to leave for St. Petersburg. We took a nine-hour overnight train ride, a common mode of travel in Russia, and spent three days touring this gorgeous, European-styled city. We visited palaces more extravagant than Versailles, Russian Orthodox churches and the third largest art museum in the world, the Hermitage. It was an exquisite experience, but all of us were excited to get back to the orphanage.
Finally, we got to meet and play with the children who would be the recipients of our hard work. Our trip leader, Hampton, had brought American candy, sidewalk chalk, jump ropes and squishy Wake Forest balls for us to pass out. The kids went crazy over everything, digging through our bags and arguing over who got to play with what (not the docile, shy children I had imagined). None could speak English, but we managed to entertain them by speaking the universal language of playgrounds.
The next day, as we were painting, a couple of teenage boys named Sergey and Sasha found our room and insisted on hanging out. They brought an old-school boom box and played 10-year-old rap music. We exchanged dance moves for hours and were barely able to finish our tasks.
That night the boys and their friends challenged us to a basketball game. We were nervous -- all but one of us were girls, and none of us had played sports since high school. We arrived at the school gym, where the boys were practicing layups with their coach. We looked at each other. "There is no way we are not about to embarrass ourselves," someone groaned.
The referee summoned us to yell a traditional Russian slogan of good sportsmanship, then tossed the ball into play. We played hard. It was close. And we won. The boys, embarrassed, wanted a rematch. Again, my expectations had failed me. I had thought I'd be suffering a little in order to help someone else, but I actually was having a blast.
Our final day at the orphanage came. We cleaned the rooms and ate yet another lunch of rolls, soup, tea and some questionable-looking sausages. As we were clearing our dishes, Katiya came in and announced that we would perform a dance for the children that day. We all seized up. For the last few nights, Katiya had been teaching us a traditional Russian dance to show the kids and in the process had given us a taste of strict Soviet ballet schooling. We were deathly afraid of disappointing our audience.
We arrived at the school auditorium -- late, according to Katiya. All the children were waiting, dressed in their nicest uniforms. They performed a series of Russian songs, poems and dances. I realized, then, that this was the only time they had been able to show the fruits of their efforts to an audience, and I was filled with a mix of guilt, sadness and pride.
And then it was our turn. We danced to a ballad and, to our immense relief, made our bows to a roaring crowd. It didn't matter how well we did, it was the effort we'd made, and that brought smiles to the kids' faces and their hands together for applause.
We changed clothes and met for a final few hours of playtime with the kids. And this is where the break dancing scenario mentioned earlier comes in. As rapper T.I. played in the background, the kids stood watching and waiting for our next trick. So we taught them to line dance and "walk it out," and I will never forget their eagerness for any attention we could give them. When it was time to go eat dinner, they followed. How could we explain that the fun had to end -- that we had to go?
For dinner that night Valentino laid out a feast of traditional Russian dishes. We were joined by everyone who had helped us throughout the trip. We laughed together about our experiences and some of the strange things we had seen, and realized that kids will be kids everywhere, and people will be people.
The Vacations To Go Grant
Vacations To Go
established the Vacations To Go Grant in 2008 as a scholarship for Wake Forest students participating in international service trips. Alan Fox, chairman and CEO of Vacations To Go, is an alumnus of the university, located in Winston-Salem, NC.
There are two portions to the grant: a need-based scholarship to help students with travel expenses and a photojournalism assignment that pays a stipend. The student awarded the photojournalism assignment for this service project, Sallie Doss, traveled to Moscow in May.
Send This Article to a Friend
Bookmark this Content
Digg it!
Reddit
Furl
del.icio.us
Spurl
Yahoo!