Vietnam: A Lesson
in Harmonious Contrasts
A North Carolina college student reflects
on his volunteer vacation in Southeast Asia
By Evan Leadem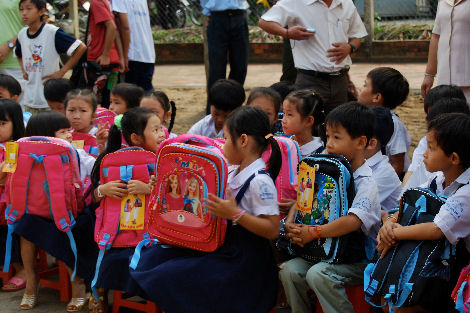 Shannon Moore
W
e sat in the large fellowship hall of the Hieu Phung People's Committee Headquarters with bated breath. The heroes' welcome we received a few minutes earlier was certainly surprising, but nothing could prepare us for what came next.
There, on a stage adorned with the requisite memorial to Ho Chi Minh and images of Marx and Lenin, stood a group of local teenage boys dressed in American street clothing. They adjusted their outfits, assured that their Nikes were tied tight, and signaled to the man operating the hall's stereo system.
What came next, in a sense, typifies my entire two-week experience in Vietnam.
A pulsating beat emanated from the speakers, and with it came the instantaneous recognition of American hip-hop music. The kids began to break-dance, and our jaws dropped. There we were, in a rural Vietnamese town in the Mekong River Delta, two hours from the closest city and more than 9,000 miles from home, and what were we experiencing? American break dancing.
To say that our group of 15 Wake Forest University students was surprised is an understatement. What we soon learned rather quickly, however, was that in Vietnam, one had to learn to expect the unexpected. We came to realize that Vietnam, in many ways, is a place defined by contrast -- a country in which cleavages and dissimilarities exist everywhere you look.
Our collective discovery of Vietnam's distinctive and inimitable culture came about thanks to a joint collaboration between the Volunteer Service Corps of Wake Forest University, located in Winston-Salem, NC, and the Peacework Development Fund, a nonprofit organization based in Blacksburg, VA, that works to find effective and sustainable solutions to global poverty. The trip's main objective was centered on the principle of responding to the needs of a community requesting assistance. Once on the ground in Hieu Phung, our goal was to complete a renovation project that would make the town's third-grade classrooms suitable for use.
Selected via an application process, our group was a diverse one with
several class years and majors represented. Fortunately, we were accompanied by two seasoned Vietnam travelers -- a student leader on her second trip to Vietnam and Wake Forest's associate vice president and dean of campus life, who was making her 15th trip to the country. For several months prior to departure, we met on a weekly basis to learn more about Vietnam and Vietnamese culture, as well as to discuss the logistics of our construction project.
No amount of preparation, however, can sufficiently ready you for your first interaction with the country, especially if that initial impression comes in Ho Chi Minh City. Still sometimes referred to by its French-given moniker, Saigon, Ho Chi Minh City is a place where all of the senses are confronted head-on. The first thing one notices are the mopeds -- a seemingly unending stream of
mopeds. They are ever-present and are the primary mode of transportation for most people here.
Once you become used to the dizzying number of these scooter-motorcycle hybrids, the other senses take over. You smell the pungent pho, a traditional Vietnamese soup, cooking at small, family-run sidewalk restaurants. You feel the glorious combination of near-equatorial sunlight and, yes, a bit of humidity. You see the brilliant glass skyscrapers of the city's business district, a glimmering manifestation of Vietnam's recent meteoric economic growth. In the best way possible, Ho Chi Minh City bombards you from all sides, reminding you of your humanity and reinvigorating that lost connection with the senses that sometimes comes with a life led within the confines of the developed world and the comforts of office buildings and shopping plazas.
The city possesses an almost endless array of activities and sights. For those interested in the Vietnam War, top attractions include the War Remnants Museum, which houses several floors worth of exhibits documenting the conflict, and the Reunification Palace, former headquarters of the South Vietnamese government -- it was renamed in 1975 to reflect the creation of a single Vietnamese state.
Americans are welcomed warmly to both of these locations where exhibits refer to the conflict as the War of American Aggression or present the United States as an imperialist force. The war is considered a largely historical event, and Vietnamese people, in general, love to meet Americans, despite a completely different perspective on the war. Chalk it up as part of a unique cultural experience.
Shopping is also plentiful. Whether you prefer the "haggling welcome" atmosphere of the Ben Thanh Market or high-end stores like Armani and Gucci, Ho Chi Minh City offers it all. It also is home to some of the best dining in the world, with excellent restaurants serving traditional Vietnamese cuisine. Head to Nha Hang Ngon to dine on seafood hot pot in an open-air, oasislike setting amid the hustle and bustle of the city.
Ho Chi Minh comes alive at night, with clubs like Apocalypse Now and BB, which have all the hallmarks of similar establishments in New York and Los Angeles. Another must-do while in town is dessert at the rooftop garden of the famed Rex Hotel. Once the site of daily press briefings by American forces, the Rex is now one of Ho Chi Minh's glitziest hotels. Above the city, you can enjoy crepes or bananas flambe prepared tableside, along with live music nightly.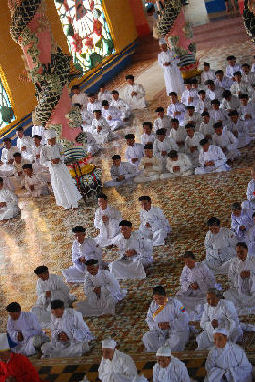 Shannon Moore
For those looking to take a break from urban excitement, several places of interest are within just a few hours of Ho Chi Minh. About two hours away, the Tay Ninh Holy See, with its extravagant colors and whimsical design, serves as the primary seat of Caodaism, a religion native to Vietnam. Blending elements of Buddhism, Christianity, Confucianism and other practices, Caodaism claims 2 to 3 million adherents within Vietnam and an additional 30,000 abroad. Visitors are welcome to tour the grounds of the Holy See, which includes the temple and gardens. Tourists also are allowed to view the four-times-daily prayers from a balcony that spans the length of the temple. Set to hauntingly beautiful music and ritual chanting, with Caodaists clad in vibrant, multicolored robes, the service is a must for all visiting Tay Ninh.

The Cu Chi Tunnels, also not too far from downtown Ho Chi Minh City, were once used by the Viet Cong as a means to travel throughout the region undetected. The passageways, which must be navigated on hands and knees, are now open to the public. While the fortification is fascinating and exploring the tunnels is, admittedly, quite fun, visiting Cu Chi may not be for everyone, as it's a complex where the efforts of the Viet Cong are remembered and appreciated. Again, visitors would be wise to look upon it as one of those uncommon cultural encounters.

After a few days at the tourist sites of southern Vietnam, it was now time to turn to the principal goal of the trip: our renovation of the Hieu Phung Primary School's third-grade classrooms. For six days, our group of Wake Forest students, in addition to students from Vietnam's Can Tho University, lived and worked in Hieu Phung, a small town in the Mekong River Delta almost two hours away from the closest large city. We lodged in a very basic but comfortable boarding house and took our meals at the People's Committee Headquarters, and we found our stay in Hieu Phung to be immensely gratifying and incredibly fun.

Each day began with a 7 o'clock wake-up call (although, in reality, the rooster living next door usually saw to it that we were up by 5). After a breakfast of eggs, soup and baguette, we would head off to the work site -- by moped, naturally. A group of altruistic men from Hieu Phung had volunteered to act as our chauffeurs for the week, and thus, our day began in the most fitting and quintessentially Vietnamese way possible.

The work was strenuous, to say the least. Because the school had been rendered unusable by a flood, the first task in repairing the building was the removal of tons of dirt and sand that were brought in by the water. Working in teams of two, with only a few shovels and a handful of fertilizer bags that had been cut open and fashioned into carrying trays, we removed the dirt and soon made the floor suitable for a layer of concrete. Next, we began painting the entire building and constructing a new path from the school to the restrooms, which were located about 15 feet from the rear of the complex. Classroom floors received new tiling, and the paths through the schoolyard were resurfaced. Finally, litter that had accumulated over the years was removed, and signs encouraging students to throw trash in wastebaskets were posted.

After finishing our work each day, we would return to the People's Committee Headquarters and immediately rustle up a game of volleyball or soccer. Although a fun time was had by all, our spirits were wounded by the fact that we were not victorious in a single competition against the citizens of Hieu Phung.

But we did not remain down for long, as the conclusion of the game meant that dinner was ready. Every night were we treated to traditional Vietnamese dishes lovingly prepared by a group of cooks that included the wife of the People's Committee Chairman. From papaya salads to fishball soup to marinated tofu, every meal was ethereal.

At one point during our time in Hieu Phung, we were invited into the kitchen to create an American meal to share with our new friends from Can Tho University. A handful of Wake Forest students made an early morning run to the market and, that evening, everyone was treated to an all-American spaghetti dinner, complete with garlic bread and Pepsi. The Vietnamese students were a bit hesitant at first, but they slowly came around. For dessert? Bananas with peanut butter. Overall, American Dinner Night was a great success.

Before we knew it, our time in Hieu Phung was up. Having completed all our assigned tasks, the only thing left to do was officially hand the building back to the people of Hieu Phung. Prior to our departure, a closing ceremony was held, with the no-longer-displaced third-graders and a host of local dignitaries present. Each student received a new backpack filled with school supplies and toys, and a plaque dedicating the building and acknowledging the efforts of the students from Wake Forest and Can Tho universities was unveiled. After several goodbyes and a few tears, we left Hieu Phung -- a place that, for all involved, had become very close to our hearts.

Our trip concluded with a brief, albeit much appreciated, visit to Phu Quoc, a Vietnamese island located in the Gulf of Thailand. With white-sand beaches, palm trees and crystal-clear aquamarine water, Phu Quoc was a welcome relief for our tired, sore bodies, exhausted by the work of the week before. Still a bit rustic, Phu Quoc is, at least among American travelers, a little-known vacation spot. But development is in full swing, with new hotels under construction and a large, international airport nearing completion. If you can, go soon to beat the crowds.

After two days in Phu Quoc, we returned to Ho Chi Minh City, where our trip had begun. We were finally able to catch our breath and reflect upon our journey. We had made new friends, shared memories that will last a lifetime, done work to benefit a small community, and left with an immense affinity and respect for the country that had opened its arms to us. The inimitable character of Vietnam and the profound warmth of its people had, in many ways, changed us.

It is the very contrasts one finds here that make Vietnam such an exciting place, where seemingly conflicting ideas strike a harmonious balance. It is a country in which a largely agrarian past is yielding to a new globalized, interconnected future. A place where, although they do not say it publicly, private enterprise and capitalism are booming in spite of the ubiquitous images of the sickle and hammer. And yes, it is a nation with a sensitivity for cultural authenticity and preservation of its ways, but also where you might find a group of young break-dancers in a small rural town.

In sum, Vietnam is entirely comfortable and confident in itself, in spite of the contradictions that many from the West might observe. All of us were the better for experiencing it firsthand.

Our time in Vietnam reaffirmed my faith in the musings of writer Miriam Beard, who said, "Travel is more than the seeing of sights; it is a change that goes on, deep and permanent, in the ideas of living." Truer words were never spoken. Traveling to Vietnam proves as much.

The Vacations To Go Grant

Vacations To Go established the Vacations To Go Grant in 2008 as a scholarship for Wake Forest students participating in international service trips. Alan Fox, chairman and CEO of Vacations To Go, is an alumnus of the university, located in Winston-Salem, NC.

There are two portions to the grant: a need-based scholarship to help students with travel expenses and a journalism assignment that pays a stipend. The student awarded the journalism assignment for this service project, Evan Leadem, traveled to Vietnam in winter 2010.
Send This Article to a Friend
Bookmark this Content
Digg it!
Reddit
Furl
del.icio.us
Spurl
Yahoo!