Signature Safari Stays
Eight unique lodging options
for your next African adventure
By Brent Stoller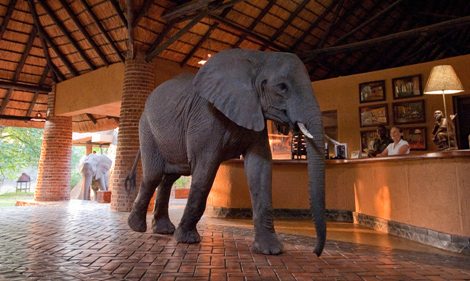 The Bushcamp Co.
(Scroll down to see a slide show.)
T
he rumbling of the Great Migration. The serenity of a Ugandan sunset. The commanding presence of gorillas in the mist.
An African safari awakens all five senses
. The sights and sounds, the tastes and touches grab hold of you and remain with you forever.
And while the experiences of the day are the foundation of any expedition, where you stay each night also can capture the essence of this untamed environment. Want to know what Africa is all about? Breathe in the evening stillness while looking up at a star-littered sky, then let the siren songs of distant game life serenade you into a deep sleep. There's no lullaby so majestic.
Safari lodging
runs the gamut between rustic and regal, from bucolic tented camps to palatial first-class properties. Here, we highlight eight options throughout the continent's most-visited regions. Each not only puts a signature stamp on any trip, but inspires one-of-a-kind memories that last a lifetime.
Mfuwe Lodge
The reception area of
Mfuwe Lodge
in
Zambia
welcomes travelers arriving hot and dusty after a day on the safari trail. Cool breezes wash through its airy construction, while the charming decor conveys the warmth of African hospitality. It is so inviting, in fact, that in October and November it commonly attracts an uncommon breed of guests: elephants.
Tenants of the
South Luangwa National Park
in which the lodge is located, these trunk-and-tusk visitors are drawn to the mangos that drop from the property's fruit tree. One matriarch, known as Wonky Tusk, figured out that the shortest distance between bed and breakfast was a straight line -- a line that leads directly through the hotel lobby. And so she comes, her family in tow, up and down stairs and across the tile floor, in search of fallen treasure. In 2009, the parade expanded with the birth of a new male, Lord Wellington, who quickly fell in step with the herd.
Refurbished in 2010, Mfuwe offers 18 chalets with en suite bathrooms, a swimming pool and a spa that overlooks two lagoons; guests can enjoy massages while observing giraffes and antelopes.
Participants on "Secluded Zambia Safari" an 11-day excursion from Natural Habitat Adventures, spend one night here, with rates beginning at $10,995 per person.
Earth Lodge
If you didn't know to look for it, you might not know it was there. Tucked into the slope of a
South African
hillside, the
Earth Lodge
blends into the landscape, with a sunken corridor for an entrance. Inside, its contemporary use of space provides a stark yet stunning contrast to panoramic views of the rugged wilderness. The hotel's 13 suites feature designer furnishings, showers indoors and out and private plunge pools -- perfect for cooling off after a long day.
Located on the Sabi Sands Private Game Reserve, adjacent to
Kruger National Park
, this eco-conscious lodge offers nature walks that explore the region's indigenous plant life and more than 300 bird species. Morning safaris grant sightings of the "big five" -- lions, rhinos, elephants, leopards and buffalos -- while nighttime drives reveal nocturnal predators on the hunt.
Meals are served in the indoor-outdoor dining area with views of a water hole. And, with an on-site cellar that boasts some 6,000 bottles, there is no shortage of sought-after wines from which to choose.
The Earth Lodge can be experienced with African Travel on "South Africa Culinary & Wildlife Safari" a 12-day tour with stops in Cape Town and Johannesburg, among others. Rates begin at $10,575.
Ndali Lodge
Simple. Serene. Spectacular.
Ndali Lodge
in
Uganda
ensures that you disconnect from your day-to-day. Here, there is no electricity -- just magnificent views, sensational wildlife and the spirit of exploration. A family-owned property, this jewel rests on the rim of an extinct volcano and overlooks the 250-acre Lake Nyinambuga, which supplies the estate's water.
Eight thatched-roof cottages dot the landscape, each with a bathroom, sheltered front porch and solar-powered lights that, on sunny days, lend a brief respite from the dark. Bungalows facing west afford panoramas of the Rwenzori Mountains, also known as the Mountains of the Moon. Guests enjoy an English breakfast while peering out over the lake and relax during suppers in a dining hall illuminated by candlelight.
Kibale National Park
, within a half-hour's drive, features tropical forests to be discovered and chimpanzees to be tracked. Meanwhile, a trek through the adjacent Bigodi Wetland Sanctuary offers a look at mongooses, bush pigs and exotic birds.
Two nights of the 15-day "Classic Kenya Flying Safari With Chimp & Gorilla Trekking" from Monograms are spent at Ndali. Departures start at $7,079, not including the cost of six internal flights (additional airfare starts at $2,104).
Arusha Coffee Lodge
From java-inspired motifs to the rich aromas that fill the air, coffee isn't just a drink at
this Tanzanian hideaway
; it's a way of life. Guests can sip the beverage brewed from beans harvested right on property, which is nestled amid one of the country's largest working coffee farms. Inquisitive visitors embark on educational tours of the estate, seeing firsthand every step of a bean's journey -- nurturing, harvesting, drying, roasting -- from field to mug.
Plantation-style suites come with a requisite coffee maker, as well as a four-poster bed, triple-headed shower and an open log fire. There's no shortage of dining options, thanks to a lunch buffet and two restaurants serving made-to-order pizzas, meat and pasta dishes and seafood specialties. Handcrafted desserts bring dinners to a close, but not without one final cup of joe.
"Golden Trails of East Africa" is a 19-day AmaWaterways safari cruise that pairs river sailings with land excursions to Serengeti National Park, Victoria Falls National Park and more at an opening price of $13,495. The 2015 departures of this trip spend two nights at the Arusha Coffee Lodge.
The Ark
Safaris traditionally are active endeavors. Participants are out and about, traversing the terrain on foot or in open, four-wheel drive vehicles, pursuing game with palpable anticipation. But what if you could reverse that equation? What if instead of going to the animals, the animals came to you?
Bunk up at
The Ark
, and you'll get exactly that. Situated in Aberdare National Park, this four-story game-viewing escape modeled after Noah's Ark boasts its own salt lick and watering hole, drawing fauna two by two. Along with en suite bathrooms and beds warmed by hot-water bottles, each room comes with a buzzer, which is sounded to alert guests when -- and what -- wildlife wanders up: one ring for elephants, two for rhinos, three for leopards and four for anything unusual. You can opt out of this alarm service, but doing so risks regret. After all, when else can you see a giant forest hog hydrating at 3 a.m.?
A stay at The Ark falls on Day Four of SITA World Tours' "Kenya Highlights" an eight-day adventure that begins and ends in Nairobi. Per-person pricing starts at $2,690.
Desert Rhino Camp
Black rhinos once roamed the Kunene region of
Namibia
unimpeded, until poacher activity threatened their existence. Formed in 1982 to counter this attack, the Save the Rhino Trust (SRT) is an organization committed to preserving one of Africa's largest free-range populations of the species. And at the heart of the trust's efforts is the
Desert Rhino Camp
.
Set atop wooden decks in the Palmwag Concession, a thriving stretch of wilderness, the camp attracts tourists with its rustic accommodations and unrivaled game drives, generating funds that keep SRT on mission. Eight raised tents are outfitted with a bathroom, cozy beds and mesh-covered doors and windows to stop intruding insects. Should local game movements demand it, facilities can be relocated to safer ground.
Giraffes, cheetahs, springboks and others call the roughly 1,930-square-mile reserve home, but the main attraction is the black rhino. Starting at dawn, guides work with SRT trackers to determine locations. Once found, guests ride out to observe from a distance so as to not disturb the animals. Afterward, tales small and tall are swapped around the camp's fire pit over sundowner cocktails.
Alluring Africa ventures to this outpost during its 12-day safari " Great Namibian Wide Open Spaces." Spots are available starting at $5,137.
Ngorongoro Serena Safari Lodge
More than 2.5 million years ago, a once-dominant volcano on the
Tanzanian
plains saw its upper portion collapse into its base. What remained was the Ngorongoro Crater, one of the largest unbroken calderas on Earth. Roughly 14 miles at its widest, this natural wonder known as Africa's Garden of Eden was declared a UNESCO World Heritage Site in 1979.
Today, etched into the volcano's rim at an elevation of about 7,600 feet sits the
Ngorongoro Serena Safari Lodge
, a 75-room retreat made of river stone and draped in native foliage. Torchlights illuminate wooden walkways that lead to air-conditioned rooms adorned with cave paintings. From viewing decks and balconies, guests gaze out to nearly 2,000 feet below to the crater floor -- 100 square miles of forest, marshes, grasslands and lakes that some 25,000 large animals call home.
Game drives navigate this contained ecosystem and present photo ops of rhinos, lions and bull elephants.
Ngorongoro
also is a passageway during the
Great Migration
, when approximately 2 million zebras, wildebeests and other fauna move through Kenya and Tanzania in search of new feeding grounds.
"Tanzania: Serengeti to Zanzibar" from Tauck makes a two-night stop here as part of its 12-day itinerary. Pricing starts at $6,095, including a hot air balloon ride over the Serengeti, a $475 value.
Sanctuary Baines' Camp
Romance beckons beneath a moonlit sky. A breeze blows across your private deck, while rustling leaves and stirring wildlife set the soundtrack for a night like no other.
Welcome to
Sanctuary Baines' Camp
, a secluded retreat anchored above
Botswana
's Boro River. As considerate of the environment as it is its neighbors, the lodge is constructed of commercially grown wood and insulated with 150,000 aluminum cans collected from locals in nearby Maun (townspeople were compensated for each can submitted). There are just five suites on property, and each room features a bathroom and ceiling fan, along with a canopied bed that can be rolled outside -- mosquito net included -- for the aforementioned evening under the stars.
The Okavango Delta attracts an array of wildlife, which is observed from Baines' swimming pool and viewing deck. Game drives and walking safaris showcase buffalos, leopards, hyenas and lions, while mokoro (dugout canoe) trips afford an in-their-element perspective of hippos and crocodiles. For a fee, guests can stroll the bush with three of Africa's largest ambassadors -- the semi-habituated elephants Jabu, Thembi and Morula.
"Signature Botswana" a 10-day trip from Abercrombie & Kent, spends two nights at Sanctuary Baines' Camp. Safari rates start at $8,295.
The information in this story was accurate at the time it was published in November/December 2014. Please visit
Vacations To Go
or call (800) 291-3346 for current rates and details.
Send This Article to a Friend
Bookmark this Content
Digg it!
Reddit
Furl
del.icio.us
Spurl
Yahoo!