Safari Stars
Seek out creatures in Africa's safari parks and preserves
By Alexis Loyd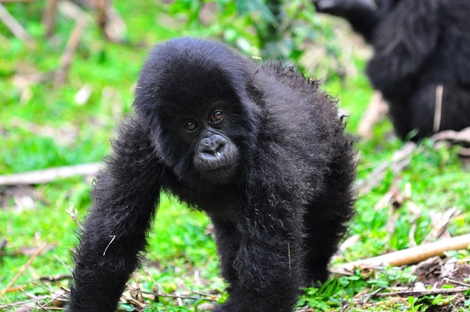 Karen Fox
N
o matter what safari locale you choose, your African adventure will be an unforgettable journey. And at the core of any expedition into the wilds of this striking continent is the harbored hope for that heart-stopping moment when your gaze first rests upon a glorious creature you've been wanting to see in its natural environs, be it a golden-coated feline baring its teeth or a skittish prancer paused momentarily in its tracks.
Every park or preserve possesses an ecosystem bursting with life, but certain spots are best known for specific beasts. Our guide gives a glimpse into what you might find in a selection of African sanctuaries.
For more information about tours to these spots, call the specialists at Houston-based travel discounter Vacations To Go, (800) 291-3346, or visit the company's
safari site
.
TANZANIANgorongoro Conservation Area
Stretching roughly 3,200 square miles across Tanzania's forests, grasslands and savannas, this UNESCO World Heritage Site has been called Africa's Garden of Eden for its sheer density and diversity of wildlife. Within
Ngorongoro
, vacationers can visit the place where remains belonging to some of the earliest humans were uncovered, and spot more big game in a matter of hours than many see during days spent traversing other destinations. For unparalleled animal encounters, safaris head to the region's namesake crater, formed by the collapse of an ancient volcano. Encircled by nearly 2,000-foot walls, the caldera is home to more than 25,000 large animals. Rare black rhinos, herds of zebras and wildebeest, lions, elephants, cheetahs, buffalo and more graze and hunt within about 100 square miles. The dry season, from May through October, is prime time for game drives inside the crater, when animals are concentrated near permanent water sources.
To the west of the crater is one of the most famous archaeological excavations in the world, Oldupai Gorge -- often written as Olduvai -- where Mary and Louis Leakey discovered bones and tools dating back nearly 2 million years. The site is open for public viewing.
Lake Manyara National Park
Bird lovers choose
Lake Manyara National Park
in northern Tanzania for its 400-plus winged species, including yellow-billed storks and thousands of bright pink flamingos. This scenic landscape at the base of the Great Rift Valley's rust-colored cliffs also boasts one of the world's largest concentrations of baboons. Groups of more than 100 olive baboons often are camped out roadside, while long-tailed blue monkeys swing in the treetops. Impalas, elephants and dark-hued giraffes also roam the region. And at 127 square miles, much of this compact preserve can be covered in one day.
This lakeside area is probably best known for its fantastic felines: The lions here climb trees. Though catching a lion lounging in an acacia is rare in most parts of Africa, it's a regular occurrence at Lake Manyara.
Serengeti National Park
Following the rains, every year approximately 2 million galloping ungulates sweep across the Serengeti on a trek through Tanzania and Kenya. Large herds of wildebeest, zebras and gazelles make their way roughly 2,000 miles on their round-trip journey over predator-filled plains and waterways.
Besides observing the Great Migration, travelers to
Serengeti National Park
also have a good chance of spotting a lion pride or two. With 2,500 of the regal beasts within its 5,700 square miles, this region has one of the largest concentrations on the globe. Early morning hot-air balloon rides above the savannas are a peaceful way to view wildlife like cheetahs, buffalo, leopards and rhinos.
Tourists visiting Tanzania's largest national reserve during the first months of the year may be able to witness the wildebeest's calving season; virtually all expectant mothers give birth within the weeks between January and March.
BOTSWANAChobe National Park
Held by many as symbols of luck, wisdom and happiness, elephants are revered and intelligent beings. Research indicates that these imposing mammals mourn their dead, understand logic and use teamwork to help each other complete tasks. Favorites among safari goers, pachyderms can be found in preserves across the continent, but for paramount elephant-watching, head to
Chobe National Park
in Botswana, which has the largest known population in Africa, estimated at about 120,000.
Named after the Chobe River, which forms the reserve's northern boundary, the more than 4,000-square-mile park can be explored on traditional game drives or river cruises; the latter is a great option for bird-watching and finding half-submerged hippos and crocodiles.
During the dry season, make your pilgrimage to the riverfront, where it's possible to come across hundreds of elephants, as well as buffalo, staying hydrated and cool.
Moremi Game Reserve
Concerned for the welfare of the flora and fauna on its native lands, the Batawana tribe created
Moremi Game Reserve
in 1963. Nestled in the Okavango Delta in Botswana -- where floodwaters spill from the Okavango River onto the sands of the Kalahari Desert -- Moremi's approximately 1,500 square miles encompass a diversity of terrain found in few other regions, from floodplains and forests to dry savannas. Wild dogs, leopards, cheetahs, hyenas and lions wander this habitat, referred to as the predator capital of Africa. Peak season here is from July through October, when the waters are high, drawing game (including elephants) into the region.
While winter may be the premier period to see big mammals, the summer months from November to April are when amateur ornithologists should travel to Moremi for panoramas of migrating birds returning en masse.
RWANDAVolcanoes National Park
There are less than 800 known mountain gorillas living in the world today, and getting the rare opportunity to come within feet of these incredible primates is a privilege that comes with some responsibility. Guests in Rwanda's mist-shrouded peak preserve,
Volcanoes National Park
, are asked to behave calmly and avoid eye contact with these endangered subspecies while on gorilla treks, which allow for up-close photo ops. Anti-poaching programs are crucial in this region, where key primatologist Dian Fossey dedicated years of her life to learning the habits of these humanlike beings. Visitors can make a stop at the Karisoke Research Center, a facility founded by Fossey, and the site of her burial after she was found murdered in 1985. More gorilla treks led by expert guides are available in neighboring Uganda's Bwindi Impenetrable National Park, where almost half of Earth's mountain gorillas reside.
Hikers in these lush hilltops also may come across the golden monkey, only found in the bamboo-forested portions of Rwanda, Uganda and the Democratic Republic of Congo.
UGANDAQueen Elizabeth National Park
More than 1,000 species of birds reside in Uganda, constituting 67 percent of the continent's population of feathered flocks. Though bird-watchers may not have time to cover the country in search of all of these colorful critters,
Queen Elizabeth National Park
-- with more than 600 species -- is probably the best place to start. Binoculars will come in handy on a visit to this roughly 760-square-mile expanse dotted with crater lakes, swamps, grassy plains and rivers. The shoebill, African fish eagle, papyrus gonolek and white-winged warbler are prized avian sightings, and a boat trip down the Kazinga Channel offers a vantage point from which to spot others, including mourning doves and lesser masked weavers, as well as water-dwelling hippos, crocodiles and buffalo.
Some tours offer excursions to Kyambura Gorge, in the eastern corner of this sanctuary, for chimpanzee tracking.
KENYALake Nakuru National Park
Hunted and killed for their horns, which are considered precious medicinal elements in some cultures, the black rhino population has been reduced to approximately 3,700. There are concerted efforts to protect these majestic beasts in their homelands, but black rhino sightings still are uncommon.
Lake Nakuru National Park
, a small preserve in central Kenya, is a designated rhino sanctuary containing both the black species and their larger counterparts, white rhino. The lake covers about a third of the refuge, making it an ideal location for spying some 450 types of birds, including pelicans, cormorants and flocks of neon-colored flamingos wading in the water. Lake Nakuru also is a haven for the endangered Rothschild giraffe, a subspecies consisting of less than 700 individuals on Earth. Other animals to look for: waterbucks, otters and hippos.
Maasai Mara National Reserve
Considered Kenya's best park for spotting game,
Maasai Mara
is the prime stop for most safaris in the country. Travelers looking for the "big five" -- buffalo, elephant, leopard, lion and rhino -- are in luck at Maasai Mara, where it's not unusual to see the queen of the jungle stalking (or devouring) her prey or a hefty gray matriarch leading her young. The Mara River attracts soaking hippos, and impalas and zebras graze nearby.
From July through August, visitors can catch one of the most dramatic highlights of the Great Migration -- the hoofed animals making their dangerous river crossings through crocodile-infested waters -- in Maasai Mara.
Some trips in this region introduce travelers to the cultural history of the land, making visits to villages of the local Maasai people for lessons in their traditions of living.
SOUTH AFRICAKruger National Park
Covering roughly 7,500 square miles,
Kruger National Park
is the largest game reserve in South Africa and an optimal place to set up your search for both the big five and their lesser-known counterparts, the "little five" -- buffalo weaver, elephant shrew, leopard tortoise, ant lion and rhino beetle. More than 300 species of trees including baobab, fig and bushwillow populate this arboreal paradise. There are cultural attractions worth checking out, too; more than 250 heritage sites have been found here, including rock paintings and the late-Iron Age archaeological ruins of Thulamela.
Home to thousands of rhinos, Kruger has historically been an ideal spot for sightings. Until recently, park maps were continually updated with pins indicating the locations of rhino encounters. Due to severe poaching, the park staff has become more cautious about sharing the whereabouts of the elusive animals, but keen-eyed travelers still may spot one.
Western Cape
While lions, elephants and giraffes commonly come to mind for a safari vacation, those heading to
South Africa
also can add sharks, dolphins, whales and penguins to the list. The country's Western Cape encompasses several wildlife experiences suited for lovers of the sea, starting with cage diving among the sharp-toothed rulers of the underwater kingdom: great white sharks. Gansbaai, a fishing village roughly 100 miles from Cape Town, is known as the "great white shark capital," drawing adrenaline seekers from across the globe to delve into the deep.
For those less enamored with the idea of hopping into an enclosure for a meet-and-greet with a dangerous predator, whale-watching is possible between June and December, when southern right whales migrate to the area to breed. Hermanus is reputed to have some of the best land-based whale-spotting and utilizes a "whale crier" to keep watch, blowing a horn to alert travelers of surfacing creatures. A fall festival here celebrates these marine mammals, tacking crafts, entertainment and tasty treats onto the whale-watching venture.
Good things come in small packages at Boulders Beach on the Cape Peninsula, where big rocks create a safe shelter for the thousands of petite penguins that call this stretch of sand home. Vacationers can swim with the African penguins, or spy these pink-eye-shadowed pals padding along the shore or nesting with their chicks.
The information in this story was accurate at the time it was published in March/April 2012. Please visit
Vacations To Go
or call (800) 291-3346 for current rates and details.
Send This Article to a Friend
Bookmark this Content
Digg it!
Reddit
Furl
del.icio.us
Spurl
Yahoo!