African Safaris A to Z
Sample the highlights of these wildlife-spotting vacations
By Kimberly Garza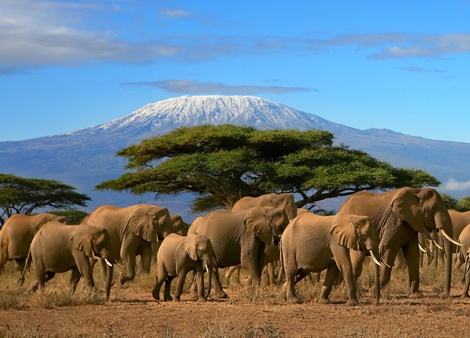 Paul Hampton/Fotolia
F
rom the Serengeti to the Maasai Mara, Africa is home to a dazzling expanse of scenery, wildlife and adventure. Graceful cheetahs, tree-dwelling lions, thundering waterfalls and a millions-strong herd of animals on the move are among the thrilling sights that await. Safaris in countries like
Kenya
,
Tanzania
,
Botswana
and
South Africa
offer some of the best ways to explore the landscape, mingle with locals and spot animals like the "big five." But where to start?
We've broken down some of the continent's can't-miss highlights in this alphabetical guide. Use this list as a launching point, then head to
www.AfricaSafari.com
, a Vacations To Go site where you'll find hundreds of
safaris
and
lodges
. To speak to a safari specialist, call (800) 291-3346.
A -- Ark
Getting up close with wildlife without leaving your hotel? That's the gist of
The Ark
, a full-service lodge in Kenya's Aberdare National Park with viewing decks from which travelers can stand in prime photo-snapping range of elephants, leopards and more. The four-story lodge has a deck on each level, as well as open-air spots and a hidden bunker where photographers can get the perfect shot without being spotted. Spend a night at The Ark on "
Kenya Highlights
," an eight-day
SITA World Tours
trip.
B -- Big Five
Lions, leopards, elephants, rhinos and Cape buffalo make up Africa's famous big five; the animals earned the moniker in the old days of colonial trophy hunting when pursuers ranked game according to how dangerous they were to chase. Today, they're considered prize photo subjects -- safari operators do their best to track the big five's movements, so keep your eyes peeled and your cameras ready.
C -- Cheetah Outreach
Get close enough to touch and hear the happy purrs of the world's fastest land animal at Cheetah Outreach, an educational community program that raises awareness of dwindling cheetah populations around the world. Located about 30 minutes outside Cape Town, the South African facility offers guided tours and special encounters where visitors can pet some of the program's adult cheetahs and cubs. "
An African Adventure
," 11 days with
Trafalgar
, includes a trip to Cheetah Outreach en route from Cape Town to
Kruger National Park
.
D -- Dunes of Namibia
The vast sand dunes of
Namibia
stretch more than 1,000 feet high and have long drawn travelers to the southwest corner of Africa. The Namib desert is the oldest of its kind on the planet, said to contain some of the largest dunes. In Sossusvlei, they take on a red-orange glow, shaped over millions of years by the harsh desert winds. Daredevils can sled down the sand on a traditional Swakopmund sandboard. Several tour operators visit the dunes as they traverse Namibia, including
General Tours
on "
Namibia Unspoiled
," an eight-day vacation.
E -- Elephants in the lobby
Imagine walking through your hotel lobby and stopping short of a herd of elephants making their way past. Sound surreal? At
Mfuwe Lodge
in Zambia's
South Luangwa National Park
, this happens regularly. Every October and November, a family of elephants delights visitors by strolling through the lodge's reception area on their way to a nearby wild mango tree. SITA offers two trips that stay at Mfuwe Lodge for two nights, "
South Luangwa Experience
" and "
Zambia in Depth
," leaving you ample opportunity to -- literally -- discuss the elephant in the room.
F -- Flamingos
Birds of pink feather flock together -- to lakes and rivers across Africa, but especially to Kenya's
Lake Nakuru
and Tanzania's
Lake Manyara
, the best-known watering holes for flamingos. At Lake Nakuru, the brightly colored birds feed on algae that form on the lake bed. And you'll find thousands of flamingos, along with pelicans, storks and other birds, gathering around Lake Manyara, especially during the wet season from November to June.
G -- Gorillas of Rwanda
There are less than 900 mountain gorillas left in the world, and
Rwanda
-- home to
Volcanoes National Park
and the Karisoke Research Center of the Dian Fossey Gorilla Fund International -- has long lured animal lovers looking to get close to the apes. In the mist-shrouded Virunga Mountains, Karisoke staffers track more than 120 gorillas, documenting their location, movements and behavior and guarding them from threats like poaching. Various tours of Rwanda and surrounding countries -- like
G Adventures
' nine-day "
Rwanda and Uganda Gorilla and Chimp Adventure
" -- take in the national park, where you can observe the primates in their natural habitat.
H -- Hot air balloon rides
Get a glimpse of the African landscape -- from the winelands of South Africa to the herds of the
Great Migration
-- from above. Hot air balloon rides are a unique and memorable way to soak up the scenery, usually taking flight in the calm air before the sun rises and always accompanied by skilled crew members. Many operators offer the lofty jaunts as an optional excursion; during
African Travel
's 12-day "
African Sensations
" you might soar via balloon at sunrise over the
Maasai Mara National Reserve
, spotting wildlife from a bird's-eye view.
I -- Island of spices
Off the coast of Tanzania on Africa's eastern shores, Zanzibar produces and ships spices like cinnamon, nutmeg and black pepper -- a tradition dating to the archipelago's history as an East African trading powerhouse. Visitors today can see Zanzibar's melting-pot culture, from the sultan's palace to Turkish baths to tours of spice plantations, and some of the most beautiful beaches around. "
Family Tanzania -- Zanzibar & Elephants Safari
," an eight-day trip from
Intrepid Travel
, takes in both the sand and the spice of Zanzibar, with time exploring Stone Town's winding alleys and Saadani National Park's sandy stretches.
J -- Jock of the Bushveld
One of South Africa's most popular legends is that of Jock, a Staffordshire bull terrier who accompanied his owner, Sir James Percy Fitzpatrick, on pioneering expeditions in the Bushveld region in the 1880s. Jock's tales became history when Fitzpatrick published "Jock of the Bushveld" in 1907. Learn more about the hardy canine and his adventures -- even view his statue and some original mementos -- at the intimate
Jock Safari Lodge
in
Kruger National Park
, established by Fitzpatrick's descendants. A stay here is included on SITA's 12-day "
Splendors of Africa
."
K -- Kruger National Park
Sprawling across more than 7,500 square miles on the northeastern crescent of
South Africa
,
Kruger National Park
boasts a dazzling array of flora and fauna -- think 336 types of trees, some 1,500 lions and 12,000 elephants, along with rhinos, hippos, giraffes and more. After viewing the wildlife, history fans can get their cultural fix at Masorini and Thulamela, two heritage sites with archaeological remnants dating as far back as the Stone Age.
L -- Lemurs of Madagascar
Looking for lemurs? The mischievous, often ring-tailed mammals only can be found off Africa's eastern coast, in Madagascar and the nearby Comoros Islands. Resembling a cross between a squirrel and a raccoon, these primates are extremely vocal, making sounds ranging from chirps to grunts to whalelike songs. Today, Madagascar is home to nearly 60 species and subspecies of lemurs. "
Madagascar Family -- Land of the Lemurs
," a 12-day trip with
Intrepid Travel
, hosts a nighttime walk to spot the critters playing in their natural setting, as well as a visit to Lemur Island reserve, which protects four lemur species.
M -- Maasai cultural encounters
Members of the Maasai, indigenous to East Africa, live along the Great Rift Valley in southern Kenya and northern Tanzania. These seminomadic people raise livestock like cattle and goats and are famous for their brilliantly hued, intricately beaded artwork and jewelry.
African Travel
's 10-day "
Maasai to Mara
" journey lets you navigate their region and culture, from Mount Kenya's Lewa Wildlife Conservancy to the
Maasai Mara National Reserve
, learning about local medicinal plants and Maasai traditions and lore along the way.
N -- Ngorongoro Crater
The largest unbroken caldera in the world, the
Ngorongoro Crater
in
Tanzania
spans more than 100 square miles of land, part of a protected conservation area that includes plains, woodlands, forests and savannas. The area calls to animal lovers with its many creatures, including more than a million wildebeest that pass through during migration, 500 species of birds and the densest known population of lions. Hop on a tour that visits this spectacular spot, such as the four-day "
Serengeti & Ngorongoro Crater Safari
" from
G Adventures
.
O -- Okavango Delta
Featuring everything from murky papyrus swamps to islands to lagoons, the Okavango Delta in
Botswana
is one of Africa's best-known locales for safaris and some prime bird-watching. Explore the delta by water -- many tours in the region offer boat excursions, so guests glimpse crocodiles, giraffes, hippos and more along the meandering side channels and pools. Eight-day "
Botswana: Kayaking the Okavango
" from
Natural Habitat Adventures
navigates more than 100 miles of the delta's waters, with expert guides leading the way.
P -- Penguins on parade
Some 3,000 African penguins call Boulders Beach near Simon's Town in South Africa home -- and they're not afraid to share. Visitors from around the world roam the sheltered shore alongside the penguins' breeding colony, sometimes even swimming close to these deep-diving birds in the tranquil water. "
Spectacular South Africa
," a 13-day tour with
Collette
, includes a visit to the beach and its black-and-white inhabitants on an exploration of Cape Town.
Q -- Queen Elizabeth National Park
At
Queen Elizabeth National Park
in
Uganda
, you have to look up to spot lions: Tree-climbing cats abound in the southern part of the reserve; they're said to prefer cooler breezes and fewer flies up in the branches of a fig tree. Also keep your eyes open for some of the more than 600 types of birds, like the African skimmer, martial eagle and pink-backed pelican, along with Cape buffalo, warthogs, leopards and many more species that thrive in the roughly 760-square-mile section of the Pearl of Africa.
R -- Rhinos
Two kinds of rhinos roam the African continent -- the black rhino and the white rhino. While both have low populations, the black rhino is critically endangered; only about 4,800 exist in the wild. But sanctuaries in national parks like Kenya's
Lake Nakuru
and Namibia's
Etosha
protect small numbers of the threatened horned mammal, working hard to keep rhinos thriving.
Globus
' 10-day "
Great Parks of Kenya
" stops at Lake Nakuru preserve, spending time on a game drive that often includes white rhino sightings.
S -- Sundowners
An iconic aspect of safari life, the sundowner -- an alcoholic drink served during sunset -- is a decades-old tradition. Many safari operators and lodges carry on the ritual today, with guests often gathering outdoors or around a campfire with music, conversation and, of course, cocktails to bid the long day goodbye.
T -- Tented camps
Hark back to the simple, romantic days of the safari, when a day on the trail didn't end at a lodge, but in a tent. Don't worry, modern travelers: You don't have to skimp on comfort to enjoy the rugged outdoors, thanks to the luxurious tented camps offered by today's operators. On the "under canvas" options, like 14-day "
Great Migration Safari in Style
,"
Abercrombie & Kent
supplies guests at mobile and permanent tented camps with crisp linens, comfortable spring beds, showers, netted windows and fine dining.
U -- Ungulates on the move
Every year during the
Great Migration
, some 1.2 million ungulates (hoofed mammals) like wildebeest, zebras and gazelles traverse Tanzania and Kenya in a grand parade. Driven by rain and drought patterns, they search for greener pastures, and predators from lions to crocodiles await them eagerly. The Great Migration is one of the best times to take a safari and spot all types of wildlife. The exact timing of the movements is unpredictable, but it's estimated that herds generally travel from May through November.
V -- Victoria Falls
A sweeping curtain of water and mist a mile wide, Victoria Falls on the Zambezi River was described by the Kololo tribe in the 1800s as "the smoke that thunders." Indeed, about 300,000 gallons of water plunge down the 350-foot drop every second. Spend time exploring the cascades, on the border between Zimbabwe and Zambia, on
General Tours
' three-day "
Victoria Falls
" package, which can be added to the company's safari itineraries. The trip includes a guided tour to the best vantage points, like Knife Edge Bridge and Danger Point, plus a sunset cruise with the thundering falls supplying background music.
W -- Winelands of South Africa
Nestled among scenic mountain ranges east of Cape Town, South Africa's vineyards produce some of the finest vintages in the world and are surrounded by examples of historic Dutch architecture and culture. Guided visits of wineries abound, many with tastings in spots like Groot Constantia, the oldest wine estate in the country (established in 1685). With
Abercrombie & Kent
's 12-day "
South Africa: Wildlife, Winelands and Cape Town
" you can get lost in the lush landscape on a daylong trek through wine country.
X -- Xhosa heritage
The Xhosa people are one of South Africa's largest cultural groups. In Xhosa tradition, folk healers -- predominantly women, often called "sangomas" -- use roots and plants to cure ailments. Meet a traditional Xhosa healer as part of a day's journey through Cape Town on "
In the Footsteps of Mandela
,"
African Travel
's eight-day tour that also takes in Johannesburg and the Karongwe game reserve.
Y -- Youth-oriented safaris
When it comes to the adventure of a lifetime, don't forget the kids: Several tour operators have customized family-friendly safaris, with fun, engaging activities for children and teens along with adults, like hot air balloon trips or elephant rides. "
Tanzania: A Grand Family Safari
" from
Tauck
offers Swahili lessons, a drum circle around an evening campfire and a picnic lunch on the floor of Ngorongoro Crater.
Z -- Zambezi Queen
The
Zambezi Queen
from
AmaWaterways
supplies an intimate on-the-water safari with luxurious touches. Designed for 28 passengers, the ship offers balcony staterooms, an air-conditioned top deck with dining room, lounge and pool, onboard library and even a telescope for guests to view the stunning night sky. Enjoy wine pairings with dinner and days on deck, spying wildlife along the
Chobe River
. AmaWaterways offers four
12- to 18-day itineraries
that include time on the Zambezi Queen.
The information in this story was accurate at the time it was published in March/April 2014. Please visit
Vacations To Go
or call (800) 291-3346 for current rates and details.
Send This Article to a Friend
Bookmark this Content
Digg it!
Reddit
Furl
del.icio.us
Spurl
Yahoo!