A Grand Safari: Part One
Witness the beauty and genius of Mother Nature on an unforgettable journey to Tanzania with Tauck World Discovery.
By Alan Fox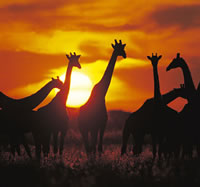 Karen Fox
M
y first view of Africa came from 37,000 feet. On a cloudless afternoon, our KLM flight from Amsterdam crossed into Libyan airspace near the coastal town of Benghazi, where the deep blue of the Southern Mediterranean meets the tan of the Sahara Desert. The vast, monochromatic surface was broken only by reddish-brown veins that snaked like rivers, but were more likely dried riverbeds.
In an hour or so, we were above Egypt, the land of the Pharaohs and the Great Pyramids. When I studied American history in school, I feared the sheer weight of it all would crush me. That was quickly put into perspective during my first trip to Europe, with its layer upon layer of ages and eras, dynasties and empires.
But below me now, in the Nile Valley to the east, an ancient civilization thrived thousands of years before the Holy Roman Empire. And in
Tanzania
, where my wife and son and I, along with two family friends, would land later that night for an 11-day safari with
Tauck World Discovery
, archaeologists tell us that humanlike creatures walked the Earth 2 million years before recorded time.
The plane darted across the southwestern region of Egypt entirely over the desert, passed into Sudan and flew over Khartoum. We crossed the equator in Kenya and continued south as the sun set over East Africa. We were well into our descent when an almost unbelievable sight loomed out my window -- 19,400-foot-tall Kilimanjaro, Africa's tallest peak and the world's tallest freestanding mountain. It towered over everything in sight, including our plane at 10,000 feet, an enormous black hulk silhouetted against a darkening horizon.
Upon landing, we were met by our Tauck representative, a friendly Tanzanian named Samuel, just outside customs. We piled into an extended Toyota Land Cruiser and left the lights of the tiny airport behind, headed for
Arusha
.
We were immediately engulfed in total darkness, as there were no streetlights or buildings of any kind. Samuel pointed to a lone white "cloud" in the sky, illuminated by the stars. "Look close," he said, "those are actually the snows of Kilimanjaro." We could hardly believe there was a mountain in front of us tall enough to support the snowcap we had mistaken for a cloud.
As we drove, our headlights frequently illuminated people walking on both sides of the road. In a country with a per capita annual income of $700, few people own vehicles, and there is always pedestrian traffic along the roads.
After 45 minutes, we left the pavement for a dirt road with deep potholes, and Samuel slowed our truck to a crawl. We lurched forward and backward and side to side as our tires sank and emerged from the holes. "We call this African massage," our jovial host remarked. We laughed at his joke, but as we bounced along we secretly wondered what kind of hotel could be at the end of such a dark and desolate road in the Tanzanian boonies.
In a few minutes, we turned into a dirt parking lot, exited the truck and walked toward a brightly lighted gate in a long concrete fence. We had arrived at the
Serena Mountain Village Arusha
, the lodge I had selected for our pre-safari stay. Uniformed employees took our luggage and offered us cool, moist hand towels, fresh juice or champagne and a friendly "Jambo" (Hello).
We breathed a sigh of relief as we stepped into the Mountain Village, the first of many pleasant surprises we would have in Tanzania. The large reception area, lounge and dining room were tastefully decorated in British colonial style, and the main building also housed a TV room, an Internet center and a gift shop.
After registration, we left the main building to be escorted to our room by three porters. At 10 p.m. on that June night, just two weeks before the start of the Tanzanian winter, it was a perfect 70 degrees. Banana trees and acacias dotted the grounds, illuminated with soft uplights. Rooms were clumped in groups of five or six, with circular, concrete walls and thatched roofs, in the style of the Maasai tribe. (Every Tanzanian belongs to a tribe -- there are 120 tribes in total, and the Maasai are perhaps the best known.) Our room was spacious and comfortable, with a writing desk, phone and full bath.
Later that night, as I lay in bed surrounded by mosquito nets, beneath the spinning blades of a large ceiling fan, I knew that everything in Tanzania was going to be different. The greatest adventure of my life was about to begin.
Climbing Kilimanjaro
We arrived in Tanzania three days before the start of our safari and spent our first full day near the Serena Mountain Village. The hotel's employees were gracious and friendly, and all were fluent in English. I recommend arriving at least a day or two in advance of any African safari, to get accustomed to the time zone and ease into the local culture.
We took a three-mile hike around nearby Lake Duluti, with Mount Meru, one of Africa's tallest peaks at 14,978 feet, looming in the background. We spotted 3-foot-long monitor lizards, blue monkeys, fish eagles (similar to bald eagles) and hornbills -- large, noisy birds with wings that make a whoosh-whoosh-whoosh sound as they fly.
We visited the local market in Tengeru, where some 4,000 people were selling or shopping for fruits, vegetables, meat, clothes and electronics. I felt my head was on a swivel as I tried to absorb the colorful surroundings.
The five of us were the only Anglos at the market, and as we walked the aisles with a guide from the hotel, a murmur went through the crowd and all eyes were on us. Many people smiled, and some spoke to us in Swahili. We smiled back and responded with our entire repertoire, "Jambo, habari?" Hello, how are you?
Women selling vegetables asked our guide in Swahili why we didn't buy anything. He answered with a smile and a shrug of his shoulders, "No kitchen."
Later that day, we watched a pink and orange African sunset from the lawn of the lodge, amid colorful bougainvillea and the chirping of low-flying bats. In the last, dying light of the day, we caught the fleeting silhouette of a blue monkey scampering along the rooftop, en route to an overnight resting place.
Early in the morning of our second day, we set out for Mount Kilimanjaro. I had arranged a car and driver and mountain guides through a local company called Tanzania Photographic Tours and Safaris.
We'd seen nothing at all on the nighttime drive from the airport, but by daylight this ribbon of pavement was a beehive of activity. Tiny houses and shops with cinder-block walls and rusted tin roofs were separated from the highway by only a few feet of hard-packed dirt, and beside the road there was a great deal of foot and bike traffic. Women balanced bags, pots and bundles on their heads (men do not carry items this way); men pedaled bikes with stacks of grain strapped to the back or pushed carts filled with produce.
The cars and trucks that passed us were old and nearly always packed to capacity with passengers, and even cattle cars towed by trucks were used to transport people in standing-room-only fashion.
The drive to Kilimanjaro National Park took two hours. Kilimanjaro is one of a handful of mountains that draw climbers from around the world, and there are five routes to the top. I had chosen the Marangu route, which starts at 6,400 feet, and arranged for guides to take us to and beyond the first overnight camp -- Mandara -- at 9,000 feet. Climbers generally take five days on Marangu, spending the night at three different camps on the way up and at one camp on the way down. We did not have enough time to try for the summit, but we did want to get a taste of what that climb would be like.
We met our guides, Honest and Dismas, at the gate and were immediately in good hands. Honest had been to the summit of Kilimanjaro more than 60 times; Dismas had made the top on nearly 30 occasions. Today's custom adventure would be 5.5 miles up and 5.5 miles down, plus side trips if we had the energy. I took a deep breath, which at 6,400 feet, didn't feel all that deep.
We left the sunshine behind and set off single file into the deep forest, peppering Honest and Dismas with questions as we climbed. They knew the name of every moss-covered tree, of every bird, of the enormous vines with macelike spikes and of all the wondrous flora and fauna we encountered. After a while I was aware of the sound of my own breathing, and the questions were harder to produce. The path had turned rugged and slippery in spots and demanded more attention. Long, steep stretches left the five tourists breathless.
From time to time, we met hikers coming down from above, unshaven, unwashed and tired from their experience but exuberant at being near the bottom and energized by the higher oxygen content of the air. Most had made the summit, but not all, as altitude sickness can halt even well-conditioned climbers in their tracks.
Kilimanjaro has four zones -- forest, moorland, alpine desert and ice cap, in ascending order. We climbed for three hours and spent all but the last few minutes under the thick forest canopy, but when we emerged at the exposed Mandara camp, the temperature was noticeably cooler. We pulled on jackets and caps and walked by the tents and shelters of those who would be staying overnight and venturing on in the morning. At the gate the temperature had been close to 70 degrees, but here you could see your breath in the cool breeze, and as we ate our box lunches in a wooden shelter, white clouds drifted through the camp.
After lunch, we continued up the mountain, through meadows of exotic plants and scrub trees. We reached Maundi Crater, a lookout point that, on a clear day, affords a spectacular view of the frozen summit. Unfortunately, on this day, the top half of Kilimanjaro was wrapped in clouds. We began our descent.
Kilimanjaro isn't known for wildlife sightings, but we were lucky. We saw a blue monkey, five or six black-faced vervet monkeys and two black-and-white colobus monkeys with spectacular, shaggy white tails.
After a two-hour descent, we said goodbye to Honest and Dismas and headed to the lodge. On the drive home, the clouds parted momentarily to show us what we had not seen from the crater -- the snows of Kilimanjaro.
Into the Bush
On the first morning of our Tauck safari, we left Arusha for
Tarangire National Park
in four extended Toyota Land Cruisers. There were 20 guests traveling, four Tanzanian driver-guides and an American tour director, Susan.
We drove through the countryside, passing fields of corn, coffee and bananas before moving into a region where small herds of cattle grazed under the watchful eye of young men and boys from the Maasai tribe. The bright red or purple head-to-shins wraps of the Maasai were a sharp contrast to the green pastures.
We arrived at Tarangire, removed sections of the roof of our safari truck and stepped up on our seats. During the nine days that followed, we rode and viewed game with our heads outside the truck, which is an exhilarating way to travel. Of course, dogs have known this all along.
Our first sighting came within seconds of entering the park and triggered a near-hysterical succession of pointing and exclamations: Elephants! Giraffes! Zebras! Uh... something else! We pinched ourselves to make sure we were really there.
At every sighting, no matter how distant the animals, we stopped the truck and took an insane number of pictures. Many memory sticks later, we would learn the difference between a good opportunity for pictures and a good opportunity for viewing through binoculars.
The landscape was rugged and hilly, with thorny acacias and tall grass that was already mostly brown though Tanzania's dry season was only two weeks old. The skyline was dominated by huge baobab trees, and the roads were dirt and gravel.
We explored for two hours without seeing a human being or a man-made structure of any kind before arriving at our first safari lodge, the
Tarangire Sopa Lodge
. We had no idea what to expect to find in the bush, but opening the doors led to a true shock: modern, contemporary furniture; high, wood-beamed ceilings; huge glass windows opening onto a panoramic view; and colorfully dressed employees offering cool towels and glasses of passion fruit juice.
Ahhh, roughing it, Tauck style.
Lunch was served poolside before our afternoon game drive, which lasted until dusk. We cleaned up for dinner and met on the back patio of the lodge for a welcome reception, and as the stars appeared in the night sky, my family saw the Southern Cross for the first time.
The patio was 15 feet or so above ground, and as we prepared to leave for the dining room we heard a loud thrashing sound below us. We trained our flashlights in the direction of the noise and saw two elephants crashing though the trees no more than 50 feet away.
Here I should point out that there are no walls or fences around any of the lodges we visited, which leads to interesting experiences even when you are not on game drives. All sorts of animals can and do wander onto the grounds. In the evenings, you are advised to carry a flashlight and never leave the walkways, as literally anything can be watching from the bushes.
The next morning, I was startled awake by a strange noise. I climbed out of bed, fumbled through mosquito nets and groped my way toward the balcony of my pitch-black bedroom. The sound came again, and this time it seemed vaguely familiar.
I pulled back the curtains to see that the sun had just risen. As the landscape came into focus, I saw the source of my unscheduled wake-up call -- an elephant marching near the crest of the hill, with trunk held high to trumpet the start of another day.
I raced for the camera and stepped onto the balcony to record the moment as three black-faced vervet monkeys scampered up the roof of my bungalow.
That day at Tarangire, we had morning and afternoon game drives, and added many new species of animals, birds and plants to our "sighted" list, but no predators. At 5 p.m. a call came in to our driver. Park rangers had reported hearing lions roaring at dawn in a remote area of Tarangire, a good indication that an animal had been taken.
Our four safari trucks converged on the site and found the fresh carcass of an eland, an animal that can weigh 1,500 pounds and one that is both fast and hard to bring down. It had been devoured except for horns, bones and the hind legs, and in tall grass no more than 30 feet away, we saw four full lions lazily keeping an eye on their prize.
We were beside ourselves at seeing lions, but the lions were clearly unimpressed by our group, barely managing a sideways glance before turning away. If we'd stepped from the truck we might have been killed and eaten, but as just another multiheaded squawk box on wheels, we were not perceived as a threat or a meal.
Eventually, we headed back to the Sopa Lodge, and on our last night in Tarangire, we were treated to another fine dinner and serenaded with native music by a talented choir of employees. I secretly doubted that any other day of the safari could top our first full day in the bush, but I was wrong.
A Grand Safari: Part Two
The information in this story was accurate at the time it was published in November/December 2006 . Please visit
Vacations To Go
or call (800) 291-3346 for current rates and details.
Send This Article to a Friend
Bookmark this Content
Digg it!
Reddit
Furl
del.icio.us
Spurl
Yahoo!