8 Ways to Connect With Your Spirit Animal
Discover an in-the-wild soul mate on an African safari
By Brent Stoller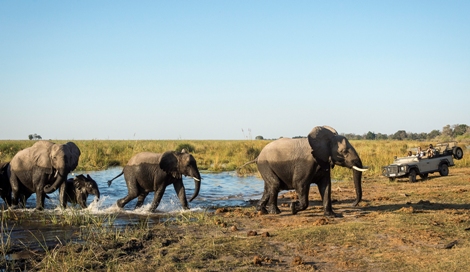 Dana Allen/Wilderness Safaris
S
tretching 50 feet long and weighing some 60 tons, the southern right whale bursts from the waves, twisting and turning in a mesmerizing display of agility and power. It's a spectacle that'll take your breath away.
If breaching whales encapsulate dynamic dominance, their cousins,
bottlenose dolphins, embody playful exuberance. Squeaking and squawking, whistling with delight, they dance the ocean's breaks in unison as if part of a choreographed performance.
Both of these scenes play out off Cape Point, a nature reserve located on the southwestern tip of
South Africa
. While dolphins are present year-round, the whales arrive in False Bay in May and remain through November mating,
nurturing their young and feasting on plankton.
Whether you've boarded an expert-led boat tour or are strolling the Lighthouse Keeper's Trail, which overlooks both sides of the peninsula, viewing this marine life offers more than a photo op. These creatures aren't just a chapter out of a zoology textbook; they are a source of inspiration, possessing traits with which we identify and to which we aspire. They are, on some level, our reflection, revealing who we are and what we can become.
Do you have a spirit animal? Whether you already know or are curious to find out, few places provide answers like Africa --
and few vacations explore Africa like a safari
. For instance, those who relate to the whale's power or the dolphin's effervescence can visit Cape Point on
SITA World Tours
' "
Cape Explorer
." Daily departures for this weeklong trip open at $3,345.
If it's lions, elephants or another animal with which you connect, keep reading, then contact the safari specialists at Vacations To Go, (800) 291-3346 or
online
, to discover that connection on your next adventure.
Flamingos and more
What could be better than being able to fly? The life of a bird is a life of freedom. Unencumbered by gravity, they go where they want, when they want. No idea and no destination is out of reach.
Home to approximately 11 percent of the world's bird species -- roughly 1,090 varieties --
Kenya
welcomes all manner of fowl with its tropical temperatures and inviting habitats.
Lake Nakuru National Park
in the Great Rift Valley is the site of some 450 species, including the great white pelican and the rare martial eagle.
But the park is best known for its flamingos, social creatures that spend much of their time feeding, breeding and preening. Both greater (the biggest) and lesser (the smallest) flamingos live here, and travelers can observe thousands of these web-footed, curve-necked omnivores snacking on algae around the alkaline lake. When the birds take flight, the sky gives over to a sea of streaking pink.
With herds of zebras, waterbuck and buffalo, Lake Nakuru is more than just a birder's paradise, and you'll enjoy all of it on "
Kenya Panorama
" an eight-day
African Travel
expedition that also visits the
Masai Mara National Reserve
. Rates start at $3,475, with weekly departures scheduled through mid-December.
Chimpanzees
It's hard to look at a chimpanzee and not see some of ourselves -- sharing roughly 98 percent of our DNA, they are our closest relatives in the animal kingdom. They kiss, hold hands and look after each other's young. They're also intelligent, using sticks to dig for food and rocks to crack nuts.
Chimps live in communities that range from 10 to more than 100, though they eat, sleep and travel with just six or fewer, an arrangement known as a fission-fusion society. One of their most important interactions is the grooming. Cleaning cuts, removing dead skin and dirt, running their fingers through each other's hair -- this ritual is as much about hygiene as it is fostering bonds among the group.
While chimpanzees are extinct in parts of Africa,
Kibale National Park
's 300 square miles of tropical forests, swamps and grasslands are home to some of the continent's remaining population. It's in this
Ugandan
habitat where travelers can see chimps dining on leaves and fruit, walking on all fours and swinging from tree to tree.
"
Ultimate Gorilla Photo Safari
" makes time for chimps with multiple days
at Kibale and includes photography pointers from experienced tour leaders. Prices run from $10,995 for spots on this 12-day excursion from
Natural Habitat Adventures
, with four departures available in 2016.
Rhinos
For much of the 20th century, rhinos were under the attack of poachers who slayed them for their horns. But this animal is nothing if not resilient. Thanks to a host of conservation efforts, the population has rebounded to roughly 28,000 in the wild.
Just two of the five rhino species are found in Africa -- the black and white. Despite what their names suggest, it's not color that differentiates them (both are gray), but the shapes of their mouths. White rhinos boast flat, square
lips, perfect for eating various ground vegetation. They also have pronounced neck muscles that help them raise and lower their head while feeding.
Conversely, black rhinos prefer elevated bushes and shrubs, corralling their meals with hooked lips. And, while they are the smaller species, they still can weigh nearly 3,000 pounds.
Fall and winter at Hluhluwe-Imfolozi Park in
South Africa
offer prime viewing of both, as dry conditions draw more animals to watering holes. That's also the case at
Etosha National Park
in
Namibia
; known for its 1,900-square-mile salt pan, the park features a road system that allows convenient observation of black rhinos.
Etosha is one stop on "
Signature Namibia
" an
Abercrombie & Kent
safari that explores the country's dunes, deserts and wildlife. The nine-day trip runs from $5,995, with monthly itineraries scheduled until November.
Elephants
Who wouldn't want to be like an elephant? The largest land animal on Earth, it's also one of the smartest, with an ironclad memory, a comprehension of teamwork and the capacity to use tools. They possess a sense of empathy and a sense of self, proven by their ability to recognize themselves in a mirror.
The African elephant stands as tall as 13 feet and can weigh as much as 14,000 pounds. Adults consume up to 300 pounds of grass, fruit and bark per day.
Their most recognizable trait is the trunk, which uses some 100,000 muscles to function as a multitasking nose -- smelling, breathing, scavenging, trumpeting and, when temperatures rise, showering the rest of the body in water and dust.
Like rhinos, elephants have been the target of poachers who covet the ivory
in the animals' tusks. But places such as Addo Elephant National Park have slowed those threats. Formed in 1931, this
South African
safe haven has helped the local population surge from 11 to more than 600.
Chobe National Park
in
Botswana
houses an estimated 120,000 elephants, one of the largest concentrations anywhere.
Alexander
Roberts
' "
On Safari in Botswana & Victoria Falls
" explores this park by land and water during its nine-day trek. Daily departures start at $9,249 and are offered through April.
Penguins
They nest together, they hunt together, they waddle together -- African
penguins are very sociable creatures. Endangered since 2010, they congregate in rookeries along the coastline from Namibia to South Africa.
You wouldn't know by watching them on land, but these flightless birds are phenomenal swimmers. Using their wings, and not their feet like some aquatic birds, they can hit 15 mph beneath the surface.
Visitors flock to see penguins at Boulders Beach, part of Table Mountain National Park in Cape Town,
South Africa
. This breeding colony was formed in 1983 when two penguins were spotted along the water's edge. Today, that number's grown to around 2,000.
Boulders consists of three beaches, with Foxy Beach offering optimal viewing. Boardwalks bring you within feet of the penguins, while still keeping you at a safe distance -- though they appear cuddly, the birds won't hesitate to snap their razor-sharp beaks if threatened. January presents the strongest penguin presence, as the young are molting and the adults are splurging on squid in preparation for breeding season.
A nine-day jaunt from Cape Town to Johannesburg,
Monograms
' "
South African Sojourn
" visits Boulders on Day 2. Rates begin at $2,339 and include a game drive in
Kruger National Park
. Daily departures are available.
Mountain gorillas
Given their stature and exhibitions of supremacy, mountain gorillas have earned their reputation as lords of the jungle. But a closer look uncovers a species that's calm, gentle and loving among family. Consider the work of Dian Fossey, the American zoologist who, over time, earned the gorillas' trust and ultimately was accepted into their culture.
That success inspired Fossey to create the Karisoke Research Center, a leader in mountain gorilla conservation efforts. The organization monitors approximately 120 gorillas in
Rwanda
's
Volcanoes National Park
, making the preserve the ideal venue for observing these creatures in their element.
Gorilla families are headed by the male silverback, so called because of a distinctive stripe of gray hair. Silverbacks thwart outside threats, mediate internal conflicts and ensure the group has enough to eat. Females enter into motherhood around the age of 10 and maintain a close bond with their offspring for several years following birth. These youngsters are as mischievous as they are adorable, wrestling with and chasing each other, even beating their chests as they mimic their elders.
Discover the primates of Volcanoes National Park on "
Rwanda and Uganda Gorilla & Chimp Adventure
" a nine-day vacation from
G Adventures
. Departures are available through December 2016 from $4,949.
Lions
Strength. Courage. Heart. These are the ideals the mere mention of a lion inspires. Brawny and muscular, flowing manes framing their faces, they are nature at its most formidable.
Beyond a small population in India, lions are found exclusively in sub-Saharan Africa. Unlike other cats, they live in groups known appropriately as prides, which generally consist of as many as three males, 12 or so females and a collection of cubs. While males provide protection, it's the females who do the hunting.
Often called Africa's Garden of Eden,
Ngorongoro Conservation Area
in
Tanzania
is home to an estimated 62 lions, the densest known population. This UNESCO World Heritage Site was formed when a volcano's upper reaches collapsed, creating one of the planet's largest unbroken calderas.
It also contains around 3,000 gazelles, 4,000 zebras and 7,000 wildebeests, which local lionesses stalk from all angles. During the
Great Migration
, these numbers swell to more than 2 million as animals pass through the area in search of untapped feeding grounds.
Amid lions and other wildlife, travelers on "
The Serengeti & Beyond: A Tanzania Safari
" descend nearly 2,000 feet to the bottom of the Ngorongoro Crater. The 10-day excursion from
Gate 1 Travel
is available through Nov. 4 with prices from $2,949.
The information in this story was accurate at the time it was published in January/February 2016. Please visit
Vacations To Go
or call (800) 291-3346 for current rates and details.
Send This Article to a Friend
Bookmark this Content
Digg it!
Reddit
Furl
del.icio.us
Spurl
Yahoo!