Two Ways to Cruise the Amazon
Choose oceangoing ship amenities and Caribbean ports
or a small-vessel jungle adventure
By Kimberly Garza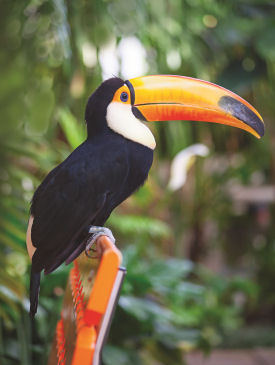 SwissHippo/Fotolia
M
ore than 4,000 miles long, snaking across several South American countries and inspiring legends well into the present day, the
Amazon
is one of the world's largest rivers and richest ecosystems. This steamy land of lush greenery, brilliantly colored flowers and all kinds of creatures --
from pink freshwater dolphins to sunny yellow macaws
-- is cloaked in mystery.
Tribal communities
rooted in the area for centuries still inhabit stretches of the river basin. For those exploring the river for the first time, water travel remains the best way to experience all the Amazon has to offer.
When it comes to cruising this mighty waterway, travelers have two choices: an oceangoing cruise or an expedition-style sailing.
Oceangoing vessels
visit the Amazon as part of longer, multicountry itineraries. Because of larger sizes and deep drafts (depth of water a vessel draws), these ships stick to cruising the Lower Amazon region -- an area stretching from the mouth of the river on the Atlantic Ocean to the Brazilian city of Manaus, the river's chief port and nicknamed Paris of the Jungle. Though limited in route, these ships typically boast more amenities, so vacationers can cruise the jungle in search of wildlife without missing creature comforts, from spa treatments to stage shows.
Alternatively,
expedition ships
are smaller and more intimate, with shallower drafts than their ocean-cruising brethren. These boats can traverse the Lower Amazon as well as Peru's Upper Amazon and its tributaries. Frequently, cruises aboard an expedition ship offer skiff and hiking excursions through the rain forest, allowing visitors to venture to remote reaches of the Amazon.
Curious about which style is right for your river trip? Read on as we break down the benefits of both types of travel and pinpoint a few upcoming jaunts that may be perfect for you. All prices listed are per person and based on double occupancy. For more information, contact the cruise specialists at Vacations To Go, (800) 510-4002, or visit their
Amazon River Cruise site
. Depending on your preference, choose the Expedition Cruises or Oceangoing Cruises tab and click on Dates and Prices to browse itineraries.
CREATURE COMFORTS: OCEANGOING CRUISESWhat to expect:
The big river, often combined with stops at Caribbean islands
Climb aboard:
Typically larger vessels with deeper drafts
Perfect for:
World travelers eager for a variety of destinations and access to more amenities
From October through March
, oceangoing passengers can sojourn along the deep waters of the Lower Amazon in Brazil. These Lower Amazon cruises are included as legs of longer trips, running the gamut from nine nights to a month or more, with ports like Antigua and St. Maarten in the Caribbean or the sun-drenched shores of Miami.
Princess Cruises
visits the Lower Amazon as part of its
two-week sailing
on the
Pacific Princess
, a 688-passenger ship with a charming Old World atmosphere. Five days at sea on this voyage from Fort Lauderdale, FL, to
Manaus, Brazil
, give you plenty of time to navigate two specialty restaurants, a spa with thalassotherapy pool, movies screened beneath the stars or nightspots with ballroom or disco dancing. The Pacific Princess first calls at Caribbean havens including
Trinidad
and
St. Lucia
and takes the scenic route around a French Guiana locale,
Devil's Island
. Upon arriving in Brazil, the vessel heads through the Amazon to trading hub
Santarem
-- known for the "wedding of the waters," where the Tapajos and Amazon rivers merge -- and
Boca da Valeria
, a village tucked amid jungle swamplands where you can barter for local crafts. Spend one night in
Parintins
, a 200-year-old settlement on Tupinambarana Island, before heading to Manaus. The cruise launches Dec. 23, with rates starting at $3,379.
Oceania Cruises
serves up a
25-night, round-trip sailing
from Miami aboard its deluxe vessel, the 684-passenger
Regatta
, complete with Canyon Ranch SpaClub, heated pool and casino. Enjoy island paradises like St. Lucia and Trinidad before reaching Brazil, where Amazon stops include Santarem, Boca da Valeria, Manaus and Parintins. In
Alter do Chao
, a picturesque retreat above the Tapajos River, take a swim in stunning clear waters fringed with sandy shores before picking up souvenirs. Leaving the Amazon doesn't mean the end of adventures -- the Regatta cruises through the Caribbean on its way back to Miami, pausing at such destinations as
Barbados
and
San Juan, Puerto Rico
. Prices on this Nov. 10 sailing start at $5,749.
Or consider
Holland America Line
's 26-night journey aboard the 835-passenger
Prinsendam
, where guests can take advantage of a culinary arts center, putting greens and spa. This
Nov. 26 departure
sails round trip from Fort Lauderdale starting at $4,199.
Some smaller oceangoing ships also count the Amazon among their waterway destinations. Aboard
Seabourn Cruise Line
's
Seabourn Quest
, a 450-passenger luxury vessel, travelers can enjoy a
15-night jaunt
leaving March 7, 2014, from Manaus to Fort Lauderdale, including time in Parintins, Santarem and the Curua Una River in Brazil and the British Virgin Islands. Round trip from Barbados,
Silversea
takes in seven Brazilian locales along the big river as well as various Caribbean islands like Grenada and St. Vincent on its
17-night sailing
aboard the 382-guest
Silver Whisper
, with teak verandas and walk-in closets.
EXPLORERS IN THE WILD: EXPEDITION CRUISESWhat to expect:
Explorations of the Upper and Lower Amazon, often including excursions like hikes or skiff rides
Climb aboard:
Smaller vessels with groups usually numbering around 30 people
Perfect for:
Adventure-seekers willing to go out of their comfort zones in search of wildlife and cultural encounters
Expedition-style cruises delve into ports along the Amazon
year-round
. Trips often encompass land tours before and after the sailing, visiting anywhere from glamorous and bustling Rio de Janeiro and the Anavilhanas Archipelago in Brazil's Lower Amazon to Machu Picchu and Peruvian villages rich with Incan history in the Upper Amazon. Itineraries vary due to seasonal water levels.
Natural Habitat Adventures
offers plenty of shore-bound trips with its eight-day cruise tour "
Amazon Aboard the Aqua
" traversing the Upper Amazon region. Start and end your journey in Iquitos, Peru, an isolated town only reachable by air or water. From there, you'll board the MV Aqua, adorned with spacious suites, air conditioning and thoughtful touches such as chilled towels for guests to take the edge off the jungle heat. The trip is limited to about 24 travelers. As you cruise the Upper Amazon, you'll have many opportunities for side quests, including a skiff ride across the Tahuayo River -- noted for its tannin-rich dark waters and prime bird-watching -- and a visit to Charo Lake, where you can try to catch one of the river's fearsome piranhas (don't worry, myths surrounding these toothy fish are largely exaggerated). Opt for a jungle walk in the misty hours of morning in search of monkeys and the Amazon's distinctive pink and gray dolphins, and mingle with the locals at Puerto Miguel, a village where residents offer handicrafts as well as explanations of their culture and customs. Elegant dinners of Peruvian cuisine with a European spin await on board the Aqua, with the Amazon always in full view thanks to expansive picture windows. Departures run year-round; prices start at $6,265.
The fearless can test their mettle by taking a dip in the Amazon itself -- there's time on
G Adventures
' nine-day "
Amazon Riverboat Adventure
." Head from Lima to Iquitos for an included tour of the 1864-established city and a stop at a nearby manatee rescue center. On board the 32-passenger Queen Violet, your guide will lead presentations on topics like the culture of Amazonian tribes and traditions of shamanism. Off the ship, you can meet a native shaman, who will discuss jungle plants that locals have used for centuries, and share a meal with an indigenous family. Nighttime boat rides and daytime rain-forest hikes provide chances to spot black caiman, capybara, river dolphins and maybe a jaguar. Paddle through the forest in a dugout canoe, haggle in the markets of port town Nauta and go fishing for piranha before flying back to Lima from Iquitos. Wayfarers with more time can choose G Adventures' land extension, tacking on Peruvian pursuits including Cuzco sights and Sacred Valley ruins. Prices start at $2,449, with departures through December.
Expedition ships are on the smaller scale, and they don't get much more intimate than the
Delfin II
, a riverboat with just 14 suites and a 28-passenger capacity. The atmosphere is elegant, from hardwood floors and candlelight dinners to the art created by leading Peruvian artists and available for purchase by interested passengers. Try
Lindblad Expeditions
' 10-day "
Upper Amazon Aboard the Delfin
" which has an onboard nature guide. In Peru's Pacaya-Samiria National Reserve, look for curious parrots and monk saki monkeys, then take an excursion along tributaries like the black-water Pucate River. At Sapuena village, you'll learn about the culture of riberenos (riverbank natives) and take a hike in search of the giant Amazonian water lily, which grows in small lagoons. The itinerary may include a skiff adventure farther into the reserve, to seek birds like jacamars and ringed kingfishers, or a walk through a classic tropical rain forest brimming with three-toed sloths and red howler monkeys. Wrap up the vacation with the chance to visit Iquitos' manatee rehabilitation center before returning to Lima. This trip has many departures through next fall; rates start at $5,870.
Shore excursions also balance out river cruising on
Gate 1 Travel
's nine-day "
Lima With Five Day Amazon Cruise
" on the 31-passenger
MV La Amatista
. The cruise leg kicks off the journey with a lesson in preparing local food. Hop off the ship for a fishing expedition, a shaman ceremony, a visit to a butterfly farm and a nature hike. Glimpse the jungle as the birds and monkeys do -- from the treetops -- as you traverse suspended bridges high above the ground, and interact with locals in Las Palmas village before an onboard musical concert. In Nauta, Peru, you'll bid farewell to the river ship and spend your vacation's remainder exploring the capital city of Lima, stopping by such sites as the 17th-century San Francisco Monastery. Much of the time here is at your leisure, so you can wander as you like. Departures are offered through mid-December; prices start at $1,849.
The information in this story was accurate at the time it was published in May/June 2013. Please visit
Vacations To Go
or call (800) 510-4002 for current rates and details.
Send This Article to a Friend
Bookmark this Content
Digg it!
Reddit
Furl
del.icio.us
Spurl
Yahoo!