The Nature Lover
Experience more of Mother Nature's creations,
including up-close wildlife encounters
By Madison G. Welch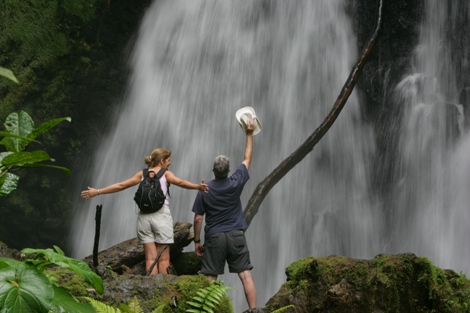 Eric Rock/Natural Habitat Adventures
Tour Costa Rica's lush landscapes
Covering an area smaller than West Virginia,
Costa Rica
offers steaming geothermal springs, colorful coral reefs, white-sand beaches and evergreen trees.
The Central American country
teems with exotic animals and, to top it off, more than one-fourth of its square footage is protected as a national park or conservation area.
You'll visit a cloud forest, volcano and sea turtle nesting spot on the nine-day "
Natural Jewels of Costa Rica
" with
Natural Habitat Adventures
, an eco-conscious tour provider and official partner of the World Wildlife Fund. Prices start at $4,795 per person, without airfare, and departures are available through late December. There are more budget-friendly options that visit the destination, too, including the eight-day "
Costa Rica Eco Adventure
" from
Trafalgar
, priced from $1,475. It stops at a chocolate workshop, palm plantation and Tortuguero National Park.
Snorkel with manta rays in the Aloha State
Just off the coast of the
Big Island of Hawaii
, giant manta rays glide through the warm water, collecting plankton with wide mouths. The filter feeder's wingspan can reach up to 25 feet, yet it often somersaults nimbly to double back on a cloud of tiny prey.
The Sheraton Kona Resort and Spa at Keauhou Bay
has an observation point with spotlights that illuminate plankton and attract hungry mantas. Eager for an even closer look? Sign up for a nighttime snorkeling excursion using the same spotlight technique; the rays often get close enough for snorkelers to touch (though contact is discouraged for the animals' safety). The experience costs about $100.
Cruise the Amazon
The Amazon River
meanders across South America for
more than 4,000 miles
. The surrounding rain forest contains millions of species, from harpy eagles and morpho butterflies to powerful jaguars, making it one of the best places on Earth for wildlife watching.
Explore the Amazon on an expedition-style river cruise from providers such as
G Adventures
,
Avalon Waterways
,
SITA World Tours
and more. These voyages take place on ships with shallow drafts, allowing for travel through hard-to-reach sections in Peru as well as the more accessible bits in Brazil. For example, G Adventures' nine-day "
Amazon Riverboat Adventure
" begins in Lima, Peru, and features jungle walks and piranha fishing, priced from $2,449 per person, plus airfare.
The information in this story was accurate at the time it was published in January/February 2015. Please visit
Vacations To Go
or call (800) 510-4002 for current rates and details.
Send This Article to a Friend
Bookmark this Content
Digg it!
Reddit
Furl
del.icio.us
Spurl
Yahoo!