The Epicurean
Dine as the locals do while traveling abroad
By Michelle Chumbley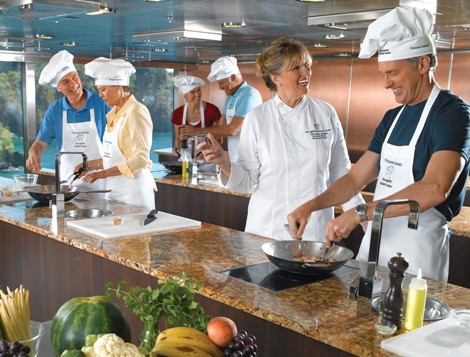 Oceania Cruises
Sip port on the Douro River
Connoisseurs of the world's wines will enjoy delving into vintages produced along Portugal's
Douro River
. Labeled a UNESCO World Heritage Site, the Alto Douro Wine Region boasts a 2,000-year vineyard legacy. Rolling terrain dotted with white-walled villages, quintas (traditional farming estates) and 18th-century chapels is explored on river cruise vacations that start in Porto or Lisbon.
Itineraries bundle wine tastings with tours of striking landmarks, many venturing east into Spain to see the centuries-old city of Salamanca, where Gothic, Renaissance and Baroque monuments endure, or Madrid, a lively cultural mecca.
AmaWaterways
offers the eight- or 12-day "
Enticing Douro
" to tour Porto's 16th-century buildings and an iron bridge built by the architect behind the Eiffel Tower. Departures on
March 24
and
31
emphasize local wine through onboard lectures and evening sips, with prices from $2,699 per person.
Simmer and saute at sea
For the hands-on foodie, cruise lines offer everything from quick cooking lessons to -- in the case of
Oceania Cruises
-- full-blown schools. Available on the
Marina
and the
Riviera
, the Bon Appetit Culinary Center provides professional instruction from master chefs using an international array of recipes. Learn to make French ratatouille, use Moroccan spices to infuse flavor or create authentic Spanish tapas.
Oceania is known for its fine dining, guided by executive culinary director and celebrity chef Jacques Pepin. Taste the Mediterranean on
a seven-night sailing departing Rome on June 16
with stops in Italy, Spain, France and Monaco. Hosted by the 1,258-guest Riviera, per-person prices start at $3,599.
Sample and prepare authentic dishes
"
Real Food Adventure
" tours from
Intrepid Travel
take bold appetites behind the scenes of tasty destinations. Local guides point out the best hole-in-the-wall restaurants, street foods and neighborhood bars with a goal of eating like the natives. A trip might include a camel burger or truffle hunt in
Morocco
, a tequila distillery in
Mexico
or a cheesemaker and salami factory in
Italy
.
Itineraries like the eight-day "
Real Food Adventure - Thailand
" include an overnight stay and meal preparation with a local family; your host will help you seek ingredients for an authentic 11-dish Thai menu, including spicy pork salad and fried chicken. Prices start at $975 per person before airfare.
The information in this story was accurate at the time it was published in January/February 2015. Please visit
Vacations To Go
or call (800) 510-4002 for current rates and details.
Send This Article to a Friend
Bookmark this Content
Digg it!
Reddit
Furl
del.icio.us
Spurl
Yahoo!