The Christmas Markets of Europe
Start planning now for a trip to experience
these enchanting holiday traditions
By Emily Coleman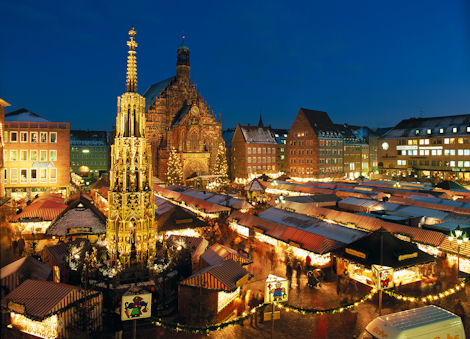 Nurnberg-Congress & Tourismus Zentrale
W
inter can be a joyful time of year, when families swap magical stories and communities come together for holiday celebrations. As December approaches, a sense of wonderment usually reserved for childhood resurfaces as long-held traditions and a romantic atmosphere take hold. Cities all over Europe embrace this holiday cheer by erecting extensive outdoor Christmas markets. These gatherings are treasured by local residents but also draw international visitors.
From late November through Christmas Eve, town squares in
Austria
,
France
,
Germany
,
Hungary
and the
Czech Republic
are transformed into charming winter wonderlands. Their yuletide bazaars feature twinkling lights strung over immense evergreen trees, rows of souvenir stands filled with delightful sights, smells and tastes, and merry music ringing out from cathedral towers and filling the marketplace.
The origin of these jovial affairs can be traced to the medieval age, when traders and shopkeepers would organize seasonal markets to sell their wares. The
Dresden
Striezelmarkt recalls its first year as 1434, when a modest fair was held on a single day. The custom has evolved over the years and now provides an enticing spectacle to brighten weeks of winter evenings in the German city.
Although many activities and events accompany the Christmas displays, the main attraction is row upon row of illuminated stands filled with aromatic treats, darling treasures and one-of-a-kind artisan creations. Hand-carved nativity scenes, beeswax candles, brightly painted nutcrackers and delicate glass ornaments can be found at many festivals, but each city has regional specialties worth seeking out.
Nuremburg
, Germany, is known for its soft gingerbread cookies called
Elisenlebkuchen
, while in the Czech Republic,
Prague
artists craft elaborate theatrical marionettes. Once you arrive at a market, browse as many of the booths as you can and evaluate potential purchases carefully. While many venues highlight local craftsmanship, there's also an abundance of kitsch and forgettable trinkets.
Hot eats and delicious drinks galvanize shoppers made weary by the winter's chill. Around every corner are freshly made confections, savory sausages and the Christmas beverage of choice, hot mulled wine, known as
gluhwein
in German and
svarene vino
in Czech. A few sips from a mug (sometimes shaped like a boot) will give you a warm glow. (Tip: In many markets, a deposit is added to the price of the mulled wine, which is refunded if you return the mug. Or, keep the mug as a souvenir.) To take a break from browsing and eating, guests can enjoy a visit with Father Christmas, an enchanting fable spun by a storyteller, the harmonies of a children's choir or the pyrotechnics of a fire juggler.
The winter carnival in
Brussels, Belgium
, is more recent, first appearing in 2002, but it doesn't lack in diversions or beloved attractions. The Pleasures of Winter celebration includes more than 200 stalls, all packed with handicrafts, delectable treats and warm refreshments. Look for pots of
moules
(mussels) and crisp Belgian fries sold with mayonnaise for dipping and pints of beer to wash them down. The country also is known for its high-quality chocolate, so indulge yourself with a smothered waffle or a cup of hot cocoa.
Each night, a sound-and-light show is projected over the Grand Place, the city's central square. It's an entertaining spectacle, as pictures and designs are splashed across Town Hall and inspirational music floats over the crowd. A rink is constructed each year for visitors to ice-skate on, while a Ferris wheel spins and glitters in the background. Shopping here offers more than just regional crafts and mementos, as artisans from all over the world bring ornaments, carvings and other gifts.
Located in the Alsace region of France, near Germany's western border,
Strasbourg
is a small city that bustles with travelers around the holidays. Its Christmas market, founded in 1570, is easily the oldest in France. Hundreds of tiny chalets, where merchants sell their goods, surround the town center. Carolers and cathedral concerts set the mood for strolling browsers, and a merry-go-round and ice-skating rink entertain the little ones.
Printed linens and colorful children's clothes can be found in shops, while bakers' stalls sell seasonal favorites like pretzels, doughnuts, anise cookies and roasted chestnuts. The air is laced with spice and cinnamon, tempting shoppers to taste a cup of mulled wine. An enormous Christmas tree is positioned in Place Kleber, the city's largest square, and decorated with glowing lights.
Vienna, Austria
, hosts several
Christkindlmarkts
, with a classic and long-running version held in front of the
Rathausplatz
, or city hall. The origins of this particular bazaar can be traced all the way to 1296, when Emperor Albrecht I gave permission to Viennese traders and shopkeepers to hold a December market. It has evolved in the intervening centuries, but stallholders have preserved the charm and beauty of the event. The goods tend toward the traditional, with more wood-carved and handmade items and fewer plastic knickknacks celebrating Santa Claus.
Another Vienna emporium is hosted in Spittelberg, the city's historic quarter. Vendor booths are snugly set on narrow cobblestoned alleyways and tucked into courtyards beneath centuries-old architecture. The scale of the market is small compared to its
Rathausplatz
cousin, but the offerings are sophisticated and the atmosphere is more intimate. Visitors will find both traditional and contemporary handicrafts, like beeswax candles, glass figurines and nutcrackers.
Schoenbrunn Palace is the location of a third Viennese
Christkindlmarkt
. The 1,440-room estate dates to the 17th century and once served as the summer residence of Austrian emperors. Each December, a massive Christmas tree towers above the baroque courtyard, sparkling with holiday lights. Along with mugs of
gluhwein
, vendors sell delicious treats like apple fritters, poppy seed noodles and soft pretzels. After perusing the wares, investigate the palace and its manicured grounds.
The
Dresden
Striezelmarkt turned 575 years old in 2009 and is considered the oldest Christmas market in Germany. One of its many customs is the construction of a giant stollen, a breadlike fruitcake dusted with powdered sugar. The oversized pastry weighs more than three tons and is paraded to the old city where it is ceremonially cut by a local master baker and his assistant, the annually elected Dresden Stollen Girl. If you aren't around during the second Saturday of the market for the Stollen Festival and parade, you can find smaller versions of the dessert sold at food concessions.
Reproductions of seasonal characters are common buys at these festive gatherings -- angels, nativity scenes and multiple incarnations of Santa Claus are popular, and Dresden is known for its
Pflaumentoffel
, chimney sweep figurines made from prunes. These miniature men are dressed in golden ruffles and top hats and carry wooden ladders. Once sold by children to earn money for Christmas, they can be picked up at most vendors' stalls for a souvenir or good luck charm.
Nuremberg
is the location of another one of Germany's famous markets, often considered the largest in the country and possibly the most widely renowned. Each year the event is inaugurated by the Nuremburg Christmas Angel, adorned in a glimmering crown, white-and-gold dress and long, blond ringlets cascading past her shoulders. She is an enduring symbol of the celebration and reads the ceremonial prologue on opening day. Throughout the season the Angel visits schools and hospitals and takes part in a fairy-tale hour at the nearby children's market.
More than 2 million people descend on Nuremberg's cathedral square each year to enjoy sizzling bratwurst, spiced gingerbread and fruitcake. Creches, candles, ornaments and more are available at nearly 200 booths; look for the foil angels with pleated skirts and golden wings, and the
Zwetschgenmannle
, comical little dolls made of prunes and walnuts. Each year merchants compete for the title of most beautifully decorated stall.
Prague
's most popular Christmas market, or
Vanocni trhy
, takes place each year in the city's Old Town Square. Surrounded by inspiring Romanesque and Gothic architecture, the fete's centerpiece is a giant evergreen tree adorned with spectacular lights. Shops are arranged around a statue of Jan Hus, an impressive monument to the Czech religious reformer.
Glassware, wooden toys, handcrafted jewelry and marionettes are sold along with other Christmas items. Live concerts and plays entertain guests during their visit. Sweet breads, vanilla rolls (buttery cookies rolled in vanilla sugar), gingerbread, wine sausage and fish soup are among goodies to be sampled.
Visiting Holiday Markets
One way to visit multiple holiday markets in a single trip is by river cruise. Companies like
Viking River Cruises
,
Uniworld River Cruises
,
Avalon Waterways
and
AMA Waterways
specialize in seasonal trips along the
Danube
, Main and
Rhine
rivers, stopping in several cities and towns along the way. Traveling on a ship is convenient because you only have to unpack once.
The riverboats are small, intimate vessels with room for only 100 to 200 guests. Because of the limited cabin space and the popularity of the Christmas markets, it's wise to plan ahead and make reservations well in advance of the holiday season. If you'd like to learn more about river cruise options, visit
Vacations To Go
or call the travel specialists at (800) 510-4002.
Another option for taking in the beauty of the holiday season in Old World Europe is by escorted tour. Passengers travel between cities on a comfortable motor coach and stay at centrally located hotels or charming inns.
Gate 1 Travel
,
Collette Tours
,
Globus
,
Insight Vacations
and other operators have holiday trips visiting Austria, Germany, France, Switzerland and the Czech Republic. For information, visit
Vacations To Go
or call the tour department at (800) 680-2858.
The information in this story was accurate at the time it was published in July/August 2010.
Send This Article to a Friend
Bookmark this Content
Digg it!
Reddit
Furl
del.icio.us
Spurl
Yahoo!