The Art Aficionado
Pack a paintbrush and head for an inspirational destination
By Michelle Chumbley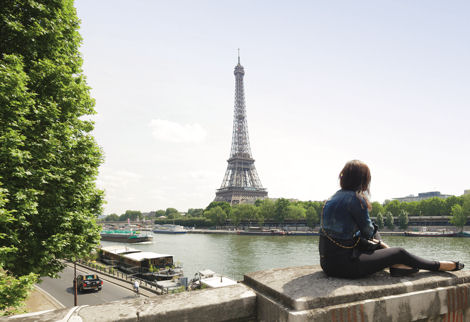 Marc Bertrand/Paris Tourist Office
An impression of France
Transient light, filtered through French landscapes, inspired great works from 19th-century masters like Claude Monet and Vincent van Gogh. Find your own muse on
a river journey
that ventures by grand castles, thatched-roof cottages and historic monasteries.
Avalon Waterways
will present an art-focused
Seine River
itinerary featuring an onboard expert in the impressionist movement. The eight-day "
Paris to Normandy's Landing Beaches
" departs the City of Light on July 28 to visit the home of Monet, the Bayeux Tapestry and the famous Louvre Museum, with prices from $3,149 per person.
Capture Italy at your leisure
Independent tours
allow artists the flexibility to explore at their own pace, whether pausing to let the sunset frame a perfect snapshot or painting a flickering gaslight as it casts shadows on a cobblestoned street. Several tour providers offer trips to "the big three," Italy's top tourist towns: Rome, Florence and Venice. You might take in the ceiling frescoes at the Sistine Chapel, see Renaissance paintings at the Uffizi Gallery or watch glassblowers create their delicate works as you stroll along Venetian canals.
Itineraries can include guided sightseeing as well as free time to peruse your favorite spots. Eight-day trips with
Gate 1 Travel
can be found for less than $500 per person before airfare.
The information in this story was accurate at the time it was published in January/February 2015. Please visit
Vacations To Go
or call (800) 510-4002 for current rates and details.
Send This Article to a Friend
Bookmark this Content
Digg it!
Reddit
Furl
del.icio.us
Spurl
Yahoo!