River Romance in Italy
Embark on an intimate sailing from Venice
aboard Uniworld's elegant River Countess
By Alexis Loyd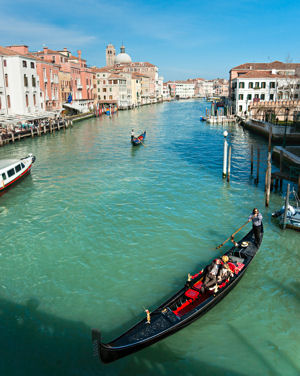 Masterlu/Fotolia
(Scroll down to see a slide show.)
W
ith my cappuccino as the perfect complement to a cool evening breeze, I watched the sinking sun bathe the domes of Venice in pink. Water lapped the curve of the riverboat, flanked on either side by the blushing City of Bridges. The serenity that enveloped my husband, Rob, and me was almost tangible. If all went according to plan, we would celebrate our Italian honeymoon with a kiss on a gondola beneath the Bridge of Sighs, ensuring our eternal love, according to the legend.
Our Italian escapade had not begun as smoothly. After sleepless flights from Houston, we arrived at the Venice airport to find Rob's suitcase missing. Not quite the desired start for what was to be a 13-day taste of la dolce vita on the new "
Splendors of Italy
" itinerary from
Uniworld Boutique River Cruise Collection
, which couples a weeklong sailing of the Venetian Lagoon and
Po River
with a five-night stay in Florence and Rome. But Night One had Rob crashed out in our stateroom on the
River Countess
by dinnertime.
Knowing he would wake up discombobulated and starving in a few hours, and heeding my own hunger, I set out on a reconnaissance mission but hesitated at the sight of the Savoy Restaurant's glittering chandelier and elegantly attired guests.
"What can I do for you, lovely lady?" The restaurant manager, Romica, smiled. After I explained the situation, he ushered me to a table, offered a drink and encouraged me to choose anything from the menu, declaring he would deliver it to our room himself.
When Rob awoke, a steak dinner was waiting on the bedside table.
The next day, anticipation of a private excursion to St. Mark's Basilica was tempered by worries about lost luggage. Just before we were set to depart, a knock at the door revealed a triumphant cruise manager, Ramona, my husband's bag in hand. Her persistent phone calls had paid off in just over 24 hours, a feat we agreed we could not have equaled on our own. Two glasses in hand, Rob slid open our cabin's balcony door and prepared to open the welcome bottle of wine that had remained untouched:
"Let the honeymoon begin."
Aboard the River Countess
Our home for the cruise portion of our journey was a French balcony stateroom on the 132-passenger
River Countess
, remodeled in 2012 in collaboration with Uniworld's sister company, luxury boutique chain Red Carnation Hotels. Unlike most river cruise operators, which opt for a more contemporary appearance, Uniworld's fleet is adorned with opulent touches and original art, such as the River Countess' vintage-style prints. According to Guy Young, Uniworld president, the designs reflect the company's position at the top end of the field.
"I understand that decor can be subjective, but certainly when you're on a Uniworld ship, you know you're on a Uniworld ship, and we do stand out in a very crowded marketplace," he says.
The vessels may not have universal appeal, but I found the River Countess' flourishes elevated our experience from vacation to special occasion, especially in conjunction with impeccable service. As Ramona had been our baggage savior, Romica, it turned out, would be our fairy godfather of onboard dining, from granting my request for in-room chocolate sundaes to making sure we tasted the bread straight from the oven.
Both the pizza and gelato on the ship rivaled counterparts we found on shore, but it was the selection of regional wines and cheeses that kept our palates poised. Never big wine drinkers, we mostly began testing vintages because they were included with our onboard meals. By dinner on Day Three, Rob confirmed what I had begun to suspect.
"Now I know why we never liked wine," he said.
"Why?"
"Because we've been drinking
bad
wine."
From that point on, I took note of favorite brands, like Maculan, which Romica informed me was a family-owned winery in the village of Breganze, about an hour northwest of Venice.
The Queen of the Adriatic
Our formal introduction to the Venetian archipelago, a cluster of 118 small islands connected by roughly 400 bridges and 150 canals, was a motorboat cruise on the Grand Canal and exclusive access to the Byzantine basilica that served as the doge's chapel during Venice's reign as a medieval maritime power. The after-hours tour arranged by Uniworld provided for close-up study of features like the gold Pala d'Oro altarpiece, embellished with more than 1,900 glittering gems including pearls, emeralds and sapphires.
The ship's docking spot was a 15-minute walk from central St. Mark's Square, allowing us to explore at leisure. Founded in the fifth century, this canal-laced city of the Adriatic Sea exudes the intrigue and enchantment of a historic republic mingled with the intimacy of small cafes and independent craft shops. In this window-shopper's paradise, one could linger for days among the boutiques of luxury designer goods surrounding the square. But Venice is packed with tourists, so we found midday the ideal time to drift beyond the most popular paths.
Ambling led us to a park filled with moss-covered statuary peering through shade trees; an exhibit of 17th- to 19th-century stringed instruments; and the Baroque basilica, Santa Maria della Salute, or La Salute. We also encountered an impressive collection of Venice's signature Carnival masks at Leon d'Oro Boutique. A tip for mask buying: Find a shop attached to artisans employing traditional techniques. Though more expensive than those peddled by sidewalk vendors, these masks are of noticeably higher quality.
Northern Italian Gems
The allure of Uniworld's Po River cruise was twofold: full days in Venice combined with the chance to sample other treasures, including two more Veneto cities, Padua and Verona, as well as Bologna and Ravenna in Emilia-Romagna. Historically a collection of city-states ruled by the pope or foreign powers, Italy became a nation in 1861 but retains much of its regional character. Many residents still identify with their family's homeland (as Venetians or Tuscans, for instance) rather than as Italians. While this can be a bit complicated politically, for wayfarers, it means one trip can include a glorious medley of native wines, gastronomic specialties and historic sites.
Through Ramona and a host of local tour guides, we gleaned knowledge of each city we strolled. In Padua -- where the "father of the Italian language," Dante Alighieri, studied -- we glimpsed the Scrovegni Chapel's famed 14th-century frescoes by Giotto di Bondone. Gazing at vibrant panels depicting the lives of Jesus and Mary, we learned that Enrico Scrovegni built the chapel to atone for the sins of his usurer father, Reginaldo. Enrico's efforts did not prevent Dante, however, from writing Reginaldo into the seventh circle of hell in his "Divine Comedy." This tidbit came back to us when roaming quiet Ravenna, home of Florentine exile Dante's tomb. Here, our guide led us to two brick structures belying the colorful mosaics within: the sixth-century octagonal Basilica di San Vitale and the unassuming fifth-century Mausoleo di Galla Placidia. These UNESCO World Heritage Sites are remnants of Ravenna's place in history as the seat of the fifth-century Roman Empire and later, Byzantine Italy.
We relaxed while our fellow shipmates opted for pasta-making in Bologna but rejoined the group for picturesque Verona. Home of Shakespeare's star-crossed sweethearts, the city provides the fun, if manufactured,
amore
of Romeo's house and Juliet's balcony. But there is something genuinely moving about a place where volunteers respond to thousands of letters addressed to fair Juliet from heartbroken lovers, and there's no denying the fairy-tale setting of the Adige riverfront. Verona also has a Roman arena that is less famous but better preserved than the Colosseum, which sustained damage from natural disasters and was later stripped of its marble for use elsewhere.
The Grand Finale Duo
Florence and Rome are two of the most visited cities in Europe, and a survey of the art, archaeological sites and delectable eats makes it clear why. There is an atmospheric appeal here as well, felt while traversing grounds once roamed by some of history's most well-known figures: Leonardo da Vinci, Niccolo Machiavelli, Gian Lorenzo Bernini and Julius Caesar, to start.
In Florence, often called the birthplace of the Renaissance, we marveled at Michelangelo's more than 500-year-old "David" at the Galleria dell'Accademia and failed miserably in our attempts to photograph ornate details of the massive Basilica di Santa Maria del Fiore (Il Duomo). Our favorite place in the Tuscan city, however, was Piazza della Signoria, the original location of "David." A replica now stands among a host of striking statuary, ranging from the 14th to 16th centuries.
One of our guides, Irena, remarked that Rome is a capital of layers, rebuilt again and again on top of the same locale; a metropolis where the modern and ancient collide and coexist. Tiny cars wind along cobbled roads past remnants of an empire that once stretched more than 3,000 miles wide. Knowing it could take weeks to cover the highlights, we focused on the historic center, beginning at the first-century battlegrounds for gladiators and beasts, the Colosseum. We spied the Arch of Constantine, climbed the staircase guarded by Castor and Pollux to Capitoline Hill, imagined a bustling Forum among its remaining pillars and toured the time-tested Pantheon. As gray clouds threatened above, we risked a possible drenching to end our day atop Palatine Hill. Quiet among the ruins, we closed our eyes for a moment, paying homage in a place where legendary rulers, philosophers and artists had stood.
A Course in Wine
On our way to Rome, we stopped for a winery tour and lunch at Castello di Verrazzano in the town of Greve in Chianti, a roughly 45-minute drive from Florence. After skillful navigation up a narrow and twisting road by our motor coach driver, Lauro, we emerged at the verdant hilltop estate and 1485 birthplace of Giovanni da Verrazzano. He was the first European explorer to sight New York Bay, a distinction which earned him a namesake bridge spanning from Brooklyn to Staten Island, NY.
With a newly acquired appreciation for wine, Rob and I were primed for the tasting. Our samplings included three Chianti Classico varieties and biscotti dipped in grappa. Once the first bottle was served, the enlightenment began: We held our glasses at the stem, examined color for an indication of aging time and swirled the wine and inhaled to distinguish aromas. Toward the end of our meal, we savored pecorino and a spoonful of what our tour leader called "liquid gold": Verrazzano's thick and sweet balsamic vinegar, which was the best I had ever tasted. Had I not left my wallet on the bus, I would have gladly shelled out 48 euros for a 100-milliliter bottle (that's about $62 dollars for less than half a cup).
Sailing Italy
Experienced passengers might notice some differences when comparing Uniworld's "
Venice & the Po River
" to most other European river cruises. Along the Po River there is less scenic sailing, and stopovers aren't always centrally located in a charming town. Sightseeing excursions to cities along the route require a motor coach ride of an hour or more from the ship. But the benefits of sailing Italy with Uniworld far outweigh logistical drawbacks. The
River Countess
was an upscale sanctuary for us to return to at the end of each day's adventures.
Forget repacking to swap hotels, or navigating and driving. Avoid stumbling across mediocre eats or poor service. Keep budgeting easy with one upfront price, rather than calculating meals, accommodations, tickets to attractions and more. In 2014, fares for Uniworld's European trips will cover gratuities and all onboard alcohol, not just wine and beer served at lunch and dinner.
And the perks are multiplied if you select the longer "
Splendors of Italy
" tour. Our check-in was taken care of at hotels in Florence and Rome. Time and again we avoided daunting lines of restless tourists (at the Colosseum, for example) and marveled at morsels from well-versed guides. Above all, we found it invaluable to be looked after by a knowledgeable and caring staff in a country where neither of us speaks the language. Even the best-planned trips lend themselves to some unpredictability, and the professionals at Uniworld act as a safety net.
Love and travel are similar in that appreciating the journey is key. Sidetracked, we did not end up getting that smooch beneath the Bridge of Sighs. But on the ship's top deck amid a Venetian sunset, it felt possible that a kiss aboard the River Countess held a romantic promise of its own.
Information
Uniworld's Italian vacations run through mid-November 2013, beginning again in early April 2014. Per-person prices start at $2,899 for the eight-day, cruise-only "
Venice & the Po River
" and $5,499 for the 13-day "
Splendors of Italy
." For more on Uniworld's explorations in Italy and around the world, as well as special discounts, contact the river cruise specialists at Vacations To Go, (800) 510-4002 or
click here
.
The information in this story was accurate at the time it was published in July/August 2013. Please visit
Vacations To Go
or call (800) 510-4002 for current rates and details.
Send This Article to a Friend
Bookmark this Content
Digg it!
Reddit
Furl
del.icio.us
Spurl
Yahoo!