A Toast to Europe -- and Beyond
These vacations salute winegrowers, distillers
and brewers around the world
By Jennifer Davoren and Madison G. Welch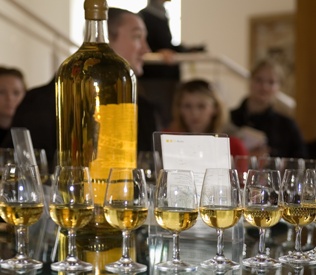 H
oist your beer stein to Germany. Clink your Champagne flutes for France. Prepare for an army of stemware if you're headed for Italy -- this is a country known for its staggering choices in wine, and one requires glasses appropriate for each varietal.
However you're toasting, we have three suggestions for sipping in style on a European getaway.
Ocean cruising
. If you're looking for a wide variety of destinations and a speedy, convenient way to reach them, a
Mediterranean sailing
might be your best bet. Cruisers can see three or four countries in a single weeklong getaway, and their floating accommodations mean unpacking just once after embarkation. Days in port leave you free to seek your own wining and dining adventures, or you can look into hosted shore excursions that delve into the local eating and drinking scene.
But sea sailings also can accommodate the niche traveler. Smaller companies like
Hebridean Island Cruises
are focused on a single region -- in this case, the far-flung isles and hidden villages of northern Scotland and western Norway. Ports of call include
Port Ellen
on the isle of Islay, where the Bowmore Distillery has produced its single-malt Scotch whisky since 1779, and
Inverie
, home to The Old Forge -- known as the most remote pub in Britain, it's accessible only by sea or an 18-mile hike through the hills.
And
Windstar Cruises
is one of several lines to offer themed imbibing itineraries around the world. "
Culinary & Wine Delights of Spain
" is an eight-night sailing on the 310-guest Wind Surf departing Lisbon, Portugal, on April 19 to call on Cadiz, Valencia, Barcelona and other Spanish hot spots. Guests are treated to vineyard tours and sherry samples in port as well as local wine and tapas pairings each day as a warm-up to dinner.
For more information, call Vacations To Go at (800) 338-4962 or visit the
European cruise site
to peruse itineraries.
Escorted tours
. Bundling lodging, ground transportation, group sightseeing and other perks in one travel package,
this type of trip
takes the guesswork out of vacation planning. You'll have access to experienced guides and advice from longtime locals, including insider's tips on restaurants and tasting rooms in a new-to-you destination. And these trips tend to be panoramic, so your vineyard visits will be sprinkled throughout an itinerary focused on the historic landmarks and cosmopolitan capitals of Europe.
Tauck
's line of Culturious tours sends small groups on gourmet adventures around the globe. The popular "
Culturious: Tuscany & Cinque Terre
" is eight days of trattoria stops, cooking lessons and wine samples with plenty of time to admire the region's Renaissance gems, including Michelangelo's "David" at the Galleria dell'Accademia in Florence.
Gate 1 Travel
's budget-friendly, oenophile-luring programs include "
Art & Wine of Spain
," a nine-day jaunt from Barcelona to Madrid. Regional specialties up for sampling include cava, a sparkling white, and guests have time to admire Barcelona's Gothic landmarks like Antoni Gaudi's unfinished masterpiece, La Sagrada Familia.
Click here for more information
or call Vacations To Go's escorted tour division, (800) 680-2858.
River cruising
. This stylish mode of transportation is best suited to leisurely luxury vacations. You'll cut through prime grape-growing territory along the continent's most storied waterways -- the Moselle, Rhine and Rhone, to name a few.
Pick your poison. Port? Try
AmaWaterways
' "
Enticing Duoro
," an eight-day sailing in Portugal and Spain. Sweet Sauternes and robust St. Emilion? Sample both while cruising through France's Bordeaux region with
Viking River Cruises
(the eight-day "
Chateaux, Rivers & Wine
") or
Uniworld River Cruises
("
Bordeaux, Vineyards & Chateaux
," also eight days). "
Burgundy & Provence
," 11 days with
Avalon Waterways
, travels the Rhone and Saone rivers to investigate several wine regions.
Avalon also caters to hops fans with "
Austrian Highlights & Bavaria
," a six-day beer cruise departing Oct. 13, 2014, down the Danube from Vienna to Passau, Germany. In addition to the complimentary brews served with dinner each evening, guests will hear from onboard suds experts, take part in tastings and, during a port call in Melk, swap beer for wine to sample Germany's second favorite potable.
An optional three-day land extension
in Munich tacks on biergarten and brewery visits in the sacred home of Oktoberfest.
Call the river specialists at Vacations To Go, (800) 510-4002, for additional details, or
peruse itineraries here
. --
Jennifer Davoren
Celebrations of Libations
There's always an occasion to say cheers. Check out these additional destinations that help raise your spirits.
Repeal appeal
. Dec. 5 marks the 80th anniversary of the repeal of Prohibition. Celebrate the occasion and toast the Roaring '20s at the
Arizona Biltmore
's Mystery Room, a hidden Phoenix speakeasy that was well-stocked with bootleg liquor -- and thirsty gentlemen -- during the ban. Restored to its former glory, the Mystery Room features period music, dress and drinks on Sundays from 8 to 11 p.m.
Aloha spirit
. On the slopes of Mount Haleakala, you can enjoy breathtaking views of
Maui
's north and south shores while sipping an organic vodka martini at its source: Ocean Vodka Organic Farm and Distillery. An ideal day trip from area resorts, the facility features gluten-free vodka distilled from sugarcane.
Scotch whisky traditions
. Visit one of the oldest family-owned distilleries in Scotland for a Scotch whisky tour and tasting. Founded in 1828, Springbank Distillery produces handmade whisky and remains one of only a few to perform the full production process on-site. For a taste of history with your whisky, explore the region's rich heritage with "
Scotland Castles & Manors
" from
Key Tours
.
Ireland imbibing
. About 3 million pints are brewed daily at the Guinness Storehouse in Dublin, and it would take 14.3 million to fill the giant glass you'll see when you visit the renowned brewery. Join
CIE Tours
for "
Irish Pubs & Folklore
" to delve into capital attractions, pour your own perfect pint and enjoy a panoramic view of the city from the Storehouse's rooftop Gravity Bar.
Holiday hops
. Called the City of Beer, Ceske Budejovice in the Czech Republic is home to the famous Budweiser Budvar Brewery. Tours show how today's production process incorporates centuries of beer-brewing legacy. You can visit this Bohemian town and cities such as Vienna and Germany's Frankfurt and Regensburg on the "
Christmas & New Year Celebrations
" river sailing with
A-ROSA Cruises
.
Stir it up
. Embrace your inner mixologist and concoct your own cocktail from a selection of infused spirits and mixers at the
Ritz-Carlton
on
Grand Cayman
. Your beverage will be displayed in the hotel's digital cocktail album for everyone to view and enjoy. Centered on pristine Seven Mile Beach, the Ritz-Carlton features world-class restaurants and plush amenities. --
Madison G. Welch
The information in this story was accurate at the time it was published in November/December 2013. Please visit
Vacations To Go
or call (800) 510-4002 for current rates and details.
Send This Article to a Friend
Bookmark this Content
Digg it!
Reddit
Furl
del.icio.us
Spurl
Yahoo!