10 Tempting River Cruises
From the Mississippi to the Mekong, these trips provide
an up-close look at a region's culture and character
By Alexis Loyd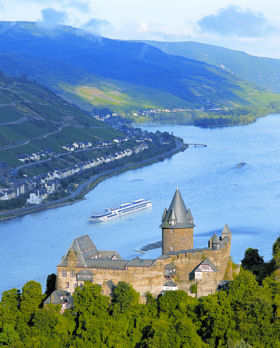 Viking River Cruises
(Scroll down to see a slide show.)
I
t's smooth sailing aboard modern river cruise ships, which coast some of the world's most scenic waterways. Contemporary concepts on board, such as al fresco dining and expansive suites, combine with historic onshore attractions to make river vacations an increasingly popular pick for discerning travelers.
By wrapping accommodations, sightseeing with knowledgeable guides, meals and sometimes wine into a package paid with one up-front price, river cruise operators have cut out much of the hassle of trip planning.
Here is a sampling of voyages across the globe. Prices are per person, based on double occupancy, and they do not include airfare. To peruse itineraries and see available discounts and promotions, visit
www.RiverCruise.com
, a website by travel discounter Vacations To Go. Or, call (800) 510-4002 to speak with a river cruise specialist.
Paris and NormandyAmaWaterways
The route
: This northern France itinerary from
AmaWaterways
, new for 2013, sails round trip from Paris along the Seine River aboard the 150-passenger
AmaLegro
. Choose between an
eight-day, cruise-only option
or tack on extra time in the City of Light on an
11-day version of the trip
.
Photo op
: Don't miss moments in picturesque Honfleur, where you can zoom in on 17th-century Vieux Bassin harbor, beloved by impressionists like Claude Monet.
Souvenir shopping
: In Paris, browse the riverside stalls of the bouquinistes, who sell used books, prints, engravings and trinkets. Merchants of this kind have been peddling goods to the public since the 16th century.
Follow in an artist's footsteps
: Step inside one of Monet's enchanting, bloom-filled paintings during a stop at the painter's former home and gardens at Giverny. You may recognize the Japanese-inspired pond and its water lilies from some of his most famous works.
Historic highlights
: Guests can learn about D-Day sites at the beaches of Normandy, tour Richard the Lionheart's 12th-century Chateau-Gaillard in idyllic Les Andelys and stand in the Rouen square where Joan of Arc was executed.
Sipping on the Seine
: Oenophiles can select "Paris and the Sparkling Seine" for special wine-themed departures along the same route.
Rates
: From $2,449 for the eight-day cruise ($2,649 for wine trips)
Romantic RhineAvalon Waterways
The route
: Traveling between Zurich and Amsterdam, this
eight-day voyage
winds through four countries.
Avalon
has deployed three ships carrying 128 to 138 passengers --
Felicity
,
Affinity
and
Artistry II
(new for 2013) -- on this itinerary.
Photo op
: Roughly 40 cliff-top castles and fortresses line the Upper Middle Rhine, one of the most scenic sections of the river between Koblenz and Bingen, Germany.
Souvenir shopping
: Look for the original eau de cologne, 4711, in Cologne; it's been produced in the German city since 1792. Brandy-filled Asbach chocolates were created in Rudesheim, Germany, in the 1920s and originally marketed to women, who couldn't be seen drinking in public.
Best spot for a stroll
: La Petite France in the Alsatian city of Strasbourg is a charming, pedestrian-only district of half-timbered homes, medieval bridges and canals.
Historic highlights
: Attractions on this cruise include Germany's oldest university town, Heidelberg; Mainz, Germany, the birthplace of printing inventor Johann Gutenberg and location of his namesake museum; and the 700-year-old capital of the Netherlands, Amsterdam.
Onboard comforts
: As part of its Avalon Choice program, which will be completely rolled out by 2013, this line offers guests a customized cruise experience with expanded dining options and excursions tailored around interests like cooking or fitness.
Rates
: From $2,229
Danube WaltzViking River Cruises
The route:
Cruise along the Danube
through four nations -- Germany, Austria, Slovakia and Hungary -- between the German city of Passau and the Hungarian capital of Budapest.
Photo op:
Medieval Melk Abbey in Austria is a sprawling Baroque masterpiece presenting picture-perfect scenery outside and heavenly ceiling frescoes inside.
Souvenir shopping: The markets in Budapest proudly display Hungary's national spice, paprika. Sample before sprinkling, as flavors range from sweet and mild to super spicy.
A few favorite things:
Fans of "The Sound of Music" might be tempted to arrange group numbers with their travel companions along the cobbled streets of Salzburg, Austria, where the Julie Andrews musical was filmed.
Historic highlights:
Walk to the former home of legendary composer Wolfgang Amadeus Mozart in Salzburg, tour the plaza of 14th-century Old Town Hall in Slovakia's capital, Bratislava, and hear Europe's oldest pipe organ in Passau's St. Stephan's Cathedral.
Onboard comforts:
Consider picking one of Viking's new "longships" for your vacation. The
Viking Idun
,
Viking Njord
and
Viking Embla
debuted this year, while
Viking Tor
and
Viking Skadi
set sail in 2013; all boast the open-air Aquavit Terrace and some of the largest suites on European rivers.
Rates:
From $3,149
Jewels of Imperial RussiaScenic Tours
The route:
This
two-week journey
spends four days each in Moscow and St. Petersburg and also visits smaller locales connected by the Volga-Baltic Waterway, including Svirstroy, Petrozavodsk and Goritsy.
Photo op:
Commissioned by Ivan the Terrible in the 16th century, St. Basil's Cathedral serves as an emblem of Moscow with its eight onion domes of red, gold, green and blue rising above Red Square.
Souvenir shopping:
Collect wooden spoons, bowls and candlesticks decorated in the Khokhloma style -- delicate red and gold designs on a black background.
Receive the royal treatment:
Guests partake of a glass of sparkling wine and private ballet performance at Vladimir Palace in St. Petersburg.
Historic highlights:
Explore the world of 18th-century St. Petersburg elites at sites like the Winter Palace, which now houses an impressive art collection; the Peter and Paul Fortress, burial place for many emperors and empresses; and the blue-and-gold Catherine Palace. A collection of striking wooden churches awaits on ancient Kizhi Island, and intrigue abounds on a tour of Moscow's Kremlin.
Onboard comforts:
Travelers cruise aboard the
Scenic Tsar
; after being stripped to its hull and completely overhauled, it became the first ship in 25 years to qualify as a new-build and be granted Russian registration. The intimate vessel carries 112 passengers and has verandas in 93 percent of its staterooms.
Rates:
From $6,595
Venice and the Po RiverUniworld Boutique River Cruise Collection
The route:
The
eight-day itinerary
begins and ends amid the Adriatic isles of Venice. In between, it navigates the Venetian Lagoon and the Po River, stopping for excursions to Italian gems like Ravenna, Bologna and Verona. The 13-day "
Splendors of Italy
" extends the trip with hotel stays and sightseeing in Florence and Rome.
That's amore:
According to local legend, kissing beneath the Baroque Bridge of Sighs at sunset ensures eternal love; couples can capture the moment while gliding in a gondola.
Souvenir shopping:
Bring back the art of letter writing with handcrafted marbled paper, available in an array of designs in Venice. Peruse samples made by locals in shops like Ebru in St. Mark's Square.
Spotlight on Shakespeare:
Devotees of the English playwright will delight in a chance to visit Verona, home of famous star-crossed lovers Romeo and Juliet. Recite your favorite lines beneath Juliet's balcony.
Historic highlights:
You can view eight UNESCO World Heritage Sites in Ravenna, fifth-century seat of the Roman Empire. In Venice, stroll central St. Mark's Square (called "the drawing room of Europe" by Napoleon) and get a glimpse of the floating city's luxurious days of power at the Gothic Doge's Palace.
Onboard comforts:
Uniworld
is known for its stunning ship interiors, designed in collaboration with sister company Red Carnation Hotels. The visual flourishes and elegant details make each vessel its own destination. Guests sail aboard the recently refurbished 134-passenger
River Countess
for this brand-new trip, available in 2013.
Rates:
From $2,849
Majestic YangtzeWendy Wu Tours
The route:
Spend two weeks
traveling between the dynamic metropolises of Shanghai and Beijing, including a four-night cruise through the dramatic landscapes of China's Yangtze River.
Photo op:
The immense Three Gorges Dam towers higher than 600 feet and spans more than a mile across. It is one of the largest and most powerful hydroelectric projects in the world.
Souvenir shopping:
Browse Beijing's Liulichang Street for antiques, calligraphy brushes, name seals and traditional woodblock paintings.
Bear necessity:
Wildlife-loving wayfarers make friends with the black-and-white residents of the Chengdu Research Base of Giant Panda Breeding, a conservation facility amid wooded surroundings.
Historic highlights:
Passengers can walk along a section of the Great Wall, stretching 3,000-plus miles, and peer at the life-size, terra-cotta warriors crafted for Emperor Qin Shi Huang's mausoleum in Xian. In Shanghai, architecture lovers admire colonial structures on the Bund waterfront and 1920s-style shikumen buildings in the Xintiandi district.
Armed with expertise:
Designing excursions in China for more than a decade,
Wendy Wu
has established itself as a trusted operator in the region.
Rates:
From $2,790
Timeless Wonders of Vietnam, Cambodia and the MekongTrafalgar
The route:
This
16-day vacation
travels between Ho Chi Minh City and Hanoi in Vietnam and also ventures into Cambodia. It features a weeklong sailing on the Mekong River.
Photo op:
The overgrown jungle temple complex of Angkor Archaeological Park in Siem Reap, Cambodia, makes an eerie yet majestic subject for photographers.
Souvenir shopping:
Wander Hanoi's Old Quarter in search of uncommon gifts, from original Communist propaganda posters to vibrant swaths of silk.
Local livelihood:
Experience the floating market in Cai Be, where locals sell fruit and other goods from their small boats.
Historic highlights:
This journey introduces visitors to sacred traditions at temples such as the One Pillar Pagoda in Hanoi and hilltop Wat Hanchey, and to Vietnam War history at sites like the Cu Chi Tunnels in Ho Chi Minh City and the Killing Fields in Phnom Penh.
Onboard comforts:
Traverse the Mekong on the colonial-style
River Saigon
, which launched this January. Each of 30 cabins features French doors framing river views.
Rates:
From $5,097
Wonders of EgyptInsight Vacations
The route:
This
10-day journey
loops from Cairo to Aswan and back, with a midtrip cruise along the Nile that lasts four nights.
Photo op:
Pyramid pics are a must on any Egyptian vacation, but be sure to snap a shot of the pathway lined with ram-headed statues at Karnak's Avenue of Sphinxes.
Souvenir shopping:
Look for handcrafted copper or brass items such as decorative lanterns. Artists in this region also are known for alabaster objects that depict pharaohs, birds, boats and more.
Historic highlights:
There is no shortage of ancient treasures in this African expanse, referred to as part of the "cradle of civilization." Travelers tour Cairo's Egyptian Museum (where King Tut's cache is displayed), venture to the massive pyramids of Giza, visit royal tombs in the Valley of the Kings, board a motorboat bound for the temples of Philae Island and see the oldest pyramid in the world, Step Pyramid of Zoser I.
Tea for the literati:
Soak up the Victorian atmosphere over high tea at Aswan's Old Cataract hotel, where Agatha Christie drew inspiration for "Death on the Nile."
Rates:
From $2,185
Mississippi River CruisingAmerican Queen Steamboat Co.
The route:
The 436-guest
American Queen
sails various itineraries on the upper and lower Mississippi River. Among the port calls are St. Paul, MN; Vicksburg, MS; Louisville, KY; Memphis, TN; and St. Louis and New Orleans.
Photo op:
Pause for a picture of grand Stanton Hall in Natchez, MS. With Corinthian columns and marble fireplaces, the estate exemplifies the antebellum South.
Souvenir shopping:
In New Orleans, hit up Louisiana Music Factory to purchase collections of jazz, zydeco and other playlists of Southern sounds, or stop by Cafe du Monde for a canister of its chicory-laced coffee.
Think theme:
Most departures follow a motif, and upcoming trips include "
Walk in Elvis' Steps
" on Nov. 25; "Blues and Barbecue" on
Feb. 15
and
May 12
, 2013; "
Louisiana History and Culture
" on May 5, 2013; and the "
Civil War
" trip on Sept. 13, 2013, complete with re-enactments and impersonators.
Historic highlights:
Military history buffs can opt for trips that stop at the battlefield at Vicksburg, the USS Kidd in Baton Rouge, LA, or the re-creation of the Union's Fort Curtis in Helena, AR.
Comfort food:
As the company's culinary director, Mississippi native Regina Charboneau concocted a menu inspired by American classics, with dishes like bananas Foster-stuffed French toast and crabmeat beignets.
Call it a comeback:
The American Queen Steamboat Co.
resurrected overnight Mississippi cruising this year after its multimillion-dollar renovation of the world's largest steamboat, which sports Victorian decor, fluted stacks and a big, red paddle wheel.
Rates:
Around $2,000 to $2,300 for an eight-day trip
Columbia and Snake RiversAmerican Cruise Lines
The route:
Explore the Pacific Northwest on an
eight-day cruise
between Portland, OR, and Clarkston, WA, aboard a recently renovated paddle wheeler, the 120-passenger
Queen of the West
.
Photo op:
Keep your camera on hand for a parade of stunning sights, like the waterfalls of spectacular Columbia River Gorge, volcanic Mount St. Helens and nearly 8,000-foot-deep Hells Canyon.
Souvenir shopping:
One-of-a-kind Native American handicrafts, art and beaded jewelry can be found at the Tamastslikt Cultural Institute in Pendleton, OR. Avid readers might drop by Portland's Powell's Books, which covers an entire city block.
Engineering feat:
Mechanical minds get a kick out of learning the inner workings of Bonneville Lock and Dam.
Historic highlights:
Imagine yourself a pioneer as you arrive at sites like The Dalles, a Native American trading post for 10,000 years; Astoria, the oldest American settlement west of the Rockies; and Fort Clatsop, a wintertime headquarters for Lewis and Clark during their early 19th-century expedition.
Rates:
From $3,645
The information in this story was accurate at the time it was published in September/October 2012. Please visit
Vacations To Go
or call (800) 510-4002 for current rates and details.
Send This Article to a Friend
Bookmark this Content
Digg it!
Reddit
Furl
del.icio.us
Spurl
Yahoo!