Your Island Itinerary
Make the most of your stay in St. Thomas
with our day-by-day activities
By Jennifer Davoren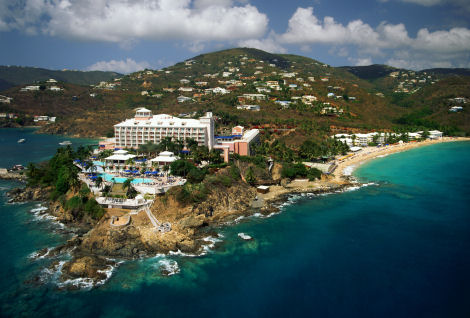 Frenchman's Reef Resort and Morning Star Beach Club
(Scroll down to see a slide show.)
Day 1 -- Settling In
Arrival
. When you first set eyes on the Caribbean resort haven of
St. Thomas
, as I did last July, you'll be tempted to toss those carefully made vacation plans. I'd been counting on an extended weekend of historic tours, gourmet restaurants, snorkeling and spa treatments in Charlotte Amalie, the capital of the
U.S. Virgin Islands
, but my first glimpse of its stunning shore had me reassessing my itinerary. The beach is the main attraction, after all, so why not plant myself in a waterfront lounge chair for five days straight? Luckily, the destination's other lures won out, and I enjoyed a panoramic, but all too short, stay. Peruse the following suggestions for accommodations and activities to help plan your St. Thomas getaway.
Check-in
. Marriott International offers two major properties in Charlotte Amalie,
Frenchman's Reef Resort and neighboring Morning Star Beach Club
, wrapped by a golden beach and rocky cliffs. Frenchman's Reef attracts the most attention, having just completed a $48 million, head-to-toe renovation this fall. Eight stories of updated rooms face the sea, each with expansive balconies that make the most of the view. The host of my trip, Morning Star Beach Club, is a smaller boutique resort, with 96 guest rooms mere steps from the ocean. An afternoon stroll between the two resorts is accompanied by a soft reggae beat whispering from hidden stereo speakers. Small lizards skitter underfoot and study passers-by from the safety of brilliant bougainvillea, while their bigger and bolder cousins, green iguanas, sun themselves by swimming pools and dining venues.
Dinner
. Head for Havana Blue, the upscale, open-air eatery at Morning Star. Innovative dishes are described as Latin fusion, with ancho chile-rubbed filets mignons and savory ceviches among entrees, but inspiration also comes from Pacific Rim spices. Mix and match the tastes of both while watching the stars sparkle over the Caribbean.
Evening drinks
. Finish your first day in St. Thomas at the Sand Bar, Morning Star's beachfront lounge. Cruzan's flavored rums are prominently featured, and the guava and mango versions are perfect for sipping or spun into a variety of tropical cocktails. Afterward, you can stroll along the sea on your way back to your room, enjoying the evening breeze and the resort's quiet seclusion. During my stay at Morning Star, I was lulled to sleep each night by the steady surf outside my window.
Day 2 -- Scenery
Breakfast
. Marriott guests have several options for seaside dining, including Coco Joe's, a casual spot for coffee and made-to-order omelets. For an indulgent start to your day, consider room service; you can kick back on your patio with fresh fruit and pastries and watch the waves.
10 a.m
. It's time for a bird's-eye view of the island and its 32 square miles of Caribbean beauty. Hop aboard the St. Thomas Skyride and head for Paradise Point, a small amusement park perched 700 feet above sea level. Trampolines and hermit crab races await for kids, while adult visitors find live music, a creamy cocktail known as Baileys Bushwacker and Flag Hill's incredible vantage points. Get a little higher with a ride on a 100-foot-tall Ferris wheel; tourism officials say that, on an especially clear day, you can see as far as Puerto Rico.
Lunch
. Yacht Haven Grande doubles as a retail center and high-end anchoring point for visiting cruise ships, including the
Carnival Dream
,
Disney Magic
, Holland America Line's
Eurodam
and Royal Caribbean International's two megaliners, the
Oasis of the Seas
and
Allure of the Seas
. Shops, restaurants and bars line the harbor. Here, you can pick up a new pair of sunglasses, grab a bite and make plans to return that evening to Fat Turtle, a popular spot for late-night drinks and dancing. Feel free to walk along the marina and admire Yacht Haven's stately namesakes, too. St. Thomas long has been a retreat for pleasure cruisers and deep-sea anglers.
3 p.m
. Now that you've toured the town a bit, how about meeting some of the locals? Charlotte Amalie offers unique wildlife encounters, from observing the delicate, jewel-hued residents of the Butterfly Garden to a meet-and-greet program at Coral World Ocean Park that pairs families with South American sea lions -- or sharks, if you'd like to test your bravery. Or head for the hills, where the St. Peter Great House and Botanical Gardens is host to tropical birds, fish and 20 types of orchid flowering along a winding nature trail.
Dinner
. Watch the sun set on St. Thomas from Room With a View, a hilltop bar and restaurant with an impressive wine list and a hearty, Italian-inspired surf-and-turf menu. Reservations aren't required here, but be sure to call ahead for a spot on the enviable veranda overlooking Charlotte Amalie.
Day 3 -- Sports
Tee time
. Designed by George and Tom Fazio, Mahogany Run Golf Course is as much a tourist attraction as it is an athletic challenge -- its signature hole is found atop a 200-foot bluff overlooking the British Virgin Islands. This course is especially popular with cruise ship passengers, and a wide selection of rental clubs allows visiting putters to travel light.
After lunch
. The Adventure Center books a range of land and sea tours from two outposts at the Marriott site, including a shopping ferry that connects the hotels to cross-harbor retail centers. During my visit, my traveling companions and I worked off a midday meal with a half-day sail-and-snorkel combo aboard a 54-foot custom catamaran. Bobbing around the appropriately named Turtle Cove, a crystal-clear expanse at Buck Island, we spotted at least a half-dozen of the reptiles grazing along the ocean floor. After studying the cove's coral gardens and its colorful residents, from parrotfish to purple sea urchins, we were treated to a breezy sail back to St. Thomas, complete with snacks and cocktails.
Evening paddle
. "See the seas between your knees" with Clear Discoveries, a unique sporting company founded by a father-and-son team and two friends from San Diego. In clear, polycarbonate kayaks outfitted with LED lights, participants set out from a small cove near Frenchman's Reef around dusk for a very different view of St. Thomas. Kayaks glide over octopus, rays and other creatures that shy away from daylight, as well as artifacts from the island's seafaring past, from barnacle-covered anchors to a submerged cannon. The distant lights of Charlotte Amalie enhance the kayaks' peaceful glow and, as my evening with Clear Discoveries proved, a quick hour-long paddle around the city harbor is quite a workout.
Day 4 -- Spa, Shopping and Local Lore
Morning
. Begin your day on a pampered note. At Morning Star, a variety of massages are available in private beachfront cabanas. A longer list of spa treatments is found at Frenchman's Reef, where an extensively renovated, 4,000-square-foot facility offers perks from mani-pedis to a stylized pool with bubble beds and soothing jets.
Lunch
. Grab a bite at Frenchman's Reef, where multiple venues overlook Charlotte Amalie's harbor, before heading into town for some duty-free souvenir shopping. Stroll Main Street and find vendors in charming historic buildings, with Cruzan rum, tropical-print shirts and wraps, brand-name handbags and more for sale. Try downtown's Vendors Plaza for art, crafts and other handmade items, or Market Square for fresh produce and baked goods.
Afternoon
. Delve into St. Thomas history with tours of the island's favorite heritage sites. Danish colonials began construction of the stately, red-bricked Fort Christian in 1672. Now a museum and the oldest standing structure in the Virgin Islands, it has served as a military outpost, police headquarters and church over the last three centuries. Another religious beacon for Charlotte Amalie, St. Thomas Synagogue is the third oldest in the Western Hemisphere, built in 1833, though the Caribbean's Jewish population founded this congregation in 1796. St. Thomas was a pirating haven in the 17th and 18th centuries, and two popular attractions are named for buccaneers -- one a fearsome historic figure, and the other a fictional villain of French folktales. Blackbeard's Castle, originally built as a Danish gun tower called Skytsborg, was used to keep watch for enemy ships and seafaring marauders. It's now part of a heritage village and hotel complex. Bluebeard's Castle, a former governor's residence that shares its scenic hilltop acreage with the Room With a View restaurant, also offers accommodations.
Day 5 -- Surrender
It's your final day on the island, so squeeze in some last-minute fun. The Morning Star is bookended by tennis and sand volleyball courts, if you're in an athletic mood. You might try one more rum runner at the Sand Bar or some eleventh-hour snorkeling. Clifftop patios around Frenchman's Reef are perfect for panoramic photos of Charlotte Amalie, its tony harbor and verdant surrounding shores.
But, if you're anything like me, you'll finally give in to temptation. Look for a spot in the sun, plant yourself in a lounger and soak up those unparalleled sea views. Your jam-packed St. Thomas itinerary should end on a lazy, evenly tanned note.
Your Island Accommodations
Look to Marriott International's sister properties on St. Thomas,
Frenchman's Reef Resort and Morning Star Beach Club
, for stylish rooms with breathtaking views.
The Frenchman's Reef recently reopened after a five-month, $48 million renovation. More than 300 rooms in the central guest tower were updated with fresh furnishings, pampering bath amenities and more. Common areas were overhauled, too, with the addition of an infinity-edge swimming pool, a children's pool and multiple Jacuzzis; the expansion of the spa and health club; and the restyling of several lounge and dining spots, including Aqua Terra Oceanfront Grill, the resort's flagship restaurant overlooking Charlotte Amalie.
Morning Star is a more intimate property, with less than 100 garden- or ocean-view rooms just a few steps from the beach. There are plenty of perks here, too, including a pool, several restaurants and sports courts. A shuttle connects the two Marriotts, so guests can take advantage of amenities at both.
Houston-based travel discounter Vacations To Go offers all-inclusive packages for both resorts, wrapping rooms, cocktails, meals at most on-site eateries and other advantages into a single price that's paid up front. Prices for a four-night getaway in mid-January begin at $1,784 per person, based on double occupancy, at Frenchman's Reef. At Morning Star, garden-view rooms start at $1,984, and ocean-view rooms at $2,139 for a four-night package.
To book a stay at Frenchman's Reef or Morning Star, visit Vacations To Go or call a resort expert at (800) 998-6925.
The information in this story was accurate at the time it was published in November/December 2011.
Send This Article to a Friend
Bookmark this Content
Digg it!
Reddit
Furl
del.icio.us
Spurl
Yahoo!