Uncommon Customs
These five hotels in the U.S., Mexico and Antigua
offer a twist on tradition
By Jennifer Davoren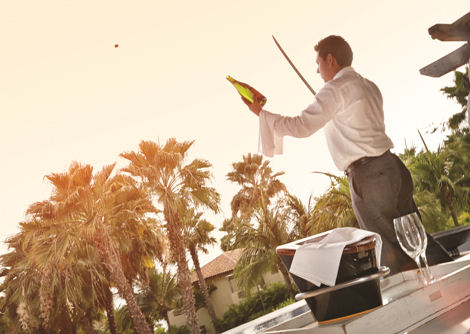 Edgardo Contreras/The St. Regis Punta Mita Resort
Y
ou return to your hotel room after a long day of exploring a new destination to find a chocolate on your pillow. It's a sweet way to start your evening and, though you'll want to show some gratitude to the housekeeping staff for the turndown perk, remember to thank Cary Grant, too.
Legend has it that the debonair actor started the practice while staying at the former Mayfair Hotel, now known as the Roberts Mayfair, in St. Louis. Grant would leave an enticing trail of candy through his suite, from living room to bedroom, whenever he entertained a special lady. Mayfair staff tried a more innocent variation for their other guests and, finding it a huge hit, made pillow-top chocolates a hotel standard. The trend swept the industry, and evening treats now are a common sight at high-end lodgings.
Quirky perks have a way of catching on. Below, we highlight five rituals at resorts around North America and the Caribbean that prove popular with guests, from "shacktastic" lunches on the island of Antigua to ghost-hunting tours in San Antonio.
Price lodgings for your unique getaway online
or call the travel discounters of Vacations To Go, (800) 998-6925.
Petition Lady Luck
Caesars Palace, Las Vegas
It could be a horseshoe, a rabbit's foot or even a goofy hat. For Johnny Chan, winner of 10 World Series of Poker event bracelets, it's an orange. His citrusy totem masks the smell of cigarette smoke swirling through high-stakes casinos and, over the years, has become an intimidating symbol of the pro's style of play. Competitors know Chan is focused when his orange hits the card table.
Lucky charms are frequent companions of superstitious gamblers. At
Caesars Palace
, one of the oldest hotels on the
Las Vegas Strip
, it's the decor that's said to change fortunes. Four statues stationed around the property -- tributes to Caesar Augustus, Cleopatra, Michelangelo's "David" and former heavyweight champion Joe Louis -- have become literal touchstones, with spots worn smooth by decades of hopeful guests.
The golden, bosomy figurehead at the prow of Cleopatra's Barge, the hotel's floating cocktail lounge, is said to be the most painted spot in Vegas. Cheeky passers-by often give the queen a good-luck grope on their way to the tables, necessitating regular touch-ups.
Say cheers to Champagne sabering
The St. Regis Punta Mita Resort, Punta de Mita, Mexico
It's blasphemy to refer to any old sparkling wine as "champagne." True Champagne, with a capital "c," comes from the eponymous vintners haven in the north of France. And, to enjoy it in true French fashion, you should break open a bottle of bubbly with your sword.
The history of Champagne sabering is murky, but the practice is thought to have originated among Napoleon Bonaparte's armies. Finding it difficult to pop a cork and wrangle glassware while on horseback, officers instead used their sabers to sheer off stoppers and drink directly from the bottle. When done correctly, with a firm, upward tap along the seam where the bottle's neck and bottom "lip" meet, both the cork and surrounding glass will be propelled with a flourish, spilling little of the golden elixir they trapped.
Sommeliers conduct saberings at St. Regis resorts around the world, but the
Punta Mita outpost
on the
Pacific coast of Mexico
offers sunset demonstrations at its Altamira Lobby Bar. Raise your glass to the end of another seaside vacation day after taking part in a 200-year-old salute to spirits.
Mingle with ghosts
Menger Hotel, San Antonio
The guest registry of
this 155-year-old property
reads like a who's who of history's greats. Teddy Roosevelt bellied up to the Menger Bar in 1898 to recruit his Rough Riders for the Spanish-American War. In 1924, sculptor Gutzon Borglum moved into the hotel to plan and sculpt models for his most well-known work, Mount Rushmore. Gen. Robert E. Lee once rode his horse through the lobby. The seventh governor of Texas even named his mount when checking in, signing "Sam Houston and horse" at the front desk.
Playwright Oscar Wilde, slugger Babe Ruth, actress Mae West and rodeo stars Roy Rogers and Dale Evans all slept over, as did U.S. presidents from William Taft to Bill Clinton.
These days, it's the spectral guests who get the most attention. Ghost tours lure both overnighters and daytrippers to the Menger -- "the most haunted hotel in Texas," proclaim ads for the tours' leaders, the Sisters Grimm. The company provides spooky stories over a three-course dinner, followed by a walk through the hotel and other historic spots around
San Antonio
. Keep an eye out for famous phantoms said to haunt the Menger, including Capt. Richard King, the legendary Texas rancher who died in his suite in 1885, and Roosevelt, who reportedly searches the bar for a new generation of cavalrymen.
Leave a note for Miss Mary
Grand Pineapple Beach Antigua, St. John's, Antigua
This all-inclusive property
, part of the best-selling Sandals Resorts International family, is no stranger to love letters. Its position among the West Indies means island breezes and Caribbean views tailor-made for couples in need of a romantic getaway. Still, it's the food -- or, more specifically, the woman dishing it up -- that gets the most fan mail.
Mary's Outhouse began in 1991 as a locals-only spot, a pop-up restaurant meant to serve construction crews working on
St. John's beach resorts
. But the laid-back, open-air rib shack soon earned a reputation in town, and tourists turned out in droves for Antiguan barbecue and beer overlooking the sea. When Sandals purchased Grand Pineapple in 2008, the Outhouse was added as a "shacktastic" option of the property's all-inclusive dining program.
Guests hike up the hill each afternoon for lunch, a cold bottle of Carib and a chat with Miss Mary herself, if she's not busy on the grill. And, according to tradition, each visitor must leave a personal message for the hostess -- thank-you notes, good-luck wishes and saucy poetry are popular -- scrawled on a support beam, table or other handy surface.
Ring in the evening
Sandpearl Resort, Clearwater Beach, FL
The Sandpearl might be a fairly new addition to
Florida's Gulf Coast
, but it is home to a time-honored tradition.
This stretch of sand once played host to the Clearwater Beach Hotel, a historic lodging that grew from a simple boardinghouse in the early 1920s to a Sunshine State hot spot. Actor John Travolta and British rockers Jethro Tull were among the celebrity guests who checked in. The hotel fell into disrepair and closed in 2005. It eventually was razed to make room for
the Sandpearl
, which debuted in 2007 along with a 12,000-square-foot spa, lagoon-style swimming pool and AAA Four Diamond restaurant, Caretta on the Gulf.
After nearly a century of service, the Clearwater Beach Hotel earned a special place in the hearts of neighbors as well as guests. The Sandpearl pays tribute to its predecessor each night with the sounding of its inherited sunset bell, which was used to call Clearwater Beach Hotel patrons to dinner each evening.
Today, its cheery clang serves as a signal that another sunny vacation day is drawing to a close. Rung by a young guest chosen by Sandpearl mascot Ridley the Turtle, the bell doubles as a promise to Clearwater Beach that a new beginning is just over the horizon.
The information in this story was accurate at the time it was published in May/June 2014. Please visit
Vacations To Go
or call (800) 998-6925 for current rates and details.
Send This Article to a Friend
Bookmark this Content
Digg it!
Reddit
Furl
del.icio.us
Spurl
Yahoo!