The Yoga Practitioner
Find expert-led classes and tranquil spots for reflection
on a themed getaway
By Brent Stoller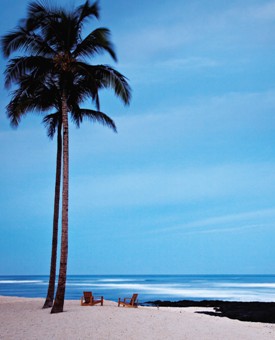 Blake Marvin/Four Seasons Resort Hualalai
A return to roots in India
Every passion has a home, a place where those who seriously practice that passion must go. For golfers, it's St. Andrews in Scotland. For surfers, it's the Banzai Pipeline in Oahu, Hawaii. And for yogis, it's
northern India
. Though the exact origin is unclear, yoga's history here is undeniable, its spirit woven into the region's fabric.
"
Kerala, Rajasthan & the Taj Mahal
" tours the country over 14 days, with highlights that include both sunrise and sunset visits to the Taj Mahal, but the journey would be incomplete without yoga. In Agra, travelers take part in a morning session at a local family's home, where the tranquil atmosphere ensures everyone finds their center. Meanwhile, hotels in Kumarakom, Udaipur and Jodhpur provide classes focusing on posture, breathing and relaxation. Per-person prices start at $8,649 before airfare for a March 8 departure.
Find your flow in Hawaii
The Big Island
, with its whispering breezes and soothing vibes, was tailor-made for yogis. In that spirit,
Four Seasons Resort Hualalai
boasts an array
of options, offering something for everyone regardless of age, goal or skill level.
Gentle yoga lessons inspire relaxation, while Bikram sessions offer intensity in
a room heated up to 100 degrees. For recuperation, Hawaiian healing classes enlist the island's natural soundtrack to lull you into a meditative state.
No matter what course you choose, you'll emerge with a renewed sense
of peace and energy, which comes in handy when scaling the on-site climbing wall, paddleboarding the Pacific Ocean or hiking Kohala's Gold Coast.
The information in this story was accurate at the time it was published in January/February 2015. Please visit
Vacations To Go
or call (800) 998-6925 for current rates and details.
Send This Article to a Friend
Bookmark this Content
Digg it!
Reddit
Furl
del.icio.us
Spurl
Yahoo!