The Three Generations
These vacations include engaging group activities as well as
separate adventures for tykes, their parents and grandparents
By Jennifer Davoren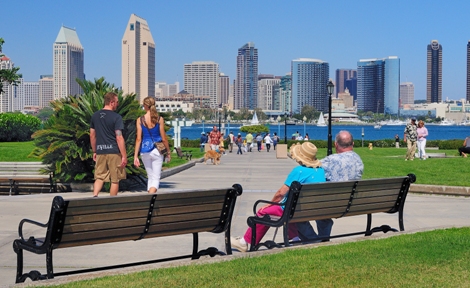 Brett Shoaf/Artistic Visuals
Seek sun in San Diego
A world-famous zoo and Lego theme park await the kids. For mom and dad, there are wineries, eateries run by "Top Chef" alums and shopping galore. The grandparents will find museums, casinos and seaside golf courses. When it's time to bring the group together, whale-watching tours, beach gear rentals and the shady respite of Balboa Park -- celebrating its 100th anniversary in 2015 -- are easy to add to the day's itinerary.
San Diego
has a little something for everyone, even the pickiest of niche travelers. One of America's longest-serving aircraft carriers, the USS Midway, welcomes naval history buffs. Companies like Brew Hop celebrate a citywide devotion to the craft beer movement (there are 80 breweries and counting) with customized tours. The 2015 festival season also has arrived, bringing with it San Diego Restaurant Week (Jan. 18-24) and a celebration of local fire-eaters, jugglers and street magicians (the Spring Busker Festival, March 7-8).
And you can't beat the weather. In a city where average daily highs range from 64 to 76 degrees,
booking a beach resort
is a no-brainer -- and one less item on your vacation planning to-do list.
Cruise to Bermuda
Bermuda, of the eponymous shorts and the Atlantic Ocean's Gulf Stream breezes, is within easy reach of U.S. visitors, a mere two-hour flight from the East Coast. But why waste all that ocean on a flyover? Hop a
Bermuda-bound cruise ship
and you'll have at-sea family time on your way to a pink-sand beach.
Popular U.S. departure ports include
Boston
,
Baltimore
and
Bayonne, NJ
, though docks await as far north as
Montreal
and as far south as
San Juan, Puerto Rico
. You have your choice of companies, cruise lengths and price points, too, from
five-night vacations with Royal Caribbean International
, about $450 per person for autumn 2015 departures, to
a 17-night voyage with Regent Seven Seas Cruises
, a six-star line.
Bermuda sailing centers on two tourist hubs:
Hamilton
, where sea life draws visitors for snorkeling and aquarium visits, and
King's Wharf
, home to the Royal Naval Dockyard, golfing greens and a rum cake factory. Cruises to Bermuda often spend multiple days in a single port, so explore at leisure by day and enjoy the amenities aboard your floating hotel by night.
The
Norwegian Breakaway
will sail
seven-night itineraries from New York
this year, with 26 departures through October and prices from $599 per passenger. The ship offers an adults-only lounge, teen club and aqua park, and your group will have three days at sea and three days in King's Wharf to find their favorite spots for three-generation connections.
Book a family field trip
Feel free to inject a history lesson into your next vacation. Many escorted tour providers call at fun- and fact-filled domestic destinations stretching from Washington, DC, to the painted deserts of the American Southwest. Itineraries encourage family togetherness and a love of learning.
Look to trips like "
Trails of Liberty
," an eight-day East Coast jaunt with
Trafalgar
that includes Philadelphia's Independence Hall, the haunting battlefields of Gettysburg and the site of England's first permanent settlement in the Americas, Jamestown. Prices start at $1,919 per person before airfare; contact a travel counselor to discuss booking discounts for children ages 5 to 17.
Meanwhile, outdoorsy types should explore the eight-day "
Highlights of the Canyonlands
" from
Cosmos
, priced from $1,219 per person (though rate reductions may be available for this itinerary, too, for guests ages 8 to 17). In Arizona and Utah, the whole family will marvel at the Grand Canyon and Monument Valley, ramble through Zion and Bryce Canyon national parks and lounge alongside Lake Powell. The adults in your party will enjoy the free evenings in Las Vegas at the start and end of the tour.
The information in this story was accurate at the time it was published in January/February 2015. Please visit
Vacations To Go
or call (800) 998-6925 for current rates and details.
Send This Article to a Friend
Bookmark this Content
Digg it!
Reddit
Furl
del.icio.us
Spurl
Yahoo!