The Three C's of Condado
Sample a trio of attractions in this beachy slice
of San Juan, Puerto Rico
By Jennifer Davoren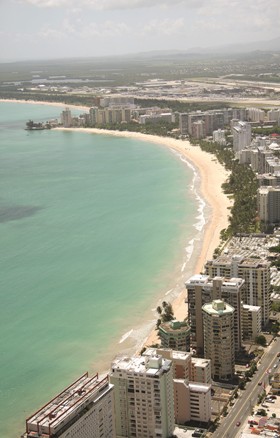 Puerto Rico Tourism Co.
T
he breeze is a mix of salty ocean air and big-city exhaust, joining forces to sway street-front palm trees and push pedestrians down the sidewalk. Neighborhood shops and restaurants are eclectic -- budget bikinis sold here, Ferragamo pumps displayed there, and a Wendy's franchise flips burgers just a block or two from an "Iron Chef"-inspired eatery. What I first mistake as the busy whistle of parking valets is actually the sunset chirp of coquis, tiny tree frogs taking cover in manicured hotel shrubbery.
This is Condado, a strip of
San Juan, Puerto Rico
, where the tropics meet the tourist trade. It's your best bet for full-service resorts in the U.S. commonwealth's capital, with the city's favorite nightclubs, top historic attractions and a major airport (accessible to Americans without passports) within easy reach. It's also home to Condado Beach, where sands are alternately warmed by Caribbean rays and shaded by condominium high-rises posted along the shore.
My host for a four-day weekend in late January was the
San Juan Marriott Resort and Stellaris Casino
, a fashionable fixture at the heart of Condado. Like the surrounding neighborhood, this property blends local color and amenities catering to international travelers. And it connects guests to the three big attractions that make Condado such an in-demand destination.
Cuisine
Pork
guisado
dumplings topped by truffle shavings and a sweet soy glaze follow duck fried rice with plantains. Pork belly sliders, fall-off-the-bone-tender lamb ribs and eggrolls stuffed with
butifarra
(a slightly spicy Catalan sausage) are demolished as pineapple-and-dulce de leche bread pudding and a slice of miso-chocolate cake emerge from the kitchen. Still, our table of 10 returns to the menu for another covetous glance at the dim sum selections.
Former "Iron Chef" contestant Roberto Trevino offers four outlets in Condado, but Budatai is his signature restaurant, a fusion of Latin American and Asian culinary traditions with a chic twist. Overlooking Condado's main thoroughfare, Avenida Ashford, it shares a building with Ferragamo's pricey accessories. Budatai was my first stop after arriving in San Juan, and the red velvet interior and heavenly dishes were an ideal introduction to the city and its lively tourist district.
You'll never go hungry in Condado. Across the street from the
San Juan Marriott
, Buns Burger Shop is a mouthwatering tribute to red meat and cold suds; cheese- and bacon-piled entrees join a great selection of craft beers on tap. And the Marriott's nearby sister property, the historic
La Concha-A Renaissance Resort
, offers seafood and a first-class wine list at the oceanfront, shell-shaped Perla.
Then there are the San Juan Marriott's own venues, led by La Vista Latin Grill, with a menu anchored in traditional Puerto Rican cooking techniques and ingredients. Spicy beef empanadas and fresh grilled fish are paired with yucca fries and island staples like
mofongo
, a heap of green plantains mashed with garlic. Order by the beach or in the back dining room, where guests are wrapped in candlelight and air-conditioned comfort.
Casinos
Though my newfound friends at the card table are encouraging, I choose, just this once, to take my gambling advice from a Kenny Rogers ballad: I'm walking away with my winnings. Even after tipping my dealer, I've got an extra $10 in my pocket. That's not much to a seasoned pro, but I'm used to leaving casinos with a bit of a dent in my bank account, so this is an occasion worth celebrating.
I owe it all to the free blackjack lesson hosted by the Stellaris Casino. They taught me how to take their money.
The Stellaris -- with 470 slot machines and 26 stations for craps, roulette, poker and more -- leads free gaming tutorials each night at its ground-floor digs in the
San Juan Marriott
. My hourlong, hands-on session with a patient host even included a cheat sheet that outlined blackjack's basic concepts, rules and a few tips for achieving that perfect 21.
The Marriott's main lobby, where the Stellaris shares space with the hopping Red Coral Lounge, is a major entertainment center both for visitors and permanent residents of Condado. Hotel staff report that nearly 95 percent of its bar traffic is local, and the Red Coral's dance floor is awash in mood lighting and merengue dancers most nights. An easy mix of Spanish and English conversations combines with the whir and chime of the Stellaris' slot machines during my high-rolling evening at the card tables.
I could try my luck elsewhere -- the
Conrad San Juan Condado Plaza
's casino is less than a mile away -- but I've got a good snapshot of the city right here. And I'm not sure how far I could get on $10.
Convenience
On the northern edge of
San Juan
, with sand and sea on one side and metropolitan appeal on the other, Condado is the perfect launching point for your city exploration. Hail a taxi for the 10-minute ride to Old San Juan, the nearly 500-year-old neighborhood known for its candy-colored colonial buildings and imposing fortresses like Castillo San Cristobal, part of the San Juan National Historic Site. While Condado's dining is tempting on its own, head a few blocks southeast to try tapas and wine at Bodegas Compostela; the seared ahi and octopus carpaccio with aged parmesan had me dreaming for days. Just to the east is the Pinones district, a favorite of San Juan locals, where hikers and bikers wind through mangrove forests and stop for snacks and rum-filled coconuts at ramshackle huts stationed along the trails.
Venture beyond San Juan's sprawling borders to explore
Puerto Rico
as a whole. The island's north and south shores are less than two hours apart by car; the lower coast is known as Porta Caribe for its twin boons of Caribbean surf and sun. El Yunque National Forest -- the only tropical rain forest in the U.S. National Forest System -- is about an hour east of the San Juan Marriott.
Or stick to Condado Beach. The neighborhood's location is doubly convenient: close to every imaginable amenity in Puerto Rico while keeping some of the best to itself.
Information:
The San Juan Marriott Resort and Stellaris Casino
is a 10-minute taxi ride from Puerto Rico's largest airport, Luis Munoz Marin International, and fronts a private stretch of Condado Beach. Book a two-person, three-night weekend in mid-June for $825 with the resort specialists of Vacations To Go, (800) 998-6925, or check prices for a fall stay online. This property also is a popular option for pre- and post-cruise lodging; for Caribbean cruises departing the capital, visit Vacations To Go's
San Juan site
.
The information in this story was accurate at the time it was published in May/June 2013. Please visit
Vacations To Go
or call (800) 998-6925 for current rates and details.
Send This Article to a Friend
Bookmark this Content
Digg it!
Reddit
Furl
del.icio.us
Spurl
Yahoo!