The Allure of Anguilla
This Caribbean isle is coveted by gourmets and golfers,
thanks to an all-in-one beach resort
By Jennifer Davoren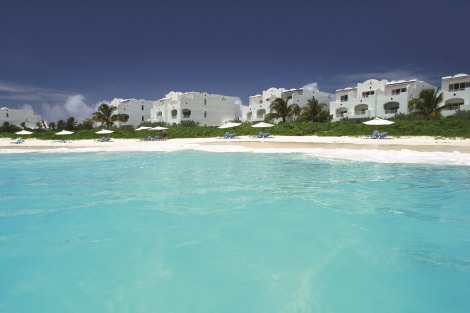 CuisinArt Golf Resort and Spa
(Scroll down to see a slide show.)
W
e're a smug bunch here at
CuisinArt Golf Resort and Spa
.
Our toes dig into sugar-white sand so soft and fine that it can't trap the constant sunshine of the Eastern Caribbean. There's no hot-footing it across CuisinArt's beach on the tiny island of
Anguilla
-- it's a slow, scorch-free stroll from the cocktail bar to your oceanfront lounge chair.
Guests are barely settled in their seats before they're joined by a member of the CuisinArt staff. In my case, it's Glen Roy, who supplies fluffy towels, a soft-sided cooler full of bottled water and a timely adjustment of my beach umbrella. He also offers shade to my next-chair neighbor, playfully chiding him for a rather impressive sunburn, and stops to check in with a visiting fisherman fresh from a successful charter trip. Glen Roy is accompanied by Fran, a Boston Celtics devotee; during my four-day weekend in Anguilla in May, Fran freshened drinks while keeping anxious basketball fans up to date on the latest NBA tournament scores.
But what really has visitors feeling self-satisfied is the view. CuisinArt overlooks
Rendezvous Bay
, wowing guests with its own secluded slice of the jewel-toned Caribbean Sea. Just across the gently rolling waves of the Anguilla Channel is an isle jointly owned by France and the Netherlands, its shoreline crowded with midrise hotels. Each afternoon, I watch from my lounger as rain clouds gather over mountainous St. Martin-St. Maarten and tropical showers draw a hazy curtain across its beaches.
Meanwhile, we CuisinArt guests enjoy uninterrupted sunshine and congratulate ourselves on our choice in destination. Without the storm-magnet mountains of its island neighbors, Anguilla -- just 210 feet at its tallest point, Crocus Hill -- keeps dry, if not terribly high. Its 35 square miles see just 35 inches of rain per year, and I didn't feel a drop during my springtime trip.
Considering how much I ate in just four days on the island, I might have welcomed a few showers to cut down on my public sunbathing time. CuisinArt is, as the name suggests, a culinary escape, named for the top-shelf brand of kitchen appliances and bakeware. (Both are owned by U.S. billionaire businessman Leandro Rizzuto, as are Conair and Rusk beauty products.) Fans of the farm-to-table movement will feel most at home here, as few vacation resorts take locavore ingredients as seriously as CuisinArt.
I suggest guests begin their stay with a tour of the on-site hydroponic farm. Led by author and horticulturalist Dr. Howard M. Resh, your group will wind through an 18,000-square-foot greenhouse bursting with vine-ripened tomatoes, peppers and eggplants growing alongside towers of fresh herbs and two "ponds" used to cultivate your salad lettuce.
Resh only meant to help CuisinArt seed its garden and get the hang of hydroponics on a short-term contract, "but 14 years later, I'm still here," he laughs, and his experience with the Anguillan agriculture scene is indispensible. The island climate is too harsh for traditional farming techniques, so your tour will include Resh's perspective on the triumphs and challenges of the resort's green progression. He even can help you start your own hydroponic system back home -- check out his
website
for free growing tips or to order seed kits.
Most resorts on
Anguilla
, a nonarable island that turns to reverse osmosis to produce freshwater, import even basic foodstuffs from North America or Europe. CuisinArt could do the same and save about 30 percent on its produce bill, Resh notes, but management prefers the personal touch of local growers. "It's such a unique thing," he says. "We want guests to see what we're doing and appreciate the quality of the product they're getting in the restaurants."
What better way to appreciate CuisinArt's bounty than with a cooking class or specialty tasting? The resort's weekly activity calendar offers everything from sushi rolling with a local chef to sampling Caribbean rum, all the better for highlighting and enhancing both the resort's contributions and whatever you might turn up in your own garden back home.
Whip up a passion fruit vinaigrette for your hydroponic greens, toss tuna ceviche with coconut grown along the resort's main entry or satisfy your chocolate cravings with a sweet souffle -- topped with a banana rum sauce, of course, to add an Anguillan twist to a dessert staple. You'll find most CuisinArt classes hosted in the resort's "kitchen stadium," where students gather around a stainless-steel setup worthy of a Food Network competition.
To wind down your farm-to-table journey, grab a seat at a resort restaurant and let
CuisinArt
live up to its name. Le Bistro at Santorini, the main eatery, earned Anguilla's first AAA Four Diamond Award in 2008. Attention to detail is key in every course. My meal kicked off when the server presented a small potted plant from the hydroponic garden and snipped off a few herbs, adding it to olive oil for a flavorful bread dip.
Fairly new to the property is Tokyo Bay, Anguilla's first authentically Japanese restaurant, with sushi and teppanyaki dishes drawing from local seafood and other tropical fare. And, should your stay fall on a Tuesday, turn out for the resort's World Delicacies Barbecue, with live music and a host of international cuisines represented. You'll have a full buffet at your fingertips, but make a dash for the grill and grab as much Anguillan crayfish as you can carry. This small cousin to the lobster needs nothing more than a little butter and lemon to highlight its natural flavor, and its delicate texture made me realize how often I have misused the phrase "melts in your mouth" to describe other, lesser entrees.
Looking for the perfect pairing? CuisinArt's on-site wine cellar holds 3,600 bottles, and the resident sommelier can recommend vintages from around the globe. (Ask the concierge about weekly presentations and tastings of the resort's latest acquisitions.) And two bars on opposite ends of a trailing pool spin Caribbean-made rum into the cocktail of your choice.
Thankfully, CuisinArt offers plenty of opportunities to work off those extra vacation calories. It's an intimate property, just 93 guest rooms and suites, so a stroll across the beach and through the on-site gardens is just a warm-up. The Venus Spa hosts toning and conditioning classes throughout the week, with activity levels ranging from boot camp intensity to a morning "Relax, Refresh and Renew" class that kicks off a lazy day of lounging in the sun.
Tennis courts and a yoga pavilion await, bicycles are available for rental and Glen Roy is just one of the staffers on hand to arrange windsurfing and catamaran sailing lessons on
Rendezvous Bay
. Then there are 18 holes of Greg Norman-designed golf -- Anguilla's first and only course, acquired and freshened up by CuisinArt in 2011 -- with some of the most spectacular views available on the island. Once you're through, head back to Venus Spa's 27,000-square-foot facility and soothe aching muscles with a hot-stone massage or detoxify with a sea salt scrub and mineral water soak duo.
CuisinArt guests have plenty to gloat about, but one of the biggest perks lies just beyond the property. Walk westward along the shore and you'll find the Dune Preserve, a beach bar largely cobbled together from driftwood and other flotsam found along Rendezvous Bay. It's home to Anguilla's own reggae star, Bankie Banx, who performs regularly while welcoming the occasional guest -- Jimmy Buffett, John Mayer and the Wailers, the remaining members of Bob Marley's backing band, have made surprise appearances over the years. It's all a warm-up to the Dune Preserve's big annual event, Moonsplash, a four-day music festival that rocks the island each spring.
Order a glass of Duneshine, the bar's ginger-infused and downright dangerous home brew, and let Bankie's carrying vocals calm you as evening falls. The Preserve's open-air layout lets you watch stars sparkle over the sea, just another item on your list of vacation bragging rights.
Go for Anguilla
Just 15,000 people make their home on this 35-square-mile island, but a small airport is served by a handful of Caribbean hubs, including San Juan, Puerto Rico. U.S. visitors will find it easiest for both booking and budgeting purposes to fly through Princess Juliana International Airport on St. Maarten; just across the highway from the main terminal, sea ferries await to whisk visitors to
Anguilla
, an easy 20-minute ride north, as well as the neighboring isles of St. Barts and Saba.
CuisinArt Golf Resort and Spa
is a short shuttle ride from Anguilla's ferry port, and its wide swath of white-on-blue -- from the Mediterranean color scheme of its amenity buildings and accommodations to the pristine sand and sea of
Rendezvous Bay
-- is a calming setting for an island getaway. Book a two-person, four-day weekend in early November for about $1,750 with the lodging specialists of Vacations To Go, (800) 998-6925.
The information in this story was accurate at the time it was published in September/October 2013. Please visit
Vacations To Go
or call (800) 998-6925 for current rates and details.
Send This Article to a Friend
Bookmark this Content
Digg it!
Reddit
Furl
del.icio.us
Spurl
Yahoo!