Speak the Language of Serenity
Pamper yourself with a Hawaiian spa escape
By Jennifer Davoren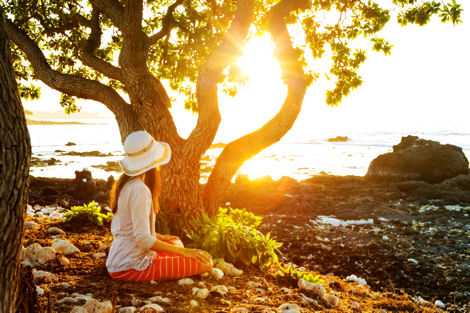 Fairmont Hotels & Resorts
A
ccording to legend, Hawaii owes its sun and sand to an island's eponymous demigod, Maui.
It's said that Maui created this stunning Pacific chain, dragging the land from beneath the sea with an enchanted fishing hook and a well-paddled canoe. The state's trademark tropical warmth soon followed when Maui, hoping to help his mother dry her
kapa
cloth, climbed to the top of the islands' tallest mountain -- later named Haleakala, Hawaiian for "house of the sun" -- to lasso the temperamental star and harness its rays.
Modern visitors rarely have that level of energy, but Hawaii's ample spa resorts do what they can to rejuvenate and restore the spirit.
Take, for instance, the
hulili
(or "dazzling light") of
Travaasa Hana
. Perched on the eastern coast of Maui -- the vacation destination, not the demigod -- this resort claims to be the first spot on the island to see the sunrise each day. It's a location fit for a heat-loving deity and a spa-seeking traveler; both the wellness facility and the surrounding property have been named to international "best of" lists. Warm
pohaku
(stone) massages and lotus-and-algae facials meet bayfront whirlpools made from hardened lava and enveloped by Hawaiian-grown botanicals. All make for an idyllic escape with a deep appreciation of the islands' natural bounty.
The following are five additional spa escapes rooted in Hawaii's earthy allure as well as its ancient culture. We've even provided some key translations to help guide you through treatment menus.
For more information and to price a stay,
click here
or contact the resort specialists at Vacations To Go, (800) 998-6925.
Ho'oku'i, "to connect"
Maui
offers plenty to see and do on a one-destination vacation, but the 5.5-star
Grand Wailea
, a Waldorf Astoria resort on the southwest shore, offers a unique way to sample even more of Hawaii. A series of five soaking pools, each containing a different type and color of sea salt to represent one of the major isles -- Maui, Oahu, Kauai, Lanai and the Big Island, Hawaii -- attack specific ailments. In the Lanai pool, for instance, papaya and pineapple speedily exfoliate skin. Oahu's namesake, a green swirl of salt, spirulina and seaweed, works on cellulite and water retention.
The resort's Spa Grande describes its services as an intersection of three major healing influences. From the East come shiatsu "back walks" and moisturizing body therapies that employ Thai white clay; from the West, Swedish and deep-tissue massages attack sports injuries and other areas affected by repetitive stress. The third and most pervasive concept, Hawaii's own curatives, are applied with island-harvested ingredients from wild
awapuhi
(ginger) to bamboo, sugarcane and volcanic ash. Embrace the islands with services like the Rainbow Rain Massage: All-natural but brightly colored clays are massaged into a client's skin to add nutrients before they are washed away by a gentle, spring shower-mimicking waterfall.
Maluhia, "peace," and mailani, "pampering"
Before you cross the threshold of your treatment room at the Moana Lani (heavenly ocean) Spa, your masseuse will invite you to leave your worries at the door. You're handed a bowl of alaea salt -- a raw, reddish varietal, it's an ocean harvest blended with rich volcanic clay -- and asked to trap your troubles inside. The salt's purifying power will take over and leave you relaxed and ready to enjoy your service. At the end of the day -- long after you've retreated to your room at the Moana Lani's host hotel, the
Moana Surfrider
on Honolulu's
Waikiki Beach
-- your bowl of woe will be emptied into the sea.
You had hoped your Hawaiian beach vacation would loosen the tension in your shoulders. Thanks to the Moana Lani, your cares can quite literally be carried away by Pacific waves.
The Surfrider's spa also takes inspiration from a second waterway, the healing spring known as 'Apuakehau (basket of dew), which flows past the property on its way to the ocean. This area once was the playground of Hawaiian
ali'i
(royalty), and modern resort guests are pampered like kings and queens by Moana Lani treatments. Try the islands' signature muscle-loosener, the
lomilomi
(which translates to "masseur"). This age-old technique is best conducted by a Moana Lani therapist who has trained through a traditional
kumu
(teacher).
Ahe, "breeze"
In Honolulu's most popular wavefront neighborhood,
Embassy Suites Waikiki Beach Walk
is, indeed, an easy five-minute stroll from the shore. But guests in search of a more intense workout can turn to the
Oahu
property's wellness offerings, including a 24-hour fitness center and complimentary yoga programming.
For a private stretching session, tune in to the resort's dedicated yoga channel.
Simple lessons play in a daylong loop on in-suite televisions, and featured instructors include Lilly Barels, a 10-year island resident who honed her craft along Oahu's surf-crazy North Shore. Personal instruction in yoga techniques await at the poolside Grand Lanai, on the fourth-floor rooftop of the hotel's central building; from 7 to 8 a.m. every Tuesday and Friday, guests grab a yoga mat and join a free "basic flow" class, breathing in fresh island trade winds and expelling pre-vacation stress.
Another poolside perk of the Embassy Suites Waikiki Beach Walk: Ka Moku Ola Oiwi (roughly translated, "island well-being") is on hand from 1 to 5 p.m. each day to offer massages. Appointments fill up quickly, so in-room services also can be arranged, from one-hour lomilomi workouts to foot, face and body scrubs. Looking for a one-of-a-kind souvenir of your Hawaiian vacation? Ka Moku Ola Oiwi hosts a free lomilomi class at the Royal Hawaiian Shopping Center, also a five-minute walk from the hotel, from 11 a.m. to noon every Monday and Wednesday.
Ku'oko'a, "freedom"
The Fairmont Orchid
knows its audience. Guests of this 5.5-star property on the Kohala (cherished land) Coast of the
Big Island
don't want anything standing in the way of their top-notch vacation views, even when they're indulging in the on-site wellness center. The Spa Without Walls breaks down barriers with six oceanfront, open-air treatment bungalows and eight additional huts set along a series of gentle waterfalls. Let ocean currents or inland cascades wash your spirit clean as you indulge in the resort's signature exfoliation remedy, a Kona coffee scrub praised for its age-fighting antioxidants, or the Hiwahiwa (beloved), a service combining a volcanic mud foot wrap, lomilomi massage and infusion of wild orchid and gardenia essences blended for a boost of
mana
(power).
Make the transition from day spa to nighttime entertainment and alfresco dining with Fairmont Orchid amenities like Brown's Beach House, where entrees fresh
mai ke kai
(from the sea) are accompanied by local musicians' sunset concerts; the Hale Kai (sea hut) Restaurant or Kahakai (beach) Bar, their Hawaiian names promoting prime views of Big Island waves; and the Gathering of the Kings, a luau feast and fire-ringed performance. End your evening with a beachfront walk -- great for burning those extra luau calories -- or a hike to the Turtle Pointe wedding gazebo -- better to battle those calories while sparking a little romance.
Lokahi, "harmony"
The 45,000-square-foot Anara Spa, the largest wellness center on the isle of
Kauai
and centerpiece of the
Grand Hyatt Kauai Resort and Spa
, looks to
lokahi
for its inspiration. An ancient Hawaiian belief in the rejuvenating power of nature and its ability to balance mind, body and spirit, this concept crops up in both Anara services and facility design. Guests wind through fragrant tropical gardens to reach their hale, a thatched, open-air treatment room, with lava rock-walled showers and private pools for soaking stationed nearby. The bulk of spa offerings fall in two categories: Hawaiian Journeys, signature treatment packages that incorporate island botanicals, or Hawaiian Escapes, steeped in traditional healing techniques with elements of herbal medicine.
The Grand Hyatt's reputation as a family-friendly escape is evident both on and off the spa menu. Expectant mothers are treated to services that soothe overstretched skin (ask for mango butter to maximize moisture) and paint and polish toes (hard to reach on your own in those last few months of pregnancy). Dads might go for a sports massage after a round on the resort's Poipu Bay Golf Course, a former host of the PGA Grand Slam designed by Robert Trent Jones Jr. And, while teen siblings may be tempted by Anara facials and pineapple-papaya body wraps, little ones spend their days at Camp Hyatt, a supervised activity program for
keiki
(children) ages 3 to 12.
The information in this story was accurate at the time it was published in September/October 2013. Please visit
Vacations To Go
or call (800) 998-6925 for current rates and details.
Send This Article to a Friend
Bookmark this Content
Digg it!
Reddit
Furl
del.icio.us
Spurl
Yahoo!