Rooms to Remember
Follow these four tips to find
the perfect surroundings for your next getaway
By Jennifer Davoren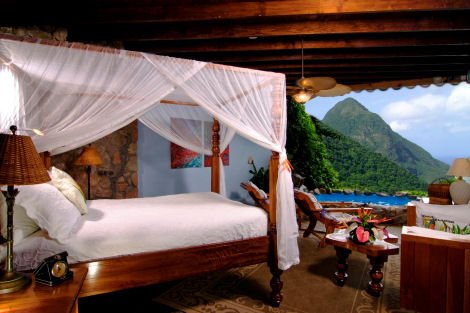 Larsen-Collinge/Ladera Resort
(Scroll down to see a slide show.)
Y
ou book a hotel room to cover two basic needs: showering and sleeping. But your lodging should provide more than the essentials -- after all, this space will be the jumping-off point for each day of exploration.
The little things matter when you're traveling, and even the smallest gestures go a long way in helping you unwind. Many properties, for example, offer a "pillow menu" with plenty of fluffy, firm and allergen-free options for the choosy sleeper. In need of extra indulgences? Spots like Copenhagen's
Imperial Hotel
go the extra mile for the sensitive and sniffly, offering "allergy rooms" with wooden floors and specialty bedding that repels dust, mold and other irritants. No matter your preferences, there's a hotel out there that's ready to cater to them.
Below, we suggest four routes for finding the ideal room. After you've located the hotel or amenity-filled resort property of your dreams, call the travel specialists at (800) 998-6925 or visit
Vacations To Go
to secure a discounted rate for your stay.
Choose a venue.
Picking the destination is the easy part. Once you've narrowed your sights on a
Caribbean beach
or
high-alpine ski town
, the difficult question arises: Where to stay? Heavily trafficked vacation spots overflow with lodging options.
Orlando, FL
, for example, offers more than 140,000 rooms around the metroplex. Walt Disney World, the town's biggest lure, owns dozens of hotels, and most boast kid-friendly themes. But Nickelodeon, a major competitor for the House of Mouse, is expanding its reach in the city. At
Nickelodeon Suites Resort
, "families share messy memories in paradise," along with rooms decorated with the TV network's favorite characters. SpongeBob SquarePants, Dora the Explorer and friends cover the walls of select two- and three-bedroom suites. Meanwhile, Disney soon will expand its fleet of themed rooms at
Port Orleans Riverside
, one of its 20-odd Orlando properties. Tiana, Jasmine, Belle and other princesses will welcome small guests to 512 refurbished spaces as early as spring 2012.
Virgin Gorda
, on the eastern edge of the
British Virgin Islands
, is more of an adult playground. The first resort built on this 8.5-square-mile Caribbean retreat,
Rosewood Little Dix Bay
, opened its doors in 1964 on a crescent-shaped stretch of waterfront known for its unspoiled "wilderness beach." This unobtrusive development blends into its surroundings, thanks in part to its tree house cottage collection. These rooms, propped on stilts and positioned over lush tropical gardens, are complemented by generous sundecks -- all the better for catching those Caribbean rays. Rosewood Little Dix Bay offers 105 rooms in all, including a pair of beach houses with full kitchens and private swimming pools.
Tranquility also is found in Italy's
Tuscan countryside
.
Villa Pitiana
, 40 minutes west of
Florence
, has served as both a monastery and working farm over the last few centuries; the oldest part of the estate dates to the 14th century, though most public areas were added in the late 1800s.
The 60 guest rooms of this boutique hotel are filled with antique furnishings and other reflections of its storied past. Additional mood setters include sky-high ceilings crisscrossed by exposed wooden beams and wide windows overlooking well-groomed gardens. Meanwhile, the villa's butter-yellow exterior beckons travelers to a quintessential Tuscan escape, ringed in cypress trees, olive groves and the quiet residents of the neighboring village, Donnini.
Consider the view.
The right scenery can set the mood for your entire vacation. What would you like to see when you part your curtains each morning? Do you prefer mountains to the ocean? How about an awe-inspiring skyline? You can survey Vegas razzle-dazzle or the Old World's marbled elegance from your room, depending on your destination. On the other hand, you might prefer a more pastoral view -- say, a tangled vineyard in rural
France
, or its West Coast equivalent in the
Sonoma
and
Napa
valleys.
The Caribbean isle of
St. Lucia
is stunning from every angle, though hotels with prime views of the Pitons are in high demand. These pointed, verdant peaks are beloved national symbols, and few tourist spots capture their spirit like
Ladera Resort
, on the south side of the island. Its 32 hillside rooms and public areas are built with just three walls, leaving each open to St. Lucia's fresh, fragrant air. Guests eat, sleep and relax in private plunge pools while gazing out at the Pitons and the surrounding bay.
Mountain vistas also wrap a pair of sister properties in
Alberta, Canada
.
The Fairmont Banff Springs
and
Fairmont Chateau Lake Louise
share breathtaking views of the northern Rockies, but each offers its own unique perks and vantage points. The former boasts a fairy-tale setting -- modeled after a Scottish baron's castle, this turreted hotel conveys a royal air. Rooms overlook a number of amenities, from the 27-hole golf course to the winding Bow River. The latter is just as charming, set on the shores of its namesake lake, an impossibly blue-green expanse fed by melting snow. Guests can wake each morning, gaze out over white-capped peaks reflected in ice-cold waters and plan their next hiking or canoeing adventure.
A much warmer setting awaits in north-central
Costa Rica
. Arenal Volcano National Park is home to one of the world's most active erupters, a 5,400-foot peak that spews ash and fire almost daily. The region's volcanic activity also creates a number of hot springs, ideal for soaking after a long trek.
Lodging options here include the three-star
Arenal Paraiso
and the four-star
Montana de Fuego Hotel and Spa
. Both properties equip each room with private balconies, so guests can greet or end the day in a lounge chair with their eyes glued to the distant, smoke-shrouded peak of the volcano. Nighttime panoramas are especially breathtaking, as a slow-moving line of lava cuts its way down the dark slopes.
Go for the gadgets.
Some travel to get away from it all -- buzzing cellphones, brimming email accounts and the information overload of the 24-hour news cycle. Others look for any excuse to plant themselves in front of a plasma screen and play with new technology.
An inspired touch at
The Muse Hotel
, at the heart of
New York
's neon-bright theater district and near Times Square, is the inclusion of an iHome system in every room. These docking devices recharge iPhones and iPods and serve as high-end speakers for your portable collection of show tunes -- a must for visiting Broadway fans. The Muse also accommodates traveling techies with oversize safes for laptops and other electronic valuables.
A short walk from Honolulu's most popular sunbathing and surfing beach, the
Waikiki Edition
is a five-star spot created by Marriott International and Ian Schrager, a co-founder of New York's infamous Studio 54. The hotel honors the nightclub's flair for art and design, but not its fevered pace; though a dance spot known as the Crazybox is found on site, guests are more likely to lounge poolside or nosh at Morimoto Waikiki at Edition, the hotel's upscale Japanese eatery.
Another chic touch: iPods and iPads are available for free one-day loans. Guests can download the Waikiki Edition's app to make dinner reservations and access other hotel services. And iPods, preloaded with a number of Hawaiian classics, can be tuned to a guest's specific tastes and played on in-room speaker systems.
The Waikiki Edition opened last fall to rave reviews from design and high-tech fans. Another hot spot making its debut in 2010 was the
Aria Resort and Casino
, added to
Las Vegas
' bustling CityCenter complex on the Strip.
All 4,004 rooms of the 61-story Aria offer groundbreaking automation systems. Accommodations "greet" guests as they enter, electronically parting curtains to expose floor-to-ceiling windows and turning on the TV to introduce a list of room controls. Both a handheld remote and bedside touch screen regulate temperature and entertainment systems and make front-desk requests; favorite features include the "goodnight button," which turns off lights, shades the windows and switches off the stereo as you drift off to sleep.
The Aria keeps an eye out for repeat visitors. The hotel's data system stores setting preferences for registered guests, from ideal temperatures to favorite television channels.
Kick back in comfort.
The most memorable rooms come with a little something extra. Private swimming pools are a popular perk, and you can find them in abundance at
Las Brisas Acapulco
on Mexico's scenic
Pacific coast
. More than 200 pools dot this 40-acre property, including private indoor-outdoor pools -- half in-room retreat, half sunny patio paradise. On Mexico's
Caribbean coast
, known as the Mayan Riviera, the all-inclusive
El Dorado Casitas Royale
stocks some suites with private infinity pools overlooking the Caribbean. This
Playa del Carmen
property also has rooms with patio access to a winding "lazy river" that flows past cocktail bars and other amenities.
The 13
Sandals brand resorts
, spread across
Jamaica
, the
Bahamas
and other sensational islands, have set a number of standards for the all-inclusive resort industry. High-end suites come equipped with your own dedicated staff member, trained by the Guild of Professional English Butlers. He'll press suits, serve drinks and meals, help you pack for your flight home -- your private butler will even give you a Caribbean-compatible cellphone to keep in contact with you throughout your stay, should you have any short-notice requests at one of these couples-only retreats.
What about your hotel room's central element? A rock-hard bed is enough to ruin your entire trip.
Westin resorts
are a safe bet for unsound sleepers, thanks to the brand's trademarked linen-and-cushion system. These 10-layer Heavenly Beds -- available in select department stores for about $3,500 for a king-size set -- are anchored by a pillow-top mattress, downy duvets and high thread-count sheets. Select properties also offer the WestinWorkout program for busy health enthusiasts. Rather than wait for your turn on the treadmill, you can book a room with its own minigym, complete with exercise bikes, weights and resistance bands. The
Westin Excelsior
in Rome, the
Westin Riverwalk
in San Antonio and the
Westin New York at Times Square
are among places with this fit feature.
When it comes to comfort, few spots outshine the
Blue Palace Resort and Spa
on Greece's largest isle,
Crete
. Soothing earth tones, satin sheets and 24-hour in-room dining are just a few of the pampering extras enjoyed by guests. Gadget fans will be satisfied, too, with access to wireless Internet and bedside control panels to summon housekeeping and other staff. The views are hard to beat -- clear Aegean waves are spotted from nearly every window. Tempted by the notion of stepping out of your room and into your private heated pool? You'll find that here, too. And it's a classic Greek venue, accented by graceful arches and open-air public spaces. If you're looking to make some memories on your next vacation, this haven offers the whole package.
The information in this story was accurate at the time it was published in July/August 2011. Please visit
Vacations To Go
or call (800) 998-6925 for current rates and details.
Send This Article to a Friend
Bookmark this Content
Digg it!
Reddit
Furl
del.icio.us
Spurl
Yahoo!