Rock Royalty in the Riviera Maya
Live the dream on Mexico's Caribbean coast,
courtesy of this Hard Rock resort property
By Rebecca Matheson Ortiz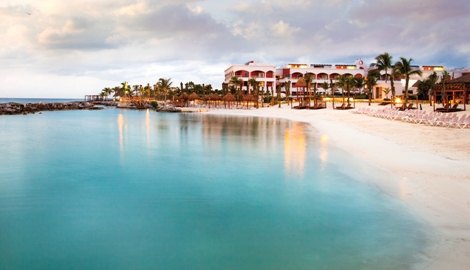 Hard Rock Hotel Riviera Maya
I
roll up to the all-inclusive
Hard Rock Hotel Riviera Maya
, emerge from my "limousine" (the nickname my informative driver, Mario, bestowed upon his van) and step into my first-ever rock star moment. A glass of bubbly is placed in my hand, my bags are whisked to my room and I'm checked in from the comfort of a plush sitting area, where I'm also introduced to my personal assistant, Eugenio. In my travel haze, all I can think is: Did I just fly to
Mexico
, or am I in a dream where I'm some kind of celebrity?
As part of the hotel's exclusive Rock Royalty Level, these superstar moments continued throughout my four-day stay here in March. I was pampered with beachside drink service, in-room aromatherapy, a pillow menu, nightly treats, a beach tote, a massage and my very own attendant, ready to cater to my every whim.
The 1,264-room
Hard Rock Hotel Riviera Maya
is situated on the
Yucatan Peninsula
, where the southeastern tip of Mexico juts into the Caribbean. It's less than 50 miles south of the
Cancun
airport and 15 miles from
Playa del Carmen
. The resort is divided into two sections: Hacienda, for families, and Heaven, for adults only. Both boast beaches, pools and restaurants, but grown-ups can traverse either side of the grounds to enjoy all of the hotel's features.
Opening the door to my Rock Royalty deluxe platinum room, I instantly felt refreshed, thanks to the citrusy fragrance wafting from the aromatherapy burner. This scent, Energizing, is a blend of tangerine and juniper and, though I tried three out of the four offered, it was my overall favorite, distributing little boosts of energy every time I walked by.
This luxurious space was resplendent with a plush king bed, spa tub with prime TV access, a double vanity in the bathroom and a balcony with a hammock and ocean views. Everything was in true
Hard Rock
style, from the guitar-patterned comforter to the musical quotes on the lampshades. Eugenio gave me the rundown on the room service menus, wine list, minibar (restocked daily) and premium liquor dispenser. The in-room drink setups -- as well as meals, snacks, alcoholic and nonalcoholic beverages, entertainment and certain water sports -- are included in the resort's upfront rate.
I couldn't wait to try out that hammock. It was love at first sit. With a cold beer in hand, I gazed out at the gentle azure waves lapping at rocks and white-sand beaches in the distance. This was pure bliss. My thoughts of being in a dream drifted back to me as I swayed in a soft breeze, cocooned in sunshine and happy thoughts.
With great reluctance, I left my nest and met my traveling companions for a memorabilia tour and cocktails before dinner. We were in awe of the Johnny Cash guitar, Madonna top, Shakira dresses and more in the skylike Heaven lobby, which has draped lights meant to resemble clouds.
Hard Rock hotels
rotate collectibles every few years, and new donations come in when celebrities like Bret Michaels and Jon Bon Jovi or bands like Imagine Dragons visit.
In the Heaven lounge, which has a stately air with plush couches, pool tables and a flickering fireplace, we sipped strawberry mojitos and got a demo of the hotel's The Sound of Your Stay program. Each guest is able to download a playlist of 10 songs using a unique code distributed with your room key. Even more exciting, the resort has 20 Fender guitars that visitors can use to jam out in their rooms. After practicing, you can head to the Music Lab to record your own masterpiece; star in a music video through RockTube, with a band comprised of fellow vacationers; and mix it up during a Spin Session where a DJ will teach you the ins and outs of performing live.
Dinner that night was served at Le Petit Cochon, the hotel's traditional French restaurant. There was a hilarious butter debacle (we swear they looked like pastries!) that had half of my group taking bites out of butter pats, but once that was settled I enjoyed flavorful French onion and oxtail soup, a crisp salad and juicy steak. I was pleasantly surprised by the tender meat, perfectly roasted veggies and well-seasoned potatoes. For dessert I had profiteroles (cream puffs) drizzled with warm chocolate sauce and served alongside coffee ice cream. Full and happy, we waddled back to our rooms to rest up for the next morning's excursion.
Before bed, I gave Eugenio a ring for a calming chamomile pillow. The resort menu has a variety of options like natural goose feather, orthopedic foam, water-filled and mint and lavender. My chamomile cushion was at my door in 10 minutes, and I snuggled into the cozy warmth of my bed for a night of blissfully deep sleep, afraid that if I woke up, it would all prove to just be in my head.
I woke refreshed and called Eugenio for a quick aromatherapy change to Revitalizing (featuring orange, tangerine and lime scents) for a sniff of something new. I donned my swimsuit and cover-up and hopped along to breakfast. My group met at Ciao, the resort's Italian restaurant, for the buffet. I dug into some saucy and cheesy tortillas, eggs, Mexican sweet bread and fresh fruit.
Today was the day for our off-property excursion. Hard Rock's Limitless Resort Credit program allows guests discounts at the Rock Spa, salon and golf course. Credits range from $500 for a three-night stay to $1,800 for a weeklong visit. They also can be used for trips to nearby ancient ruins and cenotes (underground waterways) or to snorkel, swim with dolphins and more; we opted for a trip to the 50-mile Dos Ojos (two eyes) cenotes, so named for the pair of large sinkholes that are connected by a passage.
We joined tour operator Cancun Adventures for a day spent spelunking and splashing in one of the largest caving and underground water systems on Earth. Equipped with helmets and headlamps, we took turns bravely jumping into the brisk, clear water. Our guide, Tanya, navigated us through the caverns' twists and turns. Bats hung above our heads, prompting a few yelps and nervous laughs, and stalagmites and stalactites grew from the formation's gaping maw. It was like entering another world.
Near the end, we shut off our headlamps and were plunged into darkness. Holding hands in a line and carefully sidestepping rocks, we rounded the last corner and witnessed a halo of light where a wooden ladder called the Stairway to Heaven was propped against the lip of a hole open to the sunshine above.
As we made our way back, Tanya told us that the ancient Mayan people believed these cenotes were passages to the underworld, Xibalba, to be crossed before their souls were set free.
Slipping out of the water, we headed over to the next (and much deeper) of the two cenotes on foot, where we donned snorkels and masks and looked down at the cave divers braving the depths before enjoying a little bit of swimming and pier jumping.
Just as we made it back through the hotel entrance's arches, the sun peeped out from behind the clouds. Perfect! I'd been yearning to get out on that beach.
I picked a prime piece of real estate on the shores of the adults-only Heaven beach and stretched my fluffy towel out on a lounger. I quickly was greeted by the friendly staff, who took my drink order and kept them coming. What followed was one of those quintessential paradise moments, with toes powdered in soft white sand, an electric-blue vista stretching out to the horizon and a salted rim and lime perfectly complementing my ice-cold cerveza.
The resort
hosts daily events to keep guests entertained, and this afternoon's happening was a foam party at the Dive Pool. Music was bumping, balloons were floating and a giant foam cannon filled the entire pool with sudsy fluff. Midparty, I swam up to the Dive Bar for a frozen margarita and was back out in the spume in moments. Other activities included rock climbing, sand volleyball, trivia and movie nights -- a little something for everyone.
Tonight: tequila! We rode a golf cart from Heaven to Hacienda for dinner at Frida, the all-inclusive's Mexican restaurant. This meal came with a kick -- a sampling of the country's famed agave-based liquor. We noshed on homemade guacamole and tortilla chips during the tasting, and I ordered the shredded lamb for my main course. For a sweet treat, I ended my meal with classic churros and a side of Mexican coffee, a confection crafted tableside in an incredible display as pitchers of flaming liquor were poured back and forth before being mixed in with Kahlua, whipped cream and sugar.
My last full day featured an impromptu jaunt to
Tulum
, a Mexican resort town as well as the site of ancient Mayan ruins. Hard Rock staff mentioned that this is one of the most popular tours booked through the credit program, and we didn't want to miss it. Artsy coffee shops and stores filled with handmade goods lined the streets on the modern side, but the star of the outing was the Mayan city, constructed in the 13th century. The ruins are that of a well-preserved port surrounded by a limestone wall. Temples, dwellings and a breathtaking public beach await visitors, and leathery iguanas prowl the landscape, adding to the wonder.
Back at the hotel that afternoon, it was time for my Rock Spa appointment. With 75 treatment rooms, two saunas, a cool room and an area for a eucalyptus steam, this is the ultimate relaxation destination. I opted for the signature 50-minute Synchronicity massage, which combines the rhythm of music with kneading and pressure. An overhead speaker dome and table with built-in subwoofers played hit songs. I felt every vibration of the music while the therapist, Elvira, worked out my kinks to the beat with organic essential oils and Swedish techniques.
For my last night in
this rock star paradise
, I requested bath service from my personal assistant, creating the perfect ending to a wonderful getaway. I returned from dinner to a warm tub full of fragrant bubbles and salts, beckoning me to sink in. Warning: extra bath gel and jets turn into a nearly disastrous bubble mountain -- the bath of my childhood dreams. Wearing a full soap beard, I indulged in a glass of red wine.
I awoke before sunrise and watched the clouds brighten from my balcony before packing, crawling back into Mario's "limousine" and heading home, forever to wonder: Was it real, or was it all a Rock Royalty dream?
The information in this story was accurate at the time it was published in May/June 2016. Please visit
Vacations To Go
or call (800) 998-6925 for current rates and details.
Send This Article to a Friend
Bookmark this Content
Digg it!
Reddit
Furl
del.icio.us
Spurl
Yahoo!