Retreat to the Riviera Maya
Step into the carefree world of El Dorado Seaside Suites on
Mexico's Caribbean coast
By Elizabeth Armstrong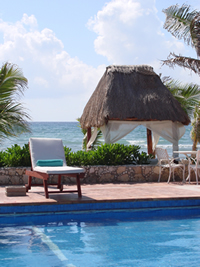 Elizabeth Armstrong
I
f you arrive at
El Dorado Seaside Suites
with any lingering stress or worries from home, they will evaporate soon after you enter the Mexican resort's airy, attractive lobby.
Here, you'll be ushered to a seat at one of the check-in desks. A bottle of sparkling wine is pulled from a large silver bowl of iced water, glasses of bubbly are poured, and when the brief paperwork is completed, you'll board a golf cart for the short ride to your accommodations. It is a promising start to a getaway that will prove to be truly carefree.
Part of the
Karisma Hotels and Resorts
family, El Dorado Seaside Suites lies on Mexico's Caribbean coast -- the Riviera Maya -- 25 minutes south of
Playa del Carmen
and about an hour's drive south of the
Cancun
airport. It fronts Kantenah Bay and is enclosed by 500 acres of tropical jungle. No children are allowed -- guests must be at least age 18 -- which makes El Dorado Seaside Suites popular among honeymooners, those celebrating anniversaries and any couple seeking a romantic escape.
The prevailing mood is one of breezy, laid-back luxury. The resort's 196 suites are housed in two-story buildings painted in shades of white and sand, with hammocks strung across each room's patio. Flagstone paths cut through neatly manicured green lawns shaded by coconut palms. Tropical flowers add splashes of color -- hibiscus from the palest yellow to bright tomato red, and bougainvillea in snowy white, candy pink and demure peach. Tiny striped lizards dart across walkways, and foot-long iguanas eye guests warily, lending an exotic touch.
Like all of Karisma's properties,
El Dorado Seaside Suites
is all-inclusive. For one rate paid upfront, guests receive lodging, all meals and snacks, alcoholic and nonalcoholic beverages, daily activities, evening entertainment and access to nonmotorized water sports. Paddleboats, kayaks and snorkeling gear can be signed out at a staffed hut on the beach. One afternoon, I set out with snorkel, fins and mask to lose myself in the underwater world off El Dorado's shores. I met up with schools of silvery fish as well as yellow-and-blue-striped ones. I floated over perfectly formed brain coral and found a flawless sea urchin shell, lavender and white, wedged between two rocks.
By the activities pool, the busier of the resort's two main swimming pools, a board lists the day's free events, such as beach volleyball, salsa lessons, Spanish language instruction, snorkeling and kayak tours, and feeding the fish from the end of the resort's pier (with yesterday's leftover bread rolls). Off-site fun like tours of Mayan ruins, sunset cruises, deep-sea fishing, scuba excursions, horseback rides and ATV adventures can be booked for an extra fee.
There are tennis courts, a fitness center and, in the spa, tranquil sauna and steam rooms with large picture windows overlooking the Caribbean. For socializing, most guests gravitate to Las Guacamayas, the open-air bar and lounge that doesn't close until 2 a.m. Cool, white settees are topped by canopies of sheer fabric, and next to the bar, wooden swings hang by thick ropes, a playful touch. There is a second bar by the spa called Los Cotorros, as well as several swim-up bars in the pools.
Of course, the beach always beckons -- a broad mile of inviting sand. The clear turquoise waters are strewn with rugged coral formations, though, so bring water shoes to protect your feet.
Without a doubt, the most coveted spots at El Dorado Seaside Suites are its signature beach beds. Dozens of these are set in the sand along the beach, and more can be found by the pools. The double beds are upholstered in white vinyl, topped by palm canopies and draped in white sheers. Some are on ropes and can be coaxed into a gentle swing. Others are double-deckers, the top bunks reached via wooden steps.
The beach beds are lovely spots for afternoon naps, for relief from the sun, for reading and relaxing, and for watching the weekly nighttime fire-and-drum show on the beach. I loved them best in the early, cool mornings at sunrise, when the beach was empty and my only company was that of an employee raking the sand smooth and the occasional lone seabird hovering overhead.
Elsewhere at the resort, you can indulge your inner 10-year-old at the pottery station by the activities pool. Select a vase, plate, box, wall hanging or other piece of pottery in its raw form and paint it to your liking. The employee in charge will then fire the piece and return it to you the next day. There is a fee for this, about $8 to $15, depending on the item you choose. The pottery hut is open from 11 a.m. to 5 p.m., and it's a terrific place to wait out an afternoon rain shower.
The spa, situated at the peaceful northern end of the resort, has a full range of services, which are not included in the all-inclusive rate and incur an additional charge. There are seaweed wraps, moonlight and couples massages, an array of facials, and body treatments that incorporate papaya, grapes, cucumber, chocolate or chamomile.
I indulged in an outdoor massage under a large palapa by the sea. It was one of the most relaxing experiences I've had in a long while, as the Caribbean breezes ruffled the palm fringes of the canopy, and the ocean beat a steady rhythm against the shore.
Accommodations at
El Dorado Seaside Suites
range from those overlooking the gardens to oceanfront rooms to swim-up suites that edge a "lazy river." The swim-up suites are away from the beach, set toward the back of the property where there is little noise or distraction. They offer a tranquil, peaceful oasis.
My suite was in a wing of rooms that backed onto a lazy river, which is essentially a long and winding tiled pool. From my patio I could slip into the 4-foot waterway to cool off, and even make my way upstream to a small swim-up bar that always attracted a friendly crowd of regulars.
Traditional, dark-wood Mexican furnishings and off-white canopies and bedding graced my suite. All rooms at El Dorado Seaside Suites feature king-size or double beds, marble or Mexican tile floors, DVD players, hair dryers, coffee makers and minibars stocked daily with complimentary beer, water and soft drinks. All have terraces with hammock and chairs.
Food-savvy travelers who fear that a stay at an all-inclusive means endless lines at boring buffets need not worry at El Dorado Seaside Suites. Meals are served a la carte; the only time you'll find a buffet is at breakfast. Come evening, guests can dine at one of four distinct restaurants located on-site. Reservations are necessary at each.
Klay Talay serves Chinese, Japanese and Thai dishes, including top-notch sushi. The chefs at La Carreta specialize in authentic Mexican cuisine -- ceviche with artichoke and cucumber, cactus polenta with sweet onions and leeks, and roasted duck with tequila sauce were among the preparations available during my visit. La Carreta also has a tequila bar that serves such offbeat concoctions as tamarind margaritas.
At the Italian option, Mia Casa, you might find crab bisque with corn and rosemary oil, penne with black truffle sauce and an outstanding mushroom risotto on the menu. At Arrecifes, the continental restaurant, you could sample shrimp consomme with roasted coconut and habanero essence, and lentils with vegetables, calamari and cilantro. Of the four restaurants, Arrecifes is the only one also open for breakfast and lunch.
The Sandwicherie provides a second lunchtime option with pizzas served from a wood-burning oven as well as sandwiches, burgers and salads. There also is 24-hour room service.
Dutch chef Jeroen Hanlo is the guiding force behind the culinary offerings at El Dorado Seaside Suites and its sister Karisma resorts. As vice president of Karisma's food and beverage operations, he has worked hard to raise the level of the dining experience at its properties, concentrating on quality, taste, creativity and presentation. Karisma calls this attention to cuisine "Gourmet Inclusive."
I chatted with Hanlo late one afternoon at Klay Talay, on the second-story veranda overlooking the Caribbean ("klay talay" translates to "by the seaside" in Thai). We settled into a pair of red banquettes, and while the resort's executive chef, Efrain Arias, delivered a succession of small, tasty bites to our table, Hanlo shared his culinary goals for El Dorado Seaside Suites and the other Karisma resorts. Not surprisingly, he's passionate about food and feels that great meals are necessary for a great vacation.
"I wanted to take the image of the all-inclusive and turn it into more of a memorable experience -- 60 percent of the guests' time is spent eating and drinking," he says. "It's about being together, sharing experiences and having a conversation," he adds. "What we try to do is provoke a conversation at the dinner table. Who wants to eat in 45 minutes?"
Karisma's chefs have labored in hotel and restaurant kitchens around the world. Hanlo himself has worked for the
Ritz-Carlton
and
Hyatt International
chains, spending time in Europe and Singapore. But he reserves the greatest praise for his food and beverage teams at the Karisma properties. "They have their heart and soul in this," he says.
"Mexico is the only country where you have sincere friendliness and sincere service. It gives seasoning to the food, the beverages -- your entire stay," he adds.
Breads, pastries, pastas and sauces at El Dorado Seaside Suites are made from scratch. A boutique winery in Argentina supplies the house wines. Menus change daily on a 14-day rotation, so guests won't see repeat listings unless they stay for more than two weeks. To stay ahead of the trends, Hanlo and his chefs travel periodically to food and wine events and conventions around the world.
What it all comes down to, according to Hanlo, is making sure that each guest feels special. "Our main focus is pampering," he says.
It's a philosophy that extends beyond the dinner table at El Dorado Seaside Suites, to be found each day in every corner of the resort.
Rates:
At press time, travel discounter Vacations To Go offered a peak-season, five-night stay in mid-March 2007 starting at $1,028 per person, based on double occupancy. Rates dropped by summer, when a five-night getaway in mid-June 2007 could be had for $823 per person, based on double occupancy.
Information:
For more information about El Dorado Seaside Suites, visit
Vacations To Go
or call (800) 998-6925.
The information in this story was accurate at the time it was published in January/February 2007 . Please visit
Vacations To Go
or call (800) 998-6925 for current rates and details.
Send This Article to a Friend
Bookmark this Content
Digg it!
Reddit
Furl
del.icio.us
Spurl
Yahoo!