Puerto Rico, Past and Present
Savor historic sites and state-of-the-art resort facilities
on this Caribbean isle

By Jennifer Davoren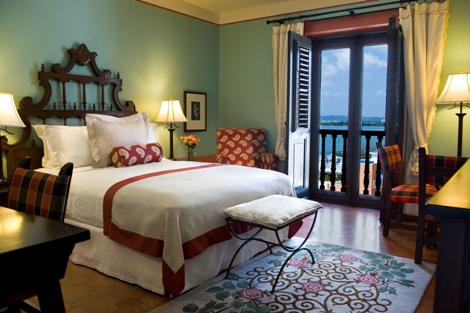 Small Luxury Hotels of the World
T
here's a spot in Old San Juan, the historic half of Puerto Rico's colorful
capital city
, that might be haunted by 350-year-old nuns.
Past guests of
Hotel El Convento
, a 17th-century convent turned elegant inn, have reported strange events during their stays. Some hear soft prayers and the swish of starched robes in seemingly empty corridors. Others say that oversleeping will earn you a visit from a strict spirit: Dona Ana, the convent's former mother superior and keeper of the daily chore schedule.
Despite the rumors, Hotel El Convento is known more for guest services than ghosts. With just 58 rooms overlooking San Juan's charming, cobblestoned interior, this is a property built for one-on-one pampering. Aromatherapy, pedicures and personal training sessions are available on demand. A daily manager's reception offers complimentary sunset cocktails and the chance to chat about the hotel's storied past.
A very different holiday awaits at the
St. Regis Bahia Beach Resort
, scheduled to open this fall near Rio Grande on Puerto Rico's northern coast. While it matches Hotel El Convento in luxury, the St. Regis' sparkling facade will lure guests in search of the state of the art. Rooms are equipped with 40-inch flat-screen TVs, iPod docking stations and Bose audio systems. This is a property anchored by high-end name brands, from the Robert Trent Jones Jr. golf course and Remede Spa to the Jean-Georges Vongerichten restaurant.
No matter your preferred vacation venue -- old or new, intimate hideaway versus sprawling amenity complex -- you'll find it in
Puerto Rico
. A variety of hotels and resorts welcome guests who are seeking one or two nights before a
cruise
, long weekends or idyllic seven-day stays on the shore.
Puerto Rico combines sun and sand with a fascinating cross section of Caribbean cultures. An added bonus: Its commonwealth status affords open travel between the island and the mainland U.S., no passports required. Puerto Rico also is one of the more accessible Caribbean destinations, with frequent flights from many U.S. cities landing at Luis Munoz Marin International Airport outside San Juan. It's about two hours from Miami and three hours from Tampa.
Four spots stand out among Puerto Rico's resort towns. First and foremost, of course, is
San Juan
, which also serves as the island's primary cruise port. Niche properties like
Hotel El Convento
provide the perfect launching pad to conquistador-era attractions in Old San Juan, the city's walled historic district. Meanwhile, the usual perks of a Caribbean vacation, from nightclubs and casinos to beachfront lounge chairs, are available in San Juan's more modern tourist haunts.
Walking the line between old and new San Juan is a breeze. Locals might recommend that you start your morning at La Bombonera, founded in 1902 as a hot spot for cafe con leche (made with Puerto Rico's homegrown coffee beans, of course) and pan de mallorca, a sweet roll that's split, buttered and toasted on a grill, then dusted with powdered sugar; you can also get it stuffed with ham, egg and cheese. Then, work off those extra calories with a stroll along the Paseo de la Princesa, a tree-lined path that follows the old city wall to shops, restaurants and comfy benches.
In the afternoon, try a tour of the largest rum distillery in the world, where Bacardi brews many varieties of Puerto Rico's favorite elixir. Finish your day at Plaza del Mercado, a farmers market that transforms into a nightclub on Thursday, Friday and Saturday nights. You can grab a bite from a vendor and practice your salsa in the middle of the street.
Rio Grande
, home of the new
St. Regis Bahia Beach
, is 30 minutes and a world away from San Juan. While the capital lures history buffs and curious foodies, Rio Grande's fans are drawn to the wilder side of Puerto Rico. The neighboring El Yunque National Forest is a 28,000-acre playground filled with hiking trails, towering waterfalls and secluded picnic spots. It's easy to explore the park without aid, but many visitors opt for guided hikes that seek out the endangered Puerto Rican parrot and other hidden wildlife.
Rio Grande resorts like St. Regis Bahia Beach, built on 483 acres formerly used as a coconut plantation, mirror El Yunque's natural aspects with eco-friendly amenities. St. Regis has preserved 65 percent of its property, so guests can stroll among the greenery to spot seabirds and iguanas. Fall asleep each night to the distant call of the coqui, a tiny but talkative variety of tree frog found throughout the island.
On the northeastern tip of Puerto Rico, the city of
Fajardo
enjoys the rugged lures of El Yunque while making the most of its spot on the sea. Boating is a popular activity here -- local charters can handle anything from afternoon snorkeling adventures to all-day, deep-sea sportfishing trips. Visitors can even rent a skiff for a day and explore on their own. Seven Seas Beach is the city's top spot for sunbathing, but night owls might prefer the water of Las Croabas, a bioluminescent bay full of flashy plankton that mimics a star-studded sky.
Five-star developments like
El Conquistador Resort
, a Waldorf Astoria property celebrating a $120 million renovation, add luxury to this corner of Puerto Rico. In addition to its 23 on-site bars and restaurants, Arthur Hills golf course and slide-strewn family water park, the hotel boasts its own private island -- a 100-acre, white-sand playground reserved for horseback rides, kayak tours and lazy afternoons in the sun. El Conquistador's upscale clientele can shelter their yachts at a private 35-slip marina, though most guests are content to admire Fajardo's bustling boating scene from a beachfront lounge chair.
A relatively new find for tourists, Puerto Rico's southern coast -- dubbed "Porta Caribe" for its quick access to Caribbean surf and sun -- also is home to the island's second-largest city,
Ponce
. It was founded in the late 17th century, and Moorish and neoclassical Spanish architecture are hallmarks of the picturesque town square, Plaza Las Delicias. Local museums celebrate contemporary artists and traditional island music. Take a walk along La Guancha, Ponce's lively boardwalk, and find ocean views, live salsa music and streetside kiosks serving up fried plantains and empanadas.
Hilton Ponce Golf and Casino Resort
offers a relaxing retreat about four miles from the historic downtown. The draws here include a sushi and sashimi bar, volcanic stone massages and a nearly 24-hour gaming facility. Visiting golfers will find a 32,000-square-foot clubhouse and 27 championship holes, including Puerto Rico's first island green. It's an appropriate place to wind up a Caribbean getaway -- doubly surrounded by tropical wind and water, and fully immersed in Puerto Rico's bountiful charms.
For more information on Puerto Rico resort vacations, call the travel counselors at Vacations To Go, (800) 998-6925, or
peruse lodgings online
.
The information in this story was accurate at the time it was published in November/December 2010.
Send This Article to a Friend
Bookmark this Content
Digg it!
Reddit
Furl
del.icio.us
Spurl
Yahoo!