Puerto Plata Playground
Visit the unspoiled North Coast of the Dominican Republic
By Emily Coleman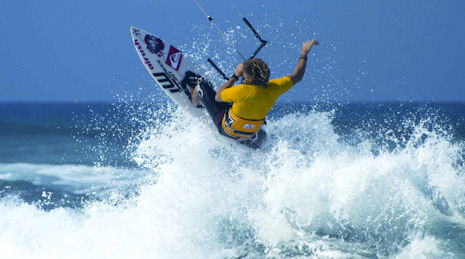 Dominican Republic Ministry of Tourism
(Scroll down to see a slide show.)
T
here are a lot of exciting places to visit on this planet, continents I'd like to see and countries I can't wait to experience. Even if I visit each one just once, I still don't think I'll get to all of the fascinating and delightful destinations on my list.
But I know I'll be going back to the
Dominican Republic
. The second largest country in the Caribbean shares the island of Hispaniola with the Republic of Haiti. Much of the Dominican Republic is lush and green, and there are more than 1,000 miles of coastline edged with sugary white sand. Flying home after my first visit to the country, I had a bit of a vacation hangover -- reality and responsibility would be waiting for me when I landed. Still, remembering my relaxing week in the Caribbean, I thought, "I'll be back soon."
One reason I'm confident I'll return is that the Dominican Republic is closer to the U.S. than many people realize. Direct flights from Miami to Gregorio Luperon International Airport in San Felipe de Puerto Plata only take about two hours.
San Felipe de Puerto Plata, usually referred to simply as
Puerto Plata
, is the capital of the province of the same name, which was the focus of my visit. During my trip I saw some of the best sights on the Dominican Republic's northern shores, defined as the North Coast, and was treated to postcard-perfect scenery, ecological adventures and serenity on the beach. The area is developed but not overpopulated with tourists, so it has an unvarnished appeal. I stayed at two all-inclusive resorts, a type of lodging that is common in the Dominican Republic and provides an excellent value. Guests pay a single rate for their room, food and drinks up front, covering the majority of the stay, so there aren't any surprises when the bill comes. And when compared to hotel prices in some other Caribbean hot spots,
resorts in the Dominican Republic
often are less expensive.
The Playa Dorada complex outside Puerto Plata is gated and encompasses over 250 acres with more than a dozen resorts, a shopping mall, casinos and an 18-hole golf course. I spent two nights at
BlueBay Villas Doradas
, where the rooms were contemporary and comfortable, and the highlight was the impeccable service. Whether I was passing through the reception area, requesting hot tea with breakfast or trying to find my way to a bathroom, the staff greeted me with genuine smiles and encouraged me as I attempted shaky Spanish phrases. And I wasn't the only one charmed by the friendly treatment -- many of my fellow guests were repeat customers.
An adults-only property, BlueBay has three pools, three tennis courts, a spa, sauna and a prime beach location. Avid golfers appreciate its proximity to the nearby course, which can be played for an additional fee. Four restaurants and multiple bars on the property keep guests from going hungry or thirsty. The specialty seafood spot, El Pescador, is just steps away from the cresting waves of the beach.
For the second half of my trip, I moved out of the Playa Dorada complex and a few miles west to stay at the
Lifestyle Tropical Beach Resort and Spa
at Cofresi Beach. Named for the Puerto Rican pirate Roberto Cofresi -- who was imprisoned in the Dominican Republic in the early 19th century -- this beach is excellent for sunning, while its somewhat rougher waters are great for bodysurfing and boogie-boarding.
The Tropical has 282 rooms in three-story, Mediterranean-style buildings. Cobblestoned walkways lead guests between beaches, bars, pools, six restaurants and tennis courts. During the day you can participate in dance lessons, Spanish language practice, a yoga class or an introductory scuba lesson in the pool. One- and two-bedroom suite accommodations and villas also are available at connected properties nearby.
Just five minutes down the road is Ocean World, an aquatic park and entertainment complex. Daily shows feature sea lions, dolphins and an array of birds. An enclosed snorkel reef is great for beginners, while animal lovers can enjoy encounters with such creatures as dolphins, stingrays and sharks. For me, swimming with a dolphin was a childhood dream fulfilled. The park sells pictures and DVDs of the experience, which make nice mementos. Nearby are a full-service marina and a casino that hosts a flamboyant Vegas-style dance revue called the "Bravissimo Show."
A true beach bum only requires time to bask in a spot on the sand, and many visitors who land in the Dominican Republic catch a cab to their resort and then camp out on the beach and enjoy the hotel's amenities until it's time to fly home. The North Coast has many properties where that's possible, but if you're looking to explore your surroundings, there's plenty to do, see, eat and drink here.
Looming large from almost every vantage point on the North Coast, Mount Isabel de Torres is a green giant draped in clouds. A funicular transports people up the mountain, 2,565 feet above sea level. Although somewhat acrophobic, I didn't get nervous about soaring to these heights until our ascent was well under way, and luckily, at that point, there was no turning back. But the view from the top was definitely worth the anxiety. I tried to capture the arresting vistas with my digital camera, but they somehow seemed dwarfed on the LCD screen.
At the mountain's summit there's a gift shop, restaurant, botanical garden and aviary, along with a Christ statue, a smaller but similar version of Rio de Janeiro's "Cristo Redentor." In the afternoon, clouds roll in and block most of the view, so morning visits are best.
For more stunning sights, head to Playa Sosua. This is the kind of beach that people dream about, with calm turquoise waters that stretch from a crescent-shaped bay. Playa Sosua is a jumping-off point for snorkeling adventures, with shallow reefs for beginners and more advanced dives close by as well. Glass-bottom boats leave from the bay filled with passengers who prefer to observe the underwater world while remaining dry, giving them opportunities to scout for whale sharks, manta rays and occasionally dolphins. The town of Sosua has shopping and dining, if you can pull yourself away from the inviting call of the warm Dominican sand.
A few miles to the east, the main drag in Cabarete is lined with stores that sell colorful kitsch, low-key bars and a variety of restaurants, most of which open directly onto the beach. Walking on the sand, I stopped at the back of a restaurant to admire foot-long lobsters swimming in a fountain, unsure if they were someone's pets or someone's dinner.
For swimming, kayaking, snorkeling and sunning, almost any of the North Coast's beautiful beaches will do, but Cabarete in particular has an international reputation for great windsurfing and kiteboarding. The easterly winds provide the perfect conditions for kiteboarding, a fast-growing sport that requires one to balance on a surfboard while catching the wind with a large attached kite. Cabarete's beach, often called Kite Beach, hosts annual competitions for the sport, and on any given day the horizon is dotted with the colorful banners of hundreds of adventure-seekers. Instructors at schools for kiteboarding, surfing and other sports provide expert advice for amateurs.
The North Coast offers many diversions on land as well, like hiking, mountain biking and horseback riding. I ventured with a group into El Choco National Park for an exploration of underground pools and shaded jungle paths. Iguana Mama, the Cabarete-based outfitter that organized our excursion, recommends this hike for families with young children or anyone looking for a fairly easy trek. The toughest part was descending into the caves to see the clear, spring-fed lagoons.
The next time I'm on the North Coast, I hope to try the sport known as cascading, which is a mix of hiking, climbing, swimming and jumping. Iguana Mama hosts cascading tours to locales such as the 27 Waterfalls of Damajagua, where participants scale waterfalls before plunging or sliding into the water below. It's an adventure in nature's own water park.
Downtown Puerto Plata is filled with Victorian architecture from the late 19th and early 20th centuries. A walk down the street is like entering a bit of a time warp, though the cars, scooters and general hustle of the town remind you that you're firmly planted in the 21st century. A stately, two-story columned building houses the Amber Museum, filled with an extensive collection of Dominican amber, including insects and plants preserved in the fossilized tree resin. The amber-encased mosquito depicted in the film "Jurassic Park" is kept here.
The museum also offers a large selection of amber jewelry for sale. (You can find amber items on every street corner on the North Coast, but at the museum you'll receive a certificate of authentication.) Dominican amber is prized for its transparency and color; while yellow amber is most common, there also are deep red, green and blue versions.
At the museum, you can get a true taste of the Dominican Republic with a sample of mamajuana. This red wine and rum concoction infused with herbs and bark tastes like a strong port, and it's considered a Dominican cure-all and aphrodisiac. Only a few families on the island still brew mamajuana, and you can buy a bottle at the museum.
At the Brugal Co., the world's third largest producer of rum, visitors can get a behind-the-scenes look at the production of a more familiar Caribbean favorite. The Puerto Plata-based operation is more than 100 years old, and at its factory, I witnessed the bottling and boxing of thousands of bottles of rum and learned about the distilling process. Samples await at the end of the tour, as do opportunities to purchase white or dark rum of various ages. The rum that's aged for 30 years is considered the pinnacle for true aficionados, but it is available in
limited supply.
I spent my time on the North Coast seeing as many attractions as possible, saving some room in my schedule for the beach and Caribbean sun. Whether you seek blue ocean waves, ecological adventures, posh resort properties or historic sights, you'll no doubt be satisfied by a stay on the Dominican Republic's northern shore.
And maybe you'll find, like me, that one visit isn't enough.
Information:
To learn more about all-inclusive resorts in Puerto Plata on the North Coast, including
BlueBay Villas Doradas
and
Lifestyle Tropical Beach Resort and Spa
, visit the resorts division of
Vacations To Go
or call (800) 998-6925. For visitors information, contact the Dominican Republic Ministry of Tourism, (888) 374-6361.
The information in this story was accurate at the time it was published in May/June 2010. Please visit
Vacations To Go
or call (800) 998-6925 for current rates and details.
Send This Article to a Friend
Bookmark this Content
Digg it!
Reddit
Furl
del.icio.us
Spurl
Yahoo!