Our Favorite Beaches
... for shelling, snorkeling or just chilling out
By Alexis Hilts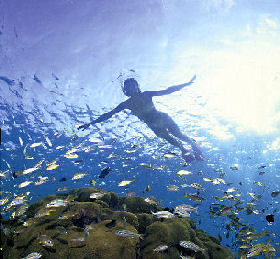 Tourism Corp. Bonaire
(Scroll down to see a slide show.)
T
here is not just one kind of beach. There are sandy stretches made for lazing and white crescents ideal for water sports. Stateside retreats and faraway islands. Like the weather, a beach can even change your mood. Windswept and jagged coastlines can bring out your introspective philosopher, while the right mixture of tropical sun and sand might have you channeling Jimmy Buffett.
But there is a beach for everyone. Whatever your style may be, you can browse the following beaches in eight categories to find a fit for your next vacation.
Shelling in Florida
While most barrier islands run parallel to the mainland,
Sanibel and Captiva
are curved at an east-west orientation and shaped like a scoop facing the southwestern Florida coast. This unique configuration means that shells of all kinds, from conch to cockle, gather on these shores.
You have a good shot of finding some beauties along all public stretches of sand on the Gulf side of the islands, from the 1884 lighthouse at the eastern tip of Sanibel to North Captiva. But the beach you choose is less a factor than the time you select for your shelling excursion. Low tide reveals a wider strip of shore to comb, and just after a storm there likely will be a new batch of shells to sift through.
Coveted finds include the rare brown-spotted junonia (its discovery earns you a mention in the local paper), the spiral-topped lightning whelk and sun-bleached sand dollars.
Just remember: It's illegal to collect shells that currently serve as an animal's habitat. And the shells are an important part of the island ecosystem, so consider whittling down the keepers to only one or two jewels.
Tide Pooling in Southern California
When I was a little girl spending summers in Cape Cod, MA, I used to head out along the rocky shoreline on "scientific expeditions" in search of any creature I could find. Discovering a tide pool was hitting the jackpot. Peering into the glassy shallows, I was fascinated with the alienlike quality of their denizens, from clinging barnacles to spiky urchins.
But exploring jagged coastal areas is not just for pretend scientists. Families that like to adventure together and inquisitive types alike can appreciate the sturdy inhabitants of tide pools. Urchins, crabs, anemones, mussels, snails, starfish and octopuses are some of the critters that can tolerate the constant shifts of these environments.
For some of the country's best tide pooling, check out two Southern California spots:
San Diego
and Laguna Beach. Cabrillo National Monument on the tip of the Point Loma peninsula and Tourmaline Surfing Park just south of La Jolla are popular San Diego area choices. For Laguna Beach, try Shaw's Cove or Treasure Island, where volunteer docents are often on hand to answer questions.
Low tides and calm waters are the best conditions. Good shoes are a must for navigating areas with potentially slippery rocks.
Sighting Sea Turtles in Mexico and Hawaii
For those seeking bigger fish, or rather turtles, in the sea, Mexico's
Puerto Vallarta
is a top pick. At least five kinds of oceangoing turtles can be found here, and summertime brings the females ashore to lay their eggs. Endangered populations have spawned conservation programs at area resorts, creating a unique opportunity for guests to get up close with the marine reptiles.
Among these hotels are
Dreams Puerto Vallarta Resort and Spa
and
Presidente InterContinental Puerto Vallarta Resort
. Vacationers help return hatchlings to the sea after a period of protected incubation. Turtle season is May through September.
Another option for turtle lovers is the
Aloha State
. Various spots along the
Kona Coast
of Hawaii's
Big Island
are sea turtle, or honu, havens. You can dive in and snorkel with them or catch glimpses of them sunning on the shore.
Honu even have their own holiday in Hawaii. For more than 20 years, young turtles have been raised in the saltwater ponds of the
Mauna Lani Bay Hotel and Bungalows
until they are big enough to set free. These honu celebrate their independence along with the rest of Americans on July Fourth.
Snorkeling in Caribbean Isles
Around delicate fans, between tubelike sponges and over large formations of brain coral, several hundred species of fish navigate the vibrant wonderland of the
Caribbean Sea
. While many islands in the region invite travelers to don a mask and fins, the four destinations below ensure a peek of surreal underwater landscapes.
Beginners should try Trunk Bay in
St. John
for a combination of convenience and beauty. All-day excursions are made easy in this piece of Virgin Islands National Park, with changing rooms, showers, lockers and a snack bar. And there's even a snorkel trail to follow -- submerged signs enlighten visitors and point them in the right direction.
Roughly 50 miles north of Venezuela in the Netherlands Antilles,
Bonaire
offers a less touristed option. Underwater enthusiasts come here for what's below the surface. Public beaches are easy for travelers to find, marked by yellow stones along roadsides. For great views on your way down to a beach where you can view parrotfish and the rare whale shark, head to 1,000 Steps north of Kralendijk, the capital. (Don't be intimated, it's actually only 68 steps.)
With turquoise waters and kaleidoscopic marine life, the five uninhabited isles that make up the
Tobago Cays
are considered the crown jewel of the Grenadines. Only reachable by boat, this protected paradise is worth the trip. From pristine beaches of soft, white sand, you can swim out to Horseshoe Reef. Average depths of 5 to 10 feet make it easy for snorkelers to spot trumpetfish, yellowtail damsels, eagle rays, sea turtles and nurse sharks. Water taxis and charter boats can take you from nearby islands. The cays are included in itineraries on intimate cruise vessels, such as Star Clippers'
Royal Clipper
and SeaDream Yacht Club's
SeaDream II
.
Certified sea adventurers can find sanctuary in the Anse Chastanet marine reserve on the southwestern end of
St. Lucia
. More than 150 species of fish live on a brightly colored reef accessible from shore. Sea horses, moray eels and puffers are some of the characters you might encounter. Inquire in the scuba center at romantic
Anse Chastanet
resort for more information.
Night Swimming in Puerto Rico
Imagine what it would be like if the world was reversed and we could swim in the sky, and the stars would light up as your body glided by. Paddling in bioluminescent waters makes this fantasy almost a reality.
Single-cell algae, called dinoflagellates, are the most common source of glittering seas. When excited by movement in their surroundings, such as passing boats or limbs in motion, these organisms produce a flash of light, like tiny lightning bugs living in the ocean. This bioluminescent activity can be found in all oceans at varying depths, but some areas are known for their twinkling waters, like Mosquito Bay in Puerto Rico.
This mangrove-lined bay of
Vieques Island
contains more than 700,000 glowing dinoflagellates per gallon of water, making it a prime place for night swimming. Local operators offer tours here via electric pontoon boats, stopping to allow travelers to immerse themselves. Vieques' palm-fringed beaches remain largely unspoiled, making the island a great daytime destination before your evening excursion.
Though it may be somewhat unusual to plan your vacation by the cycles of the moon, in this case, it's practical planning. Tours don't run during a full moon, and viewing is best on moonless nights.
Beach Bum Parties in the BVIs
If you're looking for a laid-back beach party, head to
Jost Van Dyke
in the British Virgin Islands. Reputedly named after a pirate, the 4-mile-long isle keeps the carousing -- and the stories of buried treasure -- alive in its oceanside bars.
If you've ever had a Painkiller, then you've already had a taste of the island. This fruity rum concoction was invented here at the Soggy Dollar Bar. Hanging in a hammock with this Caribbean cocktail can be an all-day event for some. There's no dock at this watering hole in alluring White Bay, hence the name. (Patrons present soggy currency after they swim to shore for a drink.)
Foxy's Bar in Great Harbour is also famous for its good vibe. Caribbean barbecue and tropical tunes crooned by owner Foxy Callwood himself add festive character to this bar, with its own microbrewery. Dedicated revelers make the journey for Foxy's celebrated Halloween and New Year's Eve festivities, when yachters and others pour in.
Though there are a few small hotels on Jost Van Dyke, most visitors arrive by boat from sister islands. Interisland ferries operate in the BVI, with several trips daily between
Tortola
and Jost Van Dyke. Bring cash, as there are no banks on the isle.
People-Watching in Rio
If working on your tan is just an excuse to spend time eyeing potential mates in minimal clothing or cheering on locals playing volleyball, then the beaches of Brazil's
Rio de Janeiro
are for you.
The well-loved tradition of taking in the scene at Ipanema Beach was even set to music by Tom Jobim in the 1960s: "Tall and tan and young and lovely/The girl from Ipanema goes walking/And when she passes, each one she passes goes a-a-ah!"
But Ipanema is not just for ladies in (really) little bikinis. A cross-section of residents and travelers play soccer, surf, soak up sun, practice capoeira (a Brazilian brand of martial arts) and splash around right next to downtown Rio. For something different, pick a place in range of a footvolley match -- volleyball with no hands. Folks here can pack light, too, as vendors sell sunblock, swimsuits, toys, towels, cervezas, snacks and coconut milk.
There's more to be seen at Copacabana, another boisterous beach in Rio's south zone. Stroll along Avenida Atlantica's mosaic sidewalks and then put on your favorite pair of shades, stake out some sand and enjoy the show.
Chilling Out in the DR
Sometimes you're just looking for a pretty patch of sand upon which to relax. For a lounge-on-the-beach-all-day vacation, the
Dominican Republic
is an obvious choice. This Caribbean country on the island of Hispaniola not only has roughly 1,000 miles of powdery coastline, it's also known for its abundance of all-inclusive resorts -- hotels designed for the ultimate kick-back beach experience. With your room, food and drinks covered in an up-front price, all you'll have to worry about is slathering on the sunscreen.
Consider choosing a chaise at
Iberostar Costa Dorada
in sunny
Puerto Plata
, where pristine coastline, cerulean sea and tropical beverages await. And if you start feeling antsy, nonmotorized water sports are part of the all-inclusive package. As an alternative to the resort scene, check out the public beach on the tiny isle of Cayo Levantado in Samana Bay for your lazy vacation day.
Booking Your Beach Vacation
Whatever you choose for your beach retreat, book through Houston-based travel agency
Vacations To Go
for the best available rates. To price a stay at an
all-inclusive
or traditional hotel in any of the beach destinations featured here, including the Dominican Republic, Puerto Rico, Hawaii, Puerto Vallarta or Rio de Janeiro, you also can call the resort specialists at (800) 998-6925.
The resort destinations of St. John, St. Lucia, Bonaire, the British Virgin Islands and the Tobago Cays are also highlighted on Eastern and Southern Caribbean cruise itineraries.
Vacations To Go
offers Caribbean sailings that have been marked down by as much as 75 percent. For more information, call (800) 338-4962 to speak to a cruise agent.
The information in this story was accurate at the time it was published in May/June 2011.
Send This Article to a Friend
Bookmark this Content
Digg it!
Reddit
Furl
del.icio.us
Spurl
Yahoo!