Nutritional Noshing Meets Ultimate Indulgences
Pair a calorie-counting cruise or resort vacation
with these six suggestions for splurging
By Alexis Loyd and Michelle Chumbley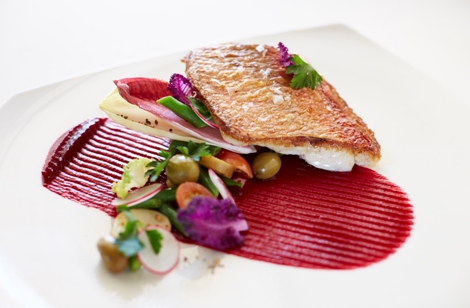 Michel Verdure/Celebrity Cruises
M
ost globe-trotters are familiar with vacation waistline expansion syndrome, often associated with proclamations of hard-earned freewheeling: "I'm on vacation! This calls for another round of chocolate molten lava cake -- extra lava." Some travelers even build their diet plans around almost-certain, trip-related weight gain.
But your upcoming getaway does not have to be a setback in your diet scheme. Stateside or internationally, at land or at sea -- no matter where you're headed, many resort and cruise lines have added programs that leave healthy eating habits intact, without losing the flavor.
If you're planning a vacay that's close to home, plenty of U.S. resorts accommodate travelers wanting to stay on track. At the top of the list is the 150-room
Canyon Ranch Hotel and Spa
in
Miami Beach
, where guests savor sunshine, surf and nourishing gourmet dishes. Menus at Canyon Ranch Grill post a nutrient analysis that includes calories, protein, fat and fiber counts for each option, with notations for gluten-free and vegan items. Executive chef Giovanni Arias, heading up the resort's food and beverage program, aims to pack bold flavor into health-conscious choices, such as pomegranate gazpacho, artichoke fries and grass-fed churrasco steak.
For selective imbibers, organic, biodynamic and sustainable wines are served, and cocktails are stirred with organic spirits and fresh ingredients. Consider a VeeV-a-Mojito made with VeeV acai spirit, America's first certified carbon neutral liquor. A bonus: Burn off a calorie splurge at the 70,000-square-foot spa and wellness facility.
Herbivores heading to glittering
Sin City
will find that twin resorts
Wynn Las Vegas
and
Encore at Wynn Las Vegas
dish up delectable sustenance with a side of swank. The duo provides 4,750 five-star accommodations, on-site entertainment, a casino and roughly 20 dining venues. In 2011, Wynn Resorts paired with vegan chef and cookbook author Tal Ronnen to develop meat- and dairy-free delights for the noncarnivorous set, such as vegan "clam" chowder concocted from a cashew cream base and smoked oyster mushrooms; pasta with vegan ricotta cheese and asparagus sauce; and faux tuna rolls.
Wayfarers venturing to the Caribbean might pick
Parrot Cay by COMO
in the
Turks and Caicos
for its stretch of powdery sands and a smorgasbord of wholesome options. This opulent paradise off the main isle of Providenciales provides a COMO Shambhala menu, highlighting organic ingredients rich in living enzymes, vitamins and sea minerals. Honey is used for sweetening, and olive oil, rather than butter, for fat. Guests can partake of this lineup -- including king prawns with a green mango salad and crispy garlic and shallots or a raspberry and carob torte -- in the resort's two restaurants, Lotus and Terrace, or as room service. Sample a host of invigorating smoothies and teas: How about a Kryptonite blend of apple, celery, cucumber, fennel, spinach and spirulina or a Jetlag Remedy with hibiscus, rosehip, berries and honey?
The lush Lesser Antilles isle of
St. Lucia
bestows its own brand of hospitality for foodies at intimate
Anse Chastanet Resort
. Relax in one of 49 hillside or garden suites and then nosh on Caribbean, Creole, Indian and simple grilled cuisine in the open-air Treehouse Restaurant and beachside Trou Au Diable. Six nights a week, the tropical resort serves a vegetarian dinner menu featuring organic produce plucked from Emerald Estate, the property's own farm. Travelers might munch a salad with crispy brie cheese or sweet potato gnocchi.
At sea,
Celebrity Cruises
' top-rated cuisine has earned a nod from the prestigious James Beard House, which in 2012 invited Celebrity masters Jacques Van Staden and John Suley to be the first cruise line chefs to cook at the venue. This year, the line boosted its array of nutritious meals through a partnership with SPE Certified, an independent certification and consulting program with strict criteria for sourcing, preparing and enhancing food in restaurants, hotels, schools and, now, Celebrity Cruises dining venues. SPE, which comes from the Latin sanitas per escam, or "health through food," applied its standards to more than 60 dishes in Celebrity's main restaurants -- such as autumn squash soup, almond-crusted hake and (yes!) chocolate lava cake -- as well as all the fare in the AquaSpa Cafe.
Other options for those sailing the high seas include
Holland America Line
, which introduced a vegetarian menu last year, as well as new options to its main dining room roster, totaling more than 50 herbivore-friendly meals. Or select an itinerary aboard a sparkling recent addition for
MSC Cruises
, the 4,345-passenger
MSC Divina
, which made Miami its home port this November. The Divina has introduced "deliciously healthy" dinner menus, complete with calorie counts and gluten-free grub, as well as its Five Colors of Well-Being program. Guests choose spa treatments, drinks and foods based on hue selection: blue/violet for cleansing, green for relaxation, red for antiaging, white for purity and yellow/orange for beautiful skin. And be sure to try MSC's industry-first Aqua Cycling by Hydrorider; underwater spinning might earn you a few extra helpings.
To peruse options for your next healthy cruise excursion, contact Vacations To Go's
sailing specialists
or call (800) 338-4962; for resorts,
click here
or call (800) 998-6925. --
Alexis Loyd
Indulge Your Palate
We all deserve a little splurge once in a while. If you've faithfully hit your hotel's gym or jogged an extra mile or two, reward yourself with one of these deliciously decadent outings.
Feast like a Roman
. Prime rib, grilled lamb chops and baked-to-order souffles are among 500 items offered at the Bacchanal Buffet at
Caesars Palace
in
Vegas
. Chefs prepare the majority of food in front of guests at nine open kitchens. Fifteen chef's specials, like braised rabbit and seafood risotto, change daily.
Butter with that?
The all-inclusive
Excellence Riviera Cancun
in Mexico's
Yucatan
is home to The Lobster House, an open-air restaurant that serves all things lobster at dinner. Choose your crustacean grilled, pan fried or steamed and served with a selection of sauces including chipotle-garlic butter, creamy tarragon and Dijon mustard.
Seagoing chef's table
. Guests of
Norwegian Cruise Line
can book the chef's table dining experience, a gastronomic adventure of nine courses with wine pairings. While the menu changes, diners can expect to savor dishes like ahi tuna tartare with orange-wasabi glaze and plantain-crusted sea bass with mango, papaya and avocado salsa.
Bon appetit
. On the 11-day "
Easy Pace France
" tour from
Insight Vacations
, travelers have a day at leisure to explore the capital. If you want to spend that time pursuing its gourmet delights, turn to
Paris by Mouth
. Its three-hour "Taste of the Holidays" outing in December samples cheeses, candied chestnuts, foie gras and Christmas cakes.
In celebration of sweets
. Visit the Chocolate Festival in London Dec. 13-15. Attend a chocolate afternoon tea based on characters and events from Joanne Harris' best-selling novel "Chocolat," or meet vendors presenting artisan chocolate cheesecakes, organic hot chocolate and handmade chocolate teacups. For a value-priced stay, consider the eight-day "
Winter in London
" independent tour from
Trafalgar
.
Mangia, mangia!
Eating Italy Food Tours
takes travelers on a flavorful journey through Rome's neighborhoods. The "Taste of Testaccio" foray consists of 12 samplings, including pasta, fried risotto, bruschetta, cannoli and gelato. Visit the Eternal City and other Italian locales with "
Rome, Florence & Venice
," a 10-day
Monograms
package. --
Michelle Chumbley
The information in this story was accurate at the time it was published in November/December 2013. Please visit
Vacations To Go
or call (800) 998-6925 for current rates and details.
Send This Article to a Friend
Bookmark this Content
Digg it!
Reddit
Furl
del.icio.us
Spurl
Yahoo!