Mexico, A to Z
A few of our favorite things
south of the border
By Alexis Hilts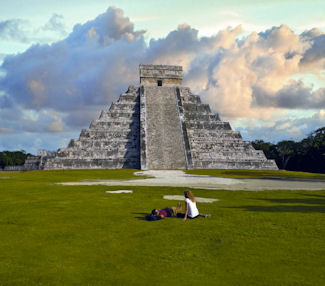 Ricardo Espinosa/Mexico Tourism Board
(Scroll down to see a slide show.)
R
ich in cultural history dating to the ancient Mayans and endowed with natural beauty from turquoise seas to verdant jungles, Mexico beckons visitors for a long list of reasons. While we can't name them all, we've compiled a traveler's alphabet guide to Mexico -- a treasure for each letter -- to get you started.
To price hotel stays in Mexico at bargain rates, visit
Vacations To Go
or call the resort specialists at (800) 998-6925. For cruise itineraries that go to any of these destinations, click
here
or call (800) 338-4962.
Alebrijes
Inspired by a vivid dream filled with strange creatures, artist Pedro Linares began molding vibrant and fantastical animals out of papier-mache. His work caught the eye of a local gallery owner, and eventually he became known worldwide, prompting other Mexican artists to make their own versions of colorful alebrijes, often carved from wood.
Beach beds at El Dorado Seaside Suites
Near the sounds of the surf, these generously sized retreats are a peaceful daytime escape for guests of this all-inclusive resort near Playa del Carmen. The
282-room property
offers a romantic, kids-free haven.
Cliff divers in Acapulco
Visitors to this
Pacific coast city
gather to watch skillful divers soar from the cliffs of La Quebrada into the narrow inlet below. These courageous pros plunge more than 140 feet, taking wind direction and speed into account and timing their jumps with the swell of the ocean, entering the water without hitting the jagged rocks beneath.
Dia de los Muertos
Celebrants of the Day of the Dead erect altars to honor deceased loved ones, whose spirits are said to visit on one day of the year, Nov. 2. Locals display offerings of food, candles, marigolds and incense -- all thought to help the souls find their way back -- as well as ornate sugar skulls, confections consumed by the living.
El Castillo at Chichen Itza
The Mayan astronomical calendar is symbolized in the design of the central structure at Chichen Itza on the
Yucatan Peninsula
. Days can be counted on the pyramid's 365 steps, and its 18 terraces mark the 18 months of the Mayan calendar. Spring and fall equinoxes draw the most visitors, when a snakelike shadow travels down the monument.
Fishing
Brimming with marlin and sailfish, the warm waters off the coast of
Mazatlan
make it a top destination for deep-sea fishing. Vacationers can hire a boat captain and try angling in the Pearl of the Pacific, or leave the big catches to international fishermen competing in tournaments such as the Mazatlan Billfish Classic.
Great Mayan Reef
Second in size only to the Great Barrier Reef in Australia, the Great Mayan (Mesoamerican) Reef stretches 600 miles from the Yucatan Peninsula to Honduras. The diverse marine life -- there are more than 500 species of fish and 60 species of coral here -- draws snorkelers and divers from all over the globe. The whale shark is a superstar of this underwater world; it can weigh more than 20 tons and reach more than 40 feet in length.
Huatulco
Nine bays and 36 pristine beaches are the heart of this
green resort town
on the Pacific coast. Once a small fishing village, this still laid-back retreat now boasts a cluster of upscale hotels -- like the five-star
Dreams Huatulco Resort and Spa
-- for vacationers looking to spend their time snorkeling, rafting, horseback riding and relaxing on the shore.
Isla Mujeres
Located just a few miles off the bustling shores of
Cancun
, this tiny sliver of island paradise seems a world away from the crowds carousing in the city's bars and clubs. Named for goddess figurines found by Spanish conquerors who arrived in the early 16th century, Isla Mujeres offers a quieter tropical escape at resorts like the 62-room, couples-only
Isla Mujeres Palace
, which provides intimate all-inclusive luxury.
Juguerias
Fresh fruits like papayas, bananas, mangoes, oranges, strawberries and pineapples are blended into tasty concoctions in a rainbow of hues at streetside cafes and market stalls called juguerias, or juice bars. Recipes range from simple
fruit combos to extra-healthy options with added vegetables, like beets or carrots.
Another popular Mexican beverage is agua fresca, water sweetened with fruits
and sugar.
Kayaking
Paddle the ocean on a sea-kayaking adventure, or opt for a vacation at eco-friendly
Hacienda Tres Rios
near
Playa del Carmen
. Guests of the 273-room resort can navigate rivers and 10 cenotes, or deepwater sinkholes, amid the wildlife and mangrove forests of Tres Rios Nature Park.
Los Cabos
The
twin Cabos
, San Jose del Cabo and Cabo San Lucas, on the tip of Mexico's Baja Peninsula pack a two-for-one punch for travelers looking for a little of everything. Cabo San Lucas is known as a water-sports and nightlife hub, while sister city San Jose boasts a historic downtown that transports tourists back to the 18th century.
Mole
Mexico's cooks have developed many varieties of this complex, deeply flavored sauce. They range from a dark red or rich brown version that's heady with cinnamon, sesame seeds and a hint of chocolate to a green-hued rendition
of fresh parsley, epazote and jalapeno or serrano chili peppers.
Nixtamalization
This traditional culinary technique is the first step to making corn tortillas. Corn kernels are soaked and cooked in limewater, an alkaline solution, which makes the grain easier to grind and amps up its nutritional quotient.
Oaxacan textiles
Weaving bright cultural motifs into cotton fabric is a long-held custom in Oaxaca,
nestled in a mountain valley of southern Mexico. Artisans embroider spiritual symbols into their works, creating uniquely patterned clothing and rugs that are choice souvenirs.
Pozole
A hearty hominy stew commonly made with tomatillos, chilies, veggies and pork or chicken, this pre-Columbian dish remains a regional staple.
Quinta Avenida
Playa del Carmen's Fifth Avenue is the vacation spot's pedestrian-only thoroughfare, running parallel to the ocean. It's home to much of the city's action, with dance clubs, restaurants and souvenir shops all within a short stroll of the beach.
Rejuvenation
Mesoamerican heritage is not confined to the ruins. Many spas conjure age-old
healing techniques with Mayan-inspired treatments that cleanse body and soul.
At
Ceiba del Mar Beach and Spa Resort
south of Cancun, try the "Mayan Balsamic Ritual," which aims to revitalize the central nervous system with custom essential oils and hot stone massages. Spiritual peace seekers opt for temazcal, therapies performed with aromatic steam.
Sea Turtles
From summer through fall, female sea turtles make the journey to Mexico's Pacific shores to lay their eggs. At least five kinds of oceangoing turtles can be
found in the waters of
Puerto Vallarta
, where several hotels -- including
Dreams Puerto Vallarta Resort and Spa
and
Velas Vallarta Suite Resort
-- participate
in a conservation program designed to protect the eggs from predators. When the hatchlings are ready, guests can help release them into the sea.
Tequila
Tequila lovers, brace yourselves. From tastings at distilleries to a tour of Jalisco's National Museum of Tequila, visitors can experience all things related to the blue agave-based spirit. Connoisseurs can even bathe in the stuff: Guests at the
Royal Playa del Carmen
can indulge in an in-suite spa treatment with a tequila, honey and lime soak, a massage and, of course, sips of their favorite Mexican liquor.
Uxmal
South of
Merida
you'll find the archaeological ruins of what was once a city of 25,000 inhabitants, designed at the height of Mayan architecture. Built between A.D. 700 and 1000, Uxmal's ceremonial complex includes the Pyramid of the
Soothsayer, rising above the surrounding structures to 115 feet.
Viva Mexico!
Plan your vacation around Sept. 16 if you're looking for a nationwide fiesta. Expect plazas draped in red, white and green, along with festive music, vibrant parades and crowds waving flags while shouting "Viva Mexico" in honor of Mexican Independence Day.
Whale-watching
From December through March every year, humpbacks and gray whales can be spotted along the west coast of the Baja Peninsula as they seek warmer waters for breeding. The temperate Sea of Cortez is a particular hot spot for these calving creatures, and whale- and dolphin-watching is a well-loved pastime from the resort hub of Los Cabos.
Xcaret
This eco-archaeological park in the Mayan Riviera combines nature-oriented pursuits and cultural endeavors in one family-friendly attraction. Snorkeling in underground rivers, strolling through a butterfly pavilion, touring ancient ceremonial sites and swimming with dolphins are part of the fun here. For a bargain on Xcaret access, consider the all-inclusive
Occidental Grand Xcaret
next door, where vacationers enjoy discounted passes as part of their stay.
Yaax Che Jardin Botanico del Dr. Alfredo Barrera Marin
Spy spider monkeys from the suspension bridge or marvel at the view from a tree-house lookout in this lush sanctuary, comprised of a variety of the Yucatan's flora and fauna. Named after a local botanist, Yaax Che is one of the largest botanical gardens in Mexico and a green haven for plant enthusiasts.
Zihuatanejo
Neighbor to glitzy resort development Ixtapa, this fishing town offers a charming, low-key ambience and boutique hotels. Tranquility and luxury combine at
The Tides Zihuatanejo
, with 70 well-appointed rooms in adobe-inspired villas along an unspoiled, white-sand beach.
The information in this story was accurate at the time it was published in March/April 2011. Please visit
Vacations To Go
or call (800) 998-6925 for current rates and details.
Send This Article to a Friend
Bookmark this Content
Digg it!
Reddit
Furl
del.icio.us
Spurl
Yahoo!