Luxurious London -- For Less
The host of the 2012 Summer Olympics offers gold-medal deals
for savvy (but still stylish) shoppers
By Jennifer Davoren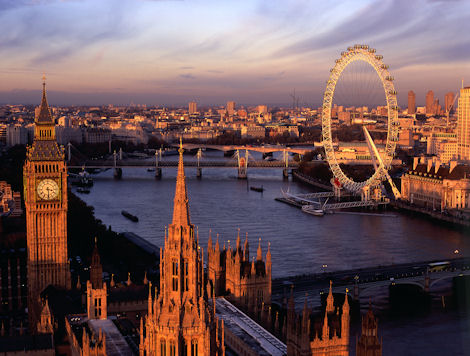 McCormick-McAdams/VisitLondonImages.com
I
'm not a big fan of heights, but what gobsmacked tourist can resist a bird's-eye view of Big Ben? Throw in the promise of a toast at 443 feet with a glass of chilled, bubbly brut, and the London Eye's sumptuous "Champagne flight" becomes an irresistible, indulgent idea.
And London, Britain's royal capital, is a city suited for indulgence. Just look at the Eye, one of its favorite landmarks. The world's tallest cantilevered observation wheel offers 360-degree scenery stretching some 25 miles and overlooks monuments from Westminster Abbey to Buckingham Palace. If, like me, you opt for a Champagne-fueled ascent, your first trip aboard the Eye will be an adventure in sensory overload.
But -- if you are like me -- you also might worry that the Eye's upscale tickets lean toward budget overload. The London Eye's Champagne flight, for instance, costs about $50 for a 30-minute experience. But travelers who are willing to do a little research before heading to the metropolis are sure to find discounts on their favorite sights.
For starters, you can purchase tickets through the Eye's official website to get 10 percent off any flight. You can combine your ride with a Thames River cruise, a tour of Madame Tussauds or another London attraction, reducing entrance fees to each even further. Other sites -- including one run by the city's official tourism organization, Visit London -- offer daily deals on everything from event tickets to mass transit passes.
The host city of the 2012 Olympics, London is looking to help prospective visitors save a little cash. Try adding the following stops to your itinerary for a fulfilling, but cost-cutting, trip abroad.
The Icons
In addition to seeking out the soaring Eye, the United Kingdom's most popular paid attraction, tourists flood London for a connection to royalty. While historic documents, coronation ball gowns and glittering crown jewels usually are found beyond a ticket booth, a few regal sites can be toured on the cheap, or even free of charge.
In central London, on the leafy western side of Hyde Park, Kensington Palace was the childhood home of Queen Victoria and a post-divorce residence for Princess Diana. Though the dukes of Kent and Gloucester still keep apartments here, a number of rooms have been opened for public viewing, including a gilded gallery built for King George I in 1727. The palace hopes to complete an ambitious restoration and renovation project before the summer of 2012, so Olympic crowds can stroll Kensington's gardens and expanded educational facilities between sports events.
The entrance fee is about $20, depending on the featured attraction; a recent exhibit, "The Enchanted Palace," sent visitors on a spooky scavenger hunt for seven storied princesses. Those looking for royal treatment without a cover charge can stop by The Orangery, an 18th-century offshoot of Kensington Palace built as a greenhouse for Queen Anne. This bright, airy building now serves afternoon tea and light meals to Hyde Park patrons, who can enjoy a cup of coffee and a scone for about $6 while admiring Kensington's wraparound green space.
A great option for budget-conscious history buffs is London's extensive collection of museums. Very few charge entrance fees for their main exhibit halls, opting instead for suggested donations.
There are plenty of royal artifacts at the Victoria and Albert Museum, including a writing desk used by Henry VIII and James II's intricately embroidered wedding suit. A short train ride away, the British Museum boasts one of the most enviable collections in the world, from the hieroglyph-deciphering Rosetta Stone to a 2-million-year-old cutting tool found in Tanzania's Olduvai Gorge.
But the Museum of London, a criminally overlooked attraction on the eastern side of the city, offers one of the most intriguing exhibit halls around. Here, historians trace the evolution of a world-class capital, from its beginnings as a Roman stronghold to its future as an Olympic Games host. Interactive installations explore London life under the Blitz of World War II or in the throes of Beatlemania, while a fascinating film illustrating the city's 24-hour bustle plays on a continuous loop in the museum cafe.
The Arts
London also offers free admission to most fine art museums, including the Tate Britain and its avant-garde sister site, the Tate Modern. The Royal Academy of Arts charges a small entrance fee -- about $12 to $15, depending on its rotating exhibition schedule -- but patrons can time their visit to coincide with a free lunchtime lecture or guided tour.
A fan of the classics? Make time for a stop at the Royal Opera House, home of London's leading opera and ballet companies. While nosebleed seats go for as little as $15 per performance, the same amount nets you a backstage tour of the palatial venue.
The opera house, built in 1858 after two predecessors were destroyed by fire, is supported by an immense staff -- 48 full-time employees handle stage lighting alone. The backstage tour introduces visitors to this dedicated troupe while exploring underground set storage and rehearsal space. Opening night performances top most dance fans' to-do lists, but I think I might prefer the Royal Ballet during a relaxed morning practice. Watching the polished performers joke with friends, often mid-pirouette, gave my tour group a unique peek at an awe-inspiring art form.
Once you emerge from the opera house's multilayered basement studios, you might be in the mood for a little sunshine. Head for Regent's Park and you'll find a winning combination of fragrant flower gardens and satisfied theater fans.
Regent's Park Open Air Theatre offers a charmingly simple setting -- a small, wooden stage and a semicircle of 1,240 seats -- that belies its artistic grandeur. Each season is packed with the requisite Shakespeare and family-friendly productions, but this venue also pulls in crowds with resourceful reimaginings of old favorites and award-winning musical revivals. (The theater's staging of "Hello, Dolly!" earned three Laurence Olivier awards in 2010.) Tickets are priced from
$15 for selected performances, which run from June through September each year.
Dining and Entertainment
My last visit to the city coincided with Taste of London, an annual foodie fest that highlights the best of local cuisine. Next year's event is scheduled for June 16-19. Culinary fetes are common in London -- the London Restaurant Festival and the Feast on the Bridge on Southwark Bridge are particularly popular in fall -- and offer tourists a quick (and often low-cost) introduction to the city's diverse dining scene.
Another option offers a twist on the neighborhood bar. Stop by a London "gastropub," like the Pantechnicon on Motcomb Street, and you'll find traditional British cuisine with a few upscale add-ons -- say, an indulgent shepherd's pie made with organic, Guinness-soaked beef. The Pantechnicon even caters to diners by budget: A ground-floor bar keeps beer on tap and cooks up lighter fare, while an upstairs dining room appeals to those in search of a leisurely meal and tableside wine service before an evening show. After all, the neon marquees of the West End, London's action-packed theater district, are just a short train or cab ride away.
Travelers can curb the cost of an evening out even more by catching dinner and a show in a single venue. The cabaret dining trend has taken London by storm; saucier spots combine surf-and-turf entrees with peekaboo burlesque shows, but one Covent Garden club prefers a jaw-dropping, big-top atmosphere.
At Circus, where prix-fixe menus offer two courses and a glass of wine for about $32, performers mount a dining table-turned-stage to wow patrons with fire-eating, hula-hooping and acrobatic routines. The restaurant keeps a tight lid on its performance schedule, so diners won't know what's in store until the meal. Although my Circus experience began with rumors of a snake charmer, I was instead treated to a dizzying aerial act suspended from the ceiling. After hours, tables are pushed aside to create a dance floor as the Circus spotlight turns on the crowd.
Niche Neighborhoods
On the south side of Hyde Park, where a host of international embassies fly multicolored flags from stately Georgian row houses, another view of London awaits. Here, chain stores, rumbling tour buses and camera-wielding crowds are few and far between. Instead, the historic neighborhood of Belgravia is lined with independently owned restaurants, specialty stores and -- in my experience, at least -- the friendliest, most talkative people in London.
"It's engaging, it's artisan -- it's how life should be," says Tom Assheton, owner of Tomtom Cigars and Coffee.
After sampling Tomtom's cinnamon-dusted latte, I'm inclined to agree. And once I've dropped by the heavenly scented (and likely heaven-sent) headquarters of Rococo Chocolates, Belgravia's favorite confectioner, I'm ready to buy property in the area.
London is a true city of neighborhoods, many of which are hidden gems just waiting to be explored. Some, like Belgravia, are geared toward the upscale traveler looking for French-milled "yacht linens" (try L&B on Motcomb Street) or diamond-studded, woven-gold jewelry (you'll lose your heart to Carolina Bucci, another Motcomb shop). Others, from the bustling South Bank to historic Covent Garden, accommodate heavy tourist traffic with free street performances and wallet-friendly meal deals.
To experience the luxurious side of London while living within your means, be prepared to mix and match. Sample Belgravia for an afternoon -- this former home of Ian Fleming, Noel Coward and Wolfgang Amadeus Mozart is not to be missed -- but stick to window-shopping when your budget demands. And don't be afraid to indulge yourself in other spots, from prime seats at a West End musical to a specialty flight on the London Eye.
The London Olympics are nearly two years away, but you can go for (or save a little) gold in the city anytime.
Visit London
Those without much wiggle room in their budget can call Houston-based travel discounter Vacations To Go, (800) 998-6925, or
go online
to research independent tours of London. These trips wrap travel, hotel, some meals and a sightseeing excursion into a single price that's paid up front, but they also offer plenty of free time for private exploration. For example, the "
Six-Day London Vacation
" offered by
Gate 1 Travel
includes round-trip airfare from New York, daily breakfast and four nights at the Central Park Hotel, which is near the northwest edge of Hyde Park; prices this fall start at $699 per person, based on double occupancy.
If you prefer a wider choice in hotels, Vacations To Go also offers competitive rates on dozens of London properties. Contact a
travel agent
for more information or call (800) 998-6925.
The information in this story was accurate at the time it was published in September/October 2010.
Send This Article to a Friend
Bookmark this Content
Digg it!
Reddit
Furl
del.icio.us
Spurl
Yahoo!