Local Treasures, Global Flavors
A world of cuisines awaits in these
eight dynamic U.S. destinations
By Emilia Benton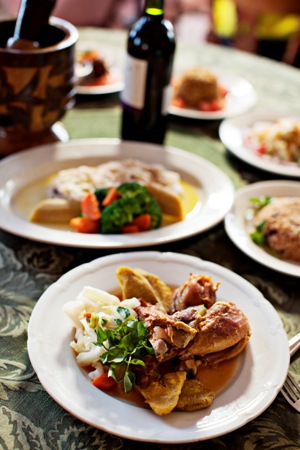 Greater Miami CVB/MiamiAndBeaches.com
(Scroll down to see a slide show.)
L
ike many avid travelers, you likely have a bucket list of places to visit, from the ancient ruins and tavernas of Greece to the sophisticated streets and sushi bars of Tokyo. Unfortunately, it's not always possible to jet off to the far side of the globe for an extended getaway.
If you want to sample flavors from around the world without straying too far from home, look no farther than these eight U.S. cities with international enclaves. Founded by immigrants and others who stay faithful to the recipes of their forefathers, these neighborhoods offer a taste of the homeland, from the lively beer gardens of Bavaria to the ramen shops of Japan's Tokushima prefecture.
For more information on lodgings and escorted tours in the following destinations, contact the travel discounters at Vacations To Go through the websites linked below.
With Miami's close proximity to Cuba, it's no surprise that the Little Havana district is a thriving area for island food and culture. Popular eateries such as Versailles, El Cristo and El Exquisito dish up picadillo (ground meat often mixed with olives, raisins and spices) and
ropa vieja
(Caribbean-style shredded beef) along with plantains, black beans and other sides. Little Havana's main street, Calle Ocho, is an anchor of the city's Cuban scene, and it's spotlighted each March as part of Carnaval Miami celebrations.
A second haven for Caribbean culture and cuisine, Little Haiti spans about 3 miles between 38th and 84th streets, from Interstate 95 to the Florida East Coast Railway. Streetfront murals lead the way to colorful, family-owned shops and eateries like Leela's, a Haitian-American fusion spot for
tasso
(fried goat), oxtail and spiced-up seafood. Other choices include Clive's Cafe, with recipes borrowed from Haiti's western neighbor, Jamaica.
In the mood to indulge your sweet tooth while in town? Save the dates for the 10th annual International Chocolate Festival, taking place Jan. 22-24, 2016, at the Fairchild Tropical Botanic Garden in nearby Coral Gables, FL. Visitors enjoy gourmet artisanal candies and attend demonstrations from Miami-based master chefs and chocolatiers.
Resort properties
overlooking Biscayne Bay include the
Conrad Miami
, with a spa, 25th-floor cocktail bar and rooftop swimming pool within 7 miles of both communities.
It might be a modern-day mecca for musicians, but 19th-century Nashville, TN, was known for its influx of German immigrants. These new arrivals settled in an 18-square-block area near the Cumberland River now known as Germantown, a spot celebrated for its natural beauty -- it's actually a city-designated arboretum, with more than 100 species of trees -- as much as its dining.
Find knockwurst, sauerkraut balls and Bavarian pretzels at the Gerst Haus, founded in 1955 by the grandson of German immigrant-turned-Nashville brewing magnate William H. Gerst. Stop by on Friday and Saturday nights for local and imported beers on tap accompanied by a live polka band. The newly opened Butchertown Hall, the neighborhood's first
biergarten
since 1909, is your go-to for slow-cooked brisket, house-made sausages and Old World brews. And Nashville Oktoberfest, Oct. 9-11 this year, is a Germantown tradition.
For gourmet fun alongside the kids and grandkids, consider "
Nashville Long Weekend
" a four-day escorted tour from
Adventures by Disney
. This family-focused option includes visits to the Grand Ole Opry and Country Music Hall of Fame and Museum, lunch featuring Southern specialties at Puckett's Grocery and Restaurant and leisure time to explore all Germantown has to offer. Priced from $2,389, 2016 departures begin in May.
Established in the 1880s, Little Tokyo is one of the oldest cultural centers in the Los Angeles area. Home to multigenerational family businesses, churches, temples and community organizations while welcoming new businesses and visitors, this enclave has evolved as it preserves ties to Japanese-American heritage.
A walkable spot near downtown, it is, unsurprisingly, the top destination for authentic dishes. Visit Japanese Village Plaza's Kula Revolving Sushi Bar for a conveyor belt sushi experience with extensive selections, including yellowtail cheek and spicy scallop hand rolls. Or, head to Men Oh for a comforting bowl of Tokushima-style ramen, and walk the neighborhood until you're ready for dessert: mochi ice cream and cakes sweetened with bean paste at Mikawaya, a pastry shop and L.A. institution since 1910.
Delve into a second gourmet culture with a stop in Koreatown, about five miles west of Little Tokyo. Host of the Los Angeles Korean Festival in Seoul International Park, it's the place for specialties like kimchee and bulgogi-style barbecue.
Downtown lodgings
include the
Omni Los Angeles Hotel at California Plaza
, less than a mile from Little Tokyo.
The French Quarter is New Orleans' oldest neighborhood, a National Historic Landmark founded by the French in 1718. The district is a must-do for first-time visitors looking for a taste of unique local flavors.
Acme Oyster House has been open for nearly a century, and customers commonly kick off their meal with a dozen shelled delicacies followed by traditional specialties, from jambalaya to seafood gumbo. Galatoire's on Bourbon Street is known as one of the best of the old-line establishments for French Creole cuisine, offering classic dishes such as shrimp remoulade, oysters en brochette and crabmeat Yvonne (a recipe that incorporates artichokes and mushrooms). Cafe Du Monde -- a tourist trap for a reason, having been a New Orleans landmark since 1862 -- offers beignets paired with chicory coffee or cafe au lait. And make sure to also mark your calendar for the French Quarter Festival, which takes place April 7-10, 2016.
The seven-day "New Orleans & Cajun Country" from
Gate 1 Travel
includes a tour of the French Quarter, with free time for independent dining adventures. Departures extend from November to next April and prices start at $1,149.
Jamaica Plain is known for being one of Boston's most eclectic areas, home to artists, writers and musicians as well as young families and independent business owners. Its food scene is just as diverse, featuring both casual and upscale restaurants and cuisines borrowed from the British Isles, India, Cambodia and beyond.
Head to The Haven on a night featuring live local music and sample Scottish pub food such as haggis (minced and spiced offal) or Scotch eggs. Or, cruise down to the Blue Nile for authentic Ethiopian food and drinks, including plenty of vegetarian options and chilled glasses of
tej
, an East African honey wine. At Cafe Beirut, Lebanese dishes "are prepared exactly as they would be if your
tayta
" (grandmother) were running the kitchen, with falafel, shawarma and even lambs' brains at the ready.
Historic accommodations
include the
Taj Boston
, in a 1927 building wrapped by the city's theater district. The on-site cafe features photos of notable guests from the past, including Winston Churchill and Elizabeth Taylor.
The city's downtown River Walk winds along the banks of the San Antonio River and sits the equivalent of one story below street level. It's lined by 5 miles of bars, shops and restaurants and plays host to more than 20 events each year, including waterborne parades connected to Fiesta San Antonio, a premier cultural festival held in April.
A large Hispanic population and the welcoming patios of the River Walk join to create alfresco dining experiences centered on international dishes. For Tex-Mex with a twist, Acenar has unique offerings including buttermilk-fried oysters and young goat with ancho salsa, as well as an upstairs bar, Atomar, that's worth the climb from the riverfront. Or, stroll on over to Las Ramblas for cold or hot tapas influenced by Spanish flavors.
Collette
offers the five-day "
Spotlight on San Antonio
" with visits to the memorable Alamo, LBJ Ranch and the River Walk. Prices start at $1,199, and departures are available through April 2016.
The Adams Morgan neighborhood, fanning out from the junction of 18th Street and Columbia Road in
Washington, DC
, is loved by locals for its music scene, unique shops and range of global cuisine, a true reflection of the metro area's diversity. Las Canteras has a reputation as one of DC's best Peruvian restaurants, where pisco sours are the stars of the cocktail menu. For Turkish food served tapas-style, head to Meze, or try a cheese
pupusa
at Combinacion, specializing in El Salvadoran and Mexican cuisine.
Meanwhile, over in neighboring Columbia Heights, known as one of DC's hippest districts for daytime diners, visit Thip Khao for family-style Laotian food, featuring items like sun-dried beef, minced duck salad and eggplant curry.
A little more than a mile from the corner of 18th and Columbia,
The Mayflower Hotel is an Autograph Collection property
open since 1925 and listed on the National Register of Historic Places. A recent $20 million renovation refreshed all 657 rooms and suites.
Chicago's Greektown, like many international havens around the U.S., has long been known for its focus on food. Located in the city's West Loop neighborhood, restaurants borrow their names from stories and sites in the Old World -- Pegasus, Parthenon and Santorini, to name a few -- and mix with shops, bakeries and fast-food eateries. It's not hard to find authentic, traditional dishes such as
saganaki
(fried cheese), dolmades (stuffed grape leaves) or even takeout gyros, reportedly introduced to American diners by a Greektown vendor in 1968.
While visiting Chicago, dig into another slice of cultural history in Little Italy. Immigrants began settling this area in the 1850s, though the neighborhood now is bordered by the Dwight D. Eisenhower and Dan Ryan expressways. Head to a historic spot like Tufano's Vernon Park Tap, a neighborhood fixture since 1930, for sausage and peppers before grabbing a frozen treat at Mario's Italian Lemonade, a walk-up storefront offering various fruit flavors.
Amtrak Vacations
features Chicago on several rail-based escapes and often pairs a stop here with other cities from our international dining list. On the weeklong "
Boston and Chicago Discovery
" with itineraries through March 2016 priced from $949, guests spend three leisurely days in the former before boarding a train bound for a two-night hotel stay in the latter. The seven-day "
Chicago and Washington, DC Discovery
" with departures through next spring priced from $1,099, offers sightseeing tours as well as free time for dining in both cities. Other options add New York and San Antonio to your Chicago journey.
The information in this story was accurate at the time it was published in September/October 2015. Please visit
Vacations To Go
or call (800) 998-6925 for current rates and details.
Send This Article to a Friend
Bookmark this Content
Digg it!
Reddit
Furl
del.icio.us
Spurl
Yahoo!