Go, Stay Green
These hotels host eco-friendly getaways
in the U.S. and Canada
By Jennifer Davoren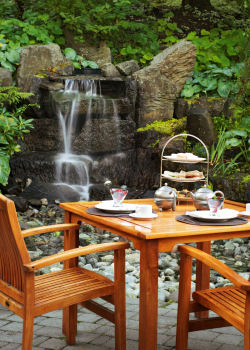 Fairmont Hotels & Resorts
A
plastic cup here, a crumpled napkin there. Maybe you left a few half-empty bottles of complimentary shampoo, conditioner and body lotion scattered around your suite.
It doesn't seem like much, but the trash generated by your vacation really adds up. "On average, each guest produces over 2 pounds (1 kilogram) of waste each night, mostly composed of beverage and paper products, accounting for 65 percent of all hotel waste," according to the Green Partnership, an international conservation program founded by
Fairmont Hotels & Resorts
.
Those long showers and garden-tub bubble baths add up, too. "A typical occupied hotel room soaks up 218 gallons (825 liters) of water every day," the partnership reports.
Look for an eco-resort or otherwise environmentally friendly hotel property to take the guilt out of your next getaway. We've highlighted six of our North American favorites below. To learn more, visit
Vacations To Go
, which specializes in securing the best rates, or call (800) 998-6925.
Fairmont's Canadian properties, which include the
Fairmont Chateau Whistler
in British Columbia's
scenic ski country
, founded the Green Partnership in 1990. The eco-innovator offers environmental stewardship through several programs, with a special focus on energy and water conservation. High-efficiency lightbulbs brighten rooms and public spaces. Low-flow showerheads and faucet aerators cut down on liquid waste. Meanwhile, a carbon management initiative tracks and seeks to reduce the hotel's CO2 output, and recycling programs divert more than 90 percent of organic waste from local landfills.
The Fairmont's Greening Our Greens project, with help from Audubon International, prevents the overuse of water and herbicides on its 18-hole golf course designed by Robert Trent Jones Jr. This benefits human visitors as well as the black bears and woodpeckers that favor the neighboring forests, where Douglas fir trees were left undisturbed.
North Arm Farm, a 60-acre stretch in nearby Pemberton, supplies the Fairmont Chateau Whistler with an assortment of organic goods for its four restaurants. When paired with the herbs harvested from the hotel's rooftop garden, the dishes capture Canada's own unique flavors and traditions.
San Francisco, California
"Green cuisine" is a growing trend among hoteliers. The Fifth Floor Restaurant and Lounge, a fine dining venue at the
Hotel Palomar San Francisco
, flavors its dishes with
Bay Area
specialties and seasonal ingredients to reduce pollution caused by shipping needed items long distances. Executive chef David Bazirgan crafts menus that adhere to the Monterey Bay Aquarium Seafood Watch, a program that raises consumer awareness of endangered species and provides suitable dining alternatives. Beverages are carefully selected, too, from organic wines to in-house filtered, not bottled, water.
Guests of this Union Square spot also will find their in-room honor bars stocked with organic chocolate and all-natural juices. Low-flow faucets, showers and toilets reduce water consumption, as do towel and linen reuse urged by hotel staff. It's all part of the EarthCare program embraced by Palomar's parent company, Kimpton Hotels & Restaurants, which claims some 130 trees are saved each year by the brand's paper recycling and conservation program alone.
Official green credentials are common among Kimpton properties, but Hotel Palomar has racked up multiple awards. Green Seal, an environmental nonprofit based in Washington, DC, granted the property a silver certification for its behind-the-scenes work, including a switch to biodegradable detergents and recycled paper products.
From Terra Resort Group, a Wyoming-based developer of luxury eco-properties,
Hotel Terra Jackson Hole
draws
Earth-conscious skiers
in winter and, with Grand Teton National Park less than a mile away, hikers and wildlife watchers in summer. This destination is green to its core, built with an assortment of recycled materials and waste-curbing energy systems. While traditional electricity and natural gas power some parts of the property, wind, solar and hydroelectric credits are purchased to offset their use. This practice is the eco-equivalent of removing 329 fossil fuel-belching cars from the road each year, according to hotel management.
In-room perks include fair-trade grounds for personal coffeemakers and mattresses made with recycled steel springs. Guests wrap themselves in 100 percent organic cotton sheets, towels and robes. Bathrooms store their all-natural soaps and shampoos in refillable, pump-topped aluminum dispensers.
Chill Spa, with a rooftop infinity pool overlooking the neighboring ski resort, uses cleansers and creams supplied by Eminence Organic Skin Care. In the green beauty business since 1958, the company harvests its ingredients from a pesticide-free farm in Hungary run by wind and solar energy. The hotel's twin eateries also follow green guidelines, opting for organic and locally sourced products whenever possible.
Gaylord Palms
, a 1,406-room megaresort at the heart of the
Orlando-Kissimmee metroplex
, is a short hop from Walt Disney World Resort. Families will find plenty of perks around the property, too, including a stingray-filled lagoon and an outpost of Gatorland that hosts daily feedings. Later this year, a partnership with DreamWorks Animation will bring to life the stars of "Shrek," "Kung Fu Panda" and "Madagascar" for meet and greets with young guests.
A stay here can teach the little ones about environmentalism. In one year, Gaylord Palms can recycle 100 tons of cardboard -- "the equivalent weight of about 25 adult elephants," management notes -- which would otherwise occupy 900 cubic yards of landfill space. In-room technology cuts down on energy consumption, thanks to sensors that adjust lighting and temperature according to room occupancy. This system reduces the average guest's power consumption by about one-third, according to the hotel.
Local farms and organic produce are showcased at restaurants like Old Hickory Steakhouse, manned by executive chef Paul Player. He inspects many of the eatery's suppliers before developing dishes, and even plucks herbs and bananas from gardens growing in the hotel's atriums.
Nestled near a bend in the Bow River, in a
city
shadowed by the pristine Canadian Rockies, the
Westin Calgary
is surrounded by plenty of reasons to go green. The hotel's environmental programs focus on waste reduction and management, from recycling containers in every guest room to the composting of kitchen waste and the repurposing of cooking grease and oils. Styrofoam containers have been banished from the property. The guest registration process cuts back on trash, too, with paperless check-in.
A four-year, $35 million renovation spruced up suites and added a few eco-friendly elements, including meeting and convention space run by wind power. Restaurant menus were overhauled to make room for sustainable foods, including entrees approved by Seafood Watch. The Make a Green Choice initiative, pioneered by Westin's parent company, Starwood Hotels & Resorts, now rewards guests who opt out of daily housekeeping and linen changes with small gift cards and other goodies. Officials estimate that participating hotels saved 126,000 gallons of water during the first two months of this program.
Westin Calgary's greening efforts also give back to the community. Unused toiletries, as well as bed linens and furniture slated for replacement during renovations, are donated to homeless shelters and other local charities.
For an example of state-of-the-art environmental efforts, consider CityCenter in
Las Vegas
. This complex wraps three hotels, a residential tower and a shopping-dining complex under its eco-friendly umbrella. It offers everything from organic fashions to peaceful gardens filled with indigenous, and therefore water-saving, plant life. CityCenter generates its own electricity, then captures and recycles heat for swimming pools and domestic water. Hotel guests, residents and shoppers can ride to other Vegas hot spots in CityCenter's fleet of limos powered by CNG -- compressed natural gas. It's a domestically produced fossil fuel that burns cleaner than traditional gasoline, according to developers.
CityCenter's hotels offer eco-perks, too. At the 4,004-room
Aria Resort and Casino
, in-room automation regulates lights, temperature and entertainment systems, which cuts down on the overuse of electricity. The
Vdara Hotel and Spa
books pampering salon treatments that incorporate organic, paraben-free products. And, like neighboring
Mandarin Oriental
, it's a nonsmoking, nongaming facility, guarding guests from second­­­hand irritants as well as noise and light pollution. Here, CityCenter seeks to create a calming, Zen-like environment -- in short, a spot where Vegas visitors will find a quiet respite from the sensory overload of the Strip.
The information in this story was accurate at the time it was published in September/October 2011. Please visit
Vacations To Go
or call (800) 998-6925 for current rates and details.
Send This Article to a Friend
Bookmark this Content
Digg it!
Reddit
Furl
del.icio.us
Spurl
Yahoo!