Fishing With an Extra Lure
Jazz musicians and personal chefs add an unexpected twist
to the King Fisher Society, a North Carolina sportsman's lodge
By Karen Fox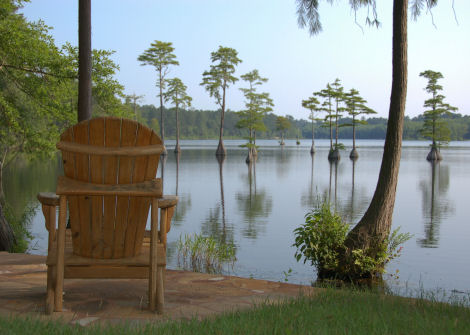 Karen Fox
(Scroll down to see a slide show.)
A
flash of childish petulance swept over me when my husband suggested we go on a fishing trip in the middle of a very hot summer, to a place in the Sandhills of North Carolina. My first question would have been, "Why?" -- except I already knew the answer. My husband loves to fish, and we had heard from good and trusted friends about a very unusual fishing retreat that vies for a spot on the list of things that must be experienced.
Thirty minutes outside Pinehurst, NC, where golf is the game, there is a 4,000-acre private property that caters to the outdoors man and woman. Here you'll find year-round fishing for trophy-size largemouth bass and bluegill, quail hunting in season, sporting clays, falconry, campfires and a log cabin, which just happens to be the only on-site lodging for overnight guests.
This remote lakefront escape, dubbed the
King Fisher Society
, is an unspoiled wilderness where urbanites get a dose of outdoor sporting adventure with a unique twist: A stay here comes with a personal chef in the kitchen and a jazz combo in the living room.
The brainchild of CEO Jim Morgan, the King Fisher Society takes its name from both the belted kingfisher that is common in the area and the informal club Jim and his buddies formed as kids when they roamed this same land, the Morgan family's property, to fish and hunt.
Jim grew up in a family of musicians and plays the piano. His father, Jimmy, was a jazz trumpeter and his uncle, Morris Morgan, a jazz pianist. The now renovated two-bedroom house originally served as a rehearsal retreat for Morris and still sports its musical heritage with playbills, posters and paraphernalia from the 1960s adorning its walls. But the two bathrooms of polished granite and rough-hewn stone, sumptuous beds and linens and big, flat-screen TV are pure present-day luxury. At the lake's edge, the house has a short dock and two fishing boats tied up, ready and waiting.
I am not a fisherman, so it was with a mixture of eagerness and anxiety that I began my quest to experience what it is about the King Fisher Society that caused my friend to say, "Trust me." And that is how I found myself standing in a boat, holding a fishing rod in June.
The moment of truth arrived almost immediately when it became clear to both my husband and our guide for the day, Robbie, that I had no idea how to cast. With volumes of good cheer, Robbie corrected that problem, and soon, I caught my first fish -- a four-and-a-half-pound largemouth bass. It was thrilling, and I would have thought the day successful even if it ended then.
I caught (and released) five largemouth bass before lunch. After lunch we fished for bluegill, and I caught six -- plus a very toothy jackfish.
I'll share the secrets to my newfound talent: a lake abundant with fish and our highly skilled guide. Richmond Mill Lake is an angler's dream. Only one group is allowed out at any given time to troll the three-and-a-half-mile shoreline and 125 acres of largemouth bass fishing: a maximum of six boats, 12 fishermen and their guides. Our group of four had the entire property to ourselves.
A former tournament fisherman and owner of Aberdeen Bait & Tackle, Robbie Everett Jr. knows fish. Like all the professional guides at the King Fisher, he knows where the fish hang out when it's sunny and warm, how they behave when the wind tickles the surface of the water and when they have finished feeding for the day.
I learned a lot and laughed even more during my day on the lake as Robbie managed to find something positive to say every time my lure landed back in the boat -- or in a tree. To his credit, my husband caught three times as many fish as I did without a hint of gloating.
And these bass are big. Five-pounders are common, with some weighing closer to eight pounds. The King Fisher's thriving fish population is partially the work of wildlife biologist Bob Lusk, who was hired to develop a healthy, high-protein feed that bass and bluegill would eat. Twice each day 45 automatic feeding stations deliver food pellets, sending the normally placid bass into a water-churning frenzy.
At midday we clambered out of the boat and onto the dock, happily chatting about our morning, when the lively strains of jazz piano greeted us. We discovered Gary Brown at the keys of the baby grand in the living room. As we gathered around the table on the screened porch, with slow-turning fans gently stirring the air and ice-cold glasses in our hands, we were introduced to the other lures of this unique place.
Chef Wallace Beeson emerged from the house to present a delicious three-course lunch, including gazpacho with shrimp and lemon chiffon tart. Next, we were off to explore the grounds, starting with instruction and shooting at the new five-stand sporting clays facility. We visited the pontoon party boat, covered barbecue area and fire pit by the shore.
With advance notice, guests can observe peregrine falcons, owls and red-tailed and Harris' hawks, with their handlers and on the hunt. Classes and one-on-one instruction are offered in a range of subjects, too. You might choose lessons in fly-tying and fly-fishing for largemouth bass, taught by experts Clyde Douglass and Robert "River Geezer" Fulton, or you could tackle the culinary arts and spend a few hours with one of the lodge's visiting chefs. Yoga and Pilates sessions, spa services and wine tastings also can be arranged.
At the end of a full day's fishing, we opted for the King Fisher's forte: rhythms from a jazz trio accompanying our chef's dinner. With Keith Dippre on the piano, Ray Codrington playing trumpet and Willie Lockett on bass, the evening felt as if it had its own soundtrack. Under their playful, eloquent coaxing, familiar pieces became new, interesting and exciting. The music was elevated by the setting, the mood and the musicians.
That night, our kitchen hosted chef Scott Wolcott, well-known regionally for his Southern Pines fine-dining restaurant, Wolcott's. The five courses started with seared foie gras and ended, hours later, with each of us rhapsodizing about the fresh ingredients and delicate preparations.
Late that night, after the trio in the living room had taken a last bow, we finally moved from the dining table to the outdoor fire pit. Watching the flames, looking for shooting stars, listening to the crickets and frogs, I knew what my friends meant when they urged me to visit. The King Fisher Society is a special place. Trust me.
Information:
The King Fisher Society is located near Laurel Hill, NC, about 90 minutes from the Raleigh-Durham International Airport and two hours from Charlotte Douglas International Airport. Fayetteville Regional Airport is 40 minutes away and receives daily flights from Atlanta.
Activities at the King Fisher Society are custom-tailored to each guest's preferences. A day's fishing with a guide, boat and all the gear costs $600 per person. Lunch at the lodge is included. A night at the lodge for up to six people is $500.
Make reservations
online
or call (910) 462-2324.
The information in this story was accurate at the time it was published in November/December 2011.
Send This Article to a Friend
Bookmark this Content
Digg it!
Reddit
Furl
del.icio.us
Spurl
Yahoo!