Find Tranquility in the Bahamas
Less than 200 miles from the U.S. mainland, Nassau and Paradise Island offer lovely beaches, a warm welcome and inviting resorts
By Jennifer Davoren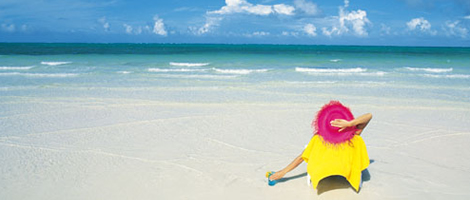 A
s your plane descends into
Nassau
, the capital city of the
Bahamas
, scenes of a veritable paradise can be glimpsed between the clouds. Below, the verdant interior and white-sand beaches of the islands await, including the incomparable beauty of New Providence Island and
Paradise Island
.
A mere one-hour flight from Miami, New Providence Island is the most populous spot in the Bahamas, home to Nassau and its neighboring suburbs. Historic sites, including 18th-century forts, the National Art Gallery and the pink Bahamian Parliament buildings, are popular on local tours. Visitors enjoy city conveniences and a British feel here but still are treated to the tropical touches that make the Bahamas such a sought-after vacation spot -- strong surf, spotless sand and warm sun.
To the north lies Paradise Island, an aptly named strip just five miles long and one mile wide. Its beaches are rivaled only by the array of resorts here, with accommodations ranging from budget inns to lavish high-rise hotels. This small cay is known as a tourist's playground, and it offers every amenity imaginable.
You can explore both islands on one Bahamian vacation. Paradise Island is easily accessible from Nassau via a short bridge or by water taxi. This double dose of islands allows visitors to soak up the local culture as well as the touristy excitement of amenity-filled seaside resorts.
Below, we've profiled six stunning Bahamian resorts -- the first four dot the shores of
Paradise Island
, while the final two are quiet havens on the edge of
Nassau
. Two of the highlighted hideaways are all-inclusive, meaning meals, accommodations, entertainment, gratuities and beverages, both alcoholic and nonalcoholic, are included in one price that's paid up front. All of our choices offer a soothing tropical atmosphere that would serve as the perfect setting for your next vacation.
With the help of leading resort discounter
Vacations To Go
, we've priced a seven-night stay in September 2007 at each of the properties. The rates shown below are per person and based on two people sharing a room. They do not include airfare. While prices were accurate at press time, they are subject to change.
Information:
For more information about resorts in Nassau, Paradise Island or elsewhere in the Bahamas, visit
Vacations To Go
or call (800) 998-6925, or click here.
The 2,300-room megaresort
Atlantis Paradise Island
is the anchor of
Paradise Island
, offering more amenities in a single hotel complex than are available in most American towns. The five-star Atlantis delights with multiple swimming pools, a protected snorkeling lagoon, a 63-acre water park and, of course, access to some of the most beautiful beaches in the Bahamas. The world's largest outdoor aquarium circles the resort, showcasing more than 200 species of fish and their fearsome predators. Special programs even allow guests to interact with dolphins and other friendly sea creatures. Next door, the largest casino in the Caribbean offers 800 slot machines and the best in Las Vegas-style table games. Thirty restaurants and bars scattered throughout the resort complex tempt taste buds.
Stay fit on the tennis courts, or make an appointment for a personal training session in the Atlantis Sports Center. Guests who overindulge in the hotel's recreational diversions might find a visit to its Balinese-inspired Mandara Spa in order. Afterward, retreat to the well-appointed rooms housed in three tower complexes -- the Royal Towers, the hotel's newest addition, hold the most luxurious suites, while the neighboring Beach and Coral towers offer more affordable options.
Rates:
A seven-night stay in early fall 2007 starts at $1,154 per person, based on double occupancy.
The [Riu Hotels & Resorts] formula for an all-inclusive vacation -- fine dining, unlimited cocktails and nightly on-site entertainment -- was perfected at the seaside high-rise
Riu Paradise Island
. Four-star Riu Paradise Island sits on three miles of private beach lapped by the clear waters of the Atlantic. An oversized pool, Jacuzzi and swim-up bar anchor the resort complex, allowing guests to take a dip, sip a cocktail or participate in a complimentary scuba lesson. Relax in comfy lounge chairs or get a workout at the sports courts. Four restaurants and a snack bar are ready to take orders when you're hungry.
Add-on services are available at Riu at an additional cost, including appointments at the adjoining beauty salon or spa. Jet skis can be rented for a nominal fee, while a nearby golf course offers challenging links by the ocean. And, though the 379-room hotel is known for its own brand of nightlife, the Atlantis complex is less than 400 feet away -- after dining at the Riu, guests often sneak off to the neighboring casino for a quick hand of poker.
Rates:
A seven-night stay in early fall 2007 starts at $894 per person, based on double occupancy. Meals, snacks, alcoholic and nonalcoholic beverages, entertainment and nonmotorized recreation are included.
Comfort Suites Paradise Island
The three-star, all-suite
Comfort Suites Paradise Island
offers the best of the Bahamas for travelers on a budget. Guests at Comfort Suites Paradise Island start each morning with a free continental breakfast, followed by a swim in the central swimming pool, a tanning session on the surrounding sundeck or a tropical drink at the hotel bar. The Bamboo Lounge provides casual on-site dining and cocktails. As night falls, guests return to their rooms -- many equipped with king-size beds, and all with complimentary Wi-Fi service.
Like the nearby Riu, Comfort Suites Paradise Island is within walking distance of Atlantis. However, Comfort Suites guests enjoy full use of Atlantis facilities, including swimming pools, waterslides, tennis courts, a kids' camp and a pristine private beach, all without paying the higher room rates charged by the larger hotel.
Rates:
A seven-night stay in early fall 2007 starts at $699 per person, based on double occupancy. Free daily continental breakfast is included, and guests have access to the facilities at nearby Atlantis Paradise Island.
One of the most exclusive resorts in the Bahamas, the [One & Only Ocean Club] is a 5.5-star hideaway on Paradise Island's renowned Cabbage Beach. Guests can enjoy the white-sand stretch of oceanfront property or lose themselves in a lush, green interior highlighted by rambling, Versailles-inspired gardens.
Accommodations are second to none at the Ocean Club, where a colonial plantation has been divided into a series of luxury suites. Guests can expect Frette linens, satellite television and the daily delivery of strawberries and champagne, best enjoyed on the expansive patios that compliment each room. Personal butlers are available 24 hours a day to take late-night orders for room service or replenish your private bar.
Though the Ocean Club offers five restaurants and bars within the resort, guests rely on its bluff-top eatery, Dune, for the latest in gourmet dishes. When chef Jean-Georges Vongerichten developed the menu, he blended Asian, French and Bahamian cuisine to create some of the most innovative dishes in the islands.
Rates:
A seven-night stay in early fall 2007 starts at $2,110 per person, based on double occupancy.
Who needs Paradise Island when you're staying at
Sandals Royal Bahamian
? When guests are ready to escape
Nassau
, they can hop a ferry bound for the resort's own private isle, Sandals Cay. This tiny sliver of sand offers a seafood cafe, a freshwater pool with swim-up bar and two uncrowded, unspoiled beaches for a unique resort-within-a-resort experience. After catching a few rays or enjoying some of the island's excellent snorkeling spots, guests can head back to the mainland resort and sample Sandals' dazzling array of amenities.
The Royal Bahamian, an all-inclusive resort just for couples on Nassau's famed Cable Beach, is considered the flagship of Sandals' Signature Spa Collection. Guests can treat themselves to a West Indian massage, water lily body wrap or coconut-scrub pedicure at the Tropical Nail Bar, a resort specialty. The resort's restaurant selection is another point of pride, offering nine dining options ranging from seaside sushi to traditional Italian fare.
Sandals offers accommodations in 13 categories, and guests can retire to a standard room, a honeymoon villa or a butler-attended suite at the end of a sun-soaked day on the beach. Pricier suites include Rolls-Royce transfers to and from the Nassau airport.
Rates:
A seven-night stay in early fall 2007 starts at $1,559 per person, based on double occupancy. Meals, snacks, alcoholic and nonalcoholic beverages, entertainment and nonmotorized recreation are included.
Graycliff Hotel
Smoke 'em if you've got 'em at the historic
Graycliff
-- if not, stop by the hotel's adjoining cigar factory and humidor to choose from some of the finest products in the Caribbean. The Graycliff stresses a sensory experience, enhanced by luxurious accommodations, fine dining and the sweet, heady smell of cured tobacco. Surrounded by lush island greenery and stately colonial architecture, guests can stroll the hotel's sprawling grounds and smoke cigars rolled by Fidel Castro's former torcedor, Avelino Lara.
The Graycliff Cigar Co. is a fairly new addition, founded in 1997 by the hotel's longtime owner. The amenities are just as contemporary and include three swimming pools, a fitness center and a garden spa, where guests will find the latest treatments and techniques.
The estate, however, is a true Bahamian original. The guesthouse and neighboring plantation were built by notorious pirate John Howard Graysmith nearly 260 years ago on a hill overlooking Nassau. The small buildings accommodate just 20 guest rooms and afford the four-star Graycliff a quiet, secluded atmosphere, where vacationers can dine on-site at the upscale restaurant or sip a rare vintage in the hotel's private wine cellar.
Rates:
A seven-night stay in early fall 2007 starts at $1,248 per person, based on double occupancy.
The information in this story was accurate at the time it was published in July/August 2007 . Please visit
Vacations To Go
or call (800) 998-6925 for current rates and details.
Send This Article to a Friend
Bookmark this Content
Digg it!
Reddit
Furl
del.icio.us
Spurl
Yahoo!