Family Fun in Florida
A pair of hotels along the sunny Gulf of Mexico offer a busy kids' club and plenty of private hideaways for parents
By Jennifer Davoren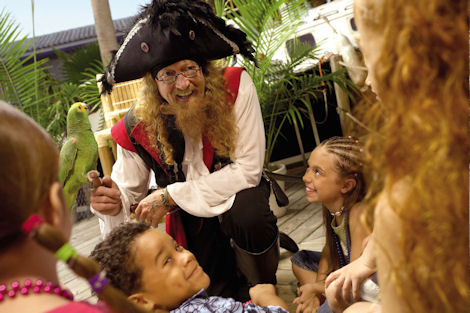 TradeWinds Island Resorts
***After a 2012 renovation and rebranding, the Sandpiper Hotel and Suites now will be known as
Guy Harvey Outpost
.***
I
t's hard to miss: The bright blue beacon atop sparkling white sands is an eye-catching attraction on an otherwise tranquil beach. But if you need help finding the nearly three-story waterslide stationed at the
Island Grand Beach Resort
, one of two TradeWinds brand hotels in sunny St. Pete Beach, FL, just look for the line of kids clamoring for a ride.
On the other hand, those looking for the Island Grand's sister resort, the
Sandpiper Hotel and Suites
, should keep an eye out for parents. It's a short walk between the two seaside properties, and moms and dads are often lured by the Sandpiper's laid-back lounge areas and quieter vibe.
St. Pete Beach is a relaxed resort destination, where what passes for rush-hour traffic -- the occasional rental car, public buses and the zippy, open-air electric carts so popular among beachgoing tourists -- is confined to a single, central road lined with souvenir shops, seafood shacks and hotels. Orlando is about 100 miles northeast, but its stifling humidity and Disney-crazed crowds seem worlds away from this peaceful spot on the Gulf of Mexico.
A different kind of family vacation awaits in St. Pete Beach. This easygoing barrier island, sandwiched between the Gulf of Mexico and the boating thoroughfare of Boca Ciega Bay, offers an undemanding getaway. "Around here, parents know they can sit in a cabana and let the kids run from beach to pool and back," says Doug DeGroot, activities director for the TradeWinds resorts.
At the same time, family togetherness is encouraged. "There's no age restriction, so we'll let Dad, Mom, Grandma and Grandpa go down the waterslide, too," DeGroot laughs.
I visited the TradeWinds properties in late 2009, flying in from Houston to see a sunnier side of the Gulf of Mexico. My college buddy and traveling companion, Reed, traveled from Seattle to see sun,
period
. We were treated to the region's usual fall temperatures -- daily highs around 85 degrees and nights no cooler than 65 degrees. St. Pete Beach locals consider autumn to be the off-season, but I had no complaints about the mild heat and uncrowded beaches I found upon my arrival.
It was no surprise that Reed and I spent much of our four-day getaway outdoors. The TradeWinds resorts, a 30-minute drive from Tampa International Airport, boast a total of seven swimming pools, three whirlpools and two clay tennis courts. Vacationers seeking more shade than sun find hammocks hidden in small palm groves, while dozens of canopied cabanas are stationed along the TradeWinds' private stretches of beach.
In addition, the Island Grand is ringed by man-made waterways filled with gaping koi and swans; guests can hop a two- or four-person paddleboat to tour the property in style. A nine-hole miniature golf course, life-size chess board and other diversions are stationed along the "river" and beach. Vacationers at Sandpiper aren't left out of the fun -- TradeWinds guests can sample amenities at both resorts during their stay.
Need another way to unwind? Stop at the nearest beach bar. During my first few hours on TradeWinds property, I picked up a souvenir cup full of "Miami Vice" -- a fruity, rum-laced concoction suggested by a helpful bartender. It was emblazoned with additional suggestions for relaxation: "Sunsets, not cell phones! Moonlit strolls, not highway tolls!" The TradeWinds' favorite slogans are printed on cups, posters and beach towels. Read them aloud, repeat them to yourself, and you, too, can embrace the TradeWinds' prevailing motto: "Just let go."
The two TradeWinds are home to 15 restaurants and cocktail bars. For our first night in town, Reed and I indulged ourselves at the Island Grand's upscale dining option, Palm Court, where contemporary Italian fare is complemented by seafood, steaks and a formidable wine list. Subsequent meals took us to the Flying Bridge, a poolside place for sandwiches and salads; Piper's Patio, the Sandpiper's full-service spot for breakfast, lunch and casual dinners; and Salty's Tiki Bar, where our handy souvenir cups were filled with the specialty drink of the day. (In my opinion, you can't go wrong with the TradeWinds rum runner.)
Guests with picky kids in tow can head to the Sharktooth Tavern, which serves up burgers, seafood and regular appearances by the resorts' own pirate captain, RedBeard. Brand names like Starbucks and Pizza Hut also have a presence at the Island Grand.
But penny-pinching parents have a treat in store at the TradeWinds: Most accommodations are equipped with microwaves and minifridges or, in the case of larger suites, full-service kitchenettes. Families can save some cash by stocking their own snacks or even cooking full meals.
Parents also will breathe a sigh of relief when reviewing the TradeWinds' daily activities schedule. Kids ages 4 to 11 can join the KONK Club, where supervised programs range from arts and crafts to treasure hunts. The Build-a-Buddy room gives KONK (short for Kids Only, No Kidding) guests a chance to make and dress stuffed animals to take home. Beaker, TradeWinds' pelican mascot, is often on hand to entertain the troops. RedBeard pops in from time to time, and he also hosts a weekly pirate show and sea shanty sing-along at the Island Grand.
My TradeWinds visit fell on Halloween weekend, and both the Island Grand and Sandpiper were haunted by tiny ghosts and ghouls on a dual-resort candy hunt. Plans already are under way for the resorts' busiest holidays, spring break and Easter.
"We have a really cool Easter day program," DeGroot says. "We have Easter basket deliveries between 6 and 9 in the morning -- the Easter Bunny just runs and runs, from room to room -- an Easter morning service at 7, and the Easter egg hunt around 10." Staff members at the Island Grand scatter more than 2,000 eggs for an annual Easter hunt, with special prizes for children who uncover the gold and silver eggs. "For a single program, that's probably our busiest. We have over 250 kids," DeGroot says.
Teens and tweens too old for KONK can hang out at the TradeWinds Action Zone. Activity directors organize trivia contests, swim-up card games and "dive-in movies," watched on a giant inflatable screen near the Island Grand's central swimming pool. Glow-in-the-dark volleyball and miniature golf also are popular.
And kids aren't the only ones to benefit from personalized amenities. The
Island Grand
recently unveiled a Pet Play Zone, complete with doggie drinking fountains, fire hydrants and a rinse-and-dry station for post-beach primping. Furry guests also can borrow leashes, dishes and toys from an on-site accessory center, or order gourmet treats from a special room service menu.
Parents also can take advantage of a local 24-hour babysitting service. Fees vary depending on the number of children, their ages and the vacation season. This frees up Mom and Dad for some time at the adults-only swimming pools at both the Island Grand and
Sandpiper
, or a stroll down the beach during a serene island sunset.
The perfect place to see a St. Pete Beach sunset, however, is from the deck of a sailboat as it glides west. With the help of TradeWinds staff, Reed and I joined a crew from Dolphin Landings, a St. Pete Beach charter boat company that offers fishing and pleasure cruise excursions.
A passenger asked Capt. Richard and his first mate, Bill, about the possibility of seeing the "green flash" during that evening's sunset. Bill warned us that the day's slight humidity might not allow for a flash, a bend of light that occurs when the setting sun meets clear, dry air and its own watery reflection.
Still, we watched intently as the sun sank behind the sea, its tip drifting toward the sea, sinking lower still, until...
"Well," said Capt. Richard, squinting toward the horizon, "it was green
ish
."
I thought I saw a wink of emerald as the sun hit the water, soon lost among brilliant streaks of red and orange and the blue-black waters of the Gulf. Like my pre-vacation stress, my imagined green flash disappeared as Capt. Richard steered his 46-foot craft back toward St. Pete Beach.
Information:
A five-day, four-night stay at the
TradeWinds Island Grand
in mid-March costs about $1,128 for two adults and two children. A similar stay at the TradeWinds Sandpiper would run about $824. To price your own spring break getaway, call (800) 998-6925 or visit
Vacations To Go
.
The information in this story was accurate at the time it was published in January/February 2010. Please visit
Vacations To Go
or call (800) 998-6925 for current rates and details.
Send This Article to a Friend
Bookmark this Content
Digg it!
Reddit
Furl
del.icio.us
Spurl
Yahoo!