Family Fun at the Beach
Sun, sea and kid-friendly amenities meet
at these seven tropical resorts
By Van Sheridan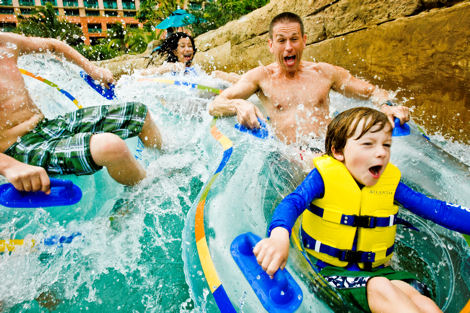 Jeffrey Brown/Atlantis Paradise Island
V
acationing with kids creates lasting memories, with days spent collecting seashells and nights under the stars roasting marshmallows for s'mores. Many resorts cater to families nowadays, but below are oceanside gems in the Bahamas, Caribbean, Mexico and Florida that go above and beyond the norm with outstanding youth entertainment and activities for all ages, from toddlers to teens. Interactive and educational programs focus on arts and crafts, culture, nature, sports and games. The first three are all-inclusive and cover lodging, food, drinks and activities in the upfront rate, while the remaining four are traditional hotels.
Call the travel specialists at Vacations To Go, (800) 998-6925, or
review accommodations online
to learn more about these and other terrific options.
Azul Beach Hotel by Karisma
Cancun, Mexico
The all-inclusive
Azul Beach Hotel by Karisma
exudes munchkin appeal with the new oversize Fisher-Price Family Suites furnished with whimsical Little People decor and toys. Upon arrival, young guests are invited to meet characters Eddie and Mia for breakfast and a photo session. Storytelling, games, Spanish lessons, dance classes and weekly pinata parties keep them busy.
The 1,600-square-foot Azulitos Play House, open to kids ages 4 to 12, has a toy-lending library, video games and a gym. Activities include handicrafts, face-painting and even yoga.
The
land of black jaguars
is an ideal environment to learn about the Mayans, who developed a 365-day calendar based on Earth's orbit around the sun. Kids create their own calendar using Mayan numerals and hieroglyphs. And future Mozarts will enjoy fashioning traditional instruments from wood, clay, feathers, strings, fabric and paint.
Hard work is rewarded in the kitchen, where little guests make Mayan specialties like fresh corn tortillas and crispy fried tostadas. Using a handheld molinillo (whisk), young chefs whirl melted cocoa bars with warm milk to concoct a frothy delight once savored only by Mayan kings.
The royal treatment extends to the Perfectly Pink children's spa suite, where girls can be pampered princesses for a day with age-appropriate treatments, such as manicures and pedicures. Teens get the added benefit of a makeup consultation and facials designed to balance adolescent complexions.
Beaches Ocho Rios Resort and Golf Club
Ocho Rios, Jamaica
More family fun follows an extensive $30 million facelift at the all-inclusive
Beaches Ocho Rios Resort and Golf Club
on the
north coast of Jamaica
. Any vacation spot can throw a child-size robe in a guest room and call itself kid-friendly, but Beaches' family-focused resorts go to greater lengths with an Xbox Play Lounge and tween-and-teen Club Liquid. And the whole gang can make a splash at the 27,000-square-foot Pirate's Island Waterpark.
Six kiddie slides (including a group slide) provide hours of fun. Pint-size water enthusiasts have a zero-entry pool and a pirate-themed Treasure Isle with water cannons.
The Caribbean Adventure with Sesame Street continues to expand, with characters Oscar the Grouch and Big Bird as the latest members of the furry brigade at the Ocho Rios resort. They lead fun, educational programs that include turning trash into treasures -- an activity that teaches children to reuse everyday materials to build castles, cars, mazes and puppets. Big Bird will take the little ones bird-watching, while Muppet pal Zoe accompanies them on a treasure hunt for seashells and special "gems."
Hard Rock Hotel and Casino Punta Cana
Punta Cana, Dominican Republic
Learn jetes and plies from Angelina Ballerina at the palm-ringed
Hard Rock Hotel and Casino
, with new children's facilities opening this summer. The all-inclusive property has partnered with HIT Entertainment to provide young guests a venue to interact with favorite cartoon characters. While dad is teeing off on a Jack Nicklaus-designed 18-hole golf course, his offspring meet Barney the purple dinosaur at the Little Big Club, where fans make their own musical instruments for a sing-along. Barney gives weekly Spanish lessons, hosts story time and plays games.
Little girls don dancing shoes to learn ballet, hip-hop and other moves from Angelina Ballerina, the 8-year-old, tutu-wearing mouse. Imaginary play is a favorite pastime at this studio, and tiny dancers try on costumes in the dress-up area, play with hula hoops and construct magic wands like Angelina's.
In a craft area, gregarious Bob the Builder helps aspiring architects construct a town from the ground up, using blocks and child-safe tools. At a Bob the Builder sandbox, kids compete at creating the best sandcastle.
Atlantis Paradise Island
Paradise Island, Bahamas
Scores of kid-pleasing activities await at
Atlantis Paradise Island
, an impressive resort complex
north of Nassau
. A main attraction is the 141-acre Aquaventure, with swimming pools, lagoons, waterfalls and the six-story Mayan Temple waterslide complex neighboring a mile-long river ride over rapids and wave surges. Atlantis claims to have the world's largest open-air marine habitat, where more than 50,000 sea animals representing 250 species dwell among caves and coral formations.
Hands-on workshops entertain junior guests, from golf clinics to a three-day marine adventure camp, where aspiring biologists ages 10 to 14 feed ocean animals and snorkel coral reefs. Kids 6 to 12 don a chef's hat and apron to make gourmet pizzas, delicious breads and pastries in a private kitchen. Older siblings age 12 and up shape and mold plates and more in a glass-fusing session.
For toddlers 3 to 5, Imagination Station is a whimsical play area where they learn about commerce in a kid-size grocery store, build a miniature town with Legos and get dressed up for a tea party. When in need of quiet time, a storytelling tree provides cozy cubicles for reading or watching a movie.
Rio Mar Beach Resort and Spa, a Wyndham Grand Resort
Rio Grande, Puerto Rico
The iguanas in this self-governing U.S. commonwealth outnumber people: There are more than 4 million of these sun-baked lizards, compared to 3.7 million citizens. At
Rio Mar Beach Resort and Spa
, kids can participate in a daily iguana feeding. Members of the Iguanas Kids Club for ages 4 to 12 gather around the pool area at 11 a.m., then are taken to a "secret" pond, where the critters feast on leafy greens.
Minors cavort around the pool or play soccer, volleyball or basketball. Activities cater to children's interests and vary daily, so if they want to paint a T-shirt or construct and fly a kite, all they need to do is ask, says club counselor Yvonne Morales.
The resort is nestled between the Atlantic Ocean and El Yunque National Forest, a
lush setting
for nature walks with tour guides who point out native birds and plants. Participants explore the Rio Mameyes, a 4.5-mile river that provides habitat for the endangered Puerto Rican boa and Puerto Rican parrot. Along its banks, kids scout for coconuts to take back to the resort for painting.
At a baking session, kids ice cupcakes and make chocolate lollipops. Friday and Saturday nights find them eating popcorn and watching movies before winding down with gooey s'mores roasted over a fire pit.
Sandpearl Resort
Clearwater Beach, Florida
This jewel claims to be the first Florida resort designed to meet the standards of the U.S. Green Building Council.
The Sandpearl
has a geothermal system to heat its pool and spas, and it monitors room temperatures, keeping them cooler when occupied. Most guests will likely prefer the outdoors, burying their toes in
powder-soft, white-sand beaches
.
The children's program at the Sandpearl delves deeper into Florida's unique ecosystems through scavenger hunts and nature-themed arts and crafts. Seasonal Camp Ridley -- named after the fun-loving mascot turtle that appears for photo ops -- is broken into two four-hour sessions: 1 to 5 p.m. and 6 to 10 p.m. The cost is $50 for each session per child ages 5 to 11 and $25 for a sibling.
Evening activities are appreciated by parents who want time to dine on seasonal specialties at the AAA Four Diamond Caretta on the Gulf. Meanwhile, kids stay occupied with their own late-night outing, chomping on pepperoni pizza while watching a poolside movie.
A free Astronomy Night takes place every other Friday. Assisted by an expert from Tampa's Museum of Science and Industry, the family can view constellations through a telescope.
Marco Island Marriott Resort, Golf Club and Spa
Naples, Florida
On this
nature-rich island
, youngsters ages 5 to 12 are wildlife explorers at the Tiki Tribe Discovery Day Camp, focusing on Florida's unique flora and fauna. There is a daily theme, like Turtle Tuesday, Great White Wednesday and Dolphin Friday, and arts and crafts center on those particular animals.
The coastal ecosystem is investigated through such activities as hunting for shells on the beach, where finds are viewed through a microscope. Then break loose with pool games and limbo contests before the lunch bell rings and little ones pack into 400 Pazzi's for brick-oven pizzas. Afterward, they meander into the bakery kitchen to decorate cookies. They'll also design their own chef's hat and ceramic magnet to keep as mementos.
During spring break and summer vacation, there are numerous activities for teens. Those ages 13 to 17 can aim and fire during laser tag in the ballroom. A rock-climbing wall is set up for adventurous types, and parasailing and bungee jumping excursions can be arranged. But something the whole family can enjoy is a fishing trip. The full-circle experience includes taking catches back to the on-site restaurant to be prepared for dinner.
The information in this story was accurate at the time it was published in May/June 2013. Please visit
Vacations To Go
or call (800) 998-6925 for current rates and details.
Send This Article to a Friend
Bookmark this Content
Digg it!
Reddit
Furl
del.icio.us
Spurl
Yahoo!