Family-Friendly Festivals
Get the group together this summer for tributes
to the arts, agriculture, athletics and more
By Michelle Chumbley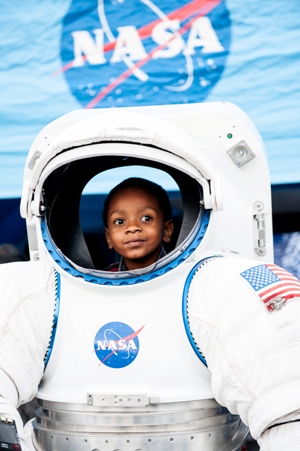 Greg Kessler/World Science Festival
T
here is a happy place we retreat to as adults to escape our dull Tuesdays and stacks of bills. It might involve memories of a warm afternoon on the tire swing at grandpa's farm, or the first time you dipped your toes in the ocean. For some, it's the recollection of chirpy music playing over crackling speakers as you flew so fast down a roller coaster that you almost lost your corn dog.
This summer, step away from the tablets and TVs and reintroduce yourself to the fun of a day at the fair. While some of the following eight events in
the U.S.
and
Canada
have a classic carnival vibe, most go beyond Ferris wheels and deep-fried Oreos with themes that broaden the mind and celebrate cultures stretching from Peru to history's pirate ships. Who knows -- you might just create a happy-place memory for your children to recall one day.
For information about accommodations in these destination cities, call the resort specialists at
Vacations To Go
, (800) 998-6925, or follow the links below.
Conduct an experiment
Inquisitive minds unite in
New York City
for the World Science Festival, where more than 50 workshops and other engaging events take place May 27-31. Here, young scientists can attend "apprentice" programs and conduct experiments with professionals. In 2014, participants learned about movement's effects on the brain with a choreographer and a neuroscientist, analyzed sports statistics with a mathematician and snapped photos for a phone app with a digital media specialist.
Families gather to gaze at stars through a telescope and meet astronomers and astronauts during Night Lights, Big City on May 30. The festival's capstone, though, is the free Ultimate Science Street Fair on May 31, when Washington Square Park transforms into an outdoor laboratory full of innovations, live demonstrations and hands-on amusements like flight simulators and satellite controls.
Less than a mile from Washington Square Park, the boutique
Soho Grand Hotel
sits in an artsy neighborhood among galleries and shopping. Complimentary bikes are available for guest use, while kids are treated to cake pops and a welcome package upon arrival.
Catch a race
Held annually on False Creek in
Vancouver, British Columbia
, the Rio Tinto Alcan Dragon Boat Festival combines Chinese traditions with a full slate of onshore entertainment. The free event, June 19-21, begins with a blessing ceremony, during which the eyes of the decorative floating dragons are dotted with red paint to symbolize their awakening.
Competitors hit the water the next day, while attendees check out a beer garden, tasty food trucks and a tea lounge featuring varieties from Africa, China, Taiwan and Japan paired with locally sourced appetizers. A youth-friendly performance stage, table tennis tournaments and drumming workshops take place in a family zone, where youngsters also can help make a dragon boat.
Just 30 miles north of the U.S. border, Vancouver has a full array of outdoorsy pursuits (whale-watching expeditions are popular in the warmer months) as well as an impressive performing arts scene.
The Fairmont Hotel Vancouver
, a luxurious downtown establishment, is less than 2 miles from the festival site and a block from a SkyTrain rapid transit station for connections to other attractions.
Say 'Arrr'
Ahoy! Grab yer eye patches and tricornered hats before heading to the Northern California Pirate Festival, where dressing and talking the part is encouraged. The nautically inspired affair takes place June 20-21 in Vallejo, CA, a ferry ride across the San Pablo Bay from San Francisco.
While adults sample microbrews or plunder the craft market, young scallywags can learn to navigate and swab the decks at pirate school, embark on a treasure hunt, bounce down the inflatable "kraken" slide or head to the mermaid lagoon to meet a siren. Costumed buccaneers entertain with swashbuckling sword fights and seafaring songs, but the festival's main attraction is the twice daily ship-to-shore cannon battle.
Stay at the boutique
Harbor Court, a Kimpton hotel
, in
San Francisco
for waterfront views and a short walk to a Vallejo-bound ferry. The City by the Bay teems with postcard-worthy sites, from the iconic Golden Gate Bridge to its colorful collection of Victorian homes.
Explore foreign customs
Delve into a fascinating culture in the U.S. capital this summer during the Smithsonian Folklife Festival. The 2015 fete, June 24-28 and July 1-5, highlights the customs and traditions of Peru.
More than 100 cooks, artists, craftspeople, dancers, musicians and storytellers representing the country will congregate at the National Mall in
Washington, DC
, to offer demonstrations, performances, festive processions and more. A dedicated family area draws all ages for engaging activities that might include singing a song in Quechua, a language native to western South America; hearing a tale about the tree of life; learning the marinera, often considered Peru's national dance; or playing the cajon, a wooden percussion instrument.
There is no admission fee for the event. More than a dozen Smithsonian Institute museums in the city, including the Smithsonian National Zoological Park, also are free to the public.
The Omni Shoreham Hotel
is a block from a metro station to downtown and about half a mile from the zoo, which has giant pandas, gorillas and Asian elephants among its nearly 2,000 animals. The landmark hotel, which opened in 1930, welcomes little guests with a milk and cookie delivery on their first night.
Celebrate the arts
Nearly four decades old, the Utah Arts Festival draws creativity in myriad forms. In addition to music, dance and visual venues, the June 25-28 gathering in downtown
Salt Lake City
features street theater, culinary creations and demos, literary works and handicrafts. Workshops and a marketplace exhibit photography, metalwork, sculptures, mixed media and prose while at least six stages draw local and international performers. At an Egyptian-themed art yard, children can explore interactive installations, make music at an "instrument petting zoo" and construct imaginative projects to take home.
Across the street from the site, the
Grand America Hotel
exudes European elegance with a French pastry shop, luxurious English wool carpets and sparkling Italian chandeliers. For a budget option in walking distance, try the
Courtyard Salt Lake City Downtown
, with an indoor swimming pool. Twenty miles west is the city's massive namesake lake, where sailing, paddleboarding and bird-watching are popular endeavors.
Observe a holiday
The Red, White and Tahoe Blue bash commemorates the Fourth of July with three days of music, games, food and patriotic tributes in Incline Village, NV, on the northern shore of Lake Tahoe. Festivities kick off on July 2 with a chalk art contest for kids, a wine and cheese tasting for adults and an ice cream-eating challenge for anyone who can handle the brain freeze. A community breakfast takes place the next morning, followed by a parade, a dog show and outdoor concerts that run into the evening. On Independence Day, head to Incline Beach for a carnival and barbecue before enjoying a nighttime philharmonic show and the weekend highlight -- fireworks over the water.
Located on the California-Nevada border, Lake Tahoe draws summertime visitors for alpine hiking and a host of water sports. The all-suite
Lake Tahoe Resort Hotel
in
South Lake Tahoe, CA
, offers picturesque mountain views. For a city vibe, check into Atlantis Casino Resort and Spa in Reno, NV, about 30 miles northeast of Incline Village.
Learn to farm
The Canadian National Exhibition draws more than a million visitors to Toronto each year for parades, carnival rides, concerts and more. With a legacy dating to the 19th century, this agriculturally focused affair also features animal exhibits and an interactive farm where children can harvest grain, feed chickens, milk cows and trade their products at a market.
Don't miss the sugary treats -- vendors offer miniature doughnuts, waffles stuffed with ice cream and the classic Canadian BeaverTail, a fried pastry with customizable toppings of chocolate, candy, bananas and cinnamon. A mouthwatering Ribfest is open each day of the fair, Aug. 21 to Sept. 7, but be on the lookout for limited engagements, including a food truck weekend Aug. 28-30.
The eco-friendly
Westin Harbour Castle
on
Lake Ontario
is steps away from ferry docks providing access to the Toronto Islands, home to Gibraltar Point Lighthouse, an amusement park, bike trails and beaches. This downtown hotel also is on a streetcar route to the exhibition.
Dress up
An end-of-summer bash in Gulfport, FL, GeckoFest combines the feathers, masks,
glitter and beads of Mardi Gras with the town's unofficial lizard mascot. This year's New Orleans-style "Gecko Gras" follows a string of similarly quirky themes from past events, including "Roaring Geckos" (a salute to the 1920s), "Hooray for Geckowood" (a la red carpet glamour) and "The Lizard of Oz," with the local reptile portraying the famously gingham-clad Dorothy.
On Sept. 5, festival attendees are encouraged to deck out in over-the-top attire and join a parade and costume contest. This free shindig also features more than 200 vendors with tempting dishes and handmade products, two live music stages, carnival games and an electrifying acrobatics performance. Street entertainers keep the energy high with stilt-walking stunts, magic and juggling shows, aerial acts and balloon art.
TradeWinds Island Grand
in
St. Pete Beach, FL
, is a family-friendly resort boasting beautiful barrier island sands and easy access to Gulfport and other cities on the Florida mainland. This 20-acre property has five heated pools, a number of eateries (try the refreshing ice cream shop) and a nearly three-story inflatable waterslide for the kids.
The information in this story was accurate at the time it was published in May/June 2015. Please visit
Vacations To Go
or call (800) 998-6925 for current rates and details.
Send This Article to a Friend
Bookmark this Content
Digg it!
Reddit
Furl
del.icio.us
Spurl
Yahoo!