Eyes on the Sky
Focus on these astronomical events and attractions
around the globe to discover new worlds
By Jennifer Davoren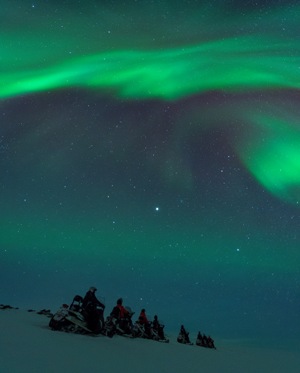 Yrjan Bertelsen/Hurtigruten
A
ncient Polynesians called it Hokulea, "the star of gladness." It's one of the brightest beacons in the Northern Hemisphere and, somewhere around A.D. 300, its siren song drew colonists across 2,000 miles of open ocean, away from their homes in the Marquesas Islands and on to the settlement of a new Pacific paradise: Hawaii.
Hokulea, also known as Arcturus, is Hawaii's zenith star, shining from the highest point in the sky above the
Aloha State
. You can see it for yourself by locating Bootes, a kite-shaped constellation easily visible in spring and summer, and zeroing in on its most vivid point. New to stargazing and unacquainted with Bootes? Look for the Big Dipper instead. Follow the arc of the handle to its end, which points the way to Hokulea/Arcturus.
Or, trust an expert to guide you. At the
Hyatt Regency Maui Resort and Spa
, the property's own director of astronomy leads a rooftop stargazing program. A 14-inch reflector telescope is available to help guests of all ages locate about 1,000 ethereal objects, even distant galaxies -- though a "Romance Tour of the Stars" also is available, adding sparkling wine and chocolate-covered strawberries to an evening of couples-only communion with the skies.
Additional perks of this beachfront lodging in
Lahaina
include a nightly luau, lei-making classes, a day camp for kids and a steakhouse supplied with its own wine cellar. All rooms are complemented by a private lanai overlooking the waves or Maui's mountainous interior, though nighttime views afford even more spectacular opportunities to see the stars.
For more information, contact the resort discounters of Vacations To Go, (800) 998-6925 or
peruse lodgings online
. For seven more chances to connect with another world, read on.
Near the Northern Lights
Hurtigruten
is a hardy cruise line known for its expeditions in Greenland, Iceland, Antarctica and beyond, but it's also hailed for what the company calls "the world's most beautiful sea voyage," the journey along the
Norwegian
coastline between the cities of
Bergen
and
Kirkenes
. Ships cross the Arctic Circle as they seek quaint fishing villages and former Viking strongholds, icy fjords and resilient wildlife, verdant cliffs during the region's short summer and, in winter months, the haunting beauty of the aurora borealis.
Join the Nov. 20 departure of "
The Classic Winter Voyage Roundtrip
" and you'll be treated to astronomy lectures on ship and celestial attractions on shore, including a stop at a planetarium in
Tromso, Norway
, dedicated to studying the northern lights. Your host for the journey, the 822-passenger
Trollfjord
, is a comfortable vessel, but the usual cruising amenities are sparse -- you'll find no casino or Broadway-style shows here, though a sauna and hot tub are on hand to battle those brisk northern winds. A simple venue makes your evening engagements all the more rewarding, with fewer distractions from the glowing green bands overhead. Prices for this 12-day adventure start at $2,205.
Alberta aglow
"Power down. Look up." That's the motto of the Jasper Dark Sky Festival, an autumn celebration that invites you to take in the stalwart pines, Rocky Mountain crags and breathtaking nighttime awning stretched above Jasper National Park. Hidden in
Canada's Alberta province
, this is a designated Dark Sky Preserve, an escape from streetlamps, high beams and other contributors to light pollution. Set for Oct. 14-23, the festival brings stargazers together for prime views and astronomy talks, and most events are offered free of charge.
An eight-day escorted vacation from
Rocky Mountaineer
, "
Journey Through the Clouds Discovery Drive
" combines a scenic rail ride across British Columbia with a self-guided tour of western Alberta via rental car. Top stops include Lake Louise, the sporty riverside town of Kamloops and Vancouver, though Rocky Mountaineer's glass-domed trains, built to create 360-degree views of passing wilderness, are an attraction all their own. Departing Calgary on
Oct. 11
, a westbound version of this itinerary arrives in Jasper on the first night of the festival. Prices start at $3,275.
Studying the sky
Princess Cruises
' Discovery at Sea programming mines "MythBusters," "Deadliest Catch," the excitement of Shark Week and other small-screen favorites to create engaging shore excursions as well as shipboard activities. Astrophysicist, visiting MIT professor and Science Channel host Dr. Hakeem Oluseyi helped the line build its own stargazing curriculum and has even filmed lectures on the topics of favorite heavenly events, the possibility of other inhabited worlds and more for stateroom viewing across the entire Princess fleet.
On select nights at sea, Princess stargazing specialists meet with passengers for an interactive tour of the sky, spotting constellations, sharing celestial folklore and using the shine and sparkle from above, only enhanced by a deep darkness found far from civilization, to gauge the ship's bearings. Onboard libraries also are stocked with astronomy resources to help expand horizons.
By starlight and firelight
Four Seasons Resort Scottsdale at Troon North
: The name is a mouthful, but the property philosophy is simple enough. Here, guests escape the heat and hectic pace of nearby
Phoenix
to indulge in quiet luxury. Edging the foothills of Pinnacle Peak and wrapped by the red-earthed beauty of the Sonoran Desert, this Four Seasons outpost is suited for morning hikes or rounds of golf, poolside lunches, afternoon treatments at the on-site spa and evenings spent with cocktails and the setting sun, watching it sink behind clusters of saguaro cactuses as it makes way for a miraculous night sky.
Casual stargazers find haven in the resort's patio fire pit casita rooms, with alfresco space for late-night lounging and a blazing hearth to fight off evening chills. Ramp up the romance of an evening date with the heavens by booking a celestial picnic; Four Seasons hosts will pack a basket with your choice of light fare, from sandwiches and salads to cheese and charcuterie selections, as well as a telescope and iPad equipped with a star chart. Available from March to October, this perk is priced from $80 per couple.
Heavens above, Down Under
Adventures by Disney
, the escorted vacation division of the House of Mouse, hosts a family-friendly exploration of
Australia
with its 11-day "
Discovery Down Under
." Guests start in Sydney with a private tour of Taronga Zoo led by an animal keeper, a cruise of the city's namesake harbor and a behind-the-scenes look at an iconic opera house. Then it's on to the Outback to delve into the dusty Red Centre on camelback; Cairns, a gateway to the Great Barrier Reef, for a catamaran sailing and snorkeling tour of local coral; Hartley's Crocodile Adventures, a sanctuary for toothy attractions; and more.
That trip to the Outback includes a few national idols. Ayers Rock, a sacred spot known as Uluru among Aboriginal groups, is a hulking presence set against Australia's wide, clear skies. It serves as a backdrop for a stargazing expedition when Disney guests join a pair of astronomers armed with telescopes to view distant orbs. Departures are available from June 2017 to January 2018, with prices from $7,519.
Illuminating topics
The Queen Mary 2
emerges from dry dock this summer with new staterooms built for single travelers, refreshed menus for onboard restaurants and, of course, an added option for taking afternoon tea in your private quarters -- the ship's parent company,
Cunard Line
, is based in Southampton, England, after all. Returning passengers will find a familiar amenity in Illuminations, the only planetarium at sea, but they'll discover a new series, "The Summer Sky," with shows highlighting seasonal star groupings.
Join the Royal Astronomical Society, a nearly 200-year-old research community, aboard the QM2 this fall to peruse an unblemished canopy over the Atlantic. Departing New York on Oct. 11, the ship will
spend seven nights at sea
with no port calls between embarkation and your final destination, London, to interrupt your evening strolls along the top deck to contemplate the stars. An RAS expert will be on hand throughout the week to assist in mapping constellations and adjusting borrowed binoculars and telescopes. Prices for this cruise begin at $999 for inside cabins and $1,149 for balcony accommodations; additional RAS-themed sailings scheduled for 2016 include
a Dec. 4 departure
aboard Cunard's
Queen Elizabeth
, bound for harbors around Portugal and the Canary Islands.
Drop in on Death Valley
The hottest, driest desert basin in North America, with average daily temperatures topping 110 degrees Fahrenheit in summer, California's Death Valley isn't featured on most tourists' list of must-see destinations. But it would be a shame to overlook the region's true allure, which stretches overhead.
Death Valley National Park is the world's largest International Dark Sky Park, so named for its "exceptional or distinguished quality of starry nights," according to the International Dark-Sky Association. Its remoteness is its selling point: Even the screaming neon of Las Vegas, a little more than 100 miles east, hardly breaches the protective cover of darkness that falls here each night.
Escorted tour operator
Globus
braves the expanse this year on "
Southern California With Death Valley & Joshua Tree National Parks
," available as both a 10- and 12-day itinerary (with the latter tacking on an extended stay in Sin City). Visits to Long Beach, San Diego and Palm Springs preface two nights spent at the Ranch at Furnace Creek, your launching point for Death Valley adventure. At the close of Day 8, tour groups gather for barbecue and a Globus "local favorite," a specially arranged evening of stargazing with an astronomical expert. A half-dozen departures are available between September and December and are priced from $2,929.
The information in this story was accurate at the time it was published in July/August 2016. Please visit
Vacations To Go
or call (800) 998-6925 for current rates and details.
Send This Article to a Friend
Bookmark this Content
Digg it!
Reddit
Furl
del.icio.us
Spurl
Yahoo!