England's Suffolk Coast
This quiet stretch of seaside villages
draws fine arts fans and foodies
By Jennifer Davoren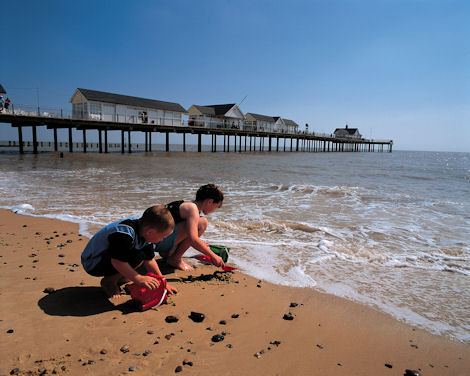 Richard Surman/BritainOnView
"F
our seasons in a day!" chirps the shopkeeper, shrugging cheerfully as rainwater drips from my jacket and puddles next to a jewelry display.
I've been in Southwold, an oceanside hamlet in eastern England, for just a few hours, but I already agree with the local weatherman's axiom. I'd arrived on a sunny June morning, welcomed by sea grasses and a rainbow assortment of wildflowers waving in a summer breeze. The afternoon was significantly cooler -- very springlike, complete with temperamental clouds gathering above Southwold's busy pier. I hadn't been sightseeing long before a storm with an early autumn chill chased me into the Amber Shop, a sparkling high-street gem retailer.
I wait for the rain to pass -- all the while, a part of me braces for winter to make an appearance -- while perusing case after case of golden stones and chatting with the Amber Shop's friendly staff. The weather may be unpredictable along the pebbled coast of Suffolk County, but pockets of sunshine await in a string of picture-postcard resort towns.
Southwold, my host for a long weekend spent in Suffolk last year, is found on the north end of the county's windswept shoreline. It's a popular holiday destination for weary Londoners; the village center is stuffed with beachwear boutiques, unassuming pubs and small, historic inns. (My home for the weekend, The Swan Hotel, has been in operation for more than 350 years. It even displays a 1940 guest registry signed by Winston Churchill.) Two to three hours from the capital, Southwold and its neighbors are gearing up for the 2012 Summer Olympics. This region offers a laid-back alternative for sports fans hoping to catch an event in London but in need of lodgings far from the city's medal-crazed crowds.
Southwold's beach, a sandy stretch along the chilly North Sea, is lined with the town's candy-colored icons. Beach huts are more than convenient waterfront changing rooms -- here, they're points of pride. About 6 feet long and 5 feet wide, all 300 huts are painted an eye-catching hue that celebrates their sunny surroundings or, as was the case during my visit, combats gloomy weather. Most are family owned, given pet names like The Catnap and Doris, the Goddess of Wind and lovingly passed from generation to generation. They've sold for as much as 35,000 pounds, but visitors can rent a hut for about 100 pounds ($162 U.S.) per week in the high season.
A hut's price and popularity are largely determined by its proximity to another local icon, the Southwold Pier. This is a tourist's one-stop shop for souvenirs, beach necessities and snacks -- not to mention enviable views of Southwold's lighthouse, a shining white hilltop beacon overlooking the town. It offers a few surprises as well. The whimsical designs of local engineer and artist Tim Hunkin are found at the Under the Pier Show, a penny arcade-inspired attraction. Plunk a few pounds into Hunkin's machines and you can walk a clockwork dog, play whack-a-banker (whack-a-mole for frustrated folks on a tight budget) or take a simulated submarine ride around Southwold.
The Suffolk Coast's seaside resorts share a peaceful, almost sleepy atmosphere, but each offers unique landmarks. Thorpeness, about 15 miles from Southwold, is a former fishing village turned boater's haven, home to a 60-acre lake perfect for afternoon paddles. Its infamous House in the Clouds, a water tower converted to a five-bedroom holiday rental, is a popular photo op. Neighboring Orford offers a stately Norman keep, built in the 12th century by a wary Henry II, and a medieval church ringed by 18th-century gravestones.
Aldeburgh -- about halfway down the Sunrise Coast, as this part of Suffolk is known -- shares Southwold's emphasis on pristine beaches and a walkable downtown. But an unexpected arts haven awaits just beyond the village, partially hidden by the swaying prairie grasses of the Snape RSPB, a natural area preserved by the Royal Society for the Protection of Birds. In the mid-1960s, composer Benjamin Britten chose a defunct brewery on Aldeburgh's outskirts as the new home of his music festival and school. His team converted old barley buildings into concert halls and housing for up-and-coming artists, and the world-class campus now known as Snape Maltings was born.
My visit to the Suffolk Coast coincided with the 63rd Aldeburgh Festival of Music and the Arts. I caught just two shows during my stay -- including "Into the Little Hill," an imaginative opera based on the Pied Piper story -- but Snape Maltings' annual celebration offers more than two weeks of open-air concerts, student recitals and professional guest performances. In 2011, it's scheduled for June 10-26. The campus organizes special events year-round, from pottery workshops to food and wine celebrations. On-site shops and restaurants sell uncommon souvenirs that also benefit arts education.
Suffolk supports its local artisans, from Snape Maltings' potters to independent food producers. You're not on the coast long before spotting a sign for Adnams, a Southwold brewery that also owns a handful of local inns, including The Swan. Orford, meanwhile, is filled with the mouthwatering scent wafting from Richardson's Smokehouse, a family-owned curing shack offering rich cheeses, meat and fish. Products are smoked with oak and preserved with nothing more than salt; the English cheddar, smoked for six days to build its complex flavor, was my particular favorite, but customers queuing up during an afternoon visit were clamoring for Sunday hams and haddock.
Suffolk County's agricultural bounty is on full display at eateries like the Sutherland House, a boutique hotel and restaurant in the center of Southwold. "You will not find asparagus or strawberries here out of the English growing season," the restaurant's website boasts. Instead, chefs stick to fresh, seasonal and locally grown products when crafting daily menus. In a region known for its free-range pork, Sutherland House has collected multiple awards for its innovative dishes.
During my last night on the coast, my tour group sampled seared pork belly and pureed black pudding in Sutherland House's intimate, half-timbered dining room. Parts of the building date to 1450, and past guests include the Duke of York, who went on to be crowned King James II. The Stuart fleur-de-lis, as well as rose patterns favored by the earls of Sandwich, are still visible on parts of the inn's preserved plaster ceiling.
This historic atmosphere mingles well with the modern twists of Sutherland's cuisine, and a roaring fire keeps diners safe from whatever weather awaits outside. Four seasons in a day? That's not a problem in Suffolk, where summer's warmth is found indoors, too.
The information in this story was accurate at the time it was published in March/April 2011. Please visit
Vacations To Go
or call (800) 998-6925 for current rates and details.
Send This Article to a Friend
Bookmark this Content
Digg it!
Reddit
Furl
del.icio.us
Spurl
Yahoo!