Diving into Bonaire's Good Life
Come on in: The water is fine
at the Harbour Village Beach Club
By Kimberly Garza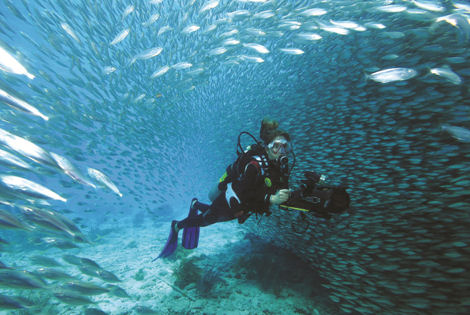 Harbour Village Beach Club
(Scroll down to see a slide show.)
I
t's the blue of
Bonaire
that gets you first. My initial glimpse of the two-toned water came as our plane descended to Bonaire's tiny island airport; late afternoon sunshine lanced through the clouds, revealing both the rich cobalt of the southern Caribbean and the luminescent swath of turquoise that halos the island. The woman sitting next to me, peering over my shoulder, gasped in admiration. Or maybe that was me.
It was definitely me the next morning, after I untangled myself from the sheets of my four-poster bed and stepped out on the balcony of my suite at
Harbour Village Beach Club
. Just beneath me, palm trees swayed in the morning wind, arcing over a creamy white beach and that electric blue. It's impossible to resist. I threw on my bathing suit and headed out my hotel room door -- all of 20 steps later, I was diving in.
Such is life at Harbour Village, a four-star luxury resort on the western shore of Bonaire, in the Dutch Caribbean about 50 miles north of Venezuela. Minutes from the town center of Kralendijk -- Bonaire's capital and home to its airport -- Harbour Village sits on 4 acres of verdant gardens and has a private beach, ensuring guests won't battle with crowds. Indeed, the resort seems incapable of crowds -- even when full.
"At capacity we have about 115 guests, but it's always quiet here, very peaceful," says Jean-Marc Petin, Harbour Village general manager. "That's the way we plan to keep it."
The resort offers 30 rooms and suites, each with decor that echoes the creams, blues and greens of Bonaire's Caribbean setting. Styles range from courtyard rooms to lavish, two-bedroom beachfront suites with private balconies. An on-site marina supplies more water views from select rooms. Some suites have terraces and fully equipped kitchens. About 30 condos also are on-site, many of which are used as seasonal homes for their owners.
The island itself is slender -- 24 miles long, only 3 to 7 miles wide -- and countless other beaches and activities are within a short drive of the resort. But savvy Harbour Village guests have little reason to leave the grounds. As I soon found out, the treasure of Bonaire actually is beneath all that blue.
'Divers Paradise'
The plop of bubbles and my own metallic-like breathing were the only noises 60 feet below the surface. I swam slowly around the coral reef, the glass-sheer water revealing violet formations, golden sponges and curious, multicolored fish. Nearby, the handful of other scuba divers in my group moved as carefully as I did, struggling like me to take it all in.
Thanks to excellent visibility, water temps averaging 80 degrees and a pristine fringe of coral reefs,
Bonaire
is widely regarded as one of the Caribbean's best locales for diving. (It says so right on the license plates: "Divers Paradise.") Protected by the Bonaire National Marine Park -- which covers 6,672 acres of island ecosystem, including mangrove forests and sea grass beds -- the reefs are kept clean and unharmed, despite about 38,000 visitors each year who explore them up close.
Divers of all levels, from first-timers to lifelong masters, flock to the island year-round.
Harbour Village sits just across the water from Klein Bonaire (Dutch for "Little Bonaire"), an uninhabited islet that is home to 26 of Bonaire's 86 official dive sites -- "one for every letter of the alphabet," my divemaster, Mark, told me cheerfully. Tailor-made for lovers of scuba, the resort boasts a water-sports center on-site, steps from the beach: Great Adventures Bonaire is a Professional Association of Diving Instructors facility serving up dive instruction, certification classes, a gift shop and equipment rentals.
Whatever your diving comfort level, Great Adventures Bonaire offers an endless array of options. Beginner's courses range from a one-day "resort dive" class to open-water diver certification, about four to five days. For experienced scuba-ers, an advanced open-water course runs over five dives, or you can take the plunge into PADI divemaster in one week. (I met a variety of enthusiasts with specialty certifications like night diver, lion fish tracker and wreck diver as well.) You can sign up for shore or boat dives a la carte or opt for one of Harbour Village's six-day dive packages, ranging from unlimited shore dives only to unlimited shore dives and 11 boat dives.
Offered twice a day, the boat trips carry divers out to one of Bonaire's numerous sites for an hourlong swim. I signed up for morning and afternoon sessions. At 9 a.m., we headed to 1,000 Steps, a dive site off Bonaire proper, and jumped in. Our group spotted plentiful coral teeming with fish and a three-flippered sea turtle.
Entranced by the wildlife, I reached a depth of 80 feet before I knew it -- a personal best. That afternoon at Sharon's Serenity, a Klein Bonaire spot, hundreds of colorful fish swam around me, curious about the clumsy, hulking creature I must have seemed. I leaned in close to view the bright coral, doing my best to avoid touching any -- one of the regulations the marine park imposes to keep the reef in good condition.
Back at
Harbour Village
, shore dives are an easy way to view the underwater sights. The dive center has lockers for gear and wetsuits. Since this area is accessible when the shop is open during the day, guests can simply stroll over, grab their equipment and hit the water at their leisure. Just off the private beach, a bounty of opportunities for wildlife-spotting await, like the many rock piles on the sandy bottom that house fish and crabs, or the two on-site shipwrecks.
Accompanied by a friendly family of four who had just arrived at the resort, I took my first shore dive of the trip with Mark. Using hand signals and an underwater writing pad, he pointed out grouper, sea turtles, eels, jellyfish and more as we cruised the ocean floor, exploring the shipwreck of a vessel called Our Confidence at 60 feet.
The staff is ready and willing to accommodate divers of all levels, as I quickly found out. I showed up with no gear but my open-water certification card and a nervous smile -- though certified in college, I was out of practice. Mark and the staff, a motley crew of nationalities and accents, deep suntans and cheery jokes, put me at ease and equipped me with everything I'd need for three days of diving. They also rent kayaks and snorkel gear, which come in handy for nondivers or those who just want to look around every so often. Snorkeling, I spotted dozens of speckled flounder, flat as pancakes, trying to hide against the sand. Rainbow-striped fish shuffled along the bottom, searching out food; spidery crabs scuttled nearby; a small eel sneered at me from a rock pile. Even just a few feet from the shore, you'll find something.
Island life
"So, what languages do you speak?"
The question took me by surprise, but it's a common one on
Bonaire
-- and at Harbour Village. Island natives typically speak four languages: Dutch, Spanish, English and Papiamento, the local tongue. Fluency levels in each language vary by person. It's a delightful people-watching exercise to see strangers meet for the first time, stammering along until they find their common language and burst into fluid conversation. My Spanish got more of a workout on a Dutch-owned island than I had expected, and my limited German helped in understanding the Dutch speakers.
Harbour Village
itself is a melting pot, with staff from as far as Colombia, Chile, Amsterdam and Mexico City. And the guests -- whether they're lifelong repeat visitors, condo owners or first-timers -- are just as diverse. I met an older couple from the Netherlands, a family from Michigan and a condo owner from Russia (by way of Los Angeles). All found their niches at Harbour Village, from daily boat dives to splashing in the pool to clinking wineglasses at the resort's restaurant. Harbour Village also boasts a fitness room, a small spa offering treatments like facials and full-body massages, and a game and events room, with a pool table and a bookshelf containing complimentary books in various languages. A large, elevated freshwater pool delighted the children, while parents lounged on deck chairs and caught sun away from the salt and sand; the spa offers another pool as well.
For meals, I hit up La Balandra, the full-service restaurant on-site. Open essentially all day for breakfast, lunch and dinner, La Balandra resembles a boat on the private beach -- diners can look out over the wooden sides and into the clear water, watching divers and snorkelers swim around the eatery. I sampled deliciously fresh seafood, from grilled, pesto-topped fish to plump scallops tossed with pasta, plus juicy steaks and delectable cocktails. On Saturday evenings, musicians perform live, adding ambience to the torchlighted setting and cool ocean breezes. The restaurant is on the other end of the beach from the dive center, only a stretch of sidewalk away from the guest rooms.
Beyond the resort, the town of Kralendijk offers colorful restaurants, shops and grocery stores clustered around narrow streets. Harbour Village vacationers can take a complimentary shuttle to the town center for a couple of hours of shopping and exploring. If you've opted to rent a car, try a cruise along the island's coastlines. A variety of landscapes exists on Bonaire's small space, like the white-sand, blue-water beaches it's famous for as well as mangrove forests rooted in pools of murky water and cactus-studded ranch land that put this South Texas girl right at home. The island also is home to Rincon, a historic village more than 500 years old, and salt mines with towering pyramids of dusky salt granules. Sharp-eyed wanderers will spot iguanas and flamingos among the local wildlife.
Along with diving, windsurfing is an activity that has drawn Bonaire worldwide acclaim. Its location outside the hurricane belt ensures pleasant weather year-round, with plenty of gusty breezes to keep sailors, windsurfers and the mosquito-prone (like me) happy. And it's clear there's plenty here to keep people coming back.
Visitors to
Harbour Village
can expect to see updates soon, says general manager Petin. Future renovation plans include expanding and modernizing the spa (which currently has one technician and a handful of rooms) as well as some of the decor, from furniture to exteriors. There currently is resortwide Wi-Fi, although the management wants to make the often shaky signal stronger. Petin says he hopes the updates will bring the resort "into the present day."
"We have a core of repeat guests," he says one afternoon at lunch at La Balandra. "Generations, really. They keep coming back -- and we're hoping to welcome more."
Petin spreads his hands to indicate the beach, where a couple is snorkeling, a man is dozing in a palm-slung hammock and two young boys are building a sandcastle. Down at the dive center, I can see Mark arranging air tanks.
I'm already planning my next trip. Looks like Bonaire's hooked another one.
The information in this story was accurate at the time it was published in September/October 2014. Please visit
Vacations To Go
or call (800) 998-6925 for current rates and details.
Send This Article to a Friend
Bookmark this Content
Digg it!
Reddit
Furl
del.icio.us
Spurl
Yahoo!