Culinary Quebec
The charismatic capital of New France is a
fantastic find for foodies
By Jennifer Davoren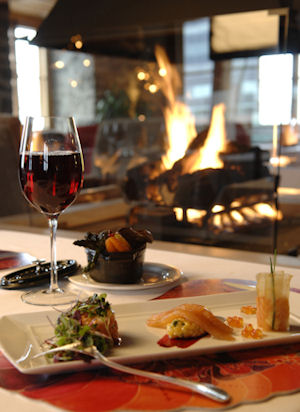 Victor Diaz Lamich/Auberge Saint-Antoine
(Scroll down to see a slide show.)
S
canning the packed shelves and crowded display cases of Canadian Maple Delights, a cafe and gift shop in the charming provincial capital of
Quebec City
, makes me wonder if the world could use another syrup sommelier.
My research has turned up only one such confectionary professional. This lucky soul, an executive chef for a posh Montreal hotel, is stiff competition for anyone vying for his job -- he uses an exhaustively detailed "flavor wheel" to identify the 250 taste characteristics found in pure maple syrup. He spends his workday sampling and devising new recipes for my favorite sweetener. What a life!
Picking through Canadian Maple Delights' inspirational and seemingly endless selection -- a sign in front of the store excitedly advertises "1,001 maple flavours!" -- already has me considering a new career path. I could start by experimenting with basic ingredients, like maple sugar or maple butter, then work up to more advanced products, like the shop's mouthwatering maple sorbet and slow-roasted, maple-scented coffee. I might add maple honey, maple mustard and maple-dipped almonds to my culinary arsenal, too. What to choose?
Paralyzed by indecision and a limited amount of Canadian currency, I end up on the cafe side of the shop. After ordering a cup of syrup-tinged fruit salad, an assortment of fresh, tangy citrus complemented by sweet amber sap, I decide it's best to leave the experimentation to the professionals.
And Quebec City is teeming with epicurean experts, from classically trained chefs to multigenerational farming families. Restaurant L'Utopie in the Saint-Roch district, for example, boasts a unique touch: Every waiter is trained as a sommelier with an eye for perfect wine pairings. North America's oldest grocery store, the nearly 140-year-old Epicerie J.A. Moisan, serves artisan cheeses, deli meats and ready-made meals just a few blocks south. Canadian Maple Delights' knowledgeable shopkeepers even maintain a maple manufacturers' museum in a loft above its sweet-smelling cafe.
French Canada and its historic capital are so famed among foodies that the region's gourmet businesses offer an itinerary for those looking to wine and dine their way across town. Restaurants, bakeries, vineyards and farmers markets are just a few of the stops suggested on the Gourmet Route, an agritourism partnership highlighting Quebec City's favorite producers.
It's this culinary trail that brought me north last November for a four-day feeding frenzy, but I found other tasty tidbits in between meals -- first and foremost being the eye-catching design of the city center. Last year marked the 400th anniversary of the founding of
Quebec City
, an event marked by 12 months of celebrations.
The first permanent settlement in New France, an area that once stretched from Newfoundland to Louisiana, preserves its fascinating history in the UNESCO World Heritage Site at its core. This collection of centuries-old structures linked by cobblestoned streets, known simply as Old Quebec, is now home to charming art galleries, shops and cafes. Towering stone fortifications, which once protected the city against attack, frame the city's thriving tourist district. A 116-year-old hotel, the fortresslike Fairmont Le Chateau Frontenac, dominates the skyline.
On the outskirts of Old Quebec, the Auberge Saint-Antoine is a luxurious boutique hotel that served as headquarters for my whirlwind tour of the city. Though the business made its debut in 1992, its foundations can be traced to the late 18th and early 19th centuries. Three uniquely restored buildings, once a centerpiece of trade on the St. Lawrence River, now hold two restaurants and 95 guest rooms. The Auberge Saint-Antoine also is a museum of sorts, displaying more than 700 historic artifacts discovered on the property during recent renovations. Each of the hotel's six stories offers a look at a different era -- while the lobby decor incorporates colonial remnants dating to 1632, my top-floor suite featured fine china crafted between 1848 and 1914.
The Auberge Saint-Antoine offers the perfect introduction to Quebec City's culinary scene. Panache, its fine dining option, is housed in a former maritime warehouse. Historic accents, including reclaimed wood beams and scrubbed stone walls, surround two stories of cozy dining areas. Artisan-glass lamps, strategically placed candles and a central fireplace infuse the restaurant with a warm, welcoming glow.
Panache's executive chef, Francois Blais, enhances an already inviting atmosphere with his evolving menu of Quebecois comfort food. His selections are a savory showcase for local products: spit-roasted duck, raised 20 miles away in Saint-Apollinaire and served with legs confit; a salmon tasting trio, fashioned with fish from a La Malbaie smokehouse and garnished with the mild, golden beets favored in eastern Canada; and a smooth, tangy cheese produced at a Nubian goat farm in Saint-Raymond de Portneuf, a neighboring agricultural community. Another standout, Blais' savory shepherd's pie filled with an assortment of wild game, was inspired by his grandmother's favorite recipe.
Young, innovative chefs like Blais are a hallmark of the Quebec City dining scene. While Blais is known for his daring twists on traditional dishes, another rising star, Marie-Chantal Lepage, helms the Monte Cristo Restaurant and the accompanying MC Lounge at Chateau Bonne Entente with a more contemporary aesthetic. Lepage enjoys a certain celebrity status as the city's only female executive chef, and she mixes Quebecois favorites with unusual international flavors. Spicy ahi tuna, maple-glazed quail breast and foie gras served creme brulee-style with a tart acai berry jelly are just a few of her favorite dishes.
The success of these young chefs is due in large part to their partnerships with a host of experienced producers. Many restaurants look for inspiration on Ile d'Orleans, a 20-mile-long, largely rural island set in the middle of the St. Lawrence River.
Families have farmed and fished at Ile d'Orleans for centuries. Though the first European colonials arrived in the 17th century, indigenous cultures had settled here even earlier. A hand-drawn chart pinned to the wall of Joseph Paquet's poissonnerie, found on a small cliff overlooking the north shore of the St. Lawrence and southern Quebec City, follows the fishermen in his family for 13 generations. Tricks handed down through the family, coupled with Paquet's own 35 years of angling experience, have a dramatic effect on the merchandise. The slightly sweet, complexly cured flavor of his specialties -- freshly caught eel and sturgeon smoked over maple logs (logs only, Paquet warns, no tree bark or wood chips allowed) -- are a knockout.
Three generations work at Cassis Monna & Filles, a black currant farm near the northwestern tip of the island. My tour group is greeted at the farm's tasting table by "liquoriste" Bernard Monna, his daughters Catherine and Anne and Monna's infant grandson, who proves to be nearly as popular among customers as Monna's black currant wines and dessert-ready creme de cassis. Jams, jellies and cassis-accented condiments are another specialty here, making the farm an all-season favorite for tourists. Summer might be prime time for visiting the farm, though, since bike shops stationed around the island make it easy for visitors to coast in for cassis and back to a number of local bed-and-breakfast inns along the riverfront.
Ile d'Orleans, like neighboring Quebec City, is an inspiration for homespun chefs. Those in need of more ideas can turn to "Farmers in Chef Hats," a Gourmand World Cookbook Award winner featuring the island's favorite recipes. Compiled by resident Linda Arsenault and her partner, chef Philip Rae, the book highlights the seasonal delights found on the island and offers a few ideas for their preparation.
"Farmers in Chef Hats" even provides a few maple-infused recipes, from syrup-glazed rack of lamb to simple maple and meringue treats to accompany afternoon tea. My short-lived dream of syrup sommelierhood might be over, but I can at least do some taste-testing in my own kitchen -- and take a bit of Quebec City home with me in the process.
Information:
Click
here
to price stays at Quebec City hotels. Cruise ships that sail New England and eastern Canada itineraries often head down the St. Lawrence River and call at Quebec City. These trips take place during the warm summer months and the brilliant fall foliage season. For more information, contact national cruise discounter
Vacations To Go
or call (800) 338-4962.
The information in this story was accurate at the time it was published in March/April 2009. Please visit
Vacations To Go
or call (800) 998-6925 for current rates and details.
Send This Article to a Friend
Bookmark this Content
Digg it!
Reddit
Furl
del.icio.us
Spurl
Yahoo!