Chic Cheeca Lodge
Splendid new suites and easygoing elegance await
at a historic Florida Keys retreat
By Elizabeth Armstrong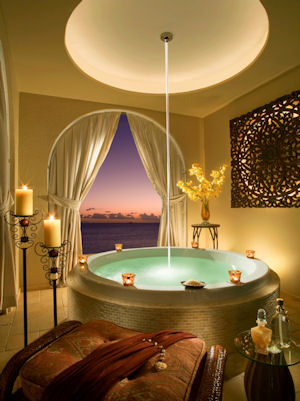 Cheeca Lodge and Spa
(Scroll down to see a slide show.)
"C
rank! Crank! Crankcrankcrank
crankCRANK!!"
Dan Flynn, crew member of the charter fishing boat Man O'War, was coaching me through my first offshore angling excursion in the waters near Islamorada, one of the Florida Keys.
"Remember: Pull up, crank down!"
Flynn recited one of the basic rules of Fishing 101: To bring in your catch, pull the rod up, then turn your reel to pick up the slack as you lower it again.
"Crank, baby, crank!"
Finally, I yanked my fish up and out of the water, and Flynn helped bring it into the boat. It was a king mackerel, estimated at maybe 15 pounds. Probably not a big deal for a pro, but for me, it was a hard-won victory. Along with my mackerel, I reeled in a respectable amount of yellowtail snapper, and all of it would be filleted at the dock by Flynn and barbecued that night at
Cheeca Lodge and Spa
on Islamorada.
The 46-foot Man O'War, captained by Marc Ellis, is homeported at Bud 'n' Mary's Marina, established in 1944 at the southern tip of Islamorada. Islamorada sits in prime sportfishing grounds, and the boats of Bud 'n' Mary's fleet -- the oldest and largest in the
Florida Keys
-- are ready to take you to waters rich with sailfish, bonefish, tarpon, wahoo, marlin, mackerel, redfish and more.
My successful excursion on the choppy seas was exhilarating but left me with an aching back and upside-down stomach. I looked forward to returning to the comfortable embrace of Cheeca Lodge.
About a 90-minute drive south of Miami International Airport, Cheeca Lodge is a well-loved Keys retreat. It opened in 1946 as the Olney Inn, a quaint hideaway with 22 bungalows that lasted until a 1960 hurricane blew through. Carl and Cynthia "Chee" Twitchell purchased the land, built a new hotel and opened it in 1962, combining their first names to call the place Cheeca Lodge. Today, it's owned by Jerry Johnson and his nephew, Jeremy Johnson.
I spent a long weekend at Cheeca in mid-January 2010, just a month after it had reopened following a nearly yearlong hiatus. A fire swept through the property during New Year's Eve 2008 celebrations, forcing the owners to close the resort for extensive repairs and renovations. On Dec. 15, 2009, a new and improved Cheeca Lodge once again welcomed guests.
I stayed in the new four-story Main Lodge, in one of the 62 luxury premier suites. Measuring a generous 850 square feet, these accommodations have floor-to-ceiling glass walls framing views of the sea or the grounds, a wet bar, sitting area, 42-inch plasma television and wireless Internet access. (For those who prefer to travel unburdened by a laptop or PDA, four computers in the lobby provide free Internet service.)
My third-floor suite overlooked a 1,200-foot swath of meticulously groomed white sand; not a speck of litter was allowed to linger here. Just beyond stretched the jewel-toned layers of the Atlantic Ocean -- aquamarine, turquoise and sea-foam green. Occasionally, a bright yellow kayak paddled by guests glided into the picture.
There was an exceedingly comfy king-size bed with loads of pillows, and a lavish bathroom decked out with his-and-hers washbasins, two closets and glassed-in rain showers big enough for two. But the most decadent feature could be found on the expansive balcony -- a dramatic, open-air spa tub filled by an overhead water spout. It's a spectacular spot for a soak as you take in Islamorada's famous pink-and-purple sunsets.
These stunning bathrooms weren't built on-site; rather, the concrete, modular units were manufactured in Okeechobee, FL. They were trucked down to Cheeca -- complete with marble tile floors, granite counter tops and marble-and-glass showers -- and stacked in place. Made of 30 percent recycled materials, these are the first modular "pre-greened" luxury guest rooms in the U.S., built to withstand the winds of a Category 5 hurricane.
Using this method was quick, easy and less disruptive to the environment and the other renovations that were taking place at the time, says owner Jerry Johnson, who decided to investigate modular construction after following a truck carrying concrete units down a highway several years ago.
"It was the only way possible to open back up in the time frame we needed to do it in," he says. The guest room wing was completed in a record 90 days.
Cheeca Lodge
was built to environmentally friendly LEED specifications as outlined by the U.S. Green Building Council. The resort recycles gray water and uses it to irrigate the grounds and golf course. Drought-resistant and low-maintenance plants like bougainvillea and jasmine are selected for landscaping.
Beach lights are dimmed during turtle nesting season, from May through August, because they disorient the baby turtles and lure them away from their intended destination: the ocean. Noisy jet skis are, blissfully, banned here.
The 212 guest rooms come in 18 room categories, with views of the Atlantic, gardens, manmade lagoons or the nine-hole Jack Nicklaus golf course. If you'd like your own private patch of sand, opt for one of the adults-only beach bungalows, which have hedged-in outdoor sitting areas with loungers, plus screened porches.
While inland accommodations don't have the highly prized -- and pricey -- Atlantic views, they are secluded and peaceful, as I observed one morning while walking Cheeca's nature trail. The stillness was broken only by chirping birds, breezes ruffling through palms and the occasional hum of a maintenance worker's golf cart.
The one-mile loop weaves through foliage of deep, cool greens and exotic purples, and it's a nice way to orient yourself to the resort's layout. You can borrow a bicycle to ride the trail.
Elsewhere, paths wind through tropical gardens, past water features and under arches made of palm trees. In the evening, blazing tiki torches illuminate walkways. Near the spa, there's a palm-fringed, Tahitian-style sanctuary of shaded lounge chairs on wooden footbridges over a lagoonlike pool.
Treatments at the 5,700-square-foot spa incorporate organic ingredients culled from sustainably farmed, fair-trade resources, like jasmine from India, myrtle from Turkey and cocoa beans from Peru. Guests can release toxins in a bath of seaweed hand-harvested on the coast of Northern Ireland, or surrender to a soothing facial inspired by the fruits and plants of the Amazon Basin.
Vacationers also can schedule personal training and private yoga and Pilates sessions, or work off calories in the fitness center, lap pool or tennis courts.
Back at the beach, servers see to the welfare of guests lounging at the waterfront, ready to refresh a drink or deliver a snack from the Tiki Bar, like the lovely wood-fired flatbread pizza that I tried one day. Served on a long wood plank, it had a thin, crackly crust topped with mushrooms, prosciutto and goat cheese creme fraiche.
In addition to the casual fare of the Tiki Bar, Cheeca offers two upscale restaurants: Atlantic's Edge and Nikai Sushi. The menu at Atlantic's Edge draws inspiration from fresh seafood and locally grown organic produce. My group sampled Maine bouchot mussels bathed in a spicy ginger and lemongrass broth, seared foie gras with roasted pineapple, and grilled local grouper accompanied by coconut curry sauce. Dessert was, of course, a classic house-made Key lime tart.
At Nikai Sushi, a steady supply of sushi, sashimi and other Asian specialties was delivered to our table under the watchful eye of 28-year-old chef Daniel Reiness. There was truffled tuna sashimi, buttery slices of escolar carpaccio and Tasmanian salmon rolled around spicy chopped scallop. "We try to use local catches when it's really beautiful," said Reiness when he stopped by our table. "Otherwise, it's shipped in daily."
Nikai also boasts an impressive sake list, with more than 35 varieties. Diners can try a few by ordering a sake flight that contains three small servings.
The outdoor Tiki Bar draws a crowd before and after dinner, thanks to its convivial bartenders. They cheerfully mix drinks such as the resort's stellar signature margarita, made of agave nectar, Patron tequila and freshly squeezed lime juice.
The friendly attitude starts as soon as guests arrive at Cheeca. Bellmen greet you by name as you step out of your car at the Main Lodge (your arrival has been radioed in from the front gate), then offer you a glass of champagne as you check in at one of two concierge desks. The lobby sets the tone for the resort's interior design, which is inspired by the breezy style and handsome, dark woods of the West Indies. Delightful accents add a touch of whimsy, like the brass monkeys that climb the wall sconces in the corridors, and glass lampshades in the rooms painted with scenes of colorful birds and flowers.
Guests should take time to walk through Cheeca's 64-year history as it's depicted on a wall of photos in the lobby. The Twitchells are here, as is Curt Gowdy, a regular Cheeca visitor who put Islamorada on the map as a sportfishing paradise with his long-running show, "The American Sportsman." You also can see what the old Olney Inn looked like before Hurricane Donna swept it away.
Pictures of George H.W. Bush also hang here. The 41st president helped co-found an annual bonefish tournament at Cheeca Lodge, and the 1,125-square-foot suite known as the Bush 41 Presidential Retreat contains some of his personal mementos.
This display of memories demonstrates that the folks at Cheeca Lodge treasure their resort's storied past. In its current renaissance, Cheeca still embraces the barefoot elegance that made it a favorite Keys escape for generations. But now, with new rooms and facilities and freshly rejuvenated features, there's much more of Cheeca to love.
Information:
To book a stay at
Cheeca Lodge and Spa
, call the resort division of Vacations To Go, (800) 998-6925, or check rates online.
The information in this story was accurate at the time it was published in May/June 2010.
Send This Article to a Friend
Bookmark this Content
Digg it!
Reddit
Furl
del.icio.us
Spurl
Yahoo!