Beautiful, Breezy Bahamas
Find secluded islands, multicultural heritage and undersea wonders within this tropical paradise
By Michelle White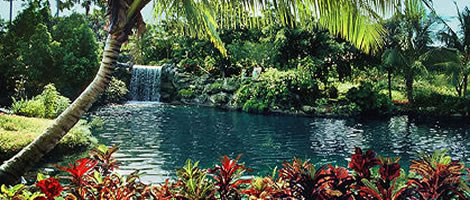 Bahamas Tourist Office
T
he year 1492 is famously known as the date of Christopher Columbus' voyage to the New World, an event drummed into the heads of most American schoolchildren. But what some may not realize is that Columbus' historic first landfall was San Salvador -- an island 12 miles long, 5 miles wide, and today a top spot for diving, snorkeling and fishing in the Bahamas. Boasting the clearest waters in the world, near-perfect weather year-round and a location just off Florida's coast, the
Bahamas
makes for a quick and easy getaway for many U.S. residents.
Bimini, the Bahamian island closest to the United States, is only about 45 miles from Miami.
Nassau
, the capital and largest city in the archipelago, is 185 miles from Miami. Especially for East Coast residents facing long, chilly winters, the Bahamas provides an accessible retreat, where you can be soaking up sunshine along the gorgeous beaches within hours.
The 700 islands sprawl across 100,000 square miles of the clearest waters on Earth, with visibility of more than 200 feet, making it a paradise for snorkelers and scuba divers. From coral reefs to caves, shipwrecks to stingrays, the underwater sights are dazzling.
Archaeological studies indicate that people inhabited the Bahamas as early as the fourth century. As of the 10th century, the Lucayan Indians were the main settlers on the islands until Columbus' arrival, after which slavery and disease wiped out the entire tribe early in the 1500s. The Bahamas proceeded to attract English Puritans, American colonists, pirates and privateers, who took advantage of the islands' proximity to well-traveled shipping lanes. Notorious plunderers associated with the Bahamas include Sir Francis Drake, Edward Teach (Blackbeard), John Rackham (Calico Jack), Anne Bonny and Mary Read. Rumors of treasure hidden throughout the Bahamas still exist today.
Due to its convenient location, the Bahamas prospered during the U.S. Civil War as a cotton-trading hub where British merchant vessels met up with Confederate blockade-runners. Another economic boast occurred during Prohibition, when so much Scotch whisky was smuggled through the Bahamas that it prompted an expansion of Nassau's harbor.
Tourism grew steadily after nearby Cuba was closed to American visitors in 1961. Great Britain granted the Bahamas limited self-government in 1964; the islands became a commonwealth in 1969 and four years later, a nation. The Bahamas is one of the world's most politically stable countries.
English is spoken in the Bahamas, though influences derived from British speech patterns, African slaves and island vernacular have combined to form a unique-sounding dialect. European and African traditions also merge in the signature music of the Bahamas, goombay -- the Bantu word for "rhythm." This percussive music dates to a time when African slaves made drums out of goatskin and pork barrels. Lively nightspots, local bands and heritage festivals abound in the Bahamas, providing ample opportunities to experience the multifaceted culture.
Don't miss out on sampling the food and drink of the islands. Many bars boast special concoctions of rum punch, while another popular beverage combines coconut water, sweet milk and gin. Switcher is a drink made with native limes, and Kalik is a light, wheaty beer.
Seafood is prominent on the islands, including conch, Bahamian rock lobster and land crabs. Spices, peas, rice and soups are all characteristic of Bahamian fare, as are influences from the American South, such as the popular "fish 'n' grits" dish.
Here are our favorite destinations within the
Bahamas
.
The
Abacos
consist of a main island, 100 miles long and 2 to 4 miles wide, and dozens of undeveloped offshore cays -- small, low-lying islands scattered throughout emerald-green water. This island group, along with the world's third largest reef system (roughly 85 miles long), forms a natural protection against Atlantic swells to create the Sea of Abaco. This fairly shallow sea -- 10 to 20 feet deep -- offers calm, safe cruising grounds from which to approach the myriad deserted islands and unspoiled beaches.
The Abaco region is home to about 12,000 people, and the dress code is casual and the lifestyle laid-back. Abaco has a massive preserve dedicated to protecting the endangered Abaco parrot, and the area is home to many of the Bahamas' undersea parks. As a longtime boatbuilding hub and an original colonization site for British loyalists, Abaco is also home to several museums and historical sites.
Eleuthera
-- the Greek word for "freedom" -- was founded in 1648 by a group of English Puritans seeking religious independence. The island, 110 miles long and only 2 miles wide, was frequently targeted by Spanish invaders, prompting the English to establish a more easily defended settlement on nearby Harbour Island. During the American Revolutionary War, colonists still loyal to the British crown fled to Eleuthera and furthered efforts in agriculture, shipbuilding and homebuilding.
Today, colonial villages provide a glimpse into the past, while pink- and white-sand beaches and pineapple plantations offer scenic strolls. You can see majestic stalactites and stalagmites within the mile-long cave at Hatchet Bay; view the subterranean Preacher's Cave, used by early pilgrims as a chapel; and take in gorgeous views of the turbulent Atlantic meeting the calm Caribbean at Glass Window Bridge. Here, a man-made bridge, connecting two high points of land, has replaced a natural stone arch that was ravaged in a hurricane.
Accessible via a 90-minute flight from South Florida, the
Exumas
comprise 365 islands and cays, with two main islands, Great Exuma and Little Exuma, forming the southern tip. The pristine surroundings, timeless beauty and friendly sense of community on these islands are a haven for a serene, rejuvenating vacation. Sailors and fishermen can discover hidden harbors, bays and coves, and opportunities abound for snorkeling, scuba diving, hiking and biking. George Town is home to a charming commercial area that lines Lake Victoria as well as a central market featuring Bahamian crafts. The annual Out Island Regatta, held here in April, celebrates Bahamian boatbuilding skills and dates to 1954.
Grand Bahama Island
offers a more cosmopolitan experience, though ecological wonders abound as well. Freeport and adjacent Lucaya are full of luxurious resorts and happening nightlife. Downtown Freeport houses the 10-acre International Bazaar, where you'll find more than 100 shops and restaurants. Grand Bahama's three diverse national parks include a flamingo colony and one of the world's longest underwater cave systems. Botanical gardens, mangrove swamps, secluded beaches and quaint fishing villages also await exploration.
Grand Bahama is home to 52 species of orchids, 18 of the Bahamas' 28 endemic bird species and one of the world's largest coral reef systems. On New Year's Day, Grand Bahama celebrates with its famous Junkanoo cultural festival, where visitors can sample local fare and join in the parade.
The capital of the Bahamas,
Nassau
lies on New Providence Island, connected to adjacent
Paradise Island
by two bridges. Once called Hog Island and dominated by farming, Paradise Island is now a top resort destination. Nassau is home to the 18th-century Fort Charlotte; Cloisters, a 14th-century monastery; Crystal Cay Marine Park, an underwater marine observatory; Pompey Museum, which details slavery and emancipation in the Bahamas; and the Junkanoo Museum.
While Junkanoo celebrations are held on various islands, the most spectacular parade occurs in Nassau. The Junkanoo Summer Festival spans two months and celebrates Bahamian heritage with music, crafts, native dishes, cooking demonstrations, dramatic presentations, traditional storytelling and games. Nassau's hub, Bay Street, is lined with duty-free shops, and the city's famous straw market sells handmade hats and baskets. British influence is evident in the statue of Queen Victoria in Parliament Square and in the changing of the guard ceremony amid pastel government buildings.
San Salvador
is the exposed peak of a submerged mountain that descends 15,000 feet to the ocean floor. Christopher Columbus is assumed to have landed here at Long Bay, where a large stone cross stands among other monuments that mark where he came ashore. Columbus renamed it San Salvador, meaning "Holy Savior." Native Lucayan Indians had called the island Guanahani, and for many years it served as the headquarters for buccaneer George Watling and was referred to as Watling Island until 1925.
To gain a sense of the island's history, you can tour old plantation ruins and Indian sites. Other options include fishing, snorkeling, and shipwreck and reef diving within the crystal waters at High Cay, Low Cay and Middle Cay.
Where to Stay in the Bahamas
By Elizabeth Armstrong
Visitors to the Bahamas will find a wide array of lodging options, including budget properties, upscale resorts and places that cater to adults only or to families. All-inclusive resorts are an especially good buy, combining accommodations, meals, alcoholic and nonalcoholic beverages, gratuities and nonmotorized land and water sports into one rate that you prepay.
To learn more about accommodations in all of the Bahamas' main tourism areas, visit
Vacations To Go
. You can use the site's "Fast, Free Quote" tool to price a stay. Or, call Vacations To Go at (800) 998-6925.
Here are five options in the Bahamas suited to five types of travelers. All are in the Nassau-Paradise Island vicinity.
For a great value:
Located about 30 minutes from Nassau's airport,
Comfort Suites Paradise Island
is a popular low-cost alternative to nearby deluxe Atlantis resort. At press time in July 2006, for example, a seven-night mid-August stay for two at Comfort Suites was $656 cheaper than a week at
Atlantis
. But perhaps best of all, Comfort Suites guests enjoy full use of the stunning facilities at Atlantis, including the pools, beach, waterslides, health spa and tennis courts. Full signing privileges at Atlantis' restaurants and bars are also extended to Comfort Suites guests.
Back at Comfort Suites, where guests of all ages are welcome, accommodations feature living areas with sofa beds, refrigerators and in-room safes. There is a pool with a swim-up bar and complimentary continental breakfast daily.
For an active vacation:
On the sugar-white sands of Nassau's Cable Beach,
Breezes Bahamas by SuperClubs
is an all-inclusive resort offering a broad spectrum of fun and adventure at reasonable prices. Hit the tennis courts, paddle along the coast in a kayak, go windsurfing or join a game of beach volleyball. There's a 30-foot rock-climbing wall, fitness center, three freshwater pools and even a circus school with trampoline and flying trapeze clinics. Several dining options, multiple bars and live nightly entertainment round out the offerings. There is a spa on site (services incur additional fees), and casinos are nearby. Guests at Breezes must be age 14 or older.
For a luxury retreat:
William Randolph Hearst, Zsa Zsa Gabor and Benny Goodman were among guests at the 1962 opening night party for the Ocean Club, now known as the
One & Only Ocean Club
. The 5.5-star Paradise Island property offers gracious hospitality amid a pristine beachfront setting. A terraced garden replete with hibiscus, bougainvillea and European statues leads down to the sumptuous Versailles Pool (reserved for guests 14 and older), and hammocks sway between tall palms. Complimentary bicycles, snorkeling gear and nonmotorized watercraft are available to guests, and there is a family pool and kids' programs. One & Only Ocean Club rooms come with pillow menus, satellite television and DVD and CD players. Dune, a chic restaurant overlooking the beach, features the cuisine of famed chef Jean-Georges Vongerichten, who here offers a menu blending French, Asian and Bahamian influences.
For couples only:
Sandals Royal Bahamian
has long been popular for honeymoons and other romantic getaways, but those guests who want to truly "get away from it all" can hop a ferry for the resort's private island, called Sandals Cay. Escape to its unspoiled beaches, one known for some of the best snorkeling in the Bahamas. Other intimate spots at Sandals Royal Bahamian include a table for two at the French-inspired Baccarat (one of eight gourmet restaurants on site) or the spa, where you can indulge in a couples massage. For the most private accommodations, opt for a suite in the secluded Royal Village enclave, set apart from the resort's main areas of activity. Here, suites feature four-poster mahogany beds and sitting areas with in-room bars that are replenished daily. Sandals Royal Bahamian is all-inclusive, although spa treatments cost extra.
For a family escape:
Riu Paradise Island
is all-inclusive and allows kids, which makes it a good value for a family vacation. The 14-story resort is situated on a 3-mile sandy beach and has 379 guest rooms. Buffets at breakfast, lunch and dinner ensure that you're likely to find something to please picky young eaters, and there are reservations-only options for the grown-ups, including a Japanese eatery, a steakhouse and a fine gourmet restaurant. Guests can enjoy the fitness center, sauna, Jacuzzi, tennis court and volleyball court, and there is live entertainment each evening. Grab a lounge chair by the pool, or drift over to the swim-up bar. There is a spa on site (additional charge) and the Atlantis Casino is next door.
Bahamas Bits
By Michelle White
* The Bahamas derives its name from the Spanish words "baja mar," meaning "shallow sea."
* In 1492, Christopher Columbus made his first landfall in the New World on San Salvador.
* The Bahamas boasts the clearest waters in the world, with visibility of more than 200 feet.
* The Bahamas has 120 species of plants found nowhere else in the world.
* The highest point in the Bahamas is Mount Alvernia on Cat Island, which rises to 206 feet.
* On Great Inagua in the southern tip of the Bahamas, the ratio of flamingos to people is 61 to 1.
* The Bahamas does not have an army.
* Junkanoo, a colorful Bahamian festival, has been compared to Carnival in Rio de Janeiro and Mardi Gras in New Orleans.
The information in this story was accurate at the time it was published in July/August 2006 . Please visit
Vacations To Go
or call (800) 998-6925 for current rates and details.
Send This Article to a Friend
Bookmark this Content
Digg it!
Reddit
Furl
del.icio.us
Spurl
Yahoo!