An Authentic Taste of Antigua
Savor the fresh flavors and culinary heritage
of this Caribbean island
By Alexis Hilts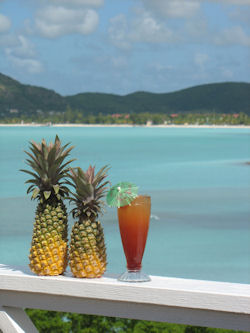 Alexis Hilts
(Scroll down to see a slide show.)
S
ea snails, I'm not so sure about. Large, plump shrimp and roasted peppers on kabobs, grilled mahimahi, conch fritters -- these all appeal to my senses immediately. Even the steamed cockles, which I have never tried, seem like something worth giving a shot.
But as for the sea snails, or whelks, I allow myself a moment of hesitation. Only a moment, though, as I'm in
Antigua
to taste the food, after all. Knowing I'd be traveling with a group of adventurous eaters, I had already decided to try everything on this trip.
So it's the whelk I first take a bite of, and, to my surprise, it is quite good. Not rubbery like I'd expected. Delicate, even. I sit back in my chair, enjoying the slight, cool breeze, and take a sip of rum punch. My first taste of Russell's Bar & Seafood Restaurant is promising.
The atmosphere at Russell's is intimate and casually elegant. Built on the nearly 300-year-old stone foundation of Fort St. James, Russell's benefits from the historic feel and the sweeping views of its location. Warm lighting from round paper lanterns and a steel drum band playing surprisingly original versions of Eric Clapton and The Jackson Five add to its charm. And everything tastes fresh and
flavorful. Even having eaten everything on my plate, I feel satisfied and clean, full but not stuffed.
Before leaving, I have a chance to ask owner Russell Hodge what his favorite dish is. "I like the whelks," he says, and I smile, looking forward to spending the next few days immersed in other culinary firsts.
The largest of the Leeward Islands at roughly 14 miles long and 11 miles wide, Antigua is southeast of St. Kitts in the Eastern Caribbean. The island was created about 30 million years ago after a volcano erupted. Coral and limestone formed upon the volcanic material, and Antigua emerged from the sea. The landmass originally included both Antigua and its sister, Barbuda, but rising sea levels separated the islands, which now lie about 30 miles apart.
Most of the land here is flat and dry, with the exception of a collection of peaks in the southwest corner, the highest of which, at roughly 1,300 feet, recently was renamed Mount Obama. Small, colorful homes with tidy yards and the shacks of street vendors line the bumpy roads. Goats and sheep wander at will.
Antigua became a British settlement in 1632; Sir Christopher Codrington established the first large sugar plantation in 1674, setting the course for the island's future. Sugar cultivation became the colony's main trade, and by the mid-18th century there were more than 150 sugarcane-processing windmills across the island. The remains of about 100 of these stone, cone-shaped windmills still dot the landscape, many of them now reclaimed as parts of hotels, restaurants and shops for the island's current bread and butter: tourism.
And with 365 beaches ("one for every day of the year," they say) and average temperatures between 75 and 85 degrees year-round, the island attracts visitors looking for a sliver of paradise, cruisers stopping for souvenir shopping and some beach time, and scuba divers who come to explore the hundreds of reefs. And, there are a few people like me who are hoping to find a new favorite dish or, at the very least, expand their culinary horizons while absorbing the local culture.
For this reason, it seemed fitting that our small group of travelers acquire some knowledge about the history of cooking on the island. An early stop on our journey was the village of Sea View Farm, a center of pottery known for its unique clay. Coal pots, such as pepper pots and yabbas, which mainly are used for roasting cassava bread, were the cooking instruments of choice during much of Antigua's modern history.
While Rastafarians still use them to cook -- and many Antiguans own the pots to use as grills -- nowadays these handmade goods are mostly prized by visitors looking for unique souvenirs. The lack of practical use has led to a decline in the island's pottery-making craft.
"Young people don't want to continue the tradition of cooking with the pots, or of making the pots. ... As people become more materially well-off, it's hard to get them to stay with the traditional stuff," says Colin C. James, CEO of the Antigua and Barbuda Tourism Authority.
But one woman faithfully continues producing coal pots, a livelihood passed to her from her mother. For Hyacinth Hillhouse, helping her mother, Elvie, prepare and sculpt the clay was a part of her daily childhood life. Now she is the figurehead of coal pot-making in Sea View Farm, carrying on the tradition in a studio adjacent to her home.
When we arrived at her cramped shop early one Friday afternoon, she was already on her third large pot. As she spoke matter of factly about the lack of interest young Antiguans display toward her craft (and about her love of Kenny Rogers and "Law & Order"), I was unable to pull my eyes from her hands as they plied the clay, smoothing and picking tiny stones out of the gray mass. Using only her hands, she worked from the bottom up, deftly and rapidly manipulating the clay until, seemingly magically, the shape of a large pot appeared.
Watching alongside me was Sylvanus Barnes, a local poet with tunnel vision, a condition that, he says, allows him to catch details others don't. As Hillhouse's hands continued confidently, I thought of a few lines from a poem Barnes had read to us earlier, called "Poetry in Pottery": "Rough, rocky clumps of earth/Transformed into smooth works of art/Poetry's decorative devices/Perfectly mimicked in its intricate designs."
Having seen the artistry involved in making traditional cooking implements, our next lesson involved food shopping. Though waking up early on a Saturday morning is not usually my idea of a vacation, it is the best time to check out the local market. So, after an injection of coffee, we headed to the Public Market Complex in
St. John's
. Unlike the boutiques and cafes designed to catch the attention of cruise ship vacationers, the market is not a typical tourist attraction.
Dennis Thomas, a native Antiguan who owns the nearby Dennis' Cocktail Bar & Restaurant, describes the market as a community gathering place. He says that sometimes locals arrive as early as 3 or 4 in the morning, before vendors are open, to meet friends and later shop together.
The market is divided into sections, with fish, meat and crafts available for purchase, but the highlight here are the tables covered with robust and colorful produce. Breadfruit, cassava and mauby bark -- used to make a drink popular around the holidays -- plus plantains, mangoes, red peppers, papayas, garlic and large stalks of sugarcane are just some of the goods on display. In the back of a nearby truck, coconuts are cracked open on the spot for thirsty patrons.
Scanning the piles of fresh fruits and veggies was enough to make anyone hungry, and heading to Thomas' restaurant seemed the perfect remedy. Situated on the west side of the island, a few minutes from Jolly Harbour, the eatery stands alone on a hillside above Ffrye's Beach. A dirt road leads to the vibrant green and orange structure accented by brightly colored blooms. Standing in contrast to the vast blue sky, it's a picturesque Caribbean retreat.
At Dennis', open every day except Monday, visitors are treated to a range of local fare such as saltfish, curried goat and a "chop-up" of spinach, eggplant, tomato paste, garlic and onions, as well as grilled lobster, chicken, steak and the catch of the day. I sampled several dishes here, including two local staples, fungi and dukuna. Fungi is made with cornmeal, water and often bits of okra and resembles polenta, while dukuna is a sweet, doughy dumpling made of sweet potatoes and spices.
To finish off the meal, we asked to try the island's famous black pineapple, as there were several of them decorating the bar. The national fruit doesn't look much different from typical pineapples, though it's slightly smaller and its skin turns a dark greenish color when ripe. These local delights set themselves apart within the first bite, however, as they are particularly sweet and make a perfect light dessert on a warm afternoon.
Much of our time at Thomas' place was spent soaking up the atmosphere -- his warmth and enthusiasm infuses the place -- and marveling at the view of turquoise waters and inviting beaches below.
When I asked him how he found this exquisite spot, Thomas told me that when he was 14, his father, who was a local fisherman, "went out one day and never came back." To honor him, young Thomas and his four brothers headed to the top of a nearby mountain and lit a bonfire for him. That's how he discovered the spot that would later become the restaurant's grounds. "So, it's sentimental," he says.Maybe that is why the restaurant feels like a labor of love, or perhaps it's because Thomas himself is the builder, owner, cook and self-described "bottle washer." In fact, he has started to construct villas so people can stay and enjoy the place even longer. He hopes to complete 10 of them over the next few years, he tells me, giving me a built-in excuse to return to Antigua.
On my last full day on the island, I decided my time was best spent lazing around all morning at my hotel,
St. James's Club & Villas
. After a relaxed breakfast spent watching a pair of little yellow-breasted birds, called bananaquits or "sugar birds," take turns diving headfirst into a packet of strawberry jam, I decided to explore the grounds in search of the perfect lounging spot.
Roughly 10 miles from the shopping and cruise port of the capital, St. John's, the hotel feels worlds away from the city's bustle. Spanning a 100-acre peninsula on the southeastern coast, the all-inclusive hotel's defining feature is its location between Mamora Bay and the Caribbean Sea. The bay's calm waters offer swimmers, snorkelers and kayakers a refuge, while Coco Beach on the other side of the peninsula is more suited for sunning.
The resort's 257 rooms have private balconies with garden, bay or ocean views. Sunken living rooms, large Jacuzzi tubs and separate double-headed showers are extra perks of the Royal Suites, and the big bathtub is especially luxurious after a long day of sightseeing. For guests seeking a more spacious retreat, 73 two-bedroom hillside villas with full kitchens are available.
There are six pools, each with a different vibe. The largest is in the middle of the action, next to a pingpong table and the Reef Deck Bar; the smallest is an adults-only oasis on a slope overlooking the bay. I chose the latter as my retreat. Relishing the laid-back atmosphere, I settled on a blue chaise, half-reading, half-napping for a few hours before our final excursion of the trip to Nelson's Dockyard.
The dockyard is in the town of English Harbour, a quick taxi ride from the hotel, and it was built starting in 1725 as a base for the British navy. It's named for Horatio Nelson, who destroyed French and Spanish fleets at the Battle of Trafalgar, costing him his life. Nelson's Georgian-style house and several large greenstone pillars -- once part of a boathouse used to repair sails -- are two of the structures that remain, tributes to the island's colonial past.
Now a premier sailing attraction, the harbor is filled with international sailboats and yachts throughout the year, adding an element of opulence to the historic district. This is especially true in December at the annual yacht show, when the tanned and athletic crews of vessels with names like "Never Enough" and "Utopia" descend upon the region, and during April's Antigua Sailing Week.
The marina area is not the only draw to this part of Antigua -- nearby is Shirley Heights, an 18th-century military complex-turned-restaurant atop an almost 490-foot peak overlooking English and Falmouth harbors.
Shirley Heights Lookout Restaurant and Bar has been hosting a Sunday barbecue for more than 25 years at this spot. Steel drum, reggae and calypso music play throughout the night while servers at an outside station take orders for food resembling typical American backyard barbecue fare. Grilled chicken, ribs, burgers and potato salad are some of the choices.
Having heard about the unrivaled views here, I was not disappointed. Watching the last rays of sunshine extending from behind gray evening clouds to meet the ocean's surface -- the crowd of vacationers, yacht crews and locals growing around me -- I felt it was an appropriate ending for my Antigua experience: good music, great food and friendly people.
Information:
For information on
St. James's Club & Villas
in Antigua, call (800) 998-6925 or consult the resorts division of
Vacations To Go
.
The information in this story was accurate at the time it was published in March/April 2010.
Send This Article to a Friend
Bookmark this Content
Digg it!
Reddit
Furl
del.icio.us
Spurl
Yahoo!