Adventures at Atlantis
Families play at this myth-inspired Bahamas resort
By Alexis Loyd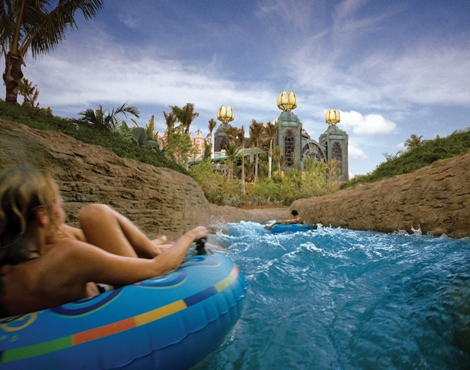 Andy Anderson/Atlantis Paradise Island
(Scroll down to see a slide show.)
T
he legend of the Lost City of Atlantis has tantalized adventurers since Greek philosopher Plato first told the tale of a "great and wonderful empire" in 360 B.C. Ruled by the sons of Poseidon, the technologically advanced, utopian kingdom allegedly reigned supreme before a tsunami buried it beneath the sea, never to be seen again.
While archaeologists still puzzle over the ancient mystery, I decided to answer the call of Atlantis' siren song with my own research-driven endeavor: a scouting trip for a future family vacation at
Atlantis Paradise Island
in the
Bahamas
.
In need of a tropical minibreak, I spent four days scoping out the megaresort and its amenities, keeping in mind the viewpoint of my husband and two skeptical teenage boys. My mind drifted dreamily as the plane flew above unspoiled sands encircled by waters of sea foam green and electric blue. Surely, there would be time for exploration after a dip in the sea and a cocktail?
Emerging from the Atlantic just north of New Providence Island, home to capital
Nassau
, is 685-acre
Paradise Island
. Less than 200 miles from Miami's shores, the 700 isles of the Bahamas are an accessible escape for travelers in need of a therapeutic dose of sun and sea, and the Atlantis resort provides an all-in-one shot of playtime pleasures. Soaring pink structures welcome guests to a wonderland of silken beaches, shimmering pools, waterslides, casino games, upscale boutiques and restaurants.
Tucked on Paradise Beach, the
Reef Atlantis
tower, where I would spend three nights, hovers just outside the hub of the property, allowing for a bit of space from the action. Each of the 497 rooms has a water view and, stationed on the 20th floor, I could see most of the expansive resort from my balcony. The Reef's lodgings are equipped with a kitchenette, dishwasher and sofa bed -- and, luckily for an addict, a Starbucks in the lobby. Not that I pondered it too much before heading to the sunny Bahamian shores, but if I had to name the two conveniences I expected to miss on my beach jaunt, I'd have said Starbucks and catching my Red Sox in the first game of the World Series. I found out soon enough that, at Atlantis, I didn't have to sacrifice either.
Part of the allure of Atlantis is its array of accommodations, allowing guests to tailor their Paradise Island stay. Travelers have choices in five price levels: The "residential luxury" Reef, "luxury"
Cove
, "deluxe"
Royal Towers
, "moderate"
Harborside Resort
or
Coral Towers
and "value"
Beach Tower
. Ranging from 275 to 4,830 square feet and including suites with terraces, villas of one, two and three bedrooms and expansive penthouses, lodging is designed to suit every type of Bahamas wayfarer.
Multigenerational family groups can opt to book digs in the less expensive Coral Towers or Beach Tower, clustered at one end of the property with many of the kid-friendly attractions, including Atlantis Speedway, the movie theater, pottery studio and Crush, the nightclub for tweens and teens decked out with Xbox gaming consoles, iPads, a dance club and snack station. Marina Village's casual eateries -- Murray's Deli, Johnny Rockets and Marina Pizzeria are favorites -- and brightly colored shops also beckon. Sun-seeking couples might mingle on the opposite shore, where Cain at the Cove's kid-free oasis caters with a palm-shaded pool, private cabanas and an outdoor gaming pavilion.
First on my list of must-dos was to sample some of Atlantis' dining venues. With almost 40 restaurants, bars and lounges, food and drink are aplenty, so I focused on celebrity chef creations and buffet smorgasbords. Fancier foodies have their pick among establishments from the likes of French virtuoso Jean-Georges Vongerichten and sushi master Nobu Matsuhisa, as well as the award-winning Italian dishes at Angelo Elia's Casa d'Angelo.
My taste buds steered me toward Todd English's Olives, where an open kitchen serves up Mediterranean cuisine such as fig and prosciutto flatbread pizza, oysters with mignonette sauce and butternut squash tortelli (like ravioli) with parmesan, my choice. To complete the ultimate comfort food lunch, I followed the light and buttery pasta with Olives' take on s'mores: milk chocolate fudge cake topped with vanilla ice cream, roasted marshmallow and graham cracker crumbles.
Bobby Flay's cozy Mesa Grill also delighted with goat cheese queso fundido and eggplant-stuffed chile relleno. The more casual Mosaic buffet puts on an impressive spread of carved meats, seafood and made-to-order plates.
Integrated amid all of the man-made marvels is an extensive habitat encompassing 250 species and more than 50,000 marine animals. Piranhas, lionfish, moray eels, hammerhead sharks, weighty groupers, sea turtles and giant manta rays are some of the creatures swimming Atlantis' lagoons, through which 169 million gallons of salt water circulate each day. Granted accreditation from the Association of Zoos and Aquariums, the resort operates two fish hospitals and runs a breed and release program as part of its conservation efforts. In 2012, the facility witnessed the rare reproductive success of the endangered smalltooth sawfish in captivity.
Interaction with the underwater world is encouraged with daily feedings, snorkeling, scuba diving and dolphin encounters. In the cool waters of the Ruins, I paddled alongside spotted eagle rays and feigned bravery hovering at the surface above two reef sharks.
The stars of this watery world are the residents of 14-acre Dolphin Cay. Opened in 2007, the interconnected saltwater pools offered a home to 16 bottlenose dolphins from the Marine Life Oceanarium in Gulfport, MS, eight of which were swept to sea during Hurricane Katrina in 2005 and later recovered. Kept temporarily at other facilities across the country, the storm-affected dolphins were reunited at
Atlantis
, and some have since given birth to additional members of the pod.
Travelers have the chance to engage with these intelligent ocean mammals as part of three programs: the 30-minute shallow-water and deep-water interactions and a more in-depth Ultimate Trainer For a Day option, where guests dedicate six hours to educational pursuits, including a tour with the lab technicians in the Dolphin Cay veterinary hospital. Accompanied by others eager to meet our dolphin companion during a shallow-water experience, I donned a wet suit and waded out to wait for Jonah. Distinctive for his curled-up nose, which the trainer explained is the dolphin equivalent of a cleft lip, Jonah posed for pictures, swam near us on his back so we could feel his smooth skin and charmed the crowd with his whistled version of hip-hop single "Low."
I didn't think I was the type of person who would enjoy visiting a waterpark alone. I had wanted to check out the park to get a sense for its fun factor but had firmly decided not to partake of the splashing action until some later date when I brought the family.
But it was hard to resist the allure of Atlantis' centerpiece 141-acre Aquaventure, with its meandering "river" and a replica Mayan Temple featuring its signature waterslide: the Leap of Faith, a 60-foot, practically vertical drop through a tunnel in a shark-filled lagoon. Before I knew it, I found myself floating on an inner tube adrift a roughly mile-long loop called the Current.
A wave generator propels riders who can stay the course and cruise the swells or direct their tubes to the conveyor belt leading into the 120-foot Power Tower, which encompasses three inner tube coasters and a body slide. The laughter on the Current was contagious as guests bobbed up and down -- so much so that I hardly noticed my painfully awkward landing after a giant surge launched me into the air and dropped me toe-first on the river bottom.
Following the throng of adrenaline seekers, I careened around the curves of the Falls, then sped into darkness and out again on the Surge. When finally I exited the water and directed my attention to the gash on my toe and its persistent sting, I realized the rapidly swelling appendage would not move. Making my way to the park's first aid station, my eye caught a brave soul plunging down the Leap of Faith. How could I skip out on Atlantis' most enticing thrill?
After limping up the temple stairs, I positioned myself at the top, squeezed my eyes shut and pushed off when I heard "Go!" Pulled in a rush of water, I screamed all the way down to the pool at the bottom. Maybe just once more, I thought.
Relaxing in a bubble bath while watching the Red Sox claim a Game 1 victory on my suite's bathroom TV, I pondered the possibility of returning to Atlantis. Set against the Bahamas' seductive backdrop, the expansive resort feels a bit like it has been sprinkled with the glittering dust of a beneficent vacation fairy, endowed with that elusive "bit of everything" quality.
With its variety of amenities, Atlantis struck me as having a chameleonic ability to match its guests' moods. I savored celebrity chef dishes to suit my cravings, splurged on slots when struck with a gut feeling that the fates were favoring me (I was wrong), beheld a sunset accompanied only by a flock of investigating gulls, plummeted down heart-pumping rides and then retreated to soothe the pain of a throbbing toe with one (or two) perfect margaritas.
The only thing better, I thought, will be when my family can share in the fun.
Information:
Compare room rates at Atlantis online
and contact the resort specialists at Vacations To Go, (800) 998-6925.
Travelers also can partake of Atlantis amenities as a
Nassau shore excursion
on select cruises, including itineraries from
Norwegian Cruise Line
,
Carnival Cruise Lines
,
Disney Cruise Line
and
Royal Caribbean International
. Call Vacations To Go at (800) 338-4962 or visit
www.CruiseBahamas.com
for more information.
The information in this story was accurate at the time it was published in March/April 2014. Please visit
Vacations To Go
or call (800) 998-6925 for current rates and details.
Send This Article to a Friend
Bookmark this Content
Digg it!
Reddit
Furl
del.icio.us
Spurl
Yahoo!