A Carefree Family Beach Retreat
This sprawling Riviera Maya resort complex
promises fun for everyone
By Alexis Hilts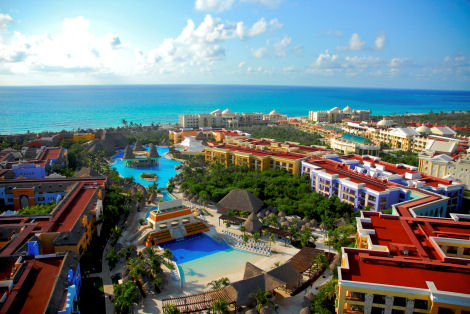 Iberostar Hotels & Resorts
(Scroll down to see a slide show.)
T
he four of us stood together in the sea, bobbing up and down as gentle waves rolled in, our eyes glued to the horizon. "I don't think another one's coming." Hunter looked at me, disappointed. "We'll see," I replied, eyeing the speedboat passing in the distance.
The Caribbean waters were the perfect temperature, cool under the hot Mexican sun, and I was happy just to let my muscles loosen up after our flight from Houston to Cancun. Moments later, as we were chatting back and forth, easing into vacation mode, the kids' eyes grew big. I turned to watch as the ocean began to swell before us, gaining height and momentum.
"Get ready! Here it comes!" I closed my eyes as the peak crashed down upon us, launching myself just in time to catch the wave and ride it halfway back to shore. In the aftermath, we emerged one by one from the retreating water, disheveled and laughing. "That was awesome!"
Doing things that make us laugh together is a key component of family time for me and my fiance, Rob, and his two boys, Hunter, 13, and Ezio, 10. And waiting for waves in this slice of cerulean sea was only the beginning at the
Iberostar Paraiso Maya
, an all-inclusive resort on Mexico's
Yucatan Peninsula
where we spent a short break recently.
One of five hotels nestled on an ample property roughly 30 minutes south of Cancun International Airport, Paraiso Maya provides an experience that's more like visiting a little town than staying at a resort. Among the Maya and its four sister properties -- the
Iberostar Paraiso del Mar
,
Iberostar Paraiso Beach
,
Iberostar Paraiso Lindo
and the adults-only
Iberostar Grand Hotel Paraiso
-- there are 2,000 rooms and plenty of amenities to satisfy all your vacation needs.
Meals and a selection of alcoholic and nonalcoholic drinks, as well as a slew of activities and entertainment options, are included in one up-front price, erasing much of the dreaded logistical planning usually involved with a trip.
An 18-hole, P.B. Dye-designed golf course, fitness center and tennis courts, plus volleyball, archery and a variety of water sports like sea kayaking and windsurfing appeal to active travelers. There are pools of varying shapes and sizes: small, secluded ones near the clusters of rooms, and a wave pool, lazy river and oasis with swim-up bar in a central location. Toss in a spa, two discos (one for teens and one for adults), more than two dozen restaurants and a shopping center with a carousel and a gazebo for live music, and everyone stays occupied.
For kids 4 to 12, Lucy's Club offers daily activities, including pottery painting and playing games. Teens and tweens might opt for an intro to scuba diving in the pool or a sugary sweet spa treatment, like an "ice cream mud massage." Evening performances, such as magic shows and musicals, set the scene for a date night or a theater excursion for the group.
Vacationers have varying levels of access to the facilities on-site, depending on where they stay at the complex. Guests of Paraiso Maya -- which is decked out with a replica of the famous Chichen Itza pyramid and intricate Mayan statues throughout -- can use the amenities at all the other resorts, with the exception of the Grand, which is reserved for the 18-plus crowd.
The choices can be dizzying, so after returning home from our Mexican retreat, my crew and I took time out to discuss the highlights, from the room and the restaurants to a visit to a local theme park. Here are some of our family favorites.
The convenience factor:
You don't have to leave the Iberostar Paraiso Maya for anything. Traveling with the family has its challenges, and rounding up the gang and pulling together everything you need for a vacation is probably the least amusing part of the journey. Once you get to your destination, you want to stay put and enjoy it.
Both the kids and the adults in our brood appreciated the abundance of amenities and services at Paraiso Maya, where all our trip necessities -- from meals to entertainment to souvenirs -- were within walking distance of our room. Not to mention last-minute must-haves: "Whether it was hats or sunglasses or sunblock or mosquito spray or swimsuits or aqua socks, they had everything right there," Rob says. The self-contained nature of all-inclusive resorts also provides a measure of safety.
Expansive accommodations:
With a spacious bathroom, sunken living area and balcony, our 413-square-foot junior suite impressed the whole group. "There was enough room for all of us to settle in and be relaxed," says 13-year-old Hunter. And bonus points were added for the oversize tub with jets; both boys opted for a soak during our stay. This extra square footage also is a reason to choose the Paraiso Maya for a vacation with the clan.
Top eateries:
You cannot go hungry at this megaresort, with buffet fare such as sandwiches, burgers and pizza offered around the clock. But the standouts for us were the specialty restaurants. Among a la carte options are a Japanese spot, popular for its teppanyaki cuisine, and a Mexican place, where I ordered a tasty lobster. Our top pick was the steak house, however, where they served "decent cuts of meat" -- high praise from Rob, a born-and-bred Texan.
Be sure to seek out the taco stand in the shopping plaza, which quickly became 10-year-old Ezio's favorite for its garlic chicken-and-cheese selection, cooked up fresh while you wait. For dessert? Try the hazelnut flavor at the ice cream parlor. Its creamy texture reminded me of gelato.
An off-site attraction worth visiting:
While you could easily spend your whole break stationed at the resort, we recommend a day trip to nearby Xcaret, a 200-acre eco-park. Each year more than 1 million visitors head to this site, once a port and ceremonial center for the Mayan culture. Now the area boasts a ton of family-friendly activities, from visiting a Mayan-style village where you can watch artisans crafting their goods to snorkeling with stingrays. There also are ruins, a butterfly pavilion, wildlife exhibits, an art museum, a coral reef and a beach.
Ezio proclaimed Spider Monkey Island his favorite part of Xcaret, but he also was intrigued by the Bridge to Paradise, a Mexican cemetery, for its connection to the calendar. The decorative hillside encompasses 365 graves, 52 steps and seven levels.
Donning mask and fins and exploring the underground rivers of Xcaret was a thrill for each of us. During our swim, Hunter kept his attention focused beneath the surface. "When we were in the cave, you could see the huge cracks in the bottom (and) how far down it went. It was pretty cool," he says.
But be warned: A trip through these dark, watery tunnels can take a sinister turn for those with an active fantasy life. "It was kind of spooky," Rob says. "Especially after you turned around and said, 'Now don't let your imagination run wild, thinking there's going to be some killer sea creature coming up to grab you from the black depths and bite you in half.'"
Overall impressions:
Family consensus is that the Paraiso Maya is extensive enough to provide something for everyone. We saw couples lounging by the pool, friends sipping cocktails at the swim-up bar and kids in the children's club putting on a production for parents. Pack a good pair of walking shoes in addition to your flip-flops; the downside to staying in a location that offers so much to do is its sprawling nature. Be prepared to cover some distance on foot here.
Rob also gives high marks for the on-hand Iberostar team. "The staff really went out of their way to be friendly."
Whether we were sharing plates piled with our favorite after-dinner goodies or waiting on the perfect wave, at the Iberostar Paraiso Maya we were able to escape our routines and appreciate each other's company. Reminiscing about the experience, Rob sums it up best: "More than anything, I just liked hanging out with you guys for a week."
Information:
We checked rates offered by travel discounter Vacations To Go for a mid-March, spring break vacation for two adults and two kids at Paraiso Maya. An all-inclusive stay -- covering a junior suite, all food and drinks, sports, supervised children's club activities and more -- came to $712 per person ($2,848 total) for a four-night stay. January rates were slightly lower, at $637 per person. Some activities incur extra fees, like golf on the P.B. Dye course, treatments at the spa and excursions to off-site attractions like Xcaret.
To book your trip to the
Iberostar Paraiso Maya
, visit Vacations To Go or call the resort specialists at (800) 998-6925.
Just for Grown-Ups: Iberostar Grand Hotel Paraiso
Strolling the quiet, marble hallways at the elegant
Iberostar Grand Hotel Paraiso
, I could hardly believe the resort was almost entirely booked. This kind of tranquility is part of the allure at the adults-only destination within Iberostar's Riviera Maya complex. It's equipped with 300 suites and 10 villas with private plunge pools. Chilled Champagne at check-in, butler service, personalized mini-bar selections and a pillow menu are luxurious touches at this popular honeymoon pick.
Modern and classic decor combine in the Grand Hotel Paraiso's romantic surroundings, inspired by Georgian, Venetian, Greco and Baroque styles, such as a domed interior garden adorned with painted ceiling and a gondola perched outside the upscale Italian restaurant. Travelers choose from this or three other gourmet-dining alternatives: Japanese fare, a steak restaurant and international cuisine, all designed to please with presentation.
A 32,000-square-foot spa catering to couples offers massages for two, Turkish and Roman baths, thalassotherapy pools and "temazcal," a pre-Columbian treatment for serenity.
And if guests get antsy and yearn for a change of pace, they are free to experience all the amenities at the Grand's sister Paraiso properties as well.
Vacations To Go
prices a four-night January stay for two at $1,159 per person ($2,318 total) for a junior suite.
The information in this story was accurate at the time it was published in November/December 2011.
Send This Article to a Friend
Bookmark this Content
Digg it!
Reddit
Furl
del.icio.us
Spurl
Yahoo!